Features
2020: The Year That Changed How We Watch Movies
We look back on the game-changing year that seemed to pivot the industry away from movie theaters, altered our definition of an "Oscar movie," and punctured an auteur's bubble.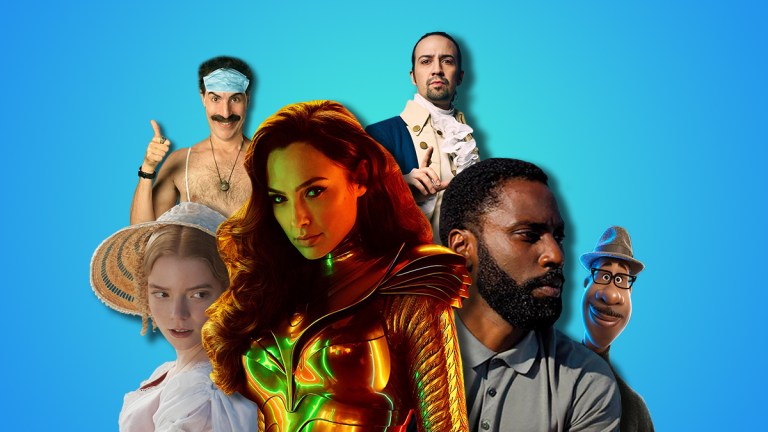 Under normal circumstances, it's easy to get lost in the grind of daily living, missing the forest for the trees. Under normal circumstances, one can be too busy to notice that history is occurring all around them. 2020 was not a normal year.
After nearly 12 months of pandemic and shutdown, social unrest and political upheaval, we are only beginning to understand the ramifications from the year that was. There hasn't been one facet of our culture that wasn't dramatically altered by the effects of COVID-19 and the world it wrought. And yes, that includes movies.
When the year began, moviegoers were still going to the last Star Wars movie in theaters to the tune of a billion dollars and looking forward to summer spectacle like Wonder Woman 1984. As 2020 ends, many of those same people are resigned to watch Wonder Woman on HBO Max. What occurred between marks a significant sea change for movies and the audiences who adore them. One that perhaps has changed this relationship forever. Here is a reminder of how.
When Movie Theaters Went Dark
March 17. That was the day movie theaters across the U.S., like European markets before them, began shutting their doors. Regal Cinemas, the second largest movie theater chain in the U.S., and which is owned by the world's biggest, Cineworld, was the first to announce it would close all North American locations until further notice. Within 24 hours, AMC Theatres and most competitors joined them, with AMC having a particularly rosy outlook when it announced it would only be a 12-week "pause."
With these events occurring nine months and a lifetime ago, it's easy to forget how different the motion picture landscape was at the time. The New Year's moviegoing season had only begun in earnest a few months earlier, with the surprise haul of Will Smith and Martin Lawrence's Bad Boys for Life in January exceeding all expectations. It grossed $206 million in the U.S. alone.
Indeed, early months saw several blockbusters, as well as excellent smaller films, that are now ending up on end of year lists at an unusually high volume. Jason Blum's horror factory of Blumhouse Productions released a Universal Monsters reboot that was better than likely anyone could anticipate in The Invisible Man, with Elisabeth Moss delivering a brutal performance that felt rooted in our post-#MeToo world.
Margot Robbie launched her passion project, Birds of Prey (and the rest of its title). And even with its R rating, the Harley Quinn film will ironically remain the highest grossing superhero movie of the year. And first-time director Autumn de Wilde and her star Anya Taylor-Joy found new, pastel-colored life in Jane Austen's final novel, Emma, by pinpointing the humor and subversive brilliance of the author's desire to "take a heroine whom no one but myself will much like." It's the best period adaptation of that tale to date. Meanwhile in the indie world, Kelly Reichardt delivered another critical darling with the A24 released First Cow.
Those are a few of the early critical successes at the cinemas in 2020—and they remain so, as they were also among the only line-up of movies to be in theaters before the full extent of the pandemic was realized. But even before the stampede to video on demand, there had been a steady drip of movies being delayed as the full danger of the coronavirus pandemic became apparent. First Eon Productions moved the next James Bond picture, No Time to Die, from its nearby April release date to November. Then Universal Pictures followed, delaying F9 a full year.
The drip, drip, drip of delays soon became a flood, with the real tipping point being Paramount Pictures delaying A Quiet Place Part II, indefinitely at first. This was one week from its premiere. In fact, the studio had already done press for the movie, with the film being the last I saw in theaters, as well as the last film I did in-person interviews for (and the first where it was made clear no one would shake hands and there was a bottle of Purell available on every surface). The film was supposed to open on March 18. Instead most movie theaters were closed en masse during that weekend.
VOD Experimentation… and Revolution?
The films already in theaters in mid-March, such as Pixar's Onward or Warner Brothers' The Way Back, became the earliest to break the theatrical window and immediately go to VOD. Universal Pictures cracked that glass first with The Invisible Man, Emma., and The Hunt, but that was nothing compared to what they announced next: Trolls World Tour would have an alleged day-and-date release in theaters and on Premium Video on Demand (PVOD). But as theaters were essentially closed, this meant Trolls was the first movie to dismiss its obligations to theatrical exhibitors.
It was not received well within the exhibition industry then, and was treated worse still after NBCUniversal CEO Jeff Shell boasted about the success of pushing the Trolls sequel essentially straight to VOD—where studios keep about 80 percent of grosses, as opposed to somewhere between 40 to 60 percent from a theatrical release. Shell told The Wall Street Journal, "As soon as theaters reopen, we expect to release movies in both formats."
The news was treated as a threat by AMC Theatres head Adam Aron, who said the largest theater chain in North America was effectively banning Universal Pictures releases in light of Shell's comments, plus the still sour feelings about Universal putting Trolls 2 on PVOD without consultation with exhibition partners. This was the first public conflict between movie theater owners in dire need of new theatrical content as the pandemic wore on, and the theaters who were wary to provide it. It would not be the last.
Universal and AMC eventually patched things up, agreeing to create a historic model where Universal would keep new releases in AMC Theatres for 17 days (so about three weekend cycles), and then decide afterward whether it made better sense to leave new releases in theaters or to move them straight to PVOD, where AMC would earn an undisclosed portion of the revenue. Where this left AMC Theatres' competitors is still an open question, but the compromise would look quaint with what was to come.
For while the Universal-AMC drama unfurled, more and more films, both studio efforts and independent releases, were jumping to PVOD or alternative forms of streaming. Universal tested the waters again with the Pete Davidson-led The King of Staten Island while Warner Bros. also gave PVOD a try with a major release via Scoob!
Perhaps most presciently though was Disney releasing Lin-Manuel Miranda's Hamilton movie straight to Disney+ for the Fourth of July. Technically an edited together version of several 2016 performances of the original Hamilton cast on Broadway, the "movie" was intended to be a special theatrical event released in theaters by Disney in October 2021. And the Mouse House paid a staggering $75 million for the distribution rights to the film.
With its early streaming release, Disney was now effectively using Hamilton as a loss leader for its fledgling streaming service in need of new content. It was a massive success for the Mouse, and Hamilton became one of the most talked about cultural cinematic events of the year, even if it was technically a piece of theater released to streaming. According to Variety and ScreenEngine/ASI, Hamilton was the most watched movie streaming event of the year.
As a harbinger of things to come, Disney continued to build its streaming service's reputation, and the loyalty of its hastily growing subscriber base by releasing one of the most anticipated theatrical projects for next year.
As such, Disney (plus Miranda's genius) dominated the cultural landscape in July with a reawakened interest in the legacy of a musical written in the Obama era about the Founding Fathers, but cast with diverse, multicultural talent. Premiering last summer when statues of Founding Fathers (among more deserving historic figures) were being torn down, Hamilton put Disney in the center of the "discourse" occurring in the zeitgeist. The company wouldn't soon leave.
Tenet and Mulan: A Tale of Two Release Models
As a shutdown spring dragged into a grim summer, and U.S. Congressional leadership balked at the urgent need for a second round of stimulus in a desperate economy, questions began to arise about just how long movie theaters would be closed. In April alone, S&P downgraded AMC Theatres' credit rating and suggested the theater chain was unlikely to survive if its doors remained shuttered past June.
While AMC and others did, in fact, struggle on, survival was not easy. As infection rates slowly descended in the summer, and more folks began dining inside and outside of restaurants, many in the exhibition industry took it as a sign moviegoers could also return to theaters with proper safety precautions. And at least one major filmmaker and studio agreed with them: Christopher Nolan at WB. The singular filmmaker behind The Dark Knight trilogy and Inception had a new sci-fi action movie epic slated for July 17, 2020, and while all of its competitors abandoned the summer, Tenet would not.
Viewing cinemas as "a vital part of our social life," Nolan wagered audiences would return in smaller but steady numbers if studios would just give movie theaters content to release again. And after reluctantly agreeing with WB to delay Tenet several times, first a few weeks in July and then more weeks in August, he convinced WB to experiment with bringing movie theaters back: Tenet would open in European and Asian markets on Aug. 26, and then open in "select" U.S. cities on Sept. 3, ahead of the U.S. Labor Day weekend.
It was a monumental gamble intended to give refuge to movie theater owners, and the rest of the industry looked on. Even several other films kept adjusting their release dates around Tenet's moves, from the B-thriller Unhinged with Russell Crowe, to Disney dumping The New Mutants into theaters a week before Tenet's U.S. debut. Those movies floundered, but Tenet would be different, right?
Well one competitor who moved in unison with Tenet didn't think so… Disney's own controversial blockbuster, Mulan, was scheduled to open in theaters one week after Tenet in July—having moved off its original March 2020 release date due to the pandemic—and then was taken off the release calendar again following Tenet's delay to August. Then Disney offered an alternative: they would release Mulan as a PVOD on Disney+ one day after Tenet's U.S. opening.
That's right, Disney was asking people already paying to subscribe to Disney+ to pay an added premium of $30 to access Mulan—about $10 more than all the other PVOD experiments by competitors earlier in the summer and spring. They also were offering a dueling vision for how to handle the pandemic on the same holiday weekend as Tenet.
It turned out to be a disappointing holiday, indeed. After the weekend was over, WB curtly announced the movie grossed $20 million during its opening weekend. However, that number turned out to include up to $10 million worth of preview screenings throughout the country from the previous weekend, as well as its earlier release in Canada.
It was a meager debut for a movie that would go on to do okay business in Europe and Asia, but gross only an anemic $57.8 million in the U.S. Its failure was due in part to the United States' biggest markets, New York City, Los Angeles, San Francisco, and more, remaining closed for its entire run. It also was a result of theaters' health precautions only allowing most auditoriums to run at a third capacity or less.
More importantly, it was a result of audiences still by and large balking at going back to movie theaters in the midst of a pandemic. Shocking, eh? Even before Tenet's second weekend, the rest of Hollywood was flinching, delaying its fall schedule into 2021. Black Widow moved again, as did Candyman, and No Time to Die… and WB delayed Wonder Woman 1984 for the second time, from October to Christmas Day.
Meanwhile as a benefit of relying on their own streaming service, Disney has not disclosed its grosses from Mulan's "Premier Access" experiment. The movie seemed to have a muted reception, perhaps because of the film's exclusionary price tag for many consumers, and perhaps because of the many problems dogging that production. But Disney was clearly happy enough with the result, as they've announced they're trying Premier Access again next year with the rare thing: an original movie titled Raya and the Last Dragon.
The Awards Season Push
As 2020 concludes, it's left what once was the height of awards season in a strange, muted place. As early as June, the Academy of Motion Picture Arts and Sciences began facing the new reality by delaying next year's ceremony from February to April 25, 2021. Additionally, instead of needing to open in 2020, films released as late as Feb. 28, 2021 are eligible for consideration in all categories.
Perhaps more significantly though, the Academy's Board of Governors ruled films initially intended for theatrical release but released on VOD, streaming, or other means, including drive-ins, will now be eligible for consideration. Tellingly, this rule is intended to only pertain to 2020 (and early 2021), but it'll be interesting to see if the Academy can put that genie back in its bottle. Firstly, because with a few notable exceptions, like Searchlight Pictures and Chloé Zhao's beautiful Nomadland, many of the "big" studio awards contenders, like Steven Spielberg's remake of West Side Story, have abandoned 2020. As a consequence, what's left of 2020's movie calendar was dominated, both in the public and critics' imagination, by streaming services.
Indeed, Netflix has developed a murderer's row of awards friendly contenders, including Aaron Sorkin's The Trial of the Chicago 7, David Fincher's Mank, Spike Lee's Da 5 Bloods, and Ma Rainey's Black Bottom, the latter of which features the final performance of Chadwick Boseman, which unto itself has generated awards chatter.
Amazon, meanwhile, is releasing Regina King's stirring directorial debut, One Night in Miami, and previously dropped the underrated little character study, Uncle Frank. And even Amazon's Borat 2 is an award contender for the supporting performance of Maria Bakalova. To put that into perspective for a moment, a sequel to one of the raunchiest comedies of the 2000s had its premiere on streaming… and is now an Oscar contender.
The times they are a-changin'.
The Next Wave of Movies
But even as the future of 2021's film slate—much of it composed of movies originally intended for 2020—remains ambiguous, there's a light at the end of the tunnel as the industry resumes production on films big and small.
Not surprisingly, it was a major studio tentpole, the type that underwrites the rest of a studio's fiscal year, which was the first to go back to work. Universal Pictures led the way again with Jurassic World: Dominion, the third film in the Jurassic World trilogy, and sixth Jurassic Park movie. Universal is bringing back major cast members from the recent movies and the original, and as director Colin Trevorrow started filming again, the company released detailed safety guidelines for how to keep the cast and crew safe. They've since opened the production up to the gaze of the New York Times. "We are the guinea pigs," star Bryce Dallas Howard told the paper of record.
They would not be the last. Ridley Scott resumed production on his medieval epic The Last Duel, with Ben Affleck, Matt Damon, and Adam Driver; Guillermo del Toro finally got to finish his Nightmare Alley with Bradley Cooper and Cate Blanchett; and Robert Eggers traded in lighthouses for Vikings with The Northman. But it hasn't been perfect.
Infamously, WB's The Batman had to shut down production again (for the second time after a spring pause) when star Robert Pattinson tested positive for COVID-19. And Anthony Mackie got candid about filming during a pandemic with Entertainment Tonight.
Talking about the safety measures on the resumed production of The Falcon and the Winter Soldier, Mackie said, "Everybody's very afraid of each other. The food is bad because they have to pack it up somewhere else and bring it to us in Ziploc bags. Yeah, it's awful. You're literally living in quarantine."
But it's keeping folks employed and the industry rearing up for a post-pandemic life. It's maybe for that reason Tom Cruise made headlines when audio leaked of him chastising crew members on the currently filming Mission: Impossible 7.
"I'm on the phone with every fucking studio at night, insurance companies, producers, and they're looking at us and using us to make their movies." The show must go on, even if it hardly sounds like an opening night gala….
Did HBO Max Change the Game or Forfeit It?
When Warner Bros. announced in November that Wonder Woman 1984 was going to premiere day-and-date in theaters and on HBO Max, everyone in the industry took a deep breath. Obviously, this wasn't a unique development. Disney tested these waters with Hamilton and Mulan, and this month's Soul on Disney+. The more the merrier, right?
… And yet, it was the first time a studio placed its biggest tentpole of the year on streaming. Universal might've been the first to break the theatrical window, but that studio likewise made sure to move F9 a full year to hopefully keep its theatrical window safe. Still, director Patty Jenkins and star Gal Gadot accepted the Wonder Woman arrangement (as well as a rumored $10 million each, a consolation prize for losing gains from profit participation backend deals), and exhibitors were notified about WarnerMedia's decision.
They were not on the next one. WarnerMedia's bold choice to release WB's entire film slate of 17 movies on HBO Max went off in the industry like an atom bomb. More troubling still, no one who worked on those movies, from talent to producing partners, were notified about a decision that could have unforeseen and extensive economic ramifications.
Nolan, the filmmaker who convinced WB to release Tenet in theaters, was shockingly blunt and uncharitable to the studio that was loyal to him for nearly 20 years. He called HBO Max "the worst streaming service," which is flatly untrue to any cinephile who's ever used it. However, the auteur made a better point about the hidden economic problems in the move.
In a more recent interview with NPR, Nolan better articulated, "The economics of it are unsound unless you're purely looking at movements in share price, number of eyeballs on the new streaming service. Theatrical is really only one part of what we're talking about here. You're talking about home video window, your secondary, tertiary windows. These are things very important to the economics of the business and the people who work in the business."
This is in line with what director Judd Apatow said separately to Variety, highlighting how the decision hurts people below the line, and just not stars and filmmakers with profit participation deals.
"It creates a financial nightmare, because most people are paid residuals – they're paid back-end points," Apatow said. "What they get out of it for years and years of hard work is usually based on the success of their films. And so now what does it mean to have a movie go straight to streaming? How do they decide what to pay you? Do you even have a contract that allows you to negotiate, or is it really just up to them at this point? It raises thousands of questions, which I'm sure are very complicated."
It's also why Denis Villeneuve, director of one of WB's most anticipated new movies, Dune, penned a passionate essay in Variety, saying AT&T "hijacked" WB, and has no love for cinema or audiences. He outright states AT&T CEO John Stankey has led the horse (Dune) to "the slaughterhouse."
Is that sound and fury against the inevitable changing realities of the industry, or justified anger at a panicked reaction to the COVID-19 pandemic—and more acutely HBO Max's poor streaming launch?
It's hard to say at the moment, but it's clear that WB's fire sale approach of all or nothing to subsidize HBO Max's poor performance is burning bridges in the industry, with Wonder Woman director Jenkins moving to Disney for the next Star Wars movie, Rogue Squadron, while entertaining the idea in the press of starting a United Artists-like studio with other filmmakers who still believe in the theatrical experience. And most persuasively, Disney, the Big Five studio best positioned to go all-in on streaming, is leaving its biggest 2021 blockbuster, Black Widow, slated for theaters even as it moves smaller efforts to Disney+.
The future isn't written, and while the theatrical window apparently has been shattered, it may not be beyond some state of repair, even if it never quite resembles what it once was. These will also be lingering questions that will hang over cinema as 2020's cold grip is finally shaken off.
Will 2021 be that different, for motion pictures and the world at large, from the chaotic upheaval of 2020? Only time will tell, but it's worth remembering that if 2020 changed the future of moviemaking, at least 2021 promises a chance to embrace that future by turning the page on all the anxiety and uncertainty that defined this year's biggest changes to the cinema.