News
A Quiet Place Part II Delayed Until April 2021
John Krasinski and Emily Blunt's anticipated sequel, A Quiet Place Part II, has been delayed from September to April of next year.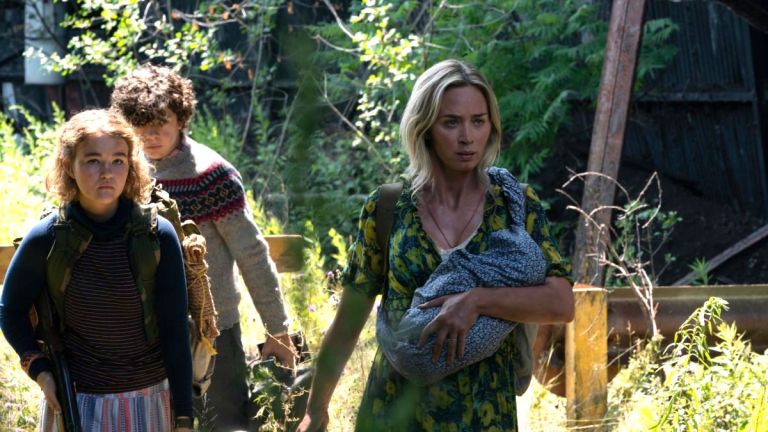 These are dark times for movie theaters. Once upon a time, A Quiet Place Part II, the much anticipated sequel to John Krasinski's first breakout horror movie, was supposed to be among the big hits of spring 2020. But the movie then became one of the first to move at the last minute, a week ahead of its March 20 release. Since then the film was encouragingly placed on a Sept. 4 release date, but that too is now scuttled, and Paramount Pictures is opting to delay A Quiet Place Part II until April 23, 2020.
The move comes attached to a major reshuffling of Paramount Pictures' release schedule that included delaying Top Gun: Maverick from a December release date to July 2, 2021. The company also previously delayed Mark Wahlberg and Anton Fuqua's Infinite to May 2021 after it was supposed to originally open in August.
These shifts are not particularly surprising as the number of positive COVID-19 cases in the United States continues to go up. On Thursday alone, the U.S. passed the grim milestone of 4 million confirmed cases of COVID-19, the disease caused by the coronavirus. And with the death count also continuing to go up with more than 147,000 Americans dying of COVID-19 complications, the health crisis shows no signs of abating anytime soon.
Thus the delay is in keeping with Krasinski's previous message about making sure A Quiet Place Part II only opens in theaters when it is safe again for moviegoers to experience the film together.
"One of the things I'm most proud of is that people have said our movie is one you have to see all together," Krasinski wrote on Twitter last March when announcing the sequel's first delay. "Well due to the ever-changing circumstances of what's going on in the world around us, now is clearly not the time to do that. As insanely excited as we are for all of you to see this movie… I'm gonna wait to release the film til we CAN all see it together! So here's to our group movie date!"
Clearly that time for everyone to see it is not going to be in the next few months. But as movie theaters continue bleeding, the question becomes what content could they possibly have in the coming months now that A Quiet Place Part II—like Mulan and likely Tenet—are nowhere near releasing?
The sequel, which is finished, stars Emily Blunt, Millicent Simmonds, and Noah Jupe as the remaining survivors of the Abbott family as they go out into the world and discover other survivors, including an enigmatic lonely man played by Cillian Murphy. The film has a hopeful message about dark times, and would speak to the moment… and likely still will next year.