News
AMC Theatres Credit Rating Downgraded Amid Coronavirus Crisis
S&P has downgraded AMC Theatres' credit rating from a B to CCC-, suggesting a default could be imminent.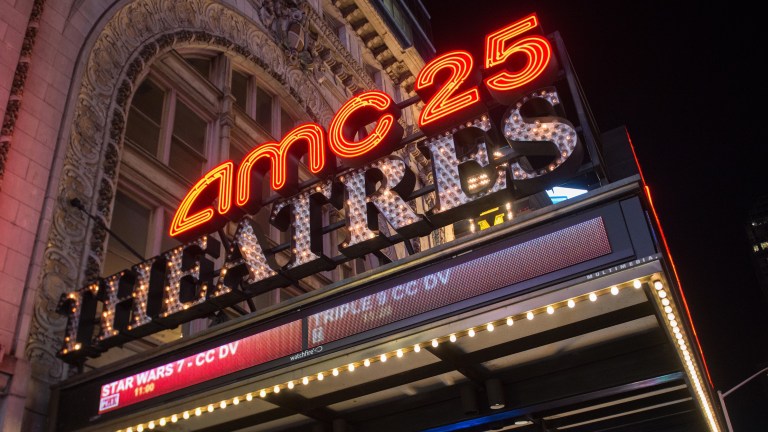 In what is most unwelcome news for folks who love going to the movies, the biggest movie theater chain in North America, AMC Theatres, has been given a bad credit rating and forecast by S&P Global. In lieu of the continuing coronavirus pandemic, which appears to be only accelerating in North America and most of Europe, the financial corporation has reevaluated its credit score for AMC Entertainment, downgrading it from a B to a CCC-. This moves the company's prospects from "highly speculative" to "default imminent, with little prospect for recovery."
AMC Theatres, which was among the first national movie chains alongside Regal Cinemas to close, has obviously been crippled by the coronavirus crisis and COVID-19 disease that it's spreading. However, the company also announced with its initial closure on March 17 that it intended to only be shuttering theaters for "six to 12 weeks." However, S&P is now gloomily asserting that it's unlikely AMC will be able to open its doors again by then, and (via The Wrap) is forecasting the crisis to carry on well past June and into August.
"While there is a high degree of uncertainty about the rate of the coronavirus' spread and when the pandemic will peak, some government authorities estimate that the peak will occur between June and August," S&P analysts wrote. "We expect AMC Entertainment Holdings Inc.'s (AMC) theaters will remain closed beyond June due to the impact of the global coronavirus pandemic. We do not believe AMC has sufficient sources of liquidity to cover its expected negative cash flows past mid-summer, and we believe the company will likely breach its 6x net senior secured leverage covenant when tested on Sept. 30, 2020, absent a waiver from its lenders."
The bad news follows what was already a red letter year for AMC in 2019. At the end of the previous fiscal year, the company reported a loss of $149 million, which only added to the theater chain's $5 billion debt.
However, AMC has attempted to remain optimistic about its future prospects. While it furloughed its employees, including CEO Adam Aron, on March 25, the furlough in itself signaled it hoped to reemploy most or all of those who were let go.
"AMC is not terminating any of its corporate employees," the company said in a statement last week. "However, we were forced under the circumstances to implement a furlough plan, which is absolutely necessary to preserve cash and to ensure that AMC can reopen our doors once this health crisis has dissipated."
Additionally, AMC and other movie theaters in the United States look situated to benefit from the recently passed stimulus package, which should aid laid off and furloughed employees, including those at AMC, with a $454 billion loan to unemployment benefits. The National Theatre Owners Association (NATO) is also confident that the package will aid movie theaters with no current income.
"With this aid, movie theaters can get through this crisis confident in being able to re-open, knowing their vital, trained workforce is able to weather this pandemic and have jobs waiting for them when it is safe to reopen," NATO said in a statement.
It is worth considering if the recently CARES Act could provide a substantial enough amount of liquidity to AMC that the company might be able to survive until 2021. S&P appears to be allowing for the (remote) possibility.
"While unlikely, we could raise the rating if AMC were able to secure additional liquidity without further burdening its capital structure and if we expected the company would be able to generate substantial cash flow in 2021," the analysts' report said. "This would likely require conclusive knowledge about the length of the theater closures and a view that the box office would return to normalized levels in 2021."
All of of us would love to see the box office return to normalized levels in 2021… or well before that.