Features
How Jason Blum Changed Horror Movies
This year marks 20 years of Blumhouse Productions. Jason Blum reflects on how he's changed the horror landscape and what's in store for the future.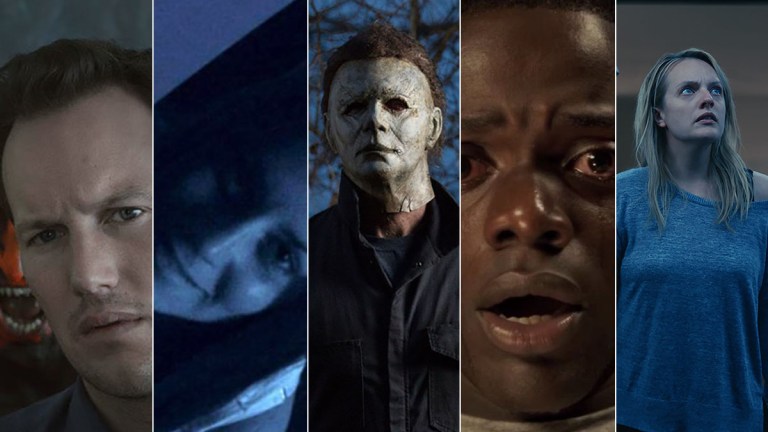 "I look at myself more as an entrepreneur than a producer," Jason Blum tells Den of Geek ahead of the release of his latest buzzy horror movie. That film, The Invisible Man, has already scooped an impressive $29 million opening weekend off a budget of $7 million as well as widespread critical success (check out our four-star review, the movie is currently at 91% on Rotten Tomatoes).
It's hard to deny that as an entrepreneur, Blum is a bloody good one. It's been 20 years ("depending on where you start," Blum clarifies) since his company Blumhouse Productions arrived to user in the new millennium and a new era of modern horror. His breakout success, 2007's Paranormal Activity, made for $15,000, became one of the most profitable movies of all time, taking in $193 million worldwide and spawning multiple sequels. Other early hits included Sinister and Insidious (written by and co-starring Leigh Whannell, director of this year's The Invisible Man), which reshaped the horror landscape, spawning an era of domestic horror, while the politically-charged and dystopian The Purge birthed three sequels (and counting) as well as a spin-off TV show.
A young-looking 51, in person Blum is Hollywood charming but Silicon Valley smart and clearly incredibly engaged with what he's doing. Blum does press. A lot of press. This'll be the third or fourth time we've spoken over the years and he's already lined up for another media tour next month for The Hunt which is coming out on March 13. Journalists love to talk to him – he's candid, articulate, and energetic. And then there's that vast array of fascinating projects on his slate – 47 films and TV shows in development with 11 currently in production – and these are just the ones that have been announced. It tells an interesting story about where he's taking low budget filmmaking in 2020 and beyond.
"Wearing my entrepreneur's hat, I'm very conscious of not falling into a pattern," he says of how things have changed over the decades. "The tenets of the company are the same but the kinds of things that we're doing are very very different than 10 years ago."
The major change he identifies is that with the bloom of so many streaming services it's much harder to get people to actually go to the cinema.
"The scary movie market was much less saturated than it is now," he explains. "We had a lot of movies about family [where] something goes wrong in a house and people are scared. You can't get away with that anymore. I think people might watch that at home, they're not going to go out to the theater to see that. I really try to push our filmmakers to make our scary movies feel like events."
That's very much the approach he and Whannell have taken with The Invisible Man and it looks to be paying off. Casting a high profile and well respected actress like Elisabeth Moss in the lead role, updating an iconic character like H.G. Wells' and Universal's The Invisible Man and, crucially, making the film actually scary and something that begs to be seen with an audience is all part of the strategy.
"Being gaslit by the Invisible Man – it doesn't get any scarier than that right?" he grins when we compliment Whannell's decision to focus the story on the victim of an abusive – and now invisible – ex-husband and the horror of not being believed.
If you haven't seen the film yet, the story sees Moss's Cecilia escape from her toxic marriage only for her ex, who two weeks later fakes his own death, to return to torment her and isolate her from her support group. It's an angle that feels current and relevant while leaning strongly into the horror. And crucially it's a remake (of sorts) which people don't hate.
That's another trend that Blumhouse seems to have bucked. The first decade of the 2000s seemed like it was awash with remakes of '70s and '80s classics to the point of absolute exhaustion. A Nightmare on Elm Street, Friday the 13th, The Omen, The Wicker Man, The Last House on the Left, The Hitcher, The Amityville Horror, and many more got do-overs, most of fairly poor quality before "remake" truly became the dirtiest word in genre cinema.
So when Blumhouse and director David Gordon Green announced they would redo that most sacred of horror behemoths, Halloween, it was initially met with alarm. When the movie finally arrived in October 2018 it was with mild shock audiences discovered it was actually both fresh and new while still remaining faithful and respectful to John Carpenter's original. By the time news landed that it would be part of a trilogy with this year's Halloween Kills and Halloween Ends to follow in 2021, viewers were already on board.
"I just saw Halloween Kills. It was SO good. So good. It's intense. It's huge. It feels really big!" Blum says when we mention this somewhat monumental reversal. "We approach Halloween the same way we approach Invisible Man. Forcing the filmmakers to work for a lower budget makes us able to bet on unusual creative choices."
Blum the entrepreneur's model sounds almost like a start-up. It involves "taking people who have done very well and saying, 'Listen, bet on yourself and if the thing works, you'll make way more than you've ever made before in your life on one movie, and if it doesn't, you won't' puts everyone in a great mindset," he says.
"It's like we're all in this together. You ally yourself with your financial partner. When the studio has paid everyone so much money up front and then they have to wait for the movie to do well or not, that creates a contentious situation. You've already been paid as a filmmaker so you're trying to make a movie that gets great reviews, you don't really care about the commerce of the movie as much. When we take that kind of spirit into pieces of IP that are out there, we're able to come up with inventive ways, or movies that feel different."
That Blumhouse has a first-look deal with Universal and could potentially adapt more classic monsters – even after the Dark Universe imploded – is actually something to be excited about. Blum says he'd "love to" do another Universal Monsters movie "if we come up with another filmmaker who has another great idea," but it's far from a done deal. However, he's certainly not put off by the cynicism around remakes and updates.
"I like the challenge of people being cynical!" he smiles. "When we first did Halloween everyone's like 'It's gonna be horrible!' and then people liked it. They don't like everything that we do but I like the challenge. With Invisible Man people are like 'oh, what, are you gonna do Invisible Man?! The monsterverse hasn't worked!' Then hopefully you give people a happy surprise."
It's just as well that he's not afraid of controversy. Another film in his stable is a remake of 1996's beloved teen witch movie The Craft, which will be helmed by Zoe Lister-Jones. Blum says he hasn't seen it yet but that he was massively impressed by Lister-Jones' pitch, who he says painted the whole movie for him in an amazing 20-minute session.
"What we were looking for, which is the same thing we're looking for in Halloween and Invisible Man, is what feels new, what feels different, what feels exciting and also what feels like The Craft. It can't be too much of a departure, right?" he says. As for the tone Blum says "fun" is the optimum word.
"It's very contemporary but it's very fun. It's not super political. There's a lot of wish fulfillment in the movie. And it has something to say too but that's second to it being a fun movie."
Recent rumors even suggested Blumhouse would be taking on a new version of The Thing, though when we ask about it Blum playfully insists, "That is unconfirmed. Unconfirmed! Unconfirmed! Unconfirmed!" (We'll take that as a yes, then…).
It's not just remakes the house of Blum is centered on going forward, of course. With the company's more recent focus on TV shows he says he spends about half his time on the big screen and half on the small screen, with the film side divided about 50/50 between originals and sequels or known IP.
One new source of IP Blumhouse is mining is podcasts. A series based on the fictional podcast The Horror of Dolores Roach is currently in development as well as a film about the meteoric rise and fall of the company WeWork, the subject of a podcast, to be penned by the Oscar-winning writer of The Big Short, Charles Randolph. He's got an even more exciting podcast-based project in the pipeline too, though as soon as he mentions it to us, he remembers it hasn't been announced yet and swears us to secrecy.
It's unquestionable that Blum has reshaped the landscape of horror but it's worth remembering he's been nominated for three Oscars, too – for Whiplash, Get Out, and BlacKkKlansman. While horror as a genre often struggles to be taken seriously in certain circles it would be a mistake to underestimate the artistic and commercial prowess of Blum the producer, as well as Blum the entrepreneur.
Whatever the next 20 years of Blumhouse holds, we're sure he'll be part of shaping the future of filmmaking rather than simply responding to the landscape. One thing is certain – Jason Blum, and Blumhouse Productions are anything but invisible.
The Invisible Man is now playing in theaters.