Reviews
Borat Subsequent Moviefilm Review: Rare Win For a Legacy Sequel
The shock value has worn off, but Borat 2 tells a surprisingly satisfying, if simple, story.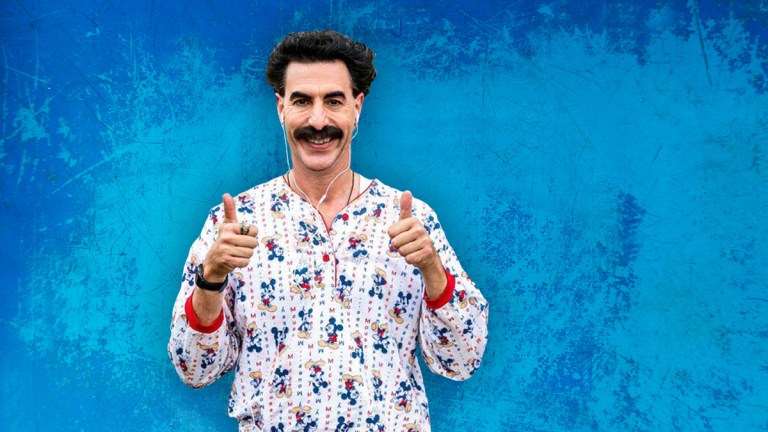 The increase in open racism, sexism, and asinine conspiracy theories in America over the past four years may be shocking to some, but anyone who watched Sacha Baron Cohen's first feature film appearance as Kazakhstani journalist Borat Sagdiyev should not have been surprised. Playing a dimwitted foreigner with a thick-accent, Baron Cohen expressed anti-Semitic, misogynistic, and all-around vile views and the real-life Americans he encountered either were too polite to denounce his wrongheadedness or reveled in hearing someone express their ugliest ideas out loud. At the end of the Bush era, Borat unveiled both deep indifference to and shocking endorsement of hatred in the heart of America.
The rise of social media and citizen attempts at exposing despicable acts of racism in public has dulled some of Borat's shock value. We see our fellow Americans behaving horribly online every day. Likewise, the release of numerous hidden camera/narrative hybrid films, several by Baron Cohen himself, has made Borat's style less novel. Despite this, Baron Cohen's long-awaited sequel Borat Subsequent Moviefilm: Delivery of Prodigious Bribe to American Regime for Make Benefit Once Glorious Nation of Kazakhstan, filmed in secret over the last five months and released in a hurry ahead of the election, still manages to entertain and elicit at least one dispiritingly funny sequence that's already making headlines.
This time around, Borat returns to America in order to salvage Kazakhstan's reputation after his prior film made the country a laughingstock. Recognizing a kindred spirit in "a magnificent new Premier named McDonald Trump," the Kazakhstani government seeks to buddy up to his administration by presenting Vice President Mike Pence with a highly coveted gift. However, Borat's recently discovered daughter Tutar (Maria Bakalova) forces a change in Borat's strategy, and instead, Kazakhstan's third best journalist aims to deliver his daughter to "America's most famous ladies' man, Michael Pence" so she can be "the next Melania."
Most of Borat Subsequent Moviefilm's hidden camera bits are focused on teaching Borat's feral, wide-eyed daughter how to be a desirable American woman and many of the funniest moments take place in boutiques, plastic surgery offices, and debutant balls. Nobody really cared what the narrative was in the original film, but this sequel has surprisingly satisfying, if simple, story and character arcs. Bakalova's performance steals the show and adds heart to this satirical cringefest. Who would have thought Borat would be the one to nail the Legacy Sequel format?
The film's biggest problem is Baron Cohen's, or Borat's, celebrity. Since most Americans recognize the mustachioed doofus, Cohen is forced to adopt disguises and variations of Borat's vague Soviet accent, but it's obvious that some of the "innocent" bystanders are in on the joke or playing along with the camera. Still, the breakneck production speed awarded the film a timeliness, specifically with its political and COVID-19 material, that makes the film feel astonishingly relevant. Specifically, a February stop at a CPAC convention, where we see Pence patting himself on the back for the U.S. only having 15 coronavirus cases, is hilariously textbook example of dramatic irony.
Though the sheen and shock has worn off in Borat's second outing, Borat Subsequent Moviefilm hangs together more as a narrative feature versus a collection of funny bits. Tutar is the perfect sidekick and foil for the ignorant fish-out-of-water and very easily could anchor her own hidden-camera pranks. Baron Cohen's character is still a fabulous mixture of satire, screwball, and sincerity, and even if this latest experience isn't as fresh, it still earns hearty, if disconcerting, laughs.
Borat Subsequent Moviefilm releases Oct. 23. on Amazon Prime Video.