Features
New Mutants: A Horror Version of The Breakfast Club
The last entry in Fox's X-Men movie series, The New Mutants -- says its cast -- is a dark coming of age story.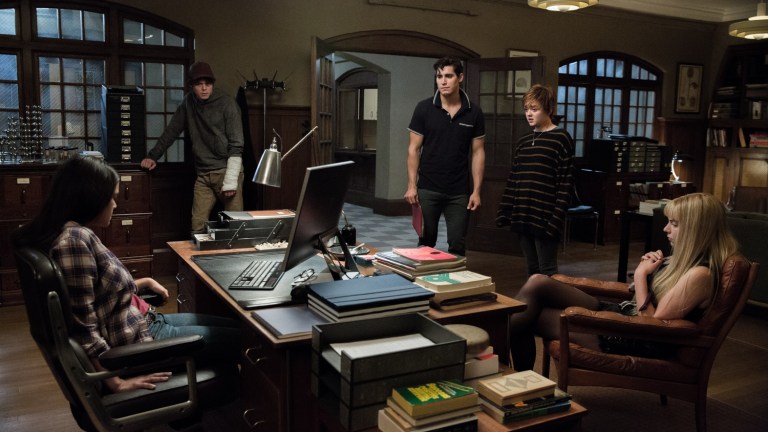 In The New Mutants, five teenagers are being held in an asylum that is actually a front for a secret government facility. The five don't know each other and aren't sure how they got there or who brought them, but one thing is clear: each of them is a mutant, a human being enhanced or endowed with extraordinary powers, representing the next stage of evolution for humankind.
The New Mutants is a spin-off of Fox's long-running X-Men series of films and based on the classic Marvel comic book created in 1982 by writer Chris Claremont and artist Bob McLeod to showcase a new, younger group of mutants within the existing X-Men canon. Directed by Josh Boone, who describes his movie as a "rubber reality" horror movie, The New Mutants might be what happens when you cross The Breakfast Club with A Nightmare on Elm Street 3: Dream Warriors.
At an online press conference to promote The New Mutants (which was not screened for press beforehand), the cast — including Anya Taylor-Joy (Illyana Rasputin/Magik), Maisie Williams (Rahne Sinclair/Wolfsbane), Charlie Heaton (Sam Guthrie/Cannonball), Blu Hunt (Danielle Moonstar/Mirage), and Henry Zaga (Roberto da Costa/Sunspot) — spoke about playing super-powered teens who don't fully understand themselves or their own potential.
"Any opportunity to go back to teenage-dom is not necessarily the most fun experience, but you definitely learn a lot about yourself afterwards," said Taylor-Joy (Glass), whose Magik is a sorceress who can teleport. "It's interesting because I think we all came into this knowing that whilst we were making a superhero movie, we weren't really making a superhero movie. We were making a film about people who were having a tough time understanding themselves and figuring out their place in the world."
The irony of all this, of course, is that The New Mutants was shot back in 2017. A series of events, including the purchase of 20th Century Fox by Disney in 2018 and the onslaught of the pandemic this year, has led to the film's release date being constantly shifted for over two years. In the meantime, the actors have all aged, although they agree that they've continued to mull over and even learn new things about the characters they played.
"Yeah, I think that's actually really weird, because I feel like I did realize a lot of things about Dani, about my character, after filming," said Hunt. Her character's ability to create illusions based on others' fears and desires is the catalyst through which she and her companions learn about their own dark pasts. "I definitely realized how close I was to her as just a person, which I think I kind of didn't really realize while I was filming. And then when I left and I was able to look back at it and think about Dani…suddenly it all came to me. And I was like, 'Oh my God, me and Dani are really the same person.'"
Maisie Williams, arguably the best known of the five actors thanks to her eight-year stint as Arya Stark on Game of Thrones, plays Wolfsbane, who can transform herself into a wolf. Williams said that her own changing perspective on herself at 20 — her age when shooting the film — informed her approach to the role whether she realized it or not at the time.
"We were all a lot younger," Williams mused. "It's only three years, but I feel like at this time in our lives, you just do change a lot. And at the time, I was just very uncomfortable. And when I was playing Rahne, and I had on the wig and the tatty clothes, it made me feel very uncomfortable.
"Looking back now, actually that was all perfect," she continued. "To feel that way and to feel uncomfortable in the clothes, that's who she is. She isn't just born with every ounce of confidence. So, yeah, it was something I was really fighting at the time, but actually…it worked for the role, I guess."
"I relate to this discomfort that Maisie was talking about too," agreed Zaga, who worked with Boone again on the upcoming CBS All Access miniseries of Stephen King's The Stand. "I think all of our characters have some sort of physical discomfort, coming either from our powers or just from growing pains…Roberto is trying to live up to a facade, to pretend to be a confident 17-year old who's actually just craving love and is really sensitive."
"When you read the script or when you see the story, you can see how many teenagers, I think, are going to connect with each one of them in different ways," offered Alice Braga, who plays Cecilia Reyes, the medical doctor who acts as a mentor and caretaker for the group. "The movie, in a brilliant way, talks a lot about young people and going through their lives, being mutant or not."
Although there is a rich treasure trove of information about these characters to be found in the New Mutants comics and across other X-Men titles, Heaton — whose Cannonball can encase himself in a force field and fly at blinding speeds — said he relied more on the script by Boone and Knate Lee for his own insights into the character.
"Henry had like 100 comics in his room," Heaton recalled. "I looked at them. You've got the script, which gives you a lot, but [you're also] trying to find as much information as you can about your character. The comics, as much as they give you kind of the shape of these characters, they don't give you that kind of inner, full-fledged character. For me, at least, preparing was looking more at pulling from the script itself than necessarily the comics. The comics helped with the look and style."
Even though they played these characters three years ago, very likely for the first and last time (now that the X-Men are under the Disney banner, the company's Marvel Studios will likely reboot that entire property), Hunt said she would be happy to play Danielle Moonstar again.
"It would be interesting," said Hunt. "Because I feel like she would still be just like me…she was the first real character I ever got to play, and she's really close to my heart. It would be really fun to play her again as an adult, you know. Maybe her powers aren't all negative and bad. Maybe she can make some dreams come true and not just nightmares or whatever (laughs). That would be cool."
The New Mutants is out in theaters — wherever they are open — now. This is not an endorsement to go see the film that way.