News
Universal Puts Movies in Theaters on VOD
In a historic move during the coronavirus pandemic, Universal Pictures is putting its spring output on demand, including The Invisible Man, The Hunt, and Emma.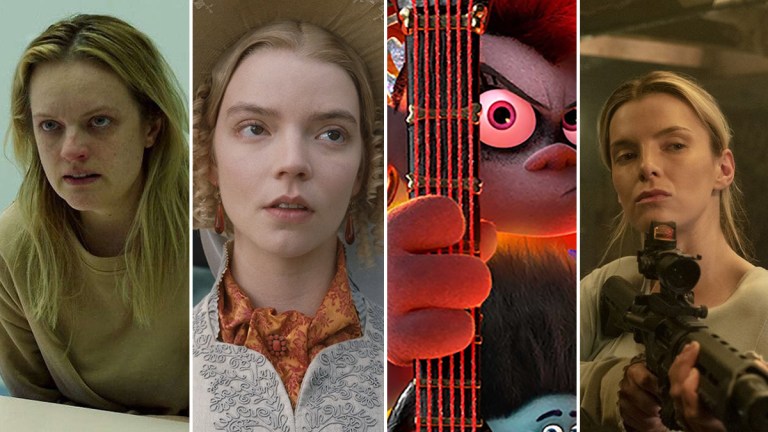 The times are changing quickly in the wake of the coronavirus pandemic, and industries are in upheaval. Just this past weekend, North American box office saw a historic drop-off in attendance, and that was before New York City and Los Angeles mayors announced the closure of all movie theaters Sunday night. Universal Pictures has responded by taking the unprecedented step of releasing its biggest releases currently in theaters via video on demand, as well as its biggest remaining April release.
The Comcast-owned company announced Monday that, for the time being, it is switching to what is essentially a day-and-date VOD policy, meaning that movies in theaters will be available on demand for digital rental during its theatrical exhibition window. This includes two genre horror movies that are currently in the box office's (meager) top five, The Invisible Man and The Hunt, as well as Focus Features' specialty box office darling, Emma., which only went into wide release on the weekend of March 6. Additionally, Universal and DreamWorks Animation's Trolls: World Tour will have a true VOD day-and-date rollout with the film now slated to premiere in theaters and for digital rental on April 10.
Consumers will be able to rent all of these movies for a 48-hour window, and at a price tag of $19.99, on Amazon, Apple, Sky, and Comcast. The studio said in a statement:
"Given the rapidly evolving and unprecedented changes to consumers' daily lives during this difficult time, the company felt that now was the right time to provide this option in the home as well as in theaters. NBCUniversal will continue to evaluate the environment as conditions evolve and will determine the best distribution strategy in each market when the current unique situation changes."

– Universal Picture statement
This is the type of bold move that can upend entire industries. While NBCUniversal CEO Jeff Shell says the company is still committed to the theatrical experience and believes "people will still go to movie theaters where available," the truth is this is the type of maneuver that theater chains and movie exhibitors around the world have been dreading for years.
Ever since Netflix announced itself as a dominant player in cinematic content creation, there has been a growing pushback within the industry, particularly among movie studios and the theater chains their blockbusters service. Steven Spielberg famously lobbied the Academy of Motion Picture Arts and Sciences against allowing Netflix to compete for future Oscars due to the streaming service's seeming indifference to the theatrical model of release. Those differences only became more pronounced after Netflix could find a compromise with exhibitors for a wide release of Martin Scorsese's The Irishman.
The fear of major wide releases being released simultaneously in theaters and VOD has created a general anxiety among exhibitors toward services like Disney+, which in the long run look poised to eventually push movie audiences toward staying home for their franchise fix. But those phantom fears are suddenly taking shape during the coronavirus crisis in which Americans have been warned by the Centers for Disease Control to avoid public gatherings of more than 50 people… a sparse number for any movie theater outing.
No theater chains have publicly commented yet, but this could theoretically create a massive rift among studios and exhibitors, particularly if Universal is just the first of a number of studios who opt to switch to theatrical and VOD, or perhaps only VOD. (Disney does have a potential blockbuster in Mulan just sitting on the shelf right now.)
To be clear Universal has not said this is the permanent way of the future. One of their winter 2020 releases, Robert Downey Jr.'s Dolittle flop, is not being made available early on VOD just yet. The studio also shockingly moved its intended 2020 blockbuster, F9, from a Memorial Day launch to April 2021. Obviously the intent is to get past the current coronavirus pandemic and to a period where audiences are eager to escape again at the movie theater.
Assuming they're open.