Features
Black Widow Sticking with Movie Theaters Shows Flaws in HBO Max Model
Marvel's Black Widow is maintaining its theatrical release date in 2021, and Disney reveals potential obstacles for WB/HBO Max model.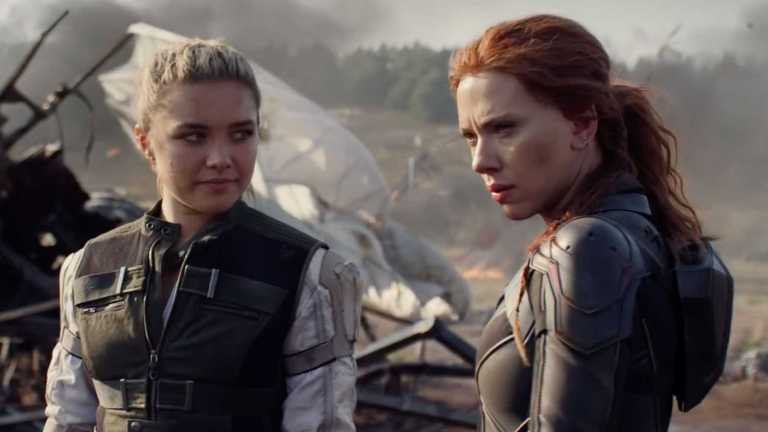 You could practically hear the gasps of disappointment last night. Marvel fans around the world were so sure Disney's call to investors would confirm what they wanted to hear—that Marvel Studios' Black Widow is coming straight to Disney+. Instead they were forced to face Disney's cold reality: It still doesn't make much economic sense to release a potentially massive blockbuster like Black Widow on streaming without some type of theatrical window. At least not yet.
To be sure, Disney is not against experimenting with putting major films on their streaming service. This year alone they have (or will soon) release Hamilton, Mulan, and Pixar's Soul, with one of those featuring a pricy $30 paywall for its first three months online. And during the Mouse House's glitzy presentation to investors Thursday evening, they also revealed Walt Disney Animation Studios' next event, Raya and the Last Dragon, will likewise be getting the "Premier Access" treatment that Mulan did.
Yet the company also reasserted its commitment to the theatrical experience when it made sense, such as Scarlett Johansson's allegedly final bow as Natasha Romanoff. Black Widow is still coming to theaters on May 7, 2021. The Warner Bros. fire sale approach of everything must go (to HBO Max), this was not.
However, this non-news is a helpful reminder on the state of the industry and why proclamations of movie theaters' death last week were premature. In fact, the strikingly different approaches Disney and Warner Bros. are taking to their 2021 output reveals as much about the state of their streaming services as it does the long-term viability of cinemas.
As Disney was right to crow about last night, Disney+ has amassed more than 86 million subscribers since its launch in November 2019. In that time, it's been able to steadily increase and sustain viewership with a slow but zeitgeist-grabbing output of original content. Hamilton was of course a big get for Disney's fledgling streaming service last Fourth of July, and that was a live-recording of the Broadway musical originally intended for theaters. However, much else of their relatively limited output, such as The Mandalorian, has dominated pop culture as the must watch watercooler series of the year.
At this rate, Disney+ is easily on track to reach the ceiling of its announced five-year goal—90 million subscribers—by some time early next year. They're also on path to eventually challenge Netflix's roughly 170 million global subscribers. With the Mouse's current strategy working, there is little financial need to rock the boat in order to buoy Disney+.
By comparison WarnerMedia's HBO Max has had a disappointingly rocky launch. Despite Christopher Nolan's most uncharitable and inaccurate statements, HBO Max actually is a treasure trove of content for movie and premium cable fans: here is the best classic Hollywood library on any streaming service, international and independent gems through the Criterion Collection, and almost every HBO series ever produced. But it's failed to catch on at large. In fact, most HBO subscribers appear unaware that they even have an HBO Max account, with only 8.6 million HBO Max accounts being activated—even though there are 34.5 million HBO subscribers, with an HBO Max account to them all.
That confusion among HBO subscribers, as well as an apparent reluctance to sign up to HBO Max in its first calendar year by everyone else, is incredibly troubling for WarnerMedia, which since being acquired by AT&T has pursued a strategy of putting all of its eggs in a streaming service basket.
Then WarnerMedia CEO John Stankey (who is now the CEO of AT&T) told The New York Times in 2018, "We need more hours a day [of people watching HBO programs]. It's not hours a week, and it's not hours a month. We need hours a day. You are competing with devices that sit in people's hands that capture their attention every 15 minutes."
He continued, "I want more hours of engagement. Why are hours of engagement important? Because you get the data and information about a customer that then allows you to do things like monetize through alternate models of advertising, as well as subscriptions."
If you watched Disney's four-hour lovefest yesterday, you'd know they had plenty to gush about in terms of mining data from subscribers. If you factor in their Hulu and ESPN+ subscribers, Disney is gathering data from 137 million subscribers worldwide. Unlike HBO Max, their services do not need an immediate shot in the arm.
Which brings us back to Black Widow. Disney's endgame for a decade from now might very well be to release more or all of its content on a streaming service, but at the moment that doesn't make financial sense for a movie like Marvel Studios' next epic. While the budget on the film is currently unknown, it is probably safe to assume it is in the ballpark of some of Marvel's smaller non-Avengers movies, especially with Johansson finally getting the lead role after a decade of supporting ones.
Ant-Man and the Wasp was on the lower end of the Marvel Studios budgetary output, and the movie cost between $160 and $190 million; Doctor Strange was closer to $200 million; and Spider-Man: Far From Home was over $160 million.
That is a large amount of money to be spent on a movie going to a streaming service. While Black Widow would certainly drive up subscriptions, it's hard to say by how much when the most rabid Marvel fans, as well as the families these movies are made for, likely already have subscriptions. Clearly Disney's own more sophisticated projections found a number that left the company wanting.
Meanwhile in a healthy season, Black Widow in all likelihood would gross between $700 million and $1 billion worldwide. Captain Marvel and Spider-Man: Far From Home, the two most recent "solo" MCU movies, both grossed $1.1 billion, and one of them didn't even star a globally beloved character whom fans have been demanding get a movie for a decade.
While it seems unlikely theaters will be in a strong place to replicate that feat in May 2021, even with new COVID-19 vaccines promising a sunnier spring, they could theoretically still generate more revenue than Black Widow could on Disney+… especially if Disney decides to delay it again if the fall looks like it could be a return to relative normalcy. They have the resources to wait.
Further Disney would not have to undercut its exhibition partners around the world, or burn talent that is expecting profit participation and the big screen treatment just to subsidize their streaming service.
Indeed, Disney's reluctance to do just that better underlines Nolan's points from earlier in the week. While Nolan's comments remain shockingly bitter for a man talking about the studio that's been loyal to his visions for more than 15 years—even bankrolling his folly to open Tenet during a pandemic—Nolan's point about WB's "hybrid model" not making economic sense for the individual films (at least the biggest ones) is sound. Movies like Wonder Woman 1984, The Suicide Squad, and Godzilla vs. Kong are being written off as loss leaders to make HBO Max more enticing for those reluctant to join another streaming service (or unaware that they already have).
These movies are, in a way, sacrificial lambs which has earned the ire of not just exhibitors but the talent who made them. While Patty Jenkins and Gal Gadot each were paid an undisclosed amount, with some speculating it was eight figures, to give up their profit participation on Wonder Woman 1984, WB did not immediately give the same deal or even a warning to talent and production partners on their 2021 film slate. And even Jenkins seems to have reservations about the ordeal.
In a recent conversation with Variety, the Wonder Woman director said, "When every single studio in town starts chasing the exact same thing, you're like, Why doesn't someone differentiate themselves? In this case, I think what's going to happen is… some studio is going to be smart enough to be an outlier, and all the great filmmakers in town are going to go there, and the theaters are going to favor their movies. Because right now, if there are studios that announce that [releasing day-and-date on streaming] is what they're going to start doing, every filmmaker's going to head to the studio that promises they're not going to."
She went on to add she's had "on her mind" doing what Charlie Chaplin, D.W. Griffith, Mary Pickford, and Douglas Fairbanks did in 1919, which was to start their own talent-friendly studio, United Artists. One imagines Nolan would be open to that discussion.
It's worth mentioning this in lieu of other news over the last several weeks. Jenkins, a proponent of classic cinema, reluctantly agreed to put Wonder Woman 1984 on HBO Max. However, last night she just revealed to the world she is going to helm the next Star Wars movie, Rogue Squadron, at Disney. And given she and Gadot also have Cleopatra on their docket in the next few years, it leaves the question of when Jenkins will find the time to do a Wonder Woman 3 wide open.
But then, if it ends up being another day-and-date release like Wonder Woman 1984, perhaps she'd be happier in the galaxy far, far away… and at a studio, even with its obsession with intellectual property, that all of a sudden seems friendlier to talent who wants to fly high and on the big screen.