Reviews
The King of Staten Island Review
Pete Davidson shines in The King of Staten Island, a deeply personal and heartfelt story from Judd Apatow.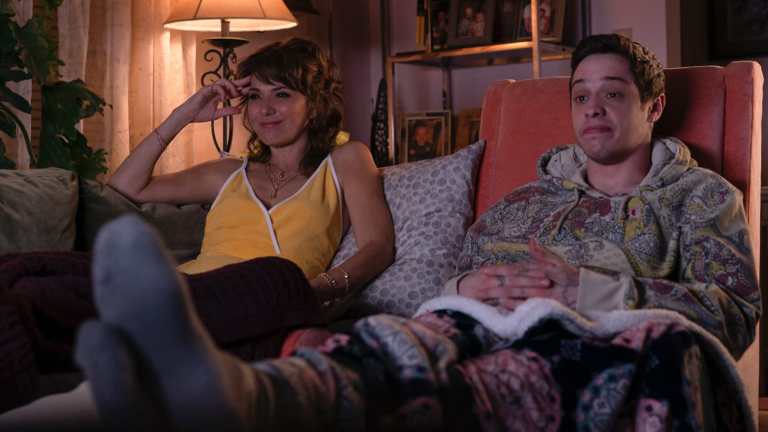 There is something instantly familiar about The King of Staten Island, the new film from director Judd Apatow. Like earlier Apatow efforts such as Knocked Up, This is 40, and Funny People, it's about a stunted man-child's journey through several life situations and the emotional growth (or lack thereof) that results. But in this case, the movie is based on the life of its star, Saturday Night Live cast member Pete Davidson, who wrote the script with his longtime friend Dave Sirus. It's also far removed from the typical Los Angeles environs of many of his movies and is set (and filmed) on Staten Island, the "forgotten borough" of New York City where Davidson grew up.
As a result, The King of Staten Island feels more intimate and personal than the typical Apatow dude-bro comedy, its unvarnished SI locations giving the movie a lived-in, blue collar feel befitting the story and characters. As someone who grew up on the island, I can attest to this. And while Davidson's candid style of comedy may be off-putting to some–and I'm speaking as neither a fan of his nor Saturday Night Live in general–he gives a forthright, deeply felt performance that gradually peels away his character's smirky armor of entitled arrogance to reveal the real pain below the surface.
Davidson plays Scott Carlin, a 24-year-old layabout who has done nothing of note with his life since his firefighter father died on the job when Scott was seven (Davidson's real-life father was also a firefighter who was killed in the Sept. 11 attacks in New York). Scott lives at home with his mother, Margie (Marisa Tomei), who works as a nurse and is getting ready to ship Scott's younger sister Claire (Maude Apatow) off to college. Like Davidson himself, Scott also suffers from Crohn's disease, borderline personality disorder, and is covered with ink, as per Scott's stated ambition to become a tattoo artist.
Margie is practical, dedicated to her work, her family, and their relatively comfortable middle-class life, but she's also lonely. She has no answers for what to do with Scott, who hangs around with his boys and his childhood friend with benefits Kelsey (Bel Powley, Diary of a Teenage Girl), smoking lots of pot and talking about a tattoo parlor/restaurant that he allegedly plans to open one day. Yet Mom and son's relationship is upended by the arrival of Ray (Bill Burr from Breaking Bad), a firefighter with whom Margie begins unexpectedly to strike up a romance. With Margie's life possibly changing, Scott is forced to confront his own status and does not, at least at first, handle it well. At all.
Like the lead characters in Knocked Up or The 40-Year-Old Virgin, one may first find Scott irritating as he shuffles through his life and blames everyone else around him for his problems. But Davidson brings such a personal edge to the material in this case that it feels more real than those previous characters brought to amusing life by Seth Rogen and Steve Carell. He's also generously helped by the cast around him, with Tomei in particular doing sterling work as Margie, making her reactions to the exasperating men in her life believable while also giving the character a sturdy confidence in herself and her own abilities to handle whatever life throws her way. Steve Buscemi likewise does great supporting work as another firefighter who comes into Scott's life as a mentor and also a reminder of his painfully missed father.
The movie skirts some issues–such as Scott's struggle with mental illness, which are mentioned but never truly faced head-on–and goes down some alleys that feel pointless, such as his interaction with Ray's embittered ex-wife (Pamela Adlon) and a brief dabbling in crime. At two hours and 17 minutes, The King of Staten Island feels shaggy and occasionally aimless, although that may be intentional on the part of Davidson and Apatow to mimic how adrift Scott feels. But in the end, Scott's gradual transition to something approaching maturity is organic as a result.
The length might also work better in the VOD format, on which The King of Staten Island is premiering in lieu of a theatrical release. Its tonal shifts might go down smoother within those confines as well, whereas they could feel more jarring in a shorter movie on a big public screen. Its focus on the everyday ins and outs of Staten Island life (albeit almost strictly white working class) might likewise seem like a balm in the midst of all our current turmoil. Scott may not be the king of Staten Island as the title suggests, but Davidson and Apatow manage to make his would-be kingdom welcoming for a couple of hours.
The King of Staten Island premieres this Friday, June 12 on premium VOD.