Ma Rainey's Black Bottom Review: Viola Davis and Chadwick Boseman Bring Fire to Blues
Viola Davis and Chadwick Boseman devastate in Ma Rainey's Black Bottom, a jazz movie that plays like jazz: with two leads as much in conflict as harmony.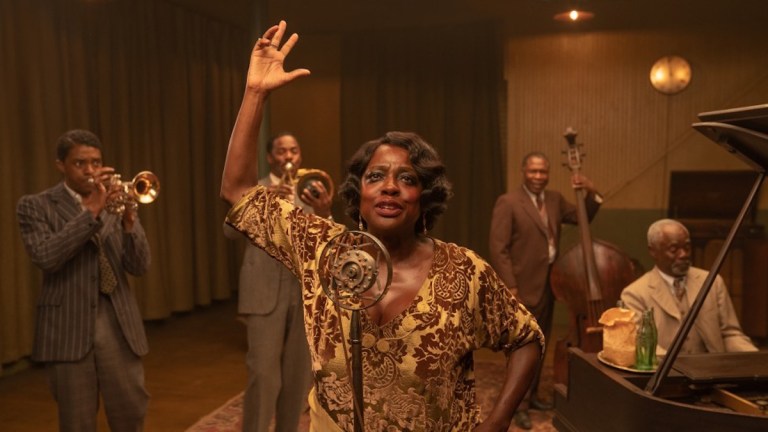 Ma Rainey's Black Bottom is a powerful, slow-building, jangling film that's full of life. It may feel loose, but from the script to the cast, there's not an ounce of fat on it. When the time comes, it delivers a brutal gut-punch, and then one more for the road. Chadwick Boseman and Viola Davis take up all the oxygen every time they're in the room, which makes the anticipation of their eventual showdown feel breathless.
In sweltering 1927 Chicago, the legendary "Mother of the Blues" Ma Rainey (Viola Davis) is in town to record an album; her panic-y white manager (Jeremy Shamos, The Undoing) and production stooge (Jonny Coyne, Preacher) buzz about, trying to control every aspect of the endeavor—the song list, the timetable, the pay—all while Ma and (most of) her accompanying band know who's really in charge: Ma.
A real life singer from Georgia who made it big with Black audiences, Ma is wealthy and powerful in a way that so few queer Black women (or those holding even one of those identities) of her time were, and she knows it. Over the rambling course of the film, the slightest provocation sends Ma away from the microphone, and the boys back to the practice room, as the white men grow ever more apoplectic.
Boseman's ostentatious horn player Levee starts the film showboating and fast-talking, eventually revealing more of his substance to the veteran members of the band. As they debate things like which arrangement to record, how "the colored man" should improve himself, and whether God is real, they get under one another's skin, and the water creeps closer and closer to a boil. Ma's nephew (Dusan Brown) also provides an interesting wrinkle, while her girlfriend (Taylour Paige) is at times a distraction and at others, a liability.
Like Fences, another adaptation of August Wilson's stage plays featuring Davis and produced by Denzel Washington, this is very much a play that happens to be a movie, although that's not necessarily a bad thing. Wilson's story takes the park bench play—any play where two characters sit on a park bench, although really it could be anywhere, and talk—and multiplies it. The park becomes the practice room in the studio, and two people become four, as Ma Rainey's band waits.
Later, Ma and her band leader Cutler (Colman Domingo, If Beale Street Could Talk) have a more typical park bench moment in the empty studio. It's one of the most revealing conversations, because Ma shows what it's really like to be a Black woman who is seen as a commodity. She isn't a diva for the fun of it; it's a survival mechanism. Here Domingo demonstrates the strength of the film's supporting performances, especially the trio of himself, Michael Potts as Slow Drag (Gotham), and Glynn Turman as Toledo (Fargo). They crack open these two central powerhouses and make them easier for us to understand, teasing them out and reflecting them back to us to help us make sense of what we're seeing.
There have been many movies about jazz before and will be many more again, but this movie feels like it is jazz. Busting open the form of the park bench play even as it builds on it, the musicians of Ma Rainey play as a retort, a continuation, and to silence or to brag—as a coda to trauma. They augment their conversation with music the way it augments their lives, weaving their music in and out of their beliefs, jokes, hopes, and fears.
Director George C. Wolfe uses a few opportunities to take advantage of what the screen has to offer over the stage. The film's slow-building introduction is one the audience won't soon forget, and a scene of two band members buying a Coke is brief but packs a mighty narrative wallop. The glimpse into late 1920s recording practices is fascinating in its own right—and stylishly shot.
It's impossible to forget that this is Boseman's final performance. A particularly gutting monologue he delivers on the unfairness of death doesn't make that any easier. Boseman gives absolutely everything he has to this role. It's actually reminiscent of his co-star, Delroy Lindo's, in Da 5 Bloods, for its intensity and vulnerability. His smile takes up the entire screen, and his quiet brings us to a standstill.
Davis is unlike how we've ever seen her before, and it's hard to limit it to just one reason why. Unlike some of her other glossier screen appearances, which seem at times to apologize for her skin tone or body type, covering her up or amending her looks, this film celebrates the . Her skin shines with sweat, her eyes ringed with bold makeup. As Ma Rainey, Viola Davis has an otherworldly swagger of a woman definitively unbothered. She communicates as much with a glare or the wing of her hips as she does her words.
Ma is at her sexiest while performing, whether on stage or in the studio, and suddenly it's a lot easier to understand why people clutched their pearls so hard. She is formidable and it is catching—around her skirts, garters peak out, and hips dip backward as asses drop closer to the floor. There are hints of her real-life bisexuality, though we only ever see her with a woman. There's sensuality there to be sure, and it doesn't go unnoticed, but the more lurid displays are reserved for a mixed-gender coupling.
It would be easy to let Black Bottom lull you into thinking it's one of those slice-of-life plays where "nothing happens." That is both a misunderstanding of those works and not what's going on here. When Ma Rainey twists the knife, you won't know it until you look down and see the blood. And even then, after all that time of slowly building, it leaves you wholly unprepared for the next hit.