Features
The Best TV Comedies of 2020
In a stacked year for TV comedy, our staff did the dirty work and ranked the best of the best in 2020.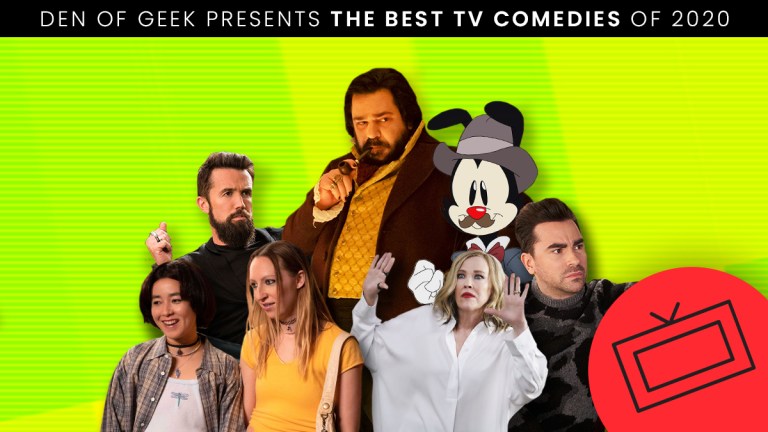 Have we ever been in more need of a laugh than in 2020? Amidst a historic global pandemic, a tumultuous American political election, civil unrest, wildfires, MURDER HORNE… alright, you get the picture. 2020 has been the pits, man. Thankfully, this year from hell featured some bright spots on television, even if rays of sunshine were sorely lacking in reality.
If the shows on our list weren't making us laugh, we would have been ugly-crying since March. While we were all locked in our homes, we got reacclimated with the Warner Brothers (and sister), said goodbye to BoJack Horseman, and met regular human bartender Jackie Daytona, making quarantine a bit more bearable, if only in 30 minute increments. From brand new series like How To with John Wilson, to swan songs for Den of Geek favorites like Schitt's Creek, TV comedies in 2020 kept us cackling through the chaos.
To determine the best TV comedy of 2020 in a particularly stacked, diverse year, we polled 12 Den of Geek staffers and contributors. Below, you'll find our honorable mentions and our list of the series most likely to raise your mood in the darkest year of our adventures.
Honorable Mentions
The following shows received votes but just missed out on the top 20:
Ramy, Never Have I Ever, Feel Good, The Great, Avenue 5, The Duchess, Staged, Famalam, Inside No. 9, Ghosts, The Shivering Truth, Bob's Burgers, Katy Keene
DEN OF GEEK TOP 20 COMEDIES OF 2020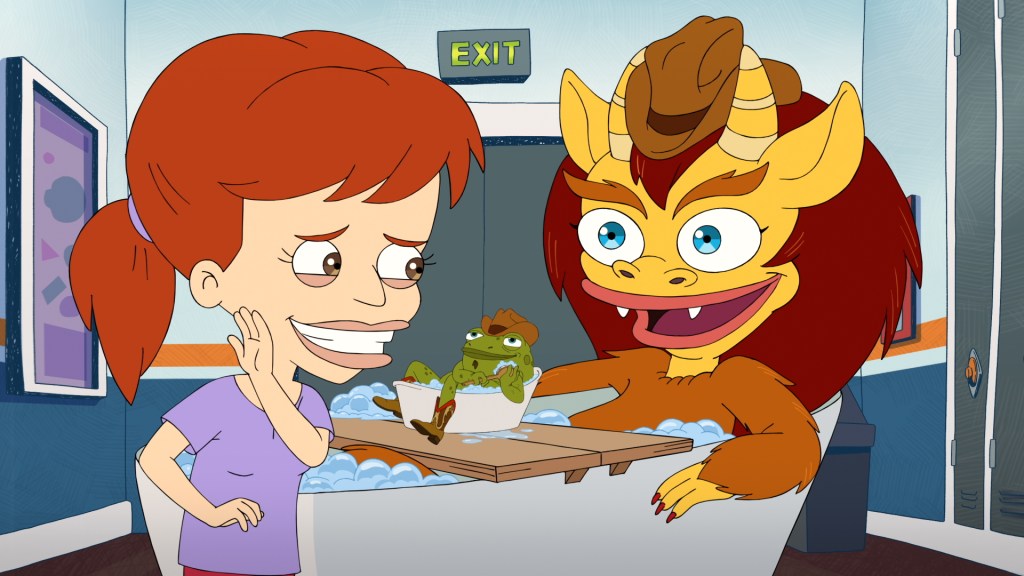 20 – Big Mouth (Netflix)
How long can a show about puberty, a very specific time in the life cycle, remain viable? Well based on the fourth season of Netflix's animated comedy Big Mouth, just about as long as it wants to. Big Mouth season 4 succeeds by finding new avenues to delve into the psyches of its young characters going through chaaaaanges. In the process it also finds ways to expand its storytelling capabilities, delving into issues of trans youth, code switching, and anxiety. Through it all it remains as hilarious, and disturbingly vivid, as ever. – Alec Bojalad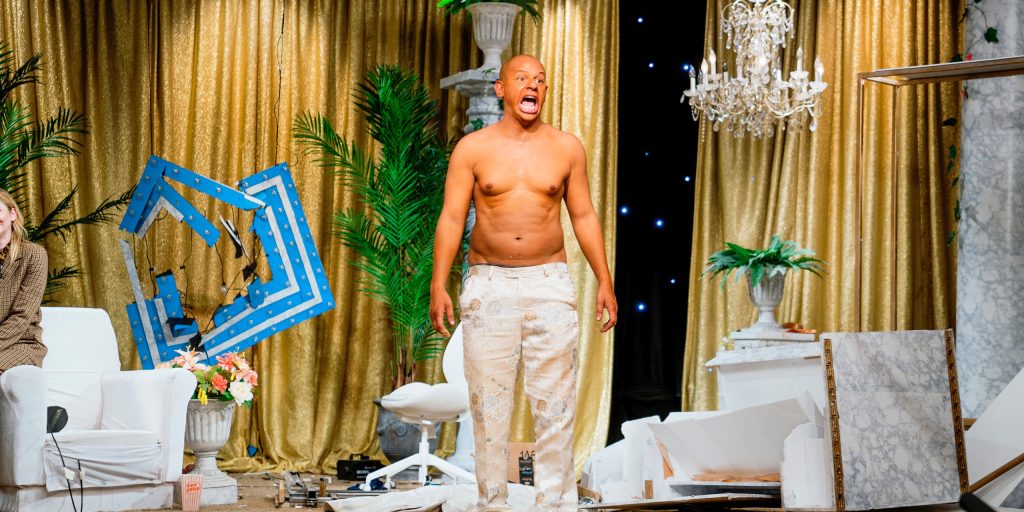 19 – The Eric Andre Show (Adult Swim)
It's not like Eric Andre reinvented the wheel or anything with the fifth season of his anarchic, absurdist talk show. If you were never a fan of anti-comedy that centers heavily around duping random people on the street, gross-out gags, and the torture of unsuspecting guests, then you're not going to start liking it now.
However, for those of us already onboard The Eric Andre Show train, it's no small feat that, five seasons in, this is still one of the funniest shows on TV. You'd think by now Eric would've run out of guests who have no idea what they're in for, but, no, there's an all-new batch of naive celebrities whose lives are effortlessly worsened by Eric, his crew, and his new house band. You'd assume he couldn't prank people on the streets of New York City and Newark, New Jersey anymore because he'd be recognized by now, but, no, he pisses off a lot of people and breaks a lot of other people's brains with ever-inventive, bizarre, obnoxious pranks.
Finally, you might think the series would suffer irrevocably from the departure of co-host Hannibal Buress only two episodes into the season, but Eric demonstrates he's more than capable of spreading chaos all on his own (though he's sometimes assisted, alternatingly, by a Hannibal clone named Blannibal, comedian Felipe Esparza, and Screen Actors Guild Awards nominee Lakeith Stanfield). Season five is the same The Eric Andre Show as it ever was, but that still makes me laugh harder than anything else on television right now. I'd be happy for Eric to keep making this show forever. – Joe Matar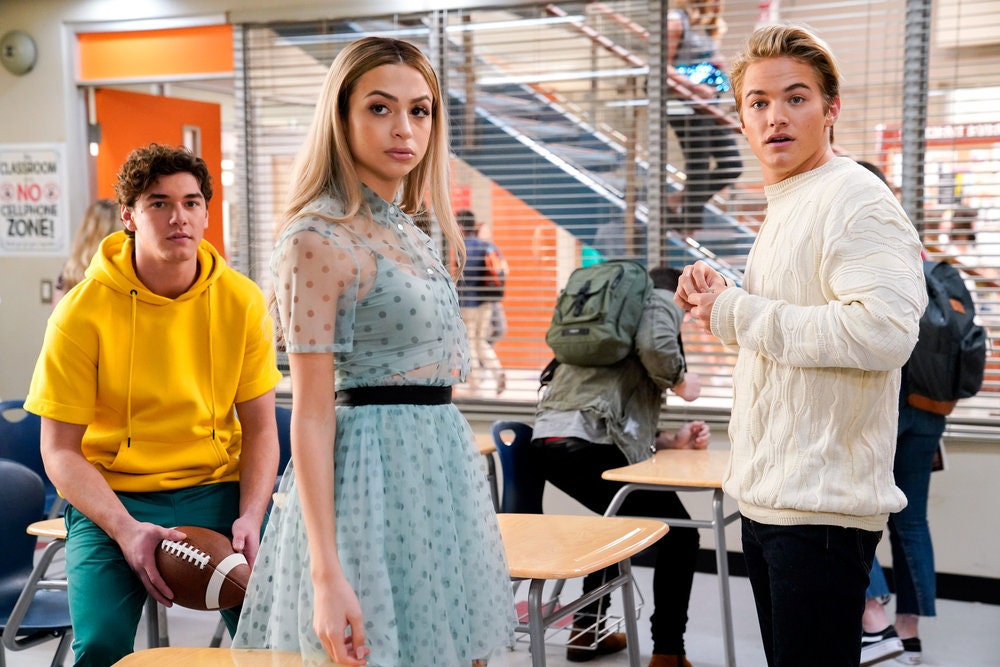 18 – Saved by the Bell (Peacock)
A Saved by the Bell reboot shouldn't have worked. But as Peacock's recent series showcased, with the right creative team and angle, you really can successfully reimagine an outdated but beloved '90s teen comedy for 2020. Working as both a soft reboot and sequel, this is meta-comedy at its best. Saved by the Bell is fully aware of what made the original special and why they don't still make shows like it now. Juxtaposing those two competing views through the lens of the privileged and perfect Bayside kids and the new normal students makes this an accessible and seriously funny series with a biting humor rarely seen in teen comedy. – Rosie Knight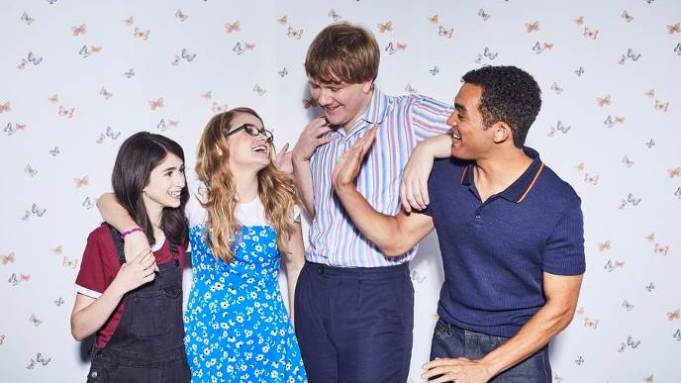 17 – Everything's Gonna Be Okay (Freeform)
Australian comedian Josh Thomas brings his off-kilter sensibility to a loving and sharply funny portrait of a modern family in Everything's Gonna Be Okay. In the pilot, Thomas's character Nicholas, a gay twentysomething from Australia, visits his father in the US and learns that his physically and emotionally distant dad is dying. Things really pick up as Nicholas steps up to care for his two teenage half-sisters, Matilda (Kayla Cromer) and Genevieve (Maeva Press), while also trying to date, and manage his melodramatic mother from the other side of the planet.
Matilda especially comes into her own as she hopes to go to college away from home next year— something others doubt since she's autistic. Her autism is a reality that becomes part of the fabric of the show, a setup rather than a punchline. Few shows would include a teenage threesome that manages to be funny, heartfelt, and matter-of-fact, but in Matilda's world, sex (and exploring her sexuality) are often all three. Everything's Gonna Be Okay is a family show that acknowledges the realities of family: death, disabilities, teenage girls with sex drives, and laughter at funerals. – Delia Harrington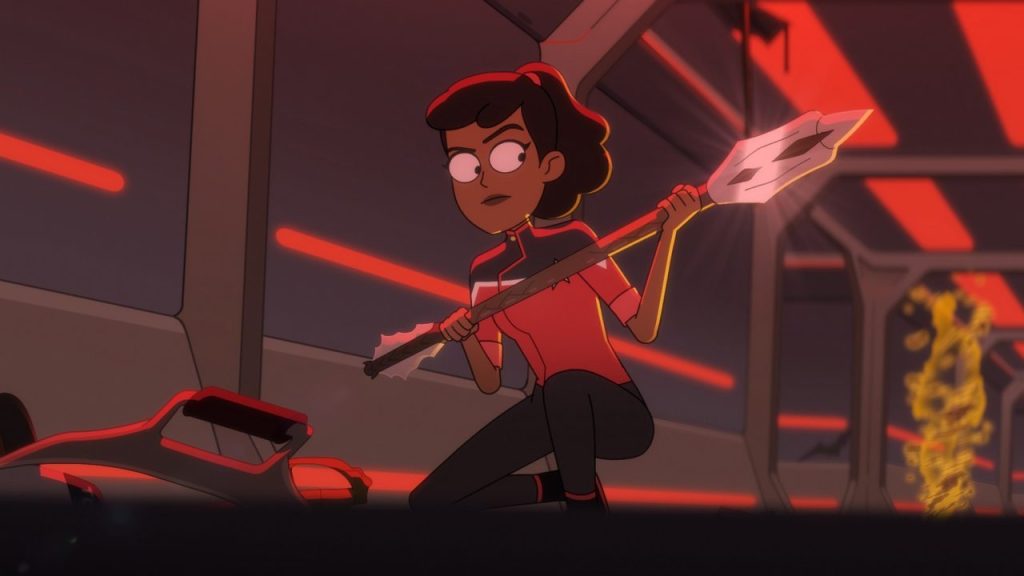 16 – Star Trek: Lower Decks (CBS All Access)
Created by one of the writer/producers of Rick and Morty, it's no surprise that the first episode of Lower Decks involved some pretty broad humor and wildly out of control situations. The producers of the 1970s Star Trek: The Animated Series understood the creative potential of animation when they replaced Ensign Chekov with a giant cat, and Lower Decks follows suit, the pilot giving us blood, guts, gore, zombies and a giant spider, all in Rick and Morty's madcap tone.
As the show has developed over its first ten episodes, though, it's become something more than that. The knowing humor is a delight—the focus on things like "second contact" (the less glamorous setting up of diplomatic relations after first contact), ascensions to a higher plane of existence gone wrong, and re-visiting half-forgotten alien races like the Pakleds shows the same sort of gently teasing love of the franchise that Galaxy Quest did. But the characters have also developed into real, complex people to the point that a character death is genuinely moving, and the audience are really able to care about what happens to these essential cogs in Starfleet's machine next. – Juliette Harrison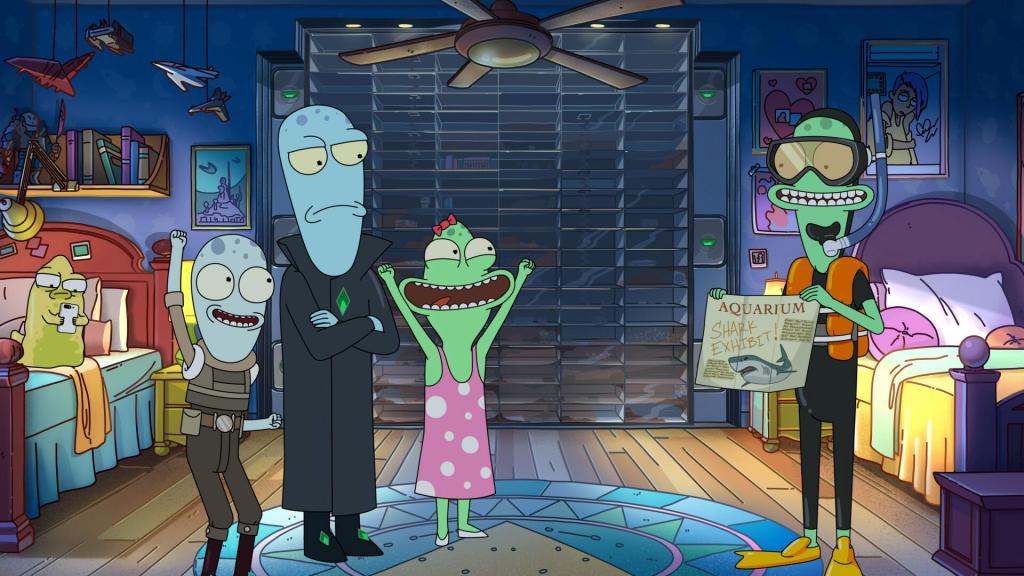 15 – Solar Opposites (Hulu)
A big part of what makes Rick and Morty so great is that, in addition to all the sci-fi hijinks, there's meaningful development of the show's characters and world. Unfortunately, as the series has progressed, this is also what's dragged it down. As Rick's nihilism has increasingly alienated the people around him, a lot of the fun has been lost. The show still puts out the occasional brilliant episode (for example, the season four finale), but it almost feels like all the characters on Rick and Morty straight-up hate each other and watching it can be kind of a drag sometimes.
It's such a treat then, to see all that fun sci-fi silliness rebirthed in the form of Solar Opposites, co-created by Justin Roiland and Mike McMahan (Rick and Morty co-creator and writer/producer, respectively). Making good use of all the storytelling lessons they learned from their other sci-fi cartoon show, the two have released a confident and consistently funny debut season. Though it feels awfully similar to Rick and Morty at first blush, it has more in common with classic sitcoms, with its focus on goofy, self-contained plots about the alien family at the show's center. However, the series shakes the sitcom formula up a lot with a surprising dedication to callbacks and continuity, most notably exemplified by the continuing, dramatic tribulations of a community of people who have been shrunken down and forced to live in the aliens' multilevel terrarium. The combination of madcap sci-fi alien plots contrasted with the trials of the melodramatic dystopian shrunken-people world makes Solar Opposites one of the most inventive comedies of the season, and I'm excited to find out where it's going next. – Joe Matar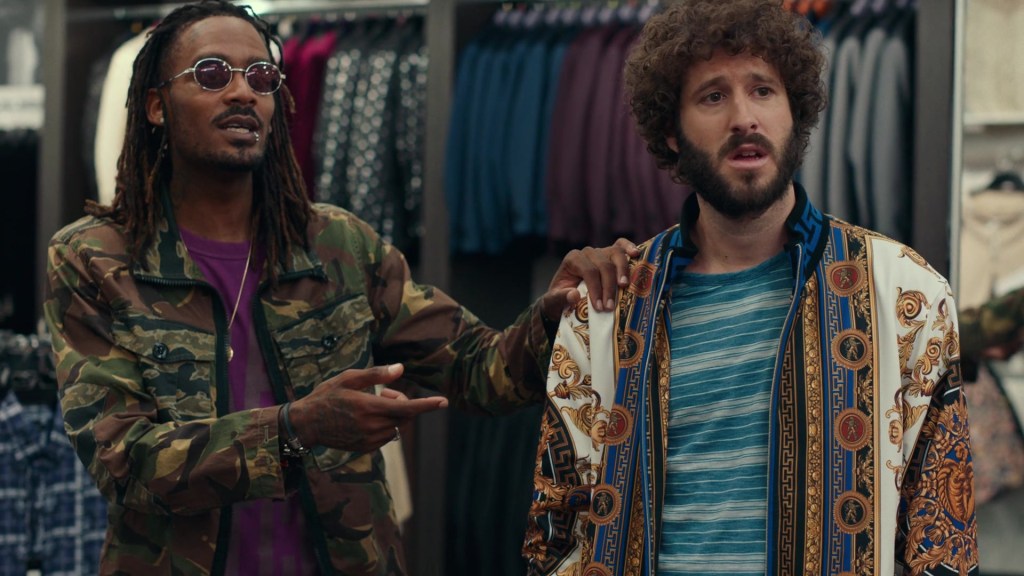 14 – Dave (FX)
There are countless hip-hop artists whose backstories would make for compelling television. So why did FX choose to spotlight a goofball white rapper from the suburbs with a mediocre penis joke for a stage name? It takes only one episode to realize any preconceived notions about Dave, based on the life and rap career of Dave Burd, aka Lil Dickey, should be spit from your silly mouth faster than Lil Dickey spits bars on a freestyle.
A telling sign that Dave was going to be a sleeper hit was the involvement of co-creator Jeff Schaffer, a longtime EP and writer on Curb Your Enthusiasm and the creator of FX's The League. Together Schaffer and Burd mapped out a first season that sees Dave navigate the early stages of his music career with a level of narcissism he believes is needed to be taken seriously in the rap game. But the series also shows another side of Dave, self-deprecating in a surprisingly endearing way, rarely swayed by what others think, and frustratingly true to himself and the path he sees for his life. This is FX's star vehicle for Burd, but the show manages to make him the center of the universe while still developing key players in his life as the season progresses, giving each character an affecting spotlight episode. The standouts include episodes about Dave's real-life friend and hype man GaTa and his struggles with bipolar disorder, the evolving managerial relationship with his roommate (Andrew Santino), and how sudden fame begins to erode a once promising relationship with his girlfriend, Ali (Taylor Misiak).
Already renewed for season 2 and a ratings hit with FX/Hulu reporting high streaming numbers, Dave is no longer an underdog and will carry a new set of expectations as the titular character's career ascends. If you're still a skeptic, you need to adhere to television's golden rule when it comes to Dave: Don't judge it until you binge it. – Chris Longo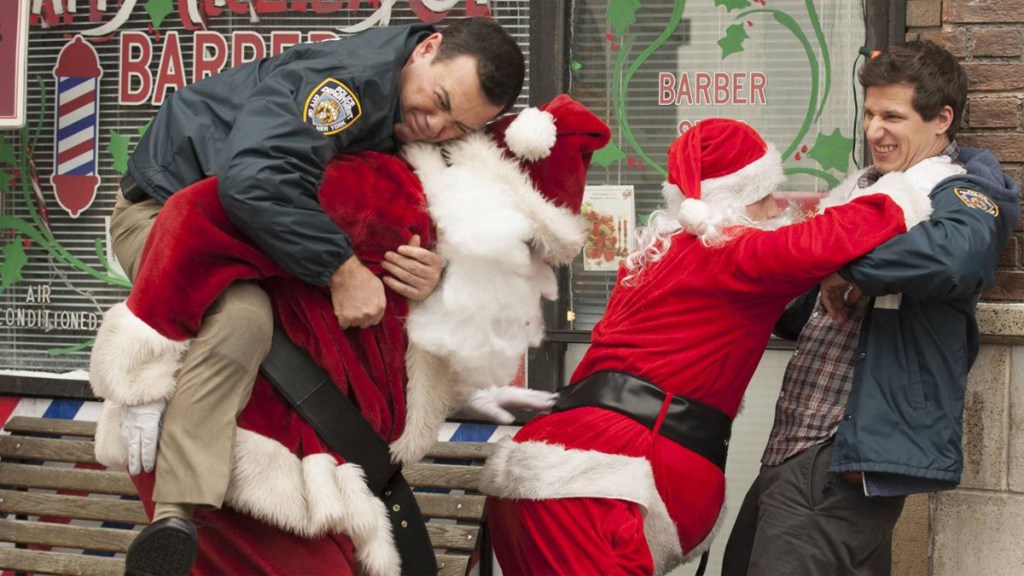 13 – Brooklyn Nine-Nine (NBC)
At only 13 episodes, Season 7 was the shortest season yet of Brooklyn Nine-Nine, but it packed a lot into those 13 half-hours. With Melissa Fumero pregnant in real life, the writers used this to cover six months in series by following Jake and Amy's attempts to conceive a baby, helping those limited episodes to feel like they were filling out more time. The show has also struggled to work in its annual Halloween Heist episodes since moving to NBC and being put into a winter start slot, but in 2020 Rosa managed to triple her victory by engineering Heists on not just Halloween, but Valentine's Day and Easter as well.
Season 7 aired too early to deal with the Black Lives Matter protests that dominated the summer of 2020, but the writers have already pulled all their planned scripts for Season 8 and re-written them in light of those events, so that is yet to come. 2020 had a little bit of everything that makes B99 great—a dose of Pimento, Jake and his daddy issues, Holt's adorable corgi Cheddar, and one final appearance from his nemesis Madeline Wuntch. For once, the season didn't end with Holt somehow being removed from his job as Captain of the 99, but there's still plenty to look forward to in Season 8—maybe 2021 will be the year that Charles Boyle finally wins the Halloween/Valentine's Day/Easter/Cinco de Mayo Heist? – Juliette Harrison
12 – Animaniacs (Hulu)
Rampant remakes and sequel reboots have turned into the norm, but streaming services have especially embraced this idea as a way to anchor a library of programming. These endeavors are extremely hit or miss, but Hulu's revival of Animaniacs is one of the few exceptions that feel justified for a return. Animaniacs always functioned as a radical cocktail of perversions of pop culture and classic comedy and 2020's Animaniacs actively thrives with decades' worth of new material to lampoon. The series has stripped itself back to its basics and temporarily removed most of the old supporting players, except for Pinky and the Brain, but this allows Animaniacs to build itself back up and establish new recurring characters and segments.
There's such clear joy present in Animaniacs, whether it's from the voice actors, the creative staff, or the animation team. Segments like an unauthorized Russian version of the Animaniacs or catchy songs about Shakespeare and the different First Ladies of America prove that the classic series' sense of humor has successfully been maintained. If anything, the cartoon is even more fearless. It's the perfect burst of '90s Saturday Morning nostalgia that's also exceptionally funny and thought provoking. – Daniel Kurland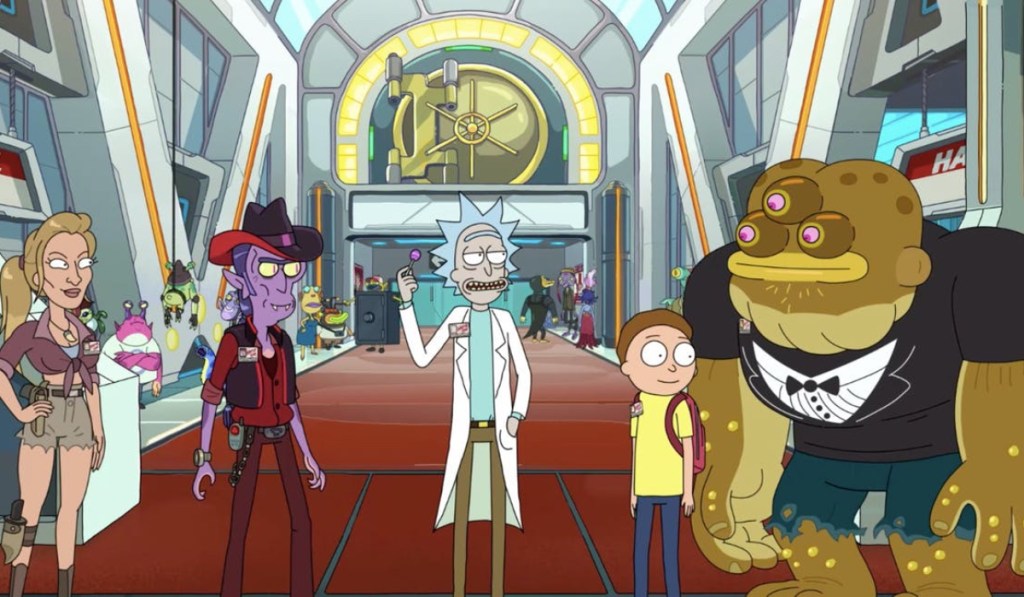 11 – Rick and Morty (Adult Swim)
Rick and Morty is a colossal behemoth of storytelling that's developed a fascinating and often antagonistic relationship with its audience. 2020's Rick and Morty content only includes five episodes from the second half of the show's fourth season, but they're some of the series' wildest installments when it comes to storytelling, perpetual jokes, and the show's ability to deconstruct itself and its fandom. The series Emmy-winning "Vat of Acid Episode" explores the emotional highs and lows of "save states" while "Never Ricking Morty," the show's "Story Train" episode, is perhaps the most structure-obsessed piece of television that's ever been written.
Rick and Morty continues to expand its universe in exciting ways and allow its characters to realistically mature. These episodes provide fascinating insight on both Rick's relationship with Morty as well as his bond with Beth. Even Jerry and Summer get their moments to shine and Rick and Morty feels more like an ensemble than ever before as it prepares to shake things up even more in season five. – Daniel Kurland
10 – Aunty Donna's Big Ol' House of Fun (Netflix)
In 2019, Netflix gave us I Think You Should Leave, the sketch comedy series from Tim Robinson that birthed memes that somehow only get more relevant (and funnier) as time goes on. In 2020, Netflix, likely mindful they needed to hold us over until Robinson finishes filming season 2, gave us a gift from down under called Aunty Donna's Big Ol' House of Fun. If you liked Robinson's sketch series, imagine that on crack, dialed up to 100, and featuring the three silliest Australian dudes to ever walk on that continent. The series stars Mark Bonanno, Broden Kelly, and Zachary Ruane, a group of friends who formed a comedy group called Aunty Donna and gained a large following on YouTube with their absurdist humor that features simple premises that often descend into frenetic madness. See: them explaining how a board game works or doing roll call at school.
In Big Ol' House of Fun, the series opens with a musical number that will have you wondering whether everything's a drum. Episode 2 will change the way you think about your morning coffee. Friendly faces like Scott Aukerman and Ed Helms (or is it "Egg" Helms?) even stop by just to play ball. Through its infectious and (mostly) good-natured absurdist energy, the series lives up to its name with endlessly quotable and memable sketches. And much like I Think You Should Leave, Aunty Donna material only gets better when you rewatch it. Here's to hoping Netflix will let us come back and visit this Big Ol' House again for season 2. – Chris Longo
9 – Mythic Quest: Raven's Banquet (Apple TV+)
Created by Rob McElhenney, David Hornsby, and Megan Ganz of It's Always Sunny in Philadelphia fame, Mythic Quest: Raven's Banquet is a new Apple TV+ comedy that easily justifies a subscription to the streaming service. Set within a video game studio for a popular MMORPG, Mythic Quest leans into certain workplace comedy tropes, but never feels derivative of the genre or that it's just Always Sunny with a fresh coat of paint. The comedy effectively explores and skewers gaming culture, but a knowledge of the industry is not at all necessary to enjoy the program.
Smart and creative scripts are punctuated by the show's phenomenal cast, which features the likes of McElhenney, Hornsby, and Danny Pudi. However, Charlotte Nicdao's work as Poppy Li, the studio's neurotic perfectionist lead engineer, is a revelation. Mythic Quest works so well because of how it grounds its quick comedy in powerful character dynamics. The series' "standalone" flashback episode, "A Dark Quiet Death," received a ton of acclaim, but there are few episodes of television from 2020 that contain more heart and honesty than the series' quarantine-centric installment. – Daniel Kurland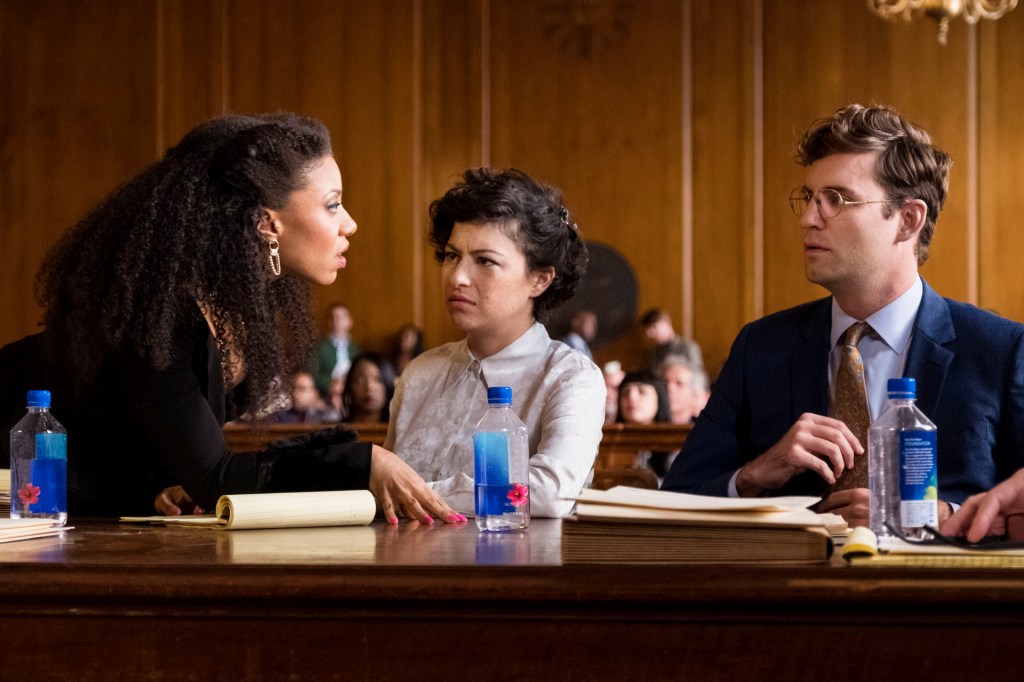 8- Search Party (HBO Max)
HBO Max's first bingeable, bonafide hit was outsourced from TBS. After languishing on basic cable with critical praise but low viewership, Search Party made the move to the new Warner streaming service for Season 3 and proved that the series was the perfect "watch it all in one afternoon" comedy. What began as a comedic mystery series about a group of prototypical Brooklyn millenials on a quest to find their missing former classmate shifted in its third season to become a satire on celebrity trials and how tabloid spotlight can turn unassuming people into sociopathic narcissists.
Search Party's strength is in its ensemble. Alia Shawkat brings an interesting vulnerability to disaffected Dory, but her other "searchers" are the real bright spots. John Reynolds is perfectly cast as the de facto worthless millennial "beta male," and John Early and Meredith Hagner are consistently laugh out loud funny as self-obsessed, attention seeking airheads. Search Party has a twisty, interesting plot, but it's also a scathing indictment on an entire generation obsessed with celebrity, self-analyzation, and searching for "meaning." If you have not yet watched one of the year's funniest shows, get caught up before Season 4 debuts in January 2021. – Nick Harley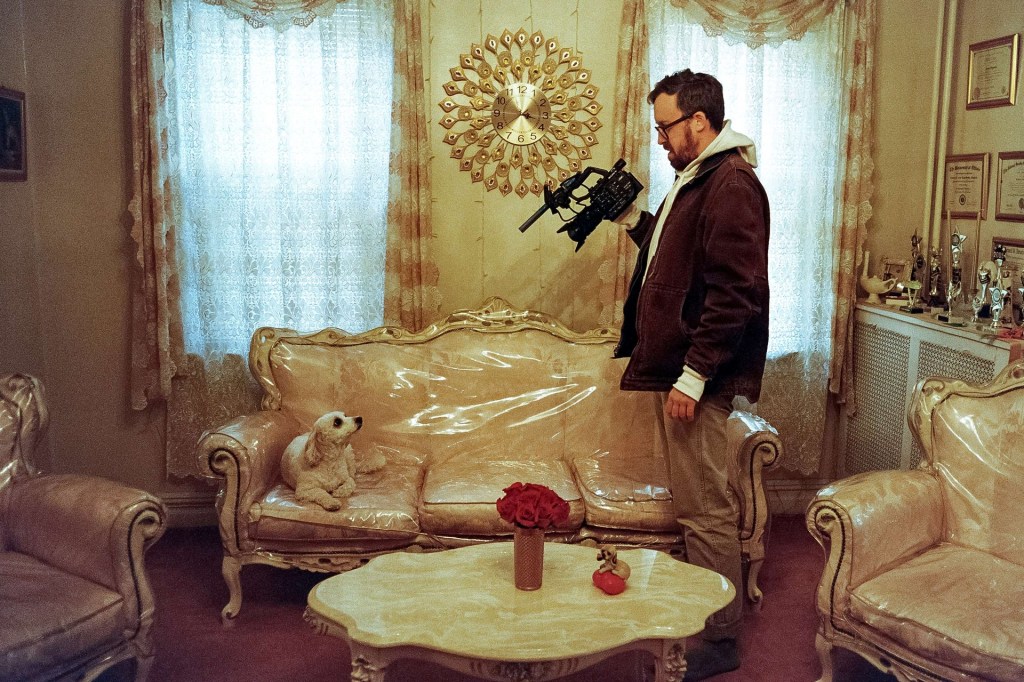 7- How To with John Wilson (HBO)
Life is strange. If you take a moment to actually watch and analyze many of the seemingly ordinary, day-to-day things you witness while walking down the street in a major U.S. city, you'll be shocked at how alien it can all appear. In New York City in particular, every imaginable human behavior is on display somewhere, and documentarian John Wilson is out there capturing it all on camera. How To With John Wilson may seem like a series designed to teach you useful everyday skills like how to split a check or how to improve your memory, but in reality, it's a love letter to New York, in all of its beautiful, ugly, life-affirming, and soul-crushing splendor.
It's also insanely hilarious. Wilson's deadpan, stammering narration on top of quick cut, slice of life footage is an endlessly watchable setup-punchline joke machine. Wilson also is wise to go down the rabbit hole and follow weird digressions wherever they lead him, like a Mandela Effect conference or the home of an anti-circumcision activist. Further, the series finale is the first piece of television to fully capture the reality of post-pandemic city life, putting to shame all of those half-assed Zoom created depictions of life in 2020. Few shows can effortlessly glide between cringe comedy and poignant moments like this. How To with John Wilson is unlike any other show on television, an absurdist masterpiece that makes the mundane feel surreal and vice versa. – Nick Harley
6- High Fidelity (Hulu)
In a time full of reboots and remakes, High Fidelity earned its existence and then some. To its many admirers, it warranted a second season for more eclectic music choices, guest stars, and beautiful lingering shots over the credits. Sadly, that is not meant to be. Hulu's High Fidelity is so much more than just a gender-swapped adaptation, though Zoe Kravitz leads the endeavor in the lead role of Rob, the idiosyncratic record store owner counting off Top 5s, especially her Top 5 heartbreaks.
Rob's rich world is full of characters we'd love to spend more time with, like snarky Cherise, she of the eclectic taste who keeps putting off her musical dreams for "someday." Or Simon, Rob's ex and current best friend, who narrates an episode that completely changes how the audience views Rob. Zoe Kravitz carries this beautiful mood piece, sharing chemistry with just about everyone. While it seems relaxed and fun on arrival, High Fidelity eventually reveals itself to have plenty to say about being accountable for our actions and allowing oneself to be happy, before wrapping Rob in a warm summer night and sending her on her way. – Delia Harrington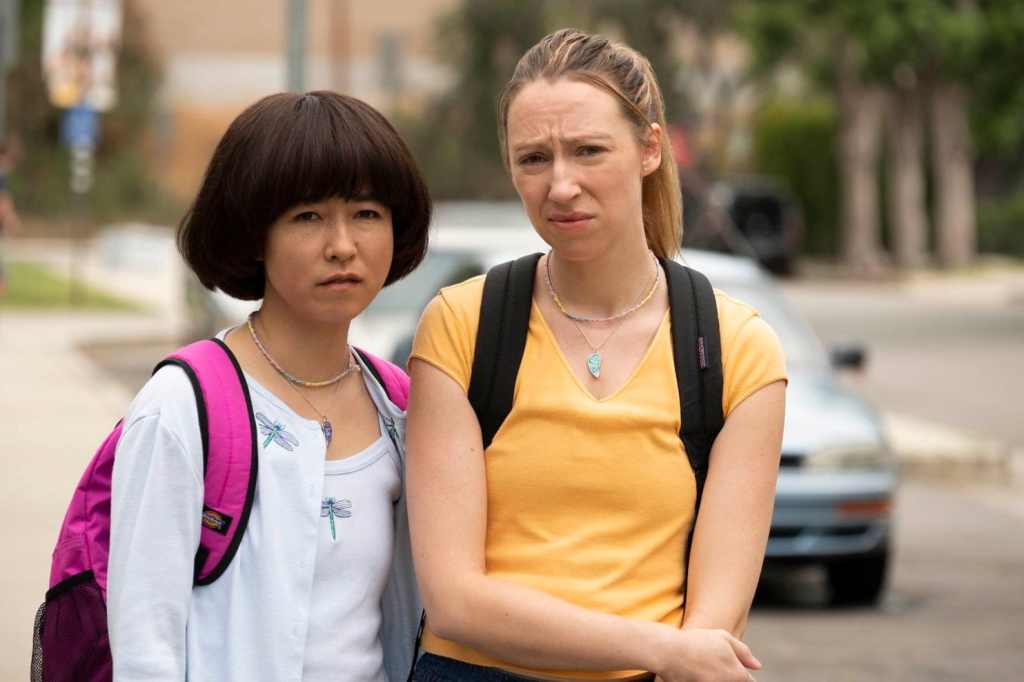 5- Pen15 (Hulu)
The debut season of Maya Erskine and Anna Konkle's brilliant series in which they, two adult women, play middle-schoolers surrounded by actual kid actors playing their classmates, was, in my opinion, the funniest show last year, but, as I didn't actually get around to watching it until this year, I didn't know that at the time. Rectifying my past mistake, this year—despite the fact it's only aired half a season so far due to production being halted by COVID—it's not just my favorite comedy, it's my favorite show, period.
Though it still has its fair share of laugh-out-loud moments, the comedy in the second season has, admittedly, been scaled back a bit, but it makes perfect sense for where Pen15 is right now. From the start, what the series has done painfully well is zero in on the utter nightmare of living through our stressful and confusing pubescent years. As the series deepens its exploration of these characters' experiences with friendship, romance, sexuality, the internet, and the impact of divorce, the stress and confusion should and absolutely do ratchet up. This season is also doing a great job of further developing the show's side characters, with a standout arc for Dylan Gage as Gabe, who is grappling with the discovery that he may be gay. Though it's still a hilarious series in places, Pen15 most wins me over most for how uncomfortable and tragic it can be with its stunningly well-observed depiction of surviving junior high. The secondhand shame and embarrassment you'll feel makes it one of the toughest, but most worthwhile, watches of the year. – Joe Matar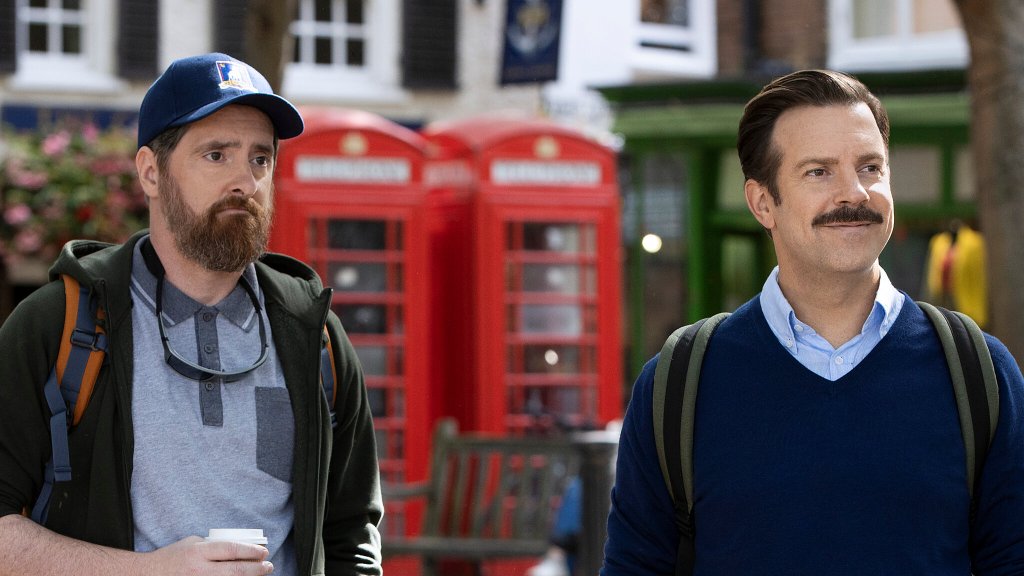 4 – Ted Lasso (Apple TV+)
Jason Sudeikis's Ted Lasso first originated as a character back in 2013, when NBC Sports commissioned a commercial for its upcoming coverage of the English Premier League. "An American Coach in London" introduced the concept of an American football coach deciding to try his hand coaching "the other football" with top flight club Tottenham Hotspur. It was a hilarious five minute clip that seemingly exploited the "fish out of water" concept to its natural conclusion.
The character seemed destined to be a one-off goof. But then Sudeikis and producer Bill Lawrence decided to try their hand at the overmatched coach one more time with a series for Apple TV+. The end result was one of the most essential new comedies of the 2020 TV season. Ted Lasso works because its' funny, first and foremost. The show proves that this fish still had plenty of more time to spend out of water after all. More important, however, is how aggressively wholesome and optimistic it is. In a year that saw ugly Americans all over over TV screens, Ted Lasso represented the stars and bars the only way he knew how: by believing in the best of people from aging football star Roy Kent, to selfish young buck Jamie Tart, to even the woman who got him this job in the first place as an elaborate revenge plot. – Alec Bojalad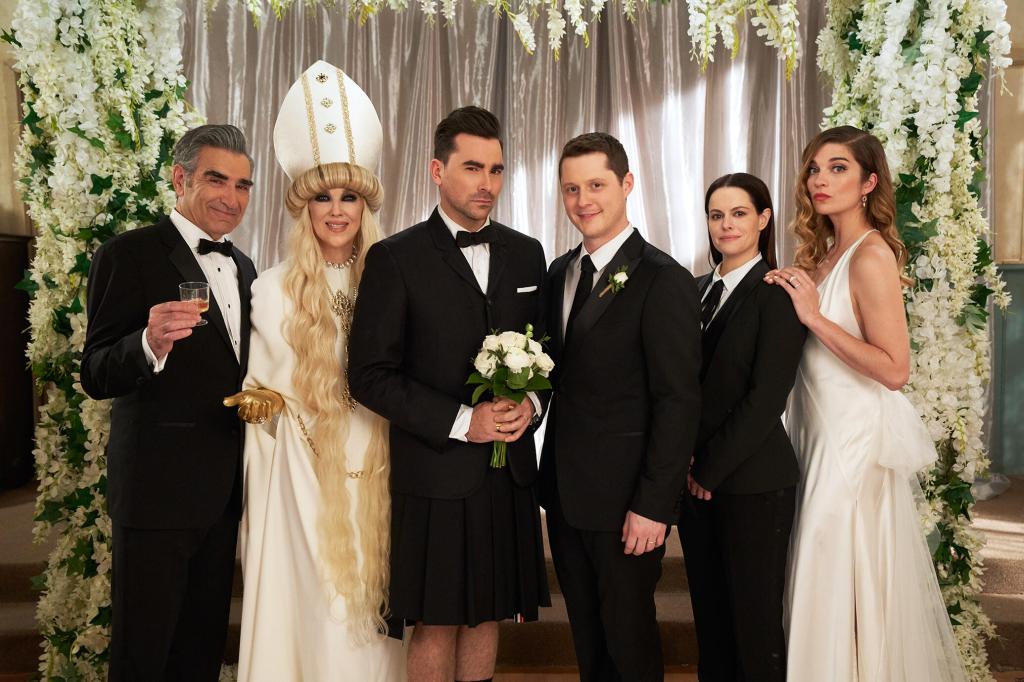 3 – Schitt's Creek (Pop)
If Schitt's Creek were a fairy tale (and in all the best ways, it is), it'd be about a group of puppets brought to life by a magic spell. When the Roses lose their fortune, they're forced to swap wealth and glamour for unfashionable small-town living. They start out wooden, obnoxious and alone. Then, over six seasons, we watch them transform into a flesh and blood family who figure out how to love each other in a community that's as weird as they are, and that ends up loving them back.
If that sounds schmaltzy, then I'm saying it wrong. Schitt's Creek doesn't do schmaltz. It does smart and absurd and naughty. It does jokes and brightness and kindness. Or it did, because now it's gone. 2020 waved Johnny, Moira, David and Alexis off with a final season packed with treats: Patrick's spray tan, David's bed-wetting, the world premiere of "The Crows Have Eyes III: The Crowening", Moira officiating a wedding dressed in a Rapunzel wig and pearlised bishop's mitre…
However painful it was to say goodbye, the alternative – another six seasons with diminishing returns – would have been much worse. Dan and Eugene Levy's sitcom went out on a high, with a finale that left fans in joyful tears. Not least for moments like the one in which a usually armoured-by-sarcasm David tells his sister, "For what it's worth, I am continuously impressed by you." The feeling's mutual, Roses. – Louisa Mellor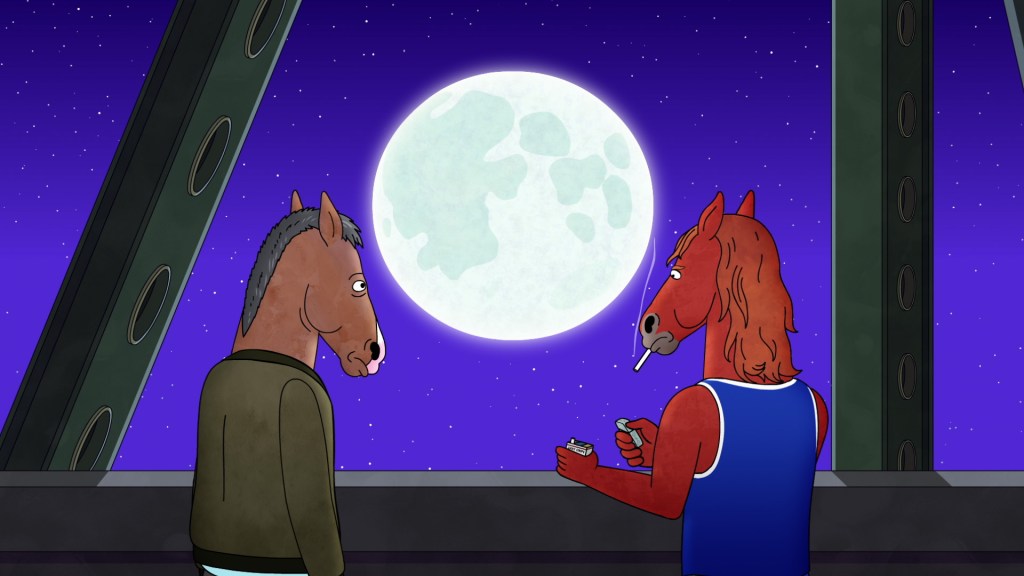 2- BoJack Horseman (Netflix)
Though BoJack Horseman premiered only the back half of its final season in 2020, those eight episodes were some of the best dramatic and comedic storytelling on television this year. This final season operated as almost a microcosm of the series' entire run. Just like the show's beginning, season 6B begins with BoJack in a place of relative stability. He has just finished rehab and is prepared to embark on a career as an acting professor at Wesleyan. Of course, something from his past has to pop up to shatter his fragile equilibrium, just like it always does. In this case, it's a pair of journalists working on a story of what really happened the night Sarah Lynn died back in season 3. What follows is as sadly predictable as it is tragic… also there are jokes!
BoJack Horseman has been a frequently occurring item on many of our year-end best-of lists since the show first premiered in 2014. And each time, it's hard not to continually expound upon what a bizarre, touching, and incisive drama Rapahel Bob-Waksberg's animated creation is. That temptation remains for this final season, which is as devastating as they come. But this year, for the show's final appearance on any of our best-of lists, let's not lose sight of how funny this all is.
Yes, this is an exploration of the human condition and how the only way to repair our damage is to acknowledge it and then put in the work to get better. It's also the show where Mr. Peanutbutter, his fiancée Pickles Aplenty, and international pop superstar Joey Pogo open up a Lazy Susan/small plate restaurant called "Elifino." The animation remains just as bright in this final season, the dialogue just as witty and convoluted, and the background jokes just as rewarding. BoJack Horseman season 6 shoulders a grand narrative burden of closing out the story of the world's most miserable Horseman. That it is able to do so is remarkable. That it's able to do so while maintaining its sharp sense of humor is even better. – Alec Bojalad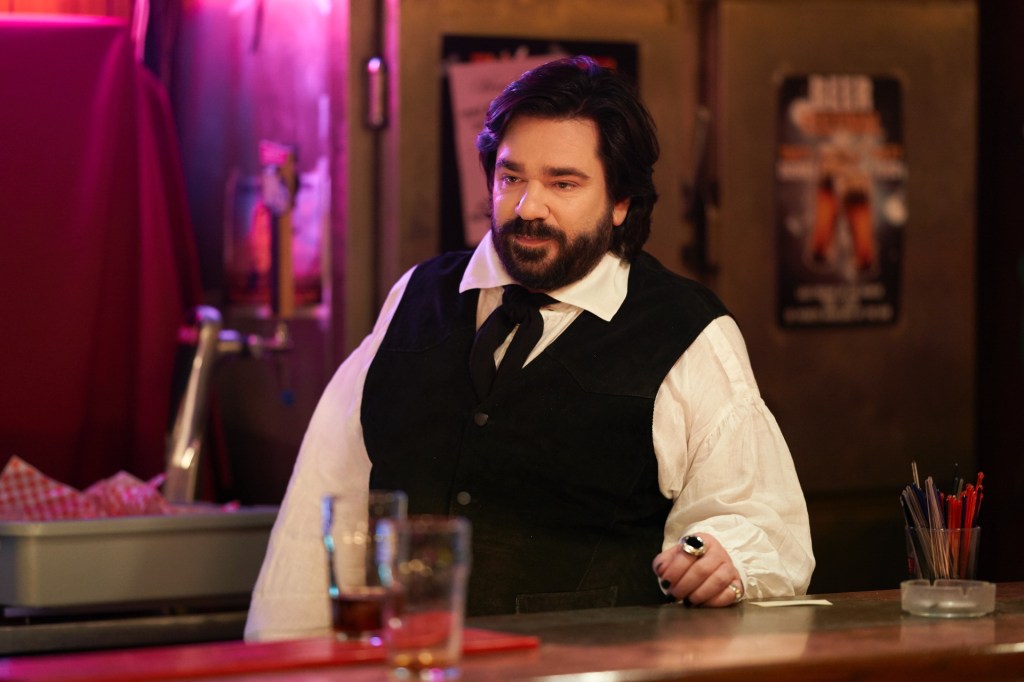 1- What We Do in the Shadows (FX)
Adapting a beloved indie comedy film to the small screen seems a near impossible task. But when Taika Waititi convinced Jemaine Clement they should do exactly that, it was a stroke of genius. With Waititi busy on his Marvel movies, Clement was left to write and produce the FX series alongside Stefani Robinson and Paul Simms. What We Do in the Shadows began with a solidly silly first season but came into its own during a stellar second season which leaned into the absurdity innate to the idea of ancient vampire roommates. The series has also given us a new action hero for the ages in Harvey Guillén's Guillermo de la Cruz.
What makes season two so excellent is the writing and performances that play on the fish out of water setup the show has so much fun with. In "The Curse," Nandor checks his email and discovers a chain email from Bloody Mary. Most of the hilarious runtime focuses on the crew trying to uncurse themselves. It sounds simple but it is honestly one of the funniest episodes of TV you'll watch all year. "The Curse" is only topped by "On the Run," which allows Matt Berry to go full Matt Berry as Laszlo leaves the nest and becomes a bartender, Jackie Daytona, who loves girls volleyball in smalltown America. It's a pitch perfect riff on feel good sports movies while also being hysterically funny. It's still a complete crime that Robinson didn't win the Emmy for this one.
But the real power of What We Do in the Shadows is its heart. Even within the broad comedy, genre parodies, and often gross out humor, this is a show about love, family, and friendship. Guillermo's arc feels radical and boundary-pushing. It's so well built in from the very first season that it's also incredibly satisfying. This is the kind of comedy we need more of: inclusive, intelligent, and most importantly just really, really, f**king funny. – Rosie Knight