Reviews
Nomadland Review: A Modern Day Grapes of Wrath
With Nomadland, Chloé Zhao and Frances McDormand craft a lovely ode to those left behind, but living free, in 21st century America.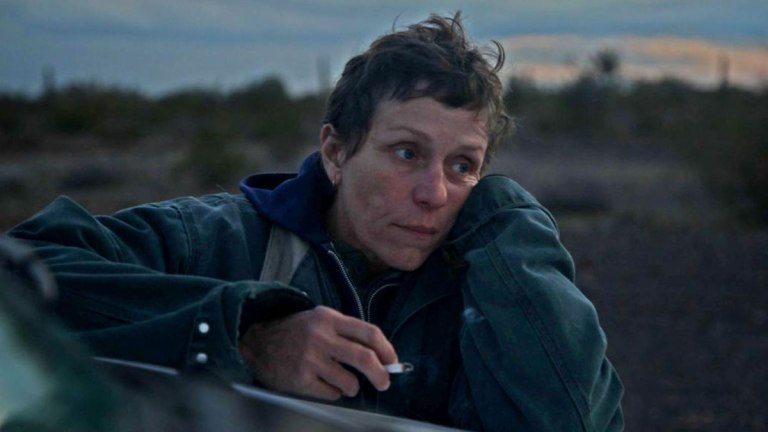 They don't recognize her at first. The students who once turned to Frances McDormand's wearied and weathered Fern for tutoring are now almost walking right by their former educator in an early pivotal scene from Chloé Zhao's Nomadland. Fern is at their local superstore, there to buy supplies for the beat-up RV she lives in outside. In another life they were neighbors from the mining town of Empire, Nevada. But that place is gone, and today they're practically strangers, scattered to the wind when they bump into each other.
The young girls' mother reluctantly offers Fern a place to stay if she's homeless, but as Fern explains, "I'm not homeless; I'm just houseless. Not the same thing." And they are indeed quite different for someone as restless and resilient as McDormand's heroine, even if the film she inhabits is clouded with wistful melancholy. It's a quality that colors the whole movie, making it just as hard for us to imagine the woman we were introduced to moments ago as grieving over the loss of her community on a patch of desert as anything but the transcendentalist spirit we now see.
These are the conflicting and often profound feelings Zhao seamlessly weaves together to magnificent effect throughout Nomadland. The filmmaker's follow-up to The Rider (and prologue to her Marvel Studios initiation in The Eternals), Nomadland pulls from journalist Jessica Bruder's non-fiction book of the same name. That text explored the subculture of American nomads who sprang up during the Great Recession only a decade ago. As Nomadland reminds in its opening title card, a sheetrock mine in Empire, Nevada closed on Jan. 31, 2011 due to lingering fallout from the recession. By July of that year, Empire's U.S. zip code was discontinued.
In this context, McDormand's Fern is a gateway into a 21st century heartache that carries on to this day, and which represents thousands of similar stories of Americans who've turned to a nomadic lifestyle of transient existence and seasonal gigs. One of the most fantastic actors of her generation, McDormand is searing as the hardscrabble Fern, yet she is matched by a troupe of real-life nomads whom Zhao has populated her film with. Images of these displaced Americans persevering in the margins where they'd been pushed can at times make Nomadland feel like a modern day Grapes of Wrath, save McDormand's version of Ma Joad travels only with her ghosts. And yet, the beauty of the movie comes from her visible enjoyment of that specific kind of company.
Presented in an elliptical and episodic fashion, Nomadland follows McDormand in every one of its scenes, watching in vignette as she makes friends and acquaintances throughout the American West. A terminally ill kayaker here, a fellow fry cook there. One of the only other professional actors in the film is David Straithairn as Dave, a kindly part-time park ranger who tries to make time for Fern, but given her desire to always be back on the road, you'll have your doubts. Otherwise these are mostly real-life travelers, with actual nomad guru Bob Wells playing Bob Wells in the film.
Fern finds a new sense of community among these kindred spirits, but the movie and character are happiest when she's setting off on the next adventure, and into the next often arid and spectacular landscape—one paid for by unglamorous odd jobs like cleaning public rest areas or cooking French fries at a national park. The movie hovers over the humility of this lifestyle, such as when we feel Fern's pleasure at sitting in an honest to God lawn chair, but it also basks in the exhilaration of being able to pack it up and take it with you.
Through the accumulation of these little moments, Zhao builds a sweeping and romantic tribute to Fern's world. The director's use of space in nearly every frame, both the kind occupied by McDormand and the negative space of regal terrain around her, is striking. The scenery complements Fern, as opposed to dwarfing her, presenting a vista that's awash in a warm and empathetic light.
It also gives McDormand another trenchant character study to explore. With the same kind of physical intelligence that won her an Oscar for Three Billboards Outside Ebbing, Missouri, McDormand now expresses the years of previous unseen despair through Fern's eyes and glances, gestures and posture. As a more stoic (and optimistic) character than Mildred Hayes, Fern's mostly unspoken need to always move on is clearly and eloquently stated in the star's every moment on screen—which is pretty much the entire film.
It's this guarded excitement that keeps the tragedies that follow Fern from making the movie actually tragic. Nomadland stares long and hard into the modern American heartland, and at those who have been left behind if not outright ignored in it. Zhao also touches on elements of ageism, poverty, and personal regret, but her movie is full of hope and the lyrical satisfaction of standing on the edge of a canyon and being able to only hear your own voice echoed back. The movie is a celebration of a woman, and people, determined to live free. There's a beauty in such transience, even if the legacy it leaves behind is as fleeting as the desert breeze.
Nomadland premiered at the Toronto International Film Festival on Sept. 11. It will be released theatrically on Dec. 4.