News
Hamilton Cast Reflect on Backlash and Criticism of Musical
The cast of Hamilton, particularly Leslie Odom Jr., reflect on recent criticism about the musical's depiction of the American founding fathers.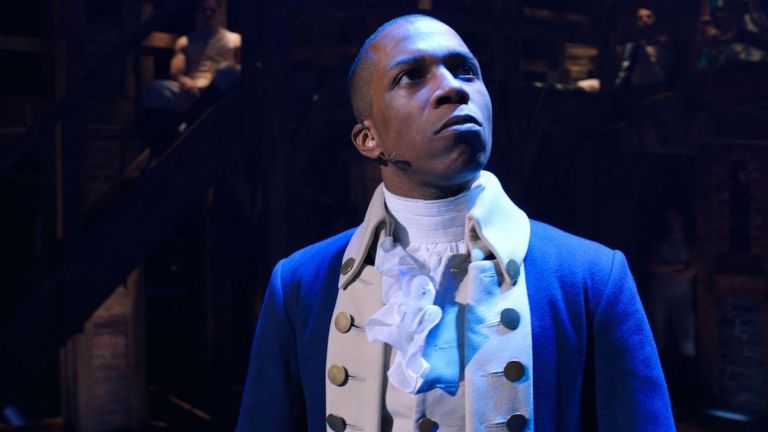 Hamilton is a phenomenon. That word gets thrown around frequently in the media, but in regards to Lin-Manuel Miranda's compelling reimagining of the American Revolution, it's true. By blending rap and hip hop rhythms with jazz and Broadway melody, and the history of America's founding with a diverse cast of marginalized demographics who for centuries were overlooked or omitted by history's eyes, Miranda created a work that endured beyond its Tony and Pulitzer prizes. Indeed, it became a lasting part of the modern pop culture landscape—even for people who've never been able to afford a Broadway ticket. After all, there's a reason the Walt Disney Company paid $75 million for the rights to several filmed performances from June 2016, generally referred to as "the Hamilton movie."
Yet the musical that was largely hailed as progressive and emblematic of the good in American culture during the Obama era is now being criticized by some as quaint or even problematic in the Trump era. With the Black Lives Matter movement finally getting vital center stage attention in the mainstream following the murder of George Floyd, and the seemingly endless tragedy of anti-Black deaths at the hands of systemic racism, some now take issue with Hamilton's depiction of the founding of the United States, and of Alexander Hamilton in particular.
Slave owners Thomas Jefferson and George Washington are given a mostly positive depiction in the show, with the latter being nigh glorified for his leadership and choice to cede power as the first American president. It was a monumental precedent Washington set, but the musical fails to mention the men and women he also owned as property at Mt. Vernon (or where his teeth came from), nor does it explore Alexander Hamilton's own murky history with slavery, including that he married into the slave-owning Schuyler family and at least helped procure slaves for his in-laws, even if he personally disliked the institution. (We explore his contradictions on the issue in-depth here.)
For some these omissions are damning, but as Lin-Manuel Miranda says on the new Disney+ feature, "Hamilton: History Has Its Eyes on You," the musical is less than three hours and he always hoped it would be a springboard to dive deeper into history. This is in line with his recent comment that "all the criticisms are valid." Yet his fellow original Broadway cast members added interesting texture on their own experience with the recent Hamilton backlash.
Leslie Odom Jr., who played Aaron Burr in the musical, remembered with a sense of chagrin when a young woman contacted him through his old voice teacher to ask a question. He thought he'd hear a request about tips on singing technique or navigating Broadway. Instead he recalled she pointedly asked "My friends and I talk about Hamilton a lot, and we talk about the fact that we don't think it's revolutionary at all. We just think it's a bunch of People of Color telling white people's story again. What do you think of that?"
Odom said he thanked her for the question and that he disagrees with her opinion on Hamilton. But then he added:
"Here's what I know. Lin wrote the story that was on his heart to write. I signed on to be a part of the show that I believed in. That was our leg of the race. Now it's your turn. There's no doubt in my mind that some young kid is going to look at Hamilton and write the show that makes what we did look quaint. That might be happening at this very moment. A show's going to come along that makes this look cute at some point.

"But [Hamilton] was meaningful, there was protest in its time. The fact that it's been so successful and it's so ubiquitous, things are taken for granted about this show. The fact that it is the language of the streets; the fact that it is people that have historically been disenfranchised and shut out of a story taking ownership of it and retelling the story in their own words. There's protest in that. So there was power in it. All I said to the young woman was, 'I can't wait to see the show that you write.' This is the beginning of a conversation, and I can't wait to see the show that it inspires."

– Leslie Odom Jr.
It's an eloquent answer that reframes the alleged critique that Hamilton is a product of the Obama years—"a relic" as one CNN commentator who never actually saw the show described it—and instead underlines how transgressive and progressive the musical was in moving the needle forward and making color-blind casting universally popular. If it's indicative of the context it was created in, that is not necessarily a bad thing, as almost all art is. And as Odom said earlier in Disney+'s "History Has Its Eyes on You," he was floored when he first saw a workshop of the musical and it depicted four People of Color singing about their dreams of revolution and also social progress during "The Story of Tonight."
"I had never seen an image like that in my life," Odom said. Over the course of the Zoom conversation with Miranda and other cast members, Odom also noted he hopes Hamilton inspires people to expand the iris of history beyond just the vantage of the white men whose statues still adorn our streets.
In this vein, Phillipa Soo, who played Eliza Schuyler Hamilton, offered interesting insight. She recalled visiting the actual graves of Alexander and Eliza Hamilton at Trinity Church, and how it gave her an understanding of who Eliza was and what her world was like: She built her husband a monument of a tombstone complete with an Obelisk of ancient Egyptian antiquity while electing to use a simple marker with the word "Eliza" for herself. She also spoke about being able to fully appreciate the context of the Revolutionary generation in terms of their extraordinary achievements… and also their extraordinary failures when it comes to America's original sin of slavery.
"Yes, they were young, yes they were real people which also means that they were flawed and they were imperfect," Soo said. "I think about this so much, about how hard conversations and guiding ourselves through the mess is part of how we reach progress. Our discomfort when we have these conversations is not necessarily a bad thing. I think it's important when you see theater, when you see things happening on the news, when you learn things happening in the world, you learn that your discomfort is the beginning of a learning moment and not a time to shut it off or switch the channel, or swipe right. It's the time to dive in. So if anything, I hope by watching Hamilton and seeing the struggles and seeing how much they were flawed can be an inspiration to people."
Similarly, American historian and Harvard Professor Annette Gordon-Reed, who was present on the Disney+ feature, seemed to dismiss a broad question about having to reconcile the founders creating the first democratic republic in the modern world, and with the first constitution for a nation written on paper, while many also owned slaves—not to mention all agreeing to count each Black slave as three-fifths of a person in that same document.
"I don't know it's necessary to reconcile it," Gordon-Reed said. "It's the nature of life that has good things and bad things, and people have good things and bad things, and you balance it out. History's just not a happy story and it's not full of people we all want to pal around with. It's full of people who had mixed motives, who were weak in ways and were strong in ways. And that's the purpose in writing history books, in trying to bring that balance out."
You can find out where your opinion falls in that balance by watching Hamilton and "Hamilton: History Has Its Eyes On You," both available now on Disney+.