News
AMC and Alamo Drafthouse Close Theaters Amid Coronavirus Concerns
AMC will close theaters for six to 12 weeks for the coronavirus emergency. Alamo Drafthouse promises "we will meet again."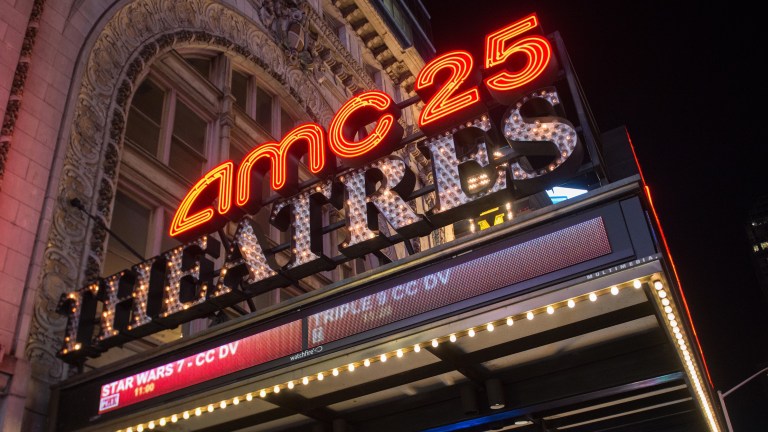 AMC, the largest movie theater chain in the U.S., is shutting down for six to 12 weeks, starting today, March 17, according to Variety. Alamo Drafthouse and Regal Theaters, the second-largest movie theater chain in America, also announced they will be closing theaters.
"All AMC theatres are temporarily closed in accordance with local, state and federal guidelines," the chain said a statement top of its official website. "They will re-open when those guidelines allow." AMC tweeted a reminder that their "AMC Stubs A-List memberships will be paused automatically during the time AMC theatres are closed."
The closures come after theaters applied preventative measures to help maintain social distancing. Ticket sales were capped at 50 percent of auditorium capacity over the weekend. The Centers for Disease Control recently recommended gatherings of 50 or more people be ceased for the next two months. President Trump asked Americans to avoid gatherings of 10 or more people for the next two weeks.
AMC, which operates 634 locations in the U.S. and Canada, is complying with local, state, and federal directives to help ensure the health and safety of moviegoers and staff but says it will continue to monitor the situation and will be flexible in terms of reopening.
"We are ever so disappointed for our moviegoing guests and for our employee teams that the new CDC guidelines that Americans should not gather in groups larger than 10 people make it impossible to open our theatres," CEO Adam Aron said in a statement. "Still, the health and wellbeing of AMC guests and employees, and of all Americans, takes precedence above all else. We will continue to monitor this situation very closely and look forward to the day we can again delight moviegoers nationwide by reopening AMC movie theatres in accordance with guidance from the CDC and local health authorities."
Independent movie theater chain Alamo Drafthouse Cinema made a more personal farewell, calling the news and situation devastating. "Goodbye for now. But we'll be back," reads the Alamo Drafthouse website. "When we reopen after this unprecedented and indefinite hiatus, it will be in a dramatically altered world, and in an industry that's been shaken to its core. We'll be in close contact over the coming days and weeks with our teams, suppliers, and colleagues on what these closures mean and what we plan to do next.
"To our guests, colleagues, and friends – we wish you the best, and we look forward to serving you again soon. Thank you. We will meet again."
Alamo Drafthouse will also work with the Emergency Assistance Foundation to "expand and streamline our Alamo Family Fund in order to be able to respond to the increased need for emergency assistance by those affected." Alamo Drafthouse's AlamoGives initiative committed up to $2 million to this relief fund.
The Landmark, Harkins Theaters, Showcase Cinemas and Bow Tie Cinemas have also announced closures. The only big American chain which hasn't announced its plans is Cinemark.
Even before the closures, COVID-19 impacted ticket sales. Last weekend was the worst weekend for theater attendance in the last 20 years. Box office earnings hit only $55.3 million between March 13 and March 15. Disney Pixar's latest film, Onward, only made $60 million domestically and $40 million internationally, when it had been projected to gross over $100 million domestically.
Universal Pictures announced it will drop some current film releases on demand. The Hunt, The Invisible Man and Focus Features' Emma will be available to rent as early as Friday. The pandemic also shuttered film production.
COVID-19 has also halted work on The Batman, Fantastic Beasts 3, Jurassic World: Dominion, The Prom, and Sony's Cinderella. Disney stopped work on The Little Mermaid, and Guillermo del Toro's Nightmare Alley.The Flash, Supergirl, Supernatural, and Riverdale ceased work over concerns. Marvel's Shang-Chi and the Legend of the Ten Rings furloughed their first unit.
It is not only films which are being affected. Positive test results for the disease has also sidelined actors Idris Elba, Tom Hanks and his wife Rita Wilson, former Bond Bond Girl Olga Kurylenko, and Universal Music chairman and CEO Lucian Grainge.
Theaters have been ordered closed in a dozen states over the last 24 hours: New York, Connecticut, New Jersey, Pennsylvania, Maryland, Michigan, Ohio, Minnesota, Colorado, Louisiana, Washington, and Massachusetts. Los Angeles County and Washington, D.C., also closed theaters.
Last week, New York Gov. Andrew M. Cuomo announced Broadway shows were suspending performances. The season is scheduled to return on April 13. The Rock and Roll Hall of Fame postponed their 2020 induction ceremony.As of this report, there were 190,140 confirmed cases of coronavirus globally and 5,218 in the U.S., there have been 92 deaths in the U.S., according to John Hopkins University's case tracker. The medical institution also reports 80,648 people have recovered.