Features
The Universal AMC Deal Could Change Moviegoing
The Universal-AMC deal shifts theatrical windows to as little as 17 days, giving it historic, and possibly immediate, implications.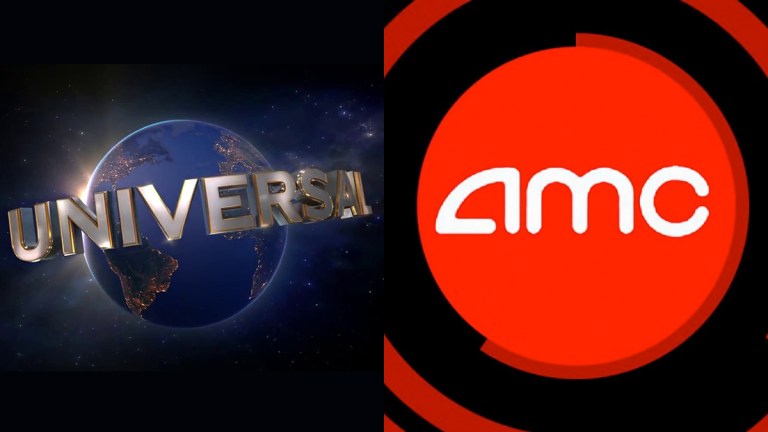 How quickly corporate adversaries become fast friends. That is at least the outward appearance Universal Pictures and AMC Theatres wished to project in the announcement of their historic agreement to reduce the theatrical window of Universal releases to as little as 17 days.
Under the arrangement revealed Tuesday, films distributed by Universal and Focus Features will play at AMC locations for a 17-day exclusive window, at which point Universal has the option to immediately make such titles available for premium video-on-demand (PVOD), including on AMC Theatres on Demand. However, Universal could just as easily keep films in theaters, including AMC's, throughout a more traditional theatrical window if the studio deems a film as playing well. But perhaps most significant of all, Universal has agreed to share an undisclosed portion of PVOD revenue with AMC.
This is the kind of news on which industries are made and unmade, and wherein the solution to an immediate problem can potentially solve a longer-term one. Indeed, the agreement is a reaction to the immediate crisis of the coronavirus pandemic, which has left movie theaters, including AMC Theatres, the largest chain in North America, closed for going on five months. After Universal Pictures responded early (and without input from theatrical exhibitors) by putting April's Trolls World Tour on VOD in lieu of a genuine theatrical release—and suggesting they may consider more VOD day-and-date releases even after the pandemic is behind us—AMC drew a line in the sand, threatening to outright ban future Universal films. This would've included major 2021 tentpoles like F9 and Jurassic World: Dominion, and the international exhibition of No Time to Die.
While that threat might've partially been bluster, it extracted the kind of solution many exhibitors have wondered for years might be possible: one in which Hollywood studios and exhibitors share in the digital profits of releasing a popular movie on demand. And yet, considering this is just an agreement between one studio and one theater chain, it raises just as many potential problems as it does solutions for the dual existential threats of coronavirus and lagging interest in moviegoing.
So perhaps one of the best ways to consider the fallout from this deal is to look at how it might immediately impact Universal Pictures' next film, Candyman. The Nia DaCosta written and directed movie, which features Jordan Peele as another credited screenwriter and producer, is one of the last remaining Universal releases slated for 2020 due to COVID-influenced delays. While Universal previously delayed the movie from its original June date, it has almost defiantly kept DaCosta's reboot of the '90s cult classic on its current release date of Oct. 16. (Universal's Halloween Kills previously held that weekend before delaying to October 2021.)
A week ago another Candyman delay, or even a shift to VOD a la Universal's The King of Staten Island, looked imminent. Now Candyman potentially having a theatrical bow for 17 days in October appears reasonable given the dire climate facing studios and especially theater owners. Admittedly, much still depends on how severely COVID-19 infection rates spike in the U.S. over the next several months, but if Warner Brothers' aggressively optimistic Tenet strategy plays out in September, with a global release in European and Asian markets beginning at the end of August and a limited rollout in "select U.S. cities" in September, it could potentially light a way for WB to release Wonder Woman 1984 on its currently slated Oct. 2 release date, just as it gives cover to Disney for keeping its legacy films from the studio formerly known as Fox on the calendar this fall, including The New Mutants and The King's Man.
If those work out, it gives precedence to Candyman staying the course in October. Yet even if WB decides to delay Wonder Woman 1984 to hopefully safer harbor in 2021, Universal and AMC have created a way to find profits in October from Candyman without completely spurning movie theaters. If Wonder Woman is delayed, Candyman could move to Oct. 2 and have a 17-day run before going to PVOD in time for Halloween. But perhaps more intriguingly, Candyman could play in "select U.S. cities"—which likely includes any state that refuses to close public places like bars and indoor restaurants—for 17 days beginning on Oct. 16. It would then play for three weekends, including Halloween weekend, with the quasi-holiday falling on a Saturday this year.
That means when demand is at its absolute highest for new horror movies among movie lovers, Candyman will be the only game in town, exclusively at movie theaters. For the type of cinephile who feels compelled to go to movie theaters in states where they're open, like the parishioner who demands to crowd a church pew, Candyman will be the only option… and only in theaters, much to the relief of owners beyond just AMC.
For other potential moviegoers willing to wait until Nov. 2—still a time of high-demand in a pandemic—Candyman will soon be here, just a little after the traditional spooky season. This allows theater owners to profit off the film at its highest seasonal demand, and then in the case of AMC, to continue profiting off it should Universal likely choose to move it to VOD after that third weekend.
Ironically, this type of scenario may not have applied to Candyman in a COVID-free context, even with the new deal. Consider that Universal likely would've opted to keep Peele's own Get Out in theaters as long as financially viable, even under the new theatrical window model, as that film had a long and healthy run in the domestic box office that kept it in the top five highest grossing movies for a month in 2017. Similarly, it is difficult to imagine Universal opting to handicap theatrical revenue for franchises like Fast and Furious or Jurassic World. But during the pandemic, this strategy suddenly becomes a lucrative option that seems potentially more sustainable than WB's Tenet rollout. By contrast that blockbuster is angling to make most of its money internationally while largely abandoning domestic grosses—potentially for months if Tenet stays in the traditional theatrical window before a domestic home release, all while the film becomes available to pirate online.
This is why the decision to share profits should appeal to other studios, particularly right now. It could also appeal to other film exhibitors, yet there is reason to note this will not be an overnight transition for either industry. Indeed, the first shot of the incoming chaos was fired by Cineworld, the company that owns the second largest chain of movie theaters in the world, including 7,155 screens at 542 Regal locations in the U.S.
"We do not see any business sense in the model," Cineworld CEO Mooky Greidinger told Deadline Wednesday. While there may be some posturing there until Cineworld/Regal can establish its own agreement with Universal, there is the strong possibility they will not. Yet it's hard to speculate without knowing the details of just how much of the PVOD revenue will be shared with AMC… or how willing one studio is to share PVOD revenue with multiple theater chains.
It is for that reason one might want to wonder what becomes of independent theater owners, or smaller chains like the Alamo Drafthouse, if major chains are squeezing out specific deals with individual studios. And if there could soon be a rush for specific theater chains to set-up deals with specific studios, one could also wonder how much this tiptoes toward the ancient vertical production-exhibition model from Hollywood's golden age that the U.S. Supreme Court struck down as monopolistic in the 1948 case of United States vs. Paramount Pictures, Inc. One imagines smaller independent theater owners might soon begin talking to their lawyers about just such a scenario.
Nevertheless, by using Candyman as a snapshot of the financial benefits this model could have for Universal and at least AMC Theatres during the height of the coronavirus pandemic, the possibilities of making such arrangements for smaller movies that aren't going to set the box office on fire, even after the pandemic is a distant, unpleasant memory, are too enticing to ignore. This is a seismic shift inside the industry. There is a legion of problems it creates, including for staggered releases around the world, but the financial benefit might just be a way to save at least some movie theaters during our current crisis, and those yet to come.