Reviews
Wonder Woman 1984 Review: Superhero Sequel is A Blast, From the Past
Patty Jenkins' Wonder Woman sequel is a vibrant and compassionate romp for the festive season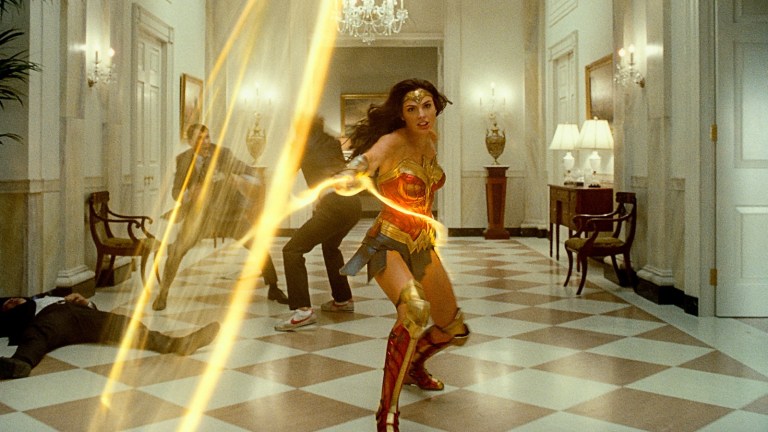 "Greatness is not what you think," Robin Wright's warrior leader Antiope tells the young Diana Prince (Lilly Aspell) at the start of Wonder Woman 1984 during a sequence depicting something akin to the Themysciran Olympic Games. "Pace yourself and watch."
It's an electric opening which sees a stadium full of women cheering the acrobatics of the island's finest as they shoot, dive, leap, swing, and ride their way through a complex course to well-earned victory. The first superhero movie to be released during the pandemic, Wonder Woman 1984 has had to overcome obstacles of its own – primarily its release date and platform. Landing almost concurrently in cinemas and on VOD this Christmas is a different outcome to the one director Patty Jenkins and her cast and crew would have expected when they were filming back in 2018, yet it's arrival in 2020 marks something of a shining light in a dismal year.
Outside the glorious flashback set piece we find fully grown Diana (Gal Gadot) in the midst of the consumerist 1980s. Hair is big, clothes are bright, commodities are fetishized, women are objectified, and everyone is after a get-rich-quick scheme. Diana is fully integrated into society, working hard in her job at the Smithsonian, while as Woman Woman she's routinely low-key saving the day, preventing a car crash here, stopping a robbery there.
Diana's fine, but she's not happy. Since the death of Steve Trevor (Chris Pine) she's become something of a loner with few friends. So when dorky new co-worker Barbara Minerva (Kristen Wiig) reaches out to her for companionship she responds in kind.
It's a moment of female friendship which is rare in comic book movies, which don't tend to have an overabundance of women characters, and it's just one of the many details that make Wonder Woman 1984 feel very different to what we are used to in the superhero landscape. It has more in common with Big than with Batman v Superman.
That's not to say it's frivolous. Wonder Woman 1984 is a cautionary tale, a modern morality story warning against greed, selfishness, and the excesses of capitalism. It might not quite be George Orwell but there's a threatened dystopia here nonetheless and the alt-1984 it presents holds a mirror up to where we are today – or perhaps where we would have been if the pandemic hadn't hit. It's also incredibly good natured from start to finish.
While Diana is beautiful, confident, strong, and incredibly alpha, Barbara is nervous, awkward, and very badly wants to be seen. So when the seemingly slick, rich business tycoon Max Lord (The Mandalorian's Pedro Pascal) suddenly starts to notice Barbara, her head is turned. Throw in an ancient artifact with magical powers, a society that isn't accustomed to "pacing themselves and watching," and the reappearance of one Steve Trevor (Chris Pine), and you have a fantasy fable with a retro vibe that captures the heart and spirit of Saturday morning cartoons, alongside the dazzling visuals and soaring score (from Hans Zimmer) of the cinematic event it was intended to be.
Wonder Woman 1984 packs in some fan favorite details for Diana and boasts some great action set pieces which take us around the world, though it also features a strong anti-violence message. It's far kinder to its villains, including random henchmen, than we're used to. If Diana was lauded as a great role model for young girls in the first film, that's even more true here, in part because she herself is flawed and has to learn a lesson. She may be a demigod, but no one's perfect.
The dynamic between Diana and Steve from the first film is reversed here too – now he is the fish out of water, and amazed and confused by things like escalators, parachute pants and futons, and she is the one in control – he is her ally but he is not her equal, just as it should be.
WW84 is not without its own blemishes. The internal logic is a bit screwy at times, the final act doesn't entirely hold up, the CGI isn't always spot on, and there's never any real peril. But greatness isn't the same as perfection. This is an incredibly distinct, bold film that isn't afraid to carve out its own identity in a well established landscape.
And while Jenkins is at the top of the tree right now when it comes to female directors in Hollywood, blazing her own trail (it was recently announced she will be the first woman to direct a Star Wars film), Wonder Woman 1984 is only her third feature film. She has already solidified a clear visual style and set out her stall in terms of what message she wants to convey via Diana Prince. It's a message of hope, truth, kindness, and compassion in a bright, vibrant, energetic, and fun package.
Oh and it turns out it's a Christmas movie too. And if that's not greatness, we don't know what is.
Wonder Woman 1984 opens in UK cinemas on Dec. 16 and US cinemas and on HBO Max on Dec. 25.