Features
The Many Obstacles of Mulan
COVID-19 is just one of many hurdles Mulan has faced on its way to the cinema... er, Disney+.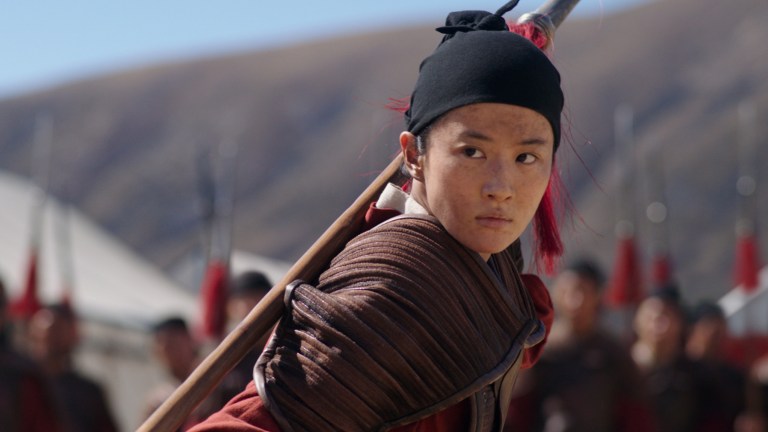 Disney's move to premiere Mulan exclusively on Disney+ sent shock waves through the movie exhibition industry, but it's only one of the potential obstacles that has beleaguered this eagerly anticipated film from the onset. From its production announcement to its premiere, Mulan has faced more trials and tribulations than any other film this year, and that's a pretty competitive category in 2020. The pandemic has been just one hurdle for Mulan, a "Chinese-assisting" American production being released in the midst of rising tensions between the two superpowers. From rumors of whitewashing to issues of cultural appropriation to political boycotts, here is a breakdown of the controversies and challenges Mulan has had to deal with and/or anticipate in the lead up to its release…
Mulan's Shifting Release Date & Plan
Even before COVID-19 reared its ugly head, Mulan endured an ever-moving release date. (Which, to be fair, is not so uncommon these days when it comes to major Hollywood blockbusters.) Originally fast-tracked for a 2018 release, Mulan was then postponed to late 2019, then delayed once more to 2020. In 2020, Mulan was slated for a March 27th wide release, and even held a star-studded Hollywood premiere at the Dolby Theater on March 9th. But only a few days after that premiere, the pandemic shut down theaters worldwide, forcing Disney to delay Mulan further.
Disney tried to rally by rescheduling the theatrical release for July 24th, but, as the severity of the pandemic grew, that date too had to be pushed to August 21st, a date that was later unset in late July. Early this August, Mulan's release was moved to VOD on Disney+ for an additional fee of $30 (prices vary slightly internationally) on September 4th. The announcement rattled many fans, who not only felt the fee was too expensive but had hoped to see it on the big screen. The announcement also hit the already-suffering movie distribution market hard, particularly in the UK, where theaters have begun to reopen and where movie theaters are eager for any big film that might bring audiences back and revitalize their industry.
The Complications of Mulan Courting the Chinese Box Office
From its inception, the $200 million tent-pole has aspired to be one of the biggest global blockbusters of 2020. Based on the performance of previous live action remakes, Disney no doubt hopes for a $85-90 million U.S. opening weekend. What's more, Hollywood makes up to 70% of its revenue overseas, which makes the Chinese box office, the second most profitable film market in the world, a major target for any contemporary big-budget release. In 2018, Hollywood movies earned $3.2 billion in China, with Disney taking home $700 million. Last year, Avengers: Endgame earned $614 million in China under the Disney banner. And, after all, Mulan is a Chinese legend. To cater to the market, the film stacked the cast with Chinese A-listers and veteran stars like Cheng Pei-Pei, Gong Li, Jet Li, and Donnie Yen. It was a calculated gamble, but the odds of a huge payout were favorable. (That was until the world drew that unexpected COVID-19 card and all bets for all movies were off.)
But Disney has an uphill battle to fight when it comes to convincing Chinese audiences that it knows how to make a good adaptation of the Mulan legend. Although the 1998 animated film was a successful commerical blockbuster, earning over $304 million as well as winning several Annie Awards and receiving some Academy Award and Golden Globe nominations, in China, the film was a complete flop. After Disney's The Lion King became one of the highest grossing Hollywood films to be released in China at the time, Disney had high hopes for Mulan. However, while Mulan is a beloved Chinese legend that dates to the 6th century, the Chinese audience felt that Disney's version was too westernized. To them, Disney's Mulan did not even look Chinese.
When the Mulan trailer dropped in China, it got 1.5 billion views in just a few days, but also some criticism. The trailer showed that the film depicts Mulan's home as a tulou, a traditional round house from southern China during the Ming Dynasty. The Ming period was about a millennium later than Mulan's time and, as she was a northerner, she would not have lived in such a house. Disney, despite the apparent efforts to court Chinese audiences, was called out again for its insensitivity to Chinese culture. In mid-August, an official poster released in China was mocked online for appearing dated and ugly.
Hollywood Whitewashing Concerns
When the Mulan reboot was announced, the film drew immediate concerns of whitewashing. At the time, Ghost in the Shell, a live-action adaptation of the beloved Japanese manga series, was in production with Scarlett Johansson in the lead role, and was drawing significant criticism from the Asian-American community for its casting of Johansson, a white actress, for a story that takes place in Japan and, in its original form, features all Japanese characters. The casting was only the latest example in Hollywood's long history of whitewashing.
Following the announcement that Mulan would be getting a live-action reboot, concerns that Hollywood would choose to whitewash the central roles soon followed online. There was even a hoax report announcing that Scarlett herself was cast as Mulan. Rumors circulated that a white male lead would be introduced, based on an alleged leaked script written by Lauren Hynek and Elizabeth Martin, spurring fans to launch the hashtag #MakeMulanRight. To its credit, Mulan has an entirely Asian cast, including Chinese-born American actress Crystal Liu Yifei (best known to Hollywood for her role in the Jackie Chan and Jet Li film The Forbidden Kingdom) in the lead role.
Mulan Eschews the Disney Reboot Formula
Mulan is an outlier in the current era of live action Disney reboots in that it is not afraid to make significant changes in both format and content from its animated source material. This hasn't come without criticism, of course, especially as most of the Disney reboot era so far has catered toward nostalgia viewing. The live-action Mulan will not be a musical, a decision that caused many fans of the animated original to express disappointment when the announcement was made. Additionally, it became clear during marketing that the new film would not feature some of the cherished characters from the original, such as Mushu and Cri-kee. Some in the LGBTQ community criticized the removal of Li Shang, a character who is sometimes interpreted as bisexual because of his attraction to Ping (Mulan, disguised as a man). It's worth noting that these are the characters that were rejected by Chinese audiences, and that they were added to the Mulan legend for the original animated Disney version.
The #BoycottMulan Controversy
Late last year, Crystal Liu Yifei came under fire for her pro-police politics. Crystal has 65 million followers on the Chinese platform Weibo and posted the hashtag #IAlsoSupportTheHongKongPolice. This upset Hong Kongers protesting for democratic reforms (and pro-democracy sympathizers around the world) who started the hashtag #BoycottMulan. The controversy spilled over to Facebook and Twitter, resulting in the deletion of nearly a thousand troll accounts. (Note that both Facebook and Twitter are blocked by mainland China's Great Firewall.) Since the initial controversy, other Chinese celebrities have voiced their support for Beijing, including Jackie Chan and Crystal's Mulan co-star Donnie Yen.
Meanwhile, in the United States, anti-Asian racism is on the rise. Following the President's labeling of COVID-19 as the "Chinese virus" and amidst the general fraying of American-Chinese political relations, there has been an uptick in anti-Chinese sentiment in America. In March, a promotional Mulan poster at a bus stop in Pasadena, California was vandalized. It's unclear, at this point, what role if any the current political climate could play in Mulan's performance.
On September 4, Mulan will play in theaters in regions where Disney+ is not available, such as Singapore and Malaysia. Like with the U.K., China's theaters have already reopened, as the country has contained the pandemic more successfully than the U.S. Mulan has been approved for Chinese release, but the date has not been formally announced at the time of this writing. This will put it head-to-head against the other major 2020 Hollywood blockbuster, Tenet, which has been and will be released theatrically in 70 countries, including China and in limited capacity in the U.S.
Time will tell if Disney's Premium Access VOD will succeed. Regardless, Mulan looks to be a panoramic big screen experience, so hopefully it will get shown in theaters someday. Whatever happens, in the larger picture, Disney's production is just the latest chapter for Mulan, whose tale of overcoming obstacles has inspired for centuries.
Mulan premieres on Disney+ on September 4.