Features
The Best Movies of 2022
Our staff and readers have voted on what they think are the best films of 2022. Did your favorites make the cut?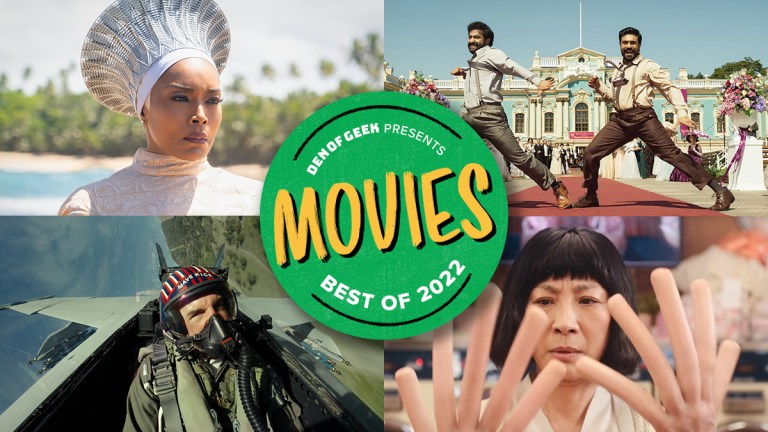 Cinema just had a rough year. While there were definitely upbeat stories to accompany the now constant anxieties percolating throughout the industry—from Tom Cruise once again asserting his dominance as the king of summer via Top Gun: Maverick to the surprise and wholly welcome blockbuster status of A24's Everything Everywhere All at Once—the fact remains that "the movies" are in a state of upheaval and uncertainty. Do massive, mainstream audiences still have taste left in their palates for original adult-skewing films? And if streaming is the future for dramas, comedies, and other "mid-budget" movies, what then is the future of streaming given that market's own recent crises?
It's a weird time. Yet one thing stays consistent: the satisfaction that comes with seeing a good movie. Whether that film makes you laugh, cry, or shudder, there is still an ineffable joy derived from being lost for a couple of hours in the dark. Finding those stories has gotten a little more difficult in recent years, but trust us, there is gold up in them hills. And sometimes its shine is as big and gaudy as you'd hope—like an F/A 18F rocketing past IMAX cameras.
To prove this fact, we've assembled our entire staff and many of our readers to vote on what's the best of 2022. Enjoy.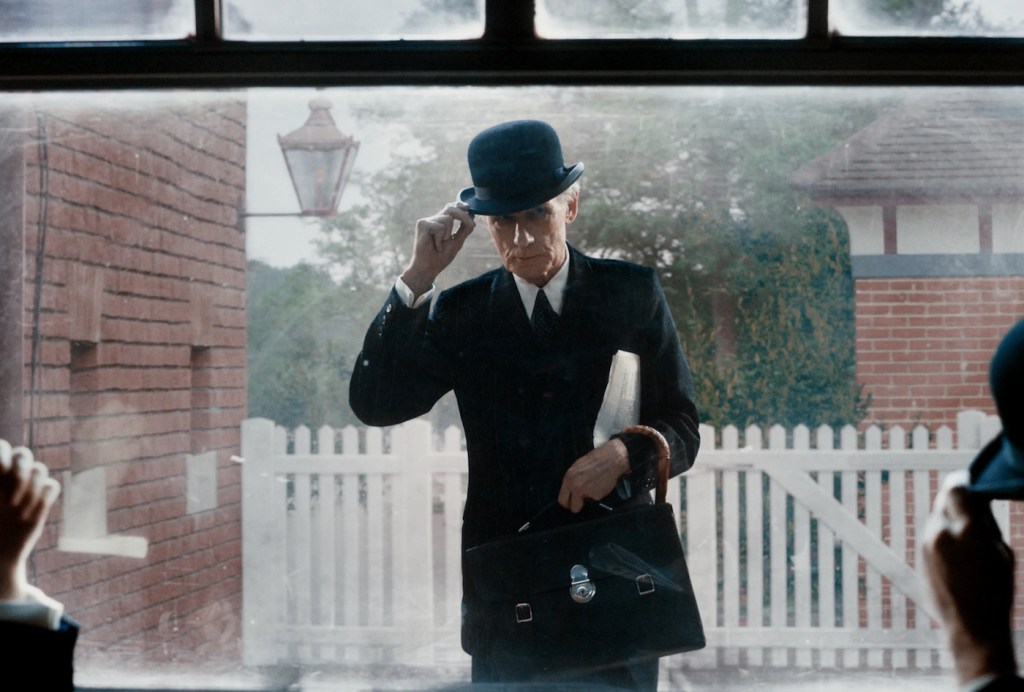 25. Living
Remaking the work of a master like Akira Kurosawa is always a tricky proposition (although it's been done, just ask Sergio Leone). Even so, director Oliver Hermanus and screenwriter Kazuo Ishiguro found a distinctly English sensibility hidden within Ikiru (1952), the Japanese classic about an old man facing his mortality and the malaise that rotted away his existence decades ago.
Casting Bill Nighy as that old chap does wonders, too, at making Living feel truly alive. In a career-best performance, Nighy is unflappably understated while his Mr. Williams is flapping, flailing, and all around freaking out after receiving bad news from his doctor. There is something to be said about British resolve and the fabled stiff upper lip, but there's also much more in Living about never having to articulate either the horror or charms of life. What matters is the satisfaction one finds in experiencing those things and creating meaning with the time you have. Nighy, Hermanus, and the whole adroit cast of Living utilized theirs very well. – David Crow
24. Elvis
When Baz Luhrmann announced he would be making an Elvis Presley biopic, it initially seemed as if the project was arriving a day late and a dollar short. Hadn't the heyday of "the King" and his most devoted fans already passed? Perhaps. But the patience was still rewarded since it allowed 31-year-old Austin Butler enough time to grow up and slip into the sequined jumpsuit. The result is a dazzling transformation in which actor and historical celebrity merge, and Butler becomes the pinnacle of EP impersonation.
It also helps that Luhrmann's maximalist instincts go together with Presley iconography like peanut butter and bananas. With an aesthetic as gaudy as the jewelry hanging from latter day Elvis' neck, Elvis is a carnival spectacle that argues, as far as the 1950s were concerned, Presely invented sex itself. And in the moments he's swiveling those hips on stage… you kind of believe it. Luhrmann and his writers also sidestep the most frustrating elements of musical biopics by making this more than a collection of greatest hits. Instead we have a Svengali tragedy between Elvis and his vampiric manager, "the Colonel." The approach is so wild you won't even mind (much) that Hanks is woefully miscast as a rotund Dutchman. – DC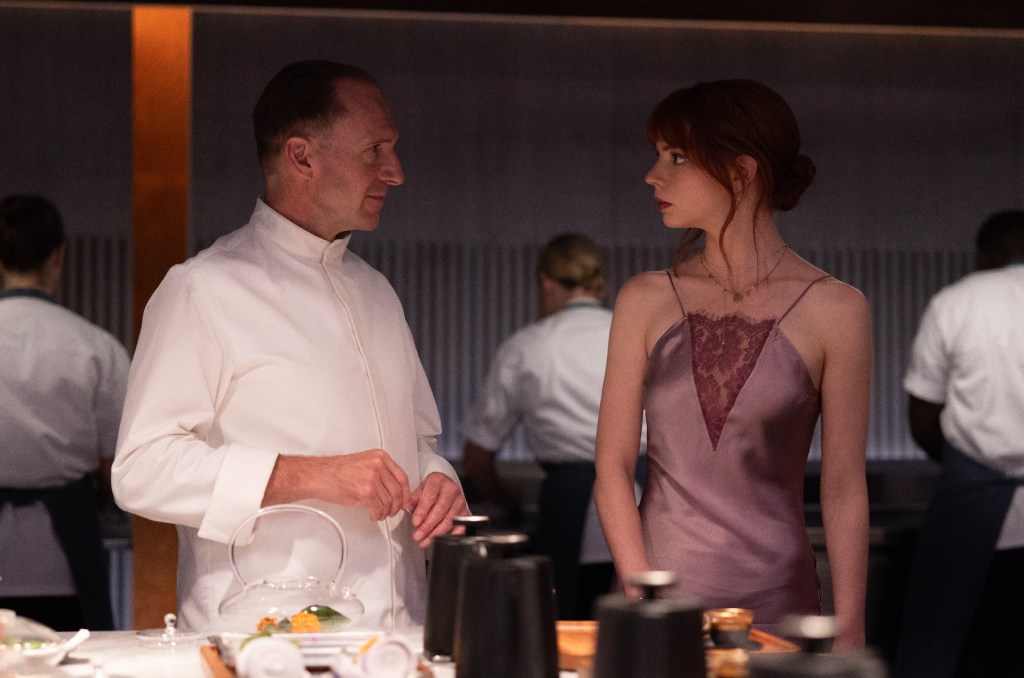 23. The Menu
There has been a recent uptick in films and television shows highlighting the ridiculousness of the super rich, (The White Lotus, Triangle of Sadness, Glass Onion), and The Menu fits neatly into this genre. It is never not entertaining to watch the wealthy realize too late that they're in danger or the slow dawning that neither their money nor their connections will save them. The Menu serves several courses of this, each more dangerous and cutting than the last.
The hope is that straight-talking heroine Margot (Anya Taylor-Joy) makes it out alive, as the film reiterates several times, she doesn't belong there. However, the other guests have been hand picked for the dining experience and their desperation for exclusivity is their downfall. Chef Julian (Ralph Fiennes) and the Hawthorne staff are the picture of dedication, perfection, and the obsessions that come with. There is blood and gore, but The Menu is also great deal of fun. If nothing else, it's worth watching to see Chef Julian serve up five-star food and five-star insults. – Isaura Barbé-Brown
22. Bones and All
After striking out with his first foray into the horror genre, 2018's overripe remake of Suspiria, Italian director Luca Guadagnino is much more successful with this vibrant hybrid of horror, romance, and road movie. A teenage girl named Maren (Taylor Russell) discovers at an early age that she has a hunger for human flesh, and when she turns 18 her father abandons her, no longer able to take care of her and keep her secret. Embarking on a trip to find out about her past, Maren soon comes in contact with other "eaters," including a young vagrant named Lee (Timothée Chalamet), with whom she falls in love and begins to indulge her true nature.
Based on a novel by Camille DeAngelis, Bones and All keeps the viewer on unsteady ground by exposing us to the horror of Lee and Maren's existence while creating a beautiful, palpable dynamic between them. Russell and Chalamet generate real sparks while Mark Rylance, Michael Stuhlbarg, and David Gordon Green (as other "eaters") are genuinely creepy, hinting at the dark existence these human-adjacent beings live. A story of outsiders trying to create a life for themselves in a society that cannot accept them, Bones and All is a sumptuous, oddly sweet tale of two very different lovers on the run. – Don Kaye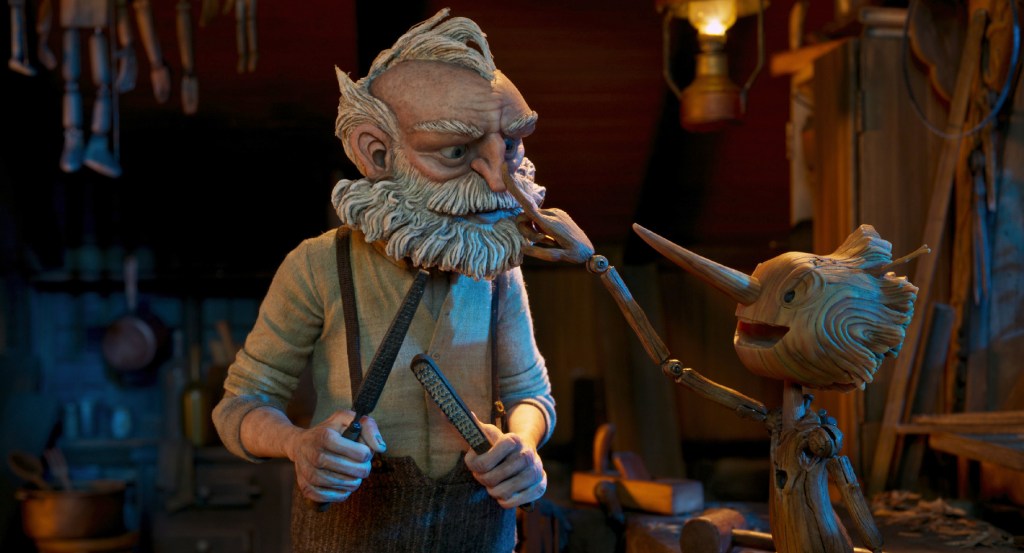 21. Guillermo del Toro's Pinocchio
Guillermo del Toro (along with co-writer Patrick McHale and co-director Mark Gustafson) puts his unique stamp on one of the most beloved children's stories of the last century. Utilizing breathtaking and intricate stop-motion animation, and updating the story so that it's set during the rise of fascism during World War I, Guillermo del Toro's Pinocchio is as eerie and weird as you might expect from del Toro, delivering meditations on mortality and love with visuals that are just scary enough to intrigue young potential horror fans without frightening them (or their parents) off.
It's that tricky balance that Pinocchio excels at. Packed with imagery that's alternately beautiful and unsettling, its themes of friendship, acceptance, and making the most of our limited time in this world are accompanied with a pointed critique and satire of its era. The song that Pinocchio performs for Benito Mussolini (voiced by none other than Tom Kenny) is exactly the consideration that fascists in any era deserve, too. It's all anchored by a delightful Ewan McGregor as Sebastian J. Cricket who is worldly, wise, and sometimes a little weary of Pinocchio's enthusiasm. A bittersweet delight. – Mike Cecchini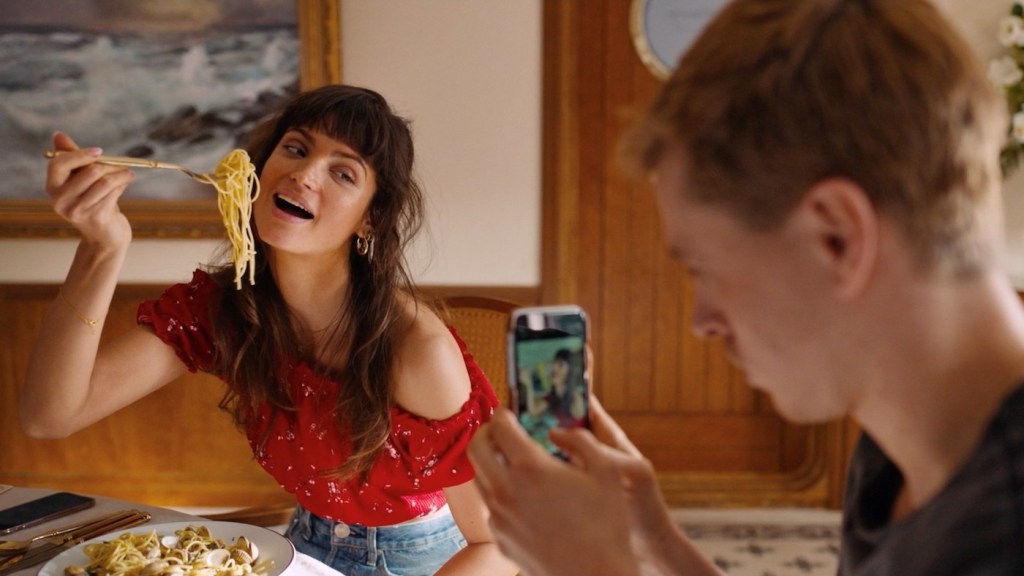 20. Triangle of Sadness
The wealthy and privileged are incredibly easy targets for satire—and let's face it, they more often than not set themselves up for it. So it's no surprise that Swedish writer-director Ruben Östlund, the filmmaking force behind the acidic Force Majeure (2014) and The Square (2017), has found plenty of fertile ground in this scathing indictment of Russian oligarchs, British weapon makers, and vapid twentysomething influencers.
Those are a few of the main characters that Östlund loads aboard a luxury super yacht captained by drunken Marxist Thomas Smith (Woody Harrelson), who hides in his cabin while the crew of immigrants work like slaves to keep the guests fed and happy. Balance is soon restored, first by a storm that unleashes torrents of vomit and shit throughout the boat, then by a pirate attack that leaves a handful of survivors stranded on an island under the rule of former "cleaning manager" Abigail (Dolly de Leon), who begins to like being in charge.
De Leon is sensational, as is Harrelson, Zlatko Buric, who plays a repulsive Russian fertilizer tycoon ("I sell shit"), and Harris Dickinson and the now sadly deceased Charlbi Dean as the influencers Carl and Yaya. There's just enough humanity in all of them to keep Triangle from being too cold-hearted, but the way the tables turn so quickly on everyone is grimly hilarious. – DK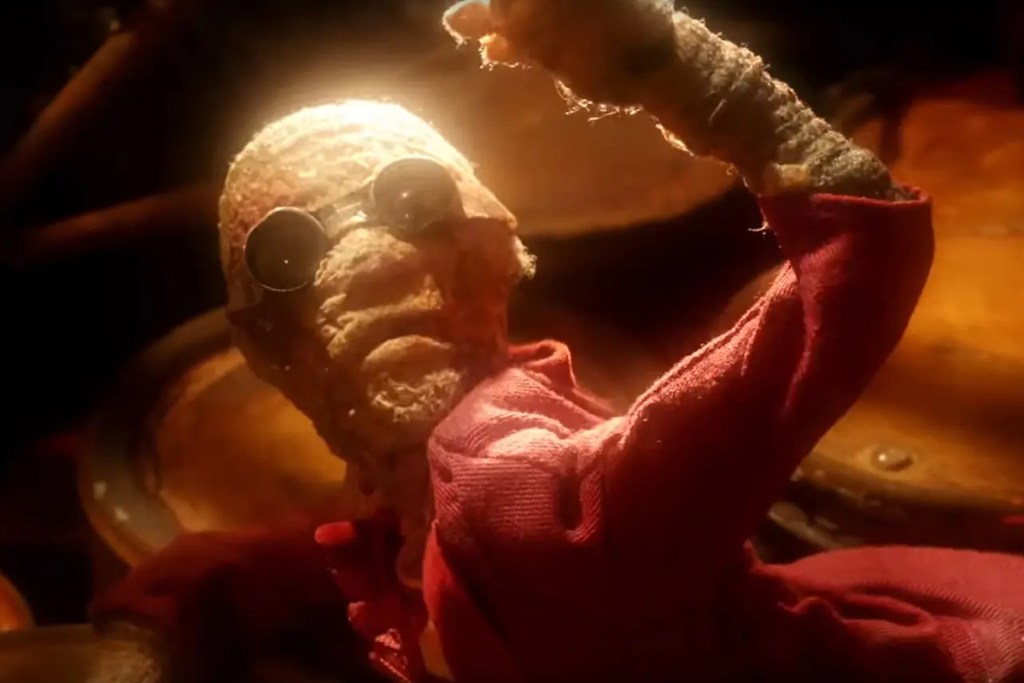 19. Mad God
Phil Tippett's Mad God is a stop-motion masterpiece literally three decades in the making. And every single minute that the famed visual effects, animation, and design maestro put into it is on the screen. Calling it a "labor of love" seems somehow inappropriate given the hopeless atmosphere and profoundly disturbing visuals, but Mad God is such a rich assault on the senses that it's impossible to look away, even during its (many) horrific moments.
With no dialogue and nothing but a series of increasingly dark and brutal scenes to carry the nameless protagonist through the story, Mad God is certainly unlike any other horror or science fiction movie released in recent years. While it's nothing less than the cinematic equivalent of a feverish nightmare, the craftsmanship and worldbuilding on display are unparalleled, and Tippett (perhaps best known for his incredible stop-motion work on The Empire Strikes Back and RoboCop) makes the absolute most of his chosen medium. As immersive and compelling as it is challenging and disturbing, Mad God isn't for the faint of heart, but it demands your attention. – MC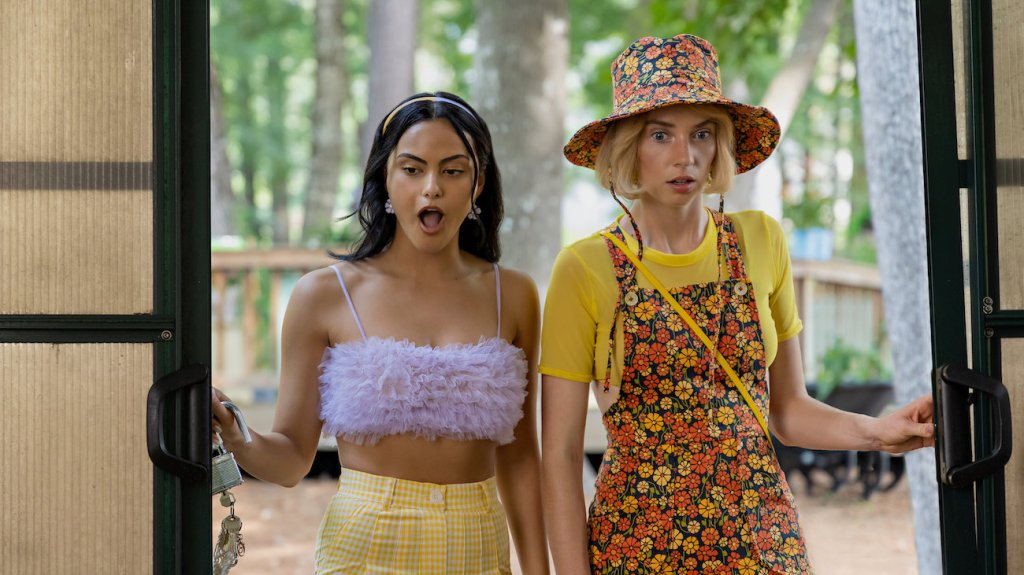 18. Do Revenge
It would have been enough if Jennifer Kaytin Robinson's sendup of '90s teen dramas had been just a colorful, snarky, in-your-face tale of two clique-crossed strangers breaking the system—that is, the system being high school determining your whole future. The allusions to Clueless and Heathers are superb, and the characters are more than just paint-by-numbers paper dolls of the genres they're skewering. Camila Mendes brings incredible nuance to fallen queen bee Drea, simultaneously a scholarship kid and a privileged bitch. And as shy new girl-turned-Pygmalion Eleanor, Maya Hawke conjures up father Ethan Hawke's endearing bashfulness from the Before Sunrise era.
But then comes the excellent twist, as you realize that this is not Nora's first transformation, that she is far more adept at manipulating the social hierarchy—and Drea in particular—than we could ever have guessed from her demure co-conspiring. Like a two-sided coin caught in a new light, Hawke brilliantly reminds us that she's also Uma Thurman's daughter, delivering one of the year's best performances as a sociopath defending her own vulnerability. Fully going off the rails, the latter half of Do Revenge is a scream-out-loud delight, with the kind of life-or-death stakes we haven't really seen in a teen movie since Veronica took on JD beneath the school. This is the kind of movie that completely gets how teenage girls simultaneously want to kill each other but would also kill for one another—or settle for simply clearing the way so no one else can stop them. – Natalie Zutter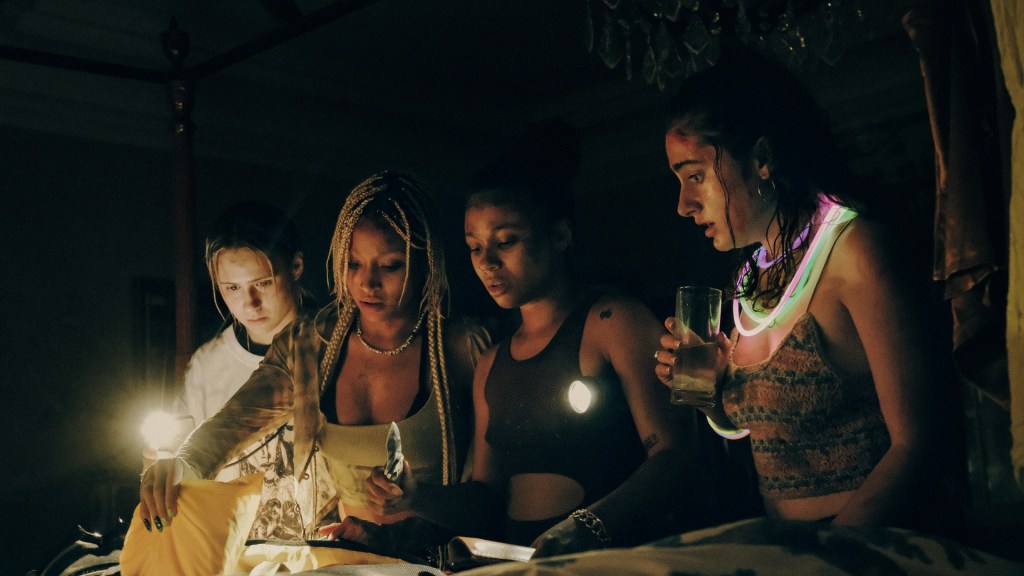 17. Bodies Bodies Bodies
In 2022, the classic whodunit came back in a big way, and no murder mystery was more a piece of the current zeitgeist than Halina Reijn's Bodies Bodies Bodies, a merciless satire of Gen-Z and the dangerous distractions of those who are terminally online. About as subtle as a meme's punchline, Bodies locks six early twentysomethings in a house on a dark and stormy night, gives them booze and drugs, and then turns off the lights (as well as the wifi connection). Soon, a descent more rapid than Lord of the Flies commences for these erstwhile friends.
Some viewers have chafed at Bodies Bodies Bodies' mean-spirited cynicism, yet there are those of us who argue the movie has a genuine empathy (if not affection) for its cast of primarily young women who wield buzzwords like weapons, and who turn the traumas and indignities of others into blankets that cocoon their own privilege. Plus, it's just plain fun to watch them get Agatha Christie-styled comeuppance… until there were none. – DC
16. The Black Phone
A truly great horror movie doesn't work unless there's some core of humanity at the heart of it. Pure nihilism may be fun in the moment, but leaves you feeling empty when it's over. Enter writer/director Scott Derrickson and The Black Phone, in which Derrickson and co-screenwriter C. Robert Cargill take Joe Hill's short story and make it uniquely personal as well as moving. This is due in particular to the development of the endearing relationship between 13-year-old Finney (Mason Thames in an excellent film debut) and his 11-year-old sister Gwen (Madeleine McGraw), which is put to the test when Finney is captured by a local child murderer known as the Grabber.
As played by Derrickson's Sinister star Ethan Hawke, the Grabber is both terrifying and weirdly pathetic. The director effectively sets up how a Denver suburb in 1978—an era of missing kids' photos on telephone pole flyers and milk cartons—could be held in his grip. Derrickson's own grip on our emotions and fears is tight as well, and the introduction of the story's supernatural elements, embodied by the black phone itself, on which Finney gets calls from the Grabber's previous victims, feels organic and earned. Like Sinister, The Black Phone is a slow burn at first that escalates into an effective, frequently frightening, and eventually poignant genre exercise. – DK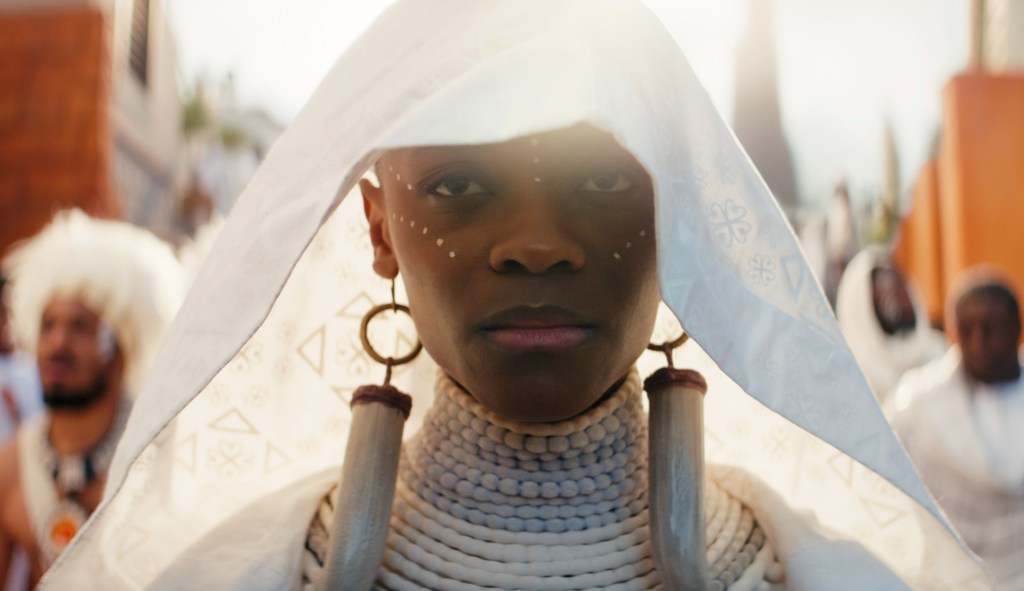 15. Black Panther: Wakanda Forever
That this film even exists is something of a miracle given the circumstances under which it was created. Yet writer-director Ryan Coogler, co-writer Joe Robert Cole, producers Kevin Feige and Nate Moore, and their entire cast and crew somehow created a film that is perhaps the most emotional and personal in a franchise often called out for what critics perceive as its assembly line mentality. It's also a sustained cry of both real-life and fictional grief, as both the filmmakers and the fictional characters grapple with an unimaginable loss and try to find a way to move forward. And they did.
While the first Black Panther had a clear lead in T'Challa (Chadwick Boseman) and a clear villain in Killmonger (Michael B. Jordan), Wakanda Forever is much more of a classic ensemble film that takes its time for its plot strands to synthesize together. Letitia Wright, Winston Duke, Angela Bassett, and Lupita Nyong'o are all sensational as they fill the breach left behind by the late Boseman. Meanwhile Tenoch Huerta Mejia makes a stunning, long-awaited debut as Namor. Coming at the end of the MCU's shaky Phase 4, Wakanda Forever was a shining example of what this franchise can, and hopefully will, still accomplish. – DK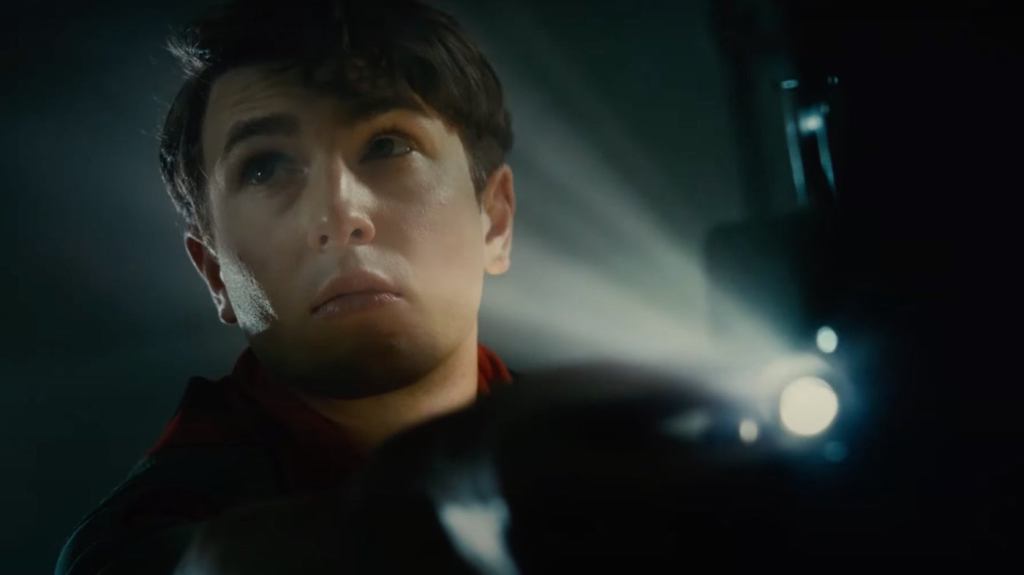 14. The Fabelmans
After spending a career drawing on his own childhood in order to enchant millions of others, Steven Spielberg looks inward to craft this beautiful yet elegiac reverie about his youth. As much concerned with his parents, and the forces that brought them together before pulling them apart, as it is an origin story for his own fixation with moving images, The Fabelmans is far more poignant than its mismanaged trailers suggest. It's also deceptively adult.
Spielberg studies thinly veiled interpretations of his parents (played here by Michelle Williams and Paul Dano) with simultaneous affection and pity as he reconciles their fallibility with his own neurosis, which in retrospect has been there all along in movies like Close Encounters of the Third Kind and E.T. The result is an exquisite and ultimately still feel-good exercise in self-portraiture that connects the sweeping images of fantasies like Indiana Jones with the loneliness of a little boy (or girl) afraid to grow up. Plus, that David Lynch cameo will become the stuff of legend. – DC
13. The Woman King
Here is one of those movies that makes you say, "They don't make 'em like this anymore!" Similarly to Top Gun: Maverick, The Woman King is a broad crowdpleaser with familiar story beats that is executed at such a high level of craft that you can't help but enjoy yourself. If this were the '90s, The Woman King would be cleaning up at the Oscars. This historical epic, in the same mold as films like Braveheart and Gladiator, tells the (somewhat fictionalized) tale of the Kingdom of Dahomey, which was defended by an all-female band of warriors and in the movie revolted against slave traders. Viola Davis' General Nanisca leads the group, giving a physical, imposing performance while also leaving room for staggering emotional depth. It's easily one of the most impressive, transformative performances of the year. Not to be outdone, Thuso Mbedu delivers a star-making performance as new recruit Nawi, and Lashana Lynch continues to be a bright-burning charisma machine as Dahomey heavy Izogie.
Director Gina Prince-Bythewood shoots intensely choreographed fight sequences with such grace and clarity that it will make you wonder why superhero movie battles feel so rote and gauche by comparison. In the third act, particularly, her spatial awareness and ability to convey where the action is happening in relation to the other characters is masterful and sorely missing in the average 2022 action film. The Woman King will make you think of a time where we took these action spectacles geared at adults for granted and will leave you wondering why we don't have more of them. – Nick Harley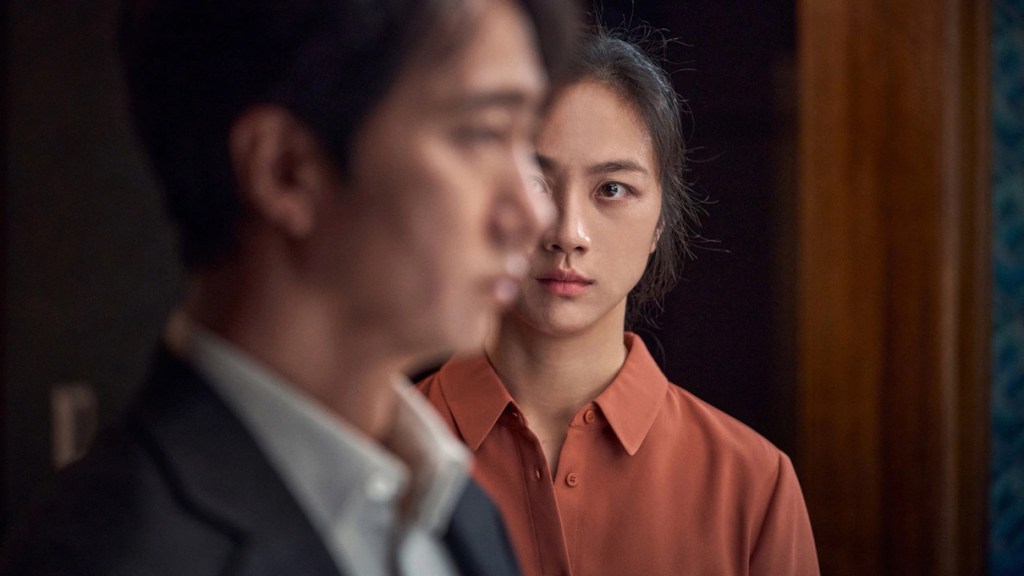 12. Decision to Leave
A detective named Hae-joon (Park Hae-il) investigates the death of a man whose body is found at the foot of a mountain, with the man's wife, Seo-rae (Tang Wei), coming under suspicion even though it looks like an accident or suicide. Hae-joon soon becomes obsessed with the enigmatic wife, even as he becomes more estranged from his own spouse, and the two begin an illicit romance even as there are signs that Seo-rae may be responsible for yet another death.
What sounds like a standard romantic film noir becomes, in the hands of legendary South Korean director Park Chan-wook (Oldboy, The Handmaiden), something elegant, profound, and transcendent, with every single shot composed like a painting and often equally rich with meaning. Obsession, desire, and regret pulsate through the movie, with its multi-dimensional characters and multi-layered plot sweeping the viewer along like persistent ocean waves. A crisp, moody, and often even funny gem with an unforgettable ending. – DK
11. The Northman
If The Northman was supposed to be Robert Eggers going mainstream, then thank goodness so many of the director's fascinations are still intact. Like the excellent Eggers films that precede it, The Northman has painstaking historical accuracy, intuitively intense performances, and sensuous cinematography that takes this Viking revenge epic to another level. The way Eggers athletically moves the camera throughout the film mirrors the brute force ferocity that Alexander Skarsgård's Amleth brings to his quest to take revenge on his uncle, the man who killed his father.
The sinewy, metal-as-fuck story only lifts its head out of the ash and mud for ethereal, almost supernatural depictions of Norse ideas of the afterlife. Anya Taylor-Joy, still clearly a muse for Eggers, aids in bringing some beauty to all of this grimy machismo, and Nicole Kidman continues her latter-day hot streak with a layered, pivotal performance. All that said, muscle and steel are the real stars of this show, and Eggers third-act climax at the crater of an active volcano is the stuff action movie dreams are made of. – NH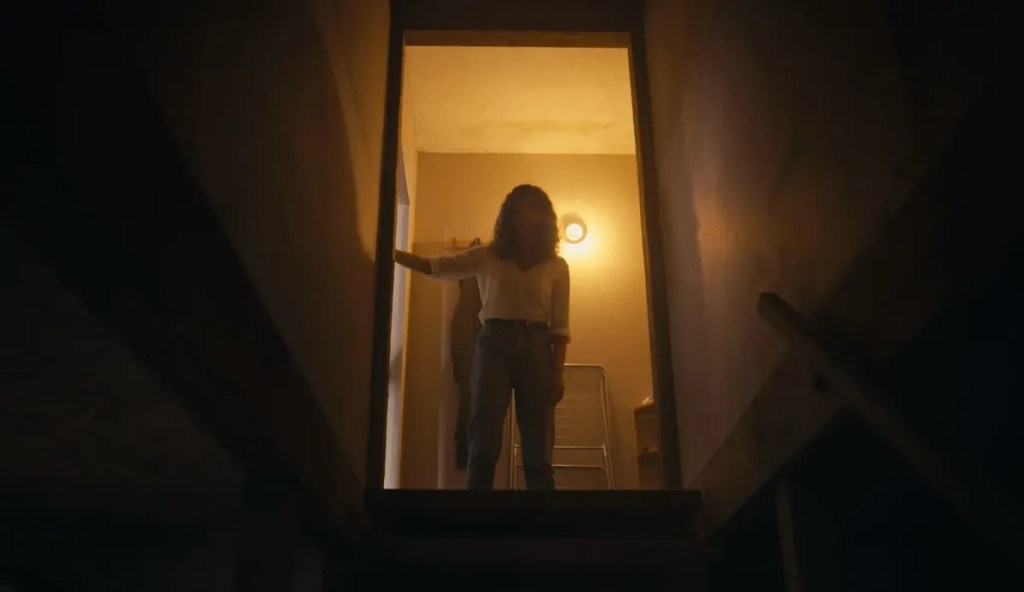 10. Barbarian
What do comedians and horror directors have in common? Both use artforms that rely on tension and release, setup and payoff, and both typically score points with audiences if they can shock you. Director Zach Cregger took his comedy skill set developed in the sketch troupe The Whitest Kids U' Know and translated it to the horror genre with much success in this year's Barbarian, 2022's most shocking horror film. The movie itself doesn't necessarily do anything drastically new or unseen, it just uses horror conventions and a hell of a red herring in horror movie veteran Bill Skarsgård to lull the audience into believing they know what kind of movie they're watching before pulling the rug out from under them and presenting an entirely different kind of horror movie.
Cregger uses his comedic chops to deliver a humorous second act that expertly utilizes funnyman and Scream King Justin Long to ruminate on the much-discussed topics of cancel culture and accountability, but Barbarian's real charms are in its B-movie sensibilities and the way it keeps the audience on its toes. Georgina Campbell impresses as lead Tess, a woman who stays at a sketchy Airbnb despite her better judgment, and Cregger keeps you squealing in delight even as you're clutching the armrests tight. Barbarian shows that you don't need big-budget maxmalism to enrapture audiences as long as you keep them on their toes. – NH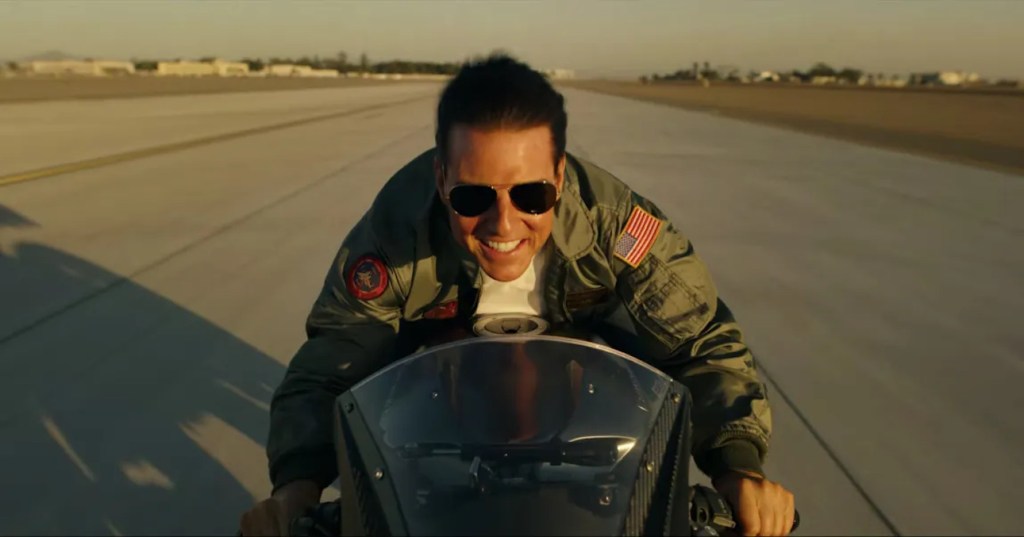 9. Top Gun: Maverick
The greatest pleasure found in Top Gun: Maverick, Joseph Kosinski's euphoric revival of '80s sentiments and sensibilities, is neither the jaw-dropping IMAX photography nor the U.S. Navy jets at the center of that celluloid. It's also neither the stripped down but effective story about a surrogate father and son or the shots of hard bodies tossing pigskin on a beach while bathed in sunset's magic glow. Nay, the true power of Maverick is Tom Cruise himself, and how he took one of his personally least favorite roles and reinvented it as a metaphor for his whole career.
There once was a time when Cruise's tenure at the top of Hollywood looked precarious—a moment where he was all but told, "Your kind is headed for extinction." Those lines are thrown at Maverick too in this year's legacy sequel. So the nearly 60-year-old Cruise's weathered smirk as he retorts, "Maybe, but not today" carries meta-satisfaction. Not only does Maverick prove his mettle as still the toppest top gun to ever enter the top of a cockpit, but so does Top Gun: Maverick reassure that there is no other movie star left like the one behind the aviators. On another actor's shoulders, this would wear as cheesy. Thirty-six years after the first movie though, it looks mythic on Cruise as he pushes 6.5Gs in 70mm while leading a film that almost single-handedly saved the theatrical box office this summer. – DC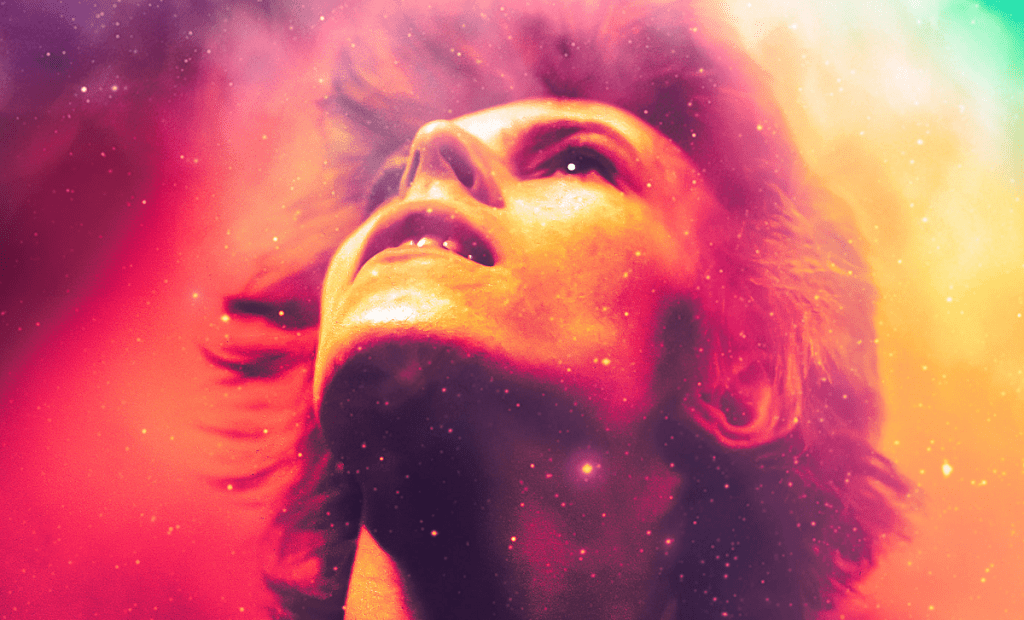 8. Moonage Daydream
Moonage Daydream is director Brett Morgen's third pop music documentary, and should be watched at least three times by David Bowie fans. It is not a conventional biopic. It skips whole periods, talking heads, childhood anecdotes, and chronological structure. But it is a completely satisfying experience, immersive and impressionistic, throbbing with rhythm, humor, and an endless quest for adventure. David Bowie was more than a musical adventurer, his whole life was an expedition into the unfamiliar. In the film he says he prayed for the most exciting life one could have. Morgen captures this by playing with Bowie's toys.
Granted unprecedented access by Bowie's estate, Morgen fills the screen with newly unearthed performances, recordings, paintings, home movies, photographs, journals, and the greatest score on earth: Bowie's voice, singing or narrating the film, talking with interviewers, or joking with sidemen during soundcheck. A particular gem is extremely rare footage of Bowie's 1980 Broadway debut as John Merrick in The Elephant Man.
This is no greatest hits package, but a deep dive into buried tracks. Music producer Tony Visconti and music editor John Warhust bring sonic intimacy into the mix. The film isn't about the life and times of a restless musician. It is a personal examination of how Bowie's artistic mind worked, from a director who takes it very personally and prefers it at maximum volume. Moonage Daydream isn't definitive, it's demonstrative. It is also very moving. Just try to remain seated during some of the sequences. – Tony Sokol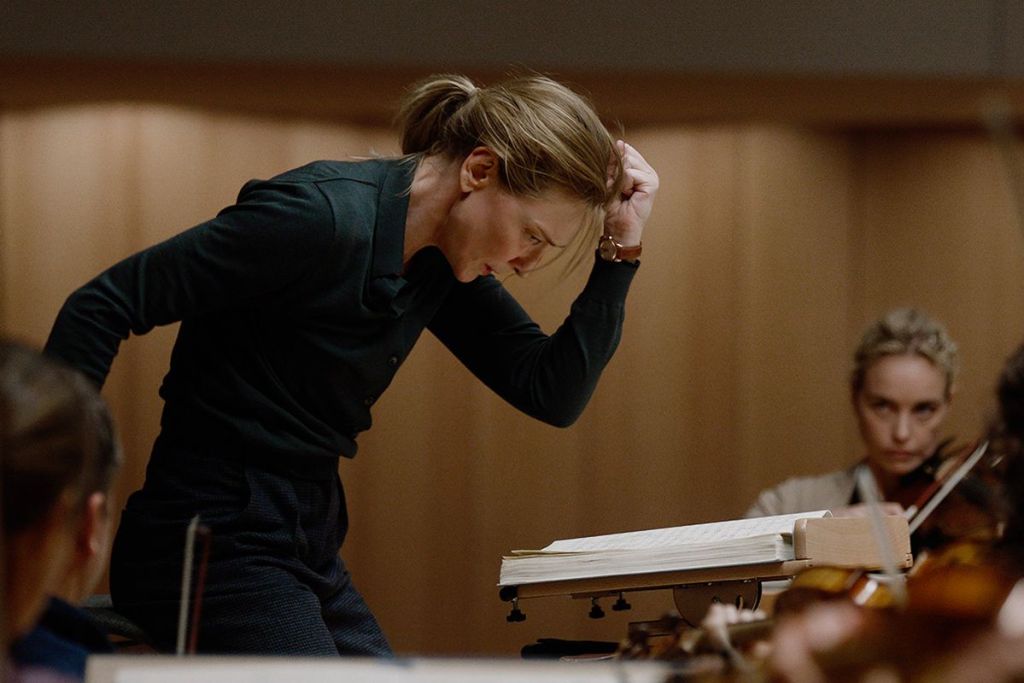 7. Tár
It's become something of a running joke online to treat Lydia Tár, Cate Blanchett's exceedingly accomplished conductor and composer of classical music, as a real person. There's good reason for this silliness. As brought to life by a regal Blanchett and writer-director Todd Field, Lydia feels acutely alive from the moment Tár's title cards end and the chief conductor of the Berlin Philharmonic has her trenchant resume recited, line by line, at the New Yorker Festival.
Blanchett's creation achieves a level of authenticity and credibility that eludes many actual public figures, and her subsequent downfall is similarly enmeshed in our curious times. Fifty years ago, Lydia's complexities, contradictions, and outright hypocrisies would've made her an anti-hero icon of '70s cinema (or late 2000s television). In those eras, she'd also be written as and portrayed by a man. In 2022, however, the casting and narrative of the "troubled genius" flips assumptions and generalities on their heads and forces audiences to lean a little closer—as indicated by the wildly different readings of the stunning 10-minute one-er where Lydia's master class at Juilliard becomes about both defending the canon from ephemeral social media trends, as well as a master class in how power and privilege is harnessed to humiliate and silence vulnerable, outside voices.
Tár is a masterpiece that rewards reinterpretation and reconsideration. Lydia might never have existed, but she's an idol for her age. – DC
6. RRR
Yes, RRR is three hours long. And yes, it's a Tollywood film, complete with occasionally incongruous musical numbers and dance routines. And yes, it's one of the most entertaining and action-packed spectacles of the year (check out our interview with director S.S. Rajamouli for how it all came together). But at its core, RRR is simply the story of how two mythical (and historical) heroes meet for the first time and forge a deep friendship, not realizing that they're on opposite sides of their ultimate conflict.
You might think superhero movies have desensitized you to feats of strength and derring-do on screen, but are the Avengers flinging motorcycles and tigers (yes, you read that right!) at each other? Does the Justice League respond to colonial racism by engaging in an impossibly high-energy dance off that feels as if Fred Astaire and Gene Kelly were granted even more incredible athleticism and grace than their already considerable talents? While some of this may seem a little new for western audiences (including this writer), RRR is no novelty picture, and its more traditional action scenes, not to mention its genuinely affecting tale of friendship, have truly universal appeal. It's the easiest, most exhilarating three-hour watch in recent memory. – MC
5. Glass Onion
Glass Onion spent only five days in wide release last month. That's a shorter theatrical window than Tommy Wiseau's The Room enjoyed. This is a shame for theaters since in that blink-and-you-miss-it engagement, Rian Johnson's Knives Out sequel cleaned up with $13.3 million on less than 700 screens. It's also a loss for audiences because this movie is meant to be experienced with a crowd. Luckily even at home, it's still a supremely entertaining potboiler.
Like the title suggests, Glass Onion is an often visually dazzling spectacle, filmed in gorgeous sun-kissed tones by cinematographer Steve Yedlin, all of which hides a confounding yet surprisingly simple mystery at its core. That real mystery, which extends beyond just a case of murder, suggests Johnson and star Daniel Craig view these Benoit Blanc adventures as being above just surface pleasures, too. For two films in a row now, Craig's amusingly dubious Southern drawl has guided us through razor sharp satires of America's obsession with wealth, privilege, and celebrity. But really, this is just a first-rate crowdpleaser with a superb all-star cast that is having so much fun it could prove lethal. – DC
4. The Banshees of Inisherin
Writer-director Martin McDonagh does it again, reuniting his In Bruges team of Colin Farrell and Brendan Gleeson for a tragicomic tale of the many cruelties that human beings can inflict on each other in service of their own personal aspirations. Farrell is the sweet-natured but simple Pádraic, who is first befuddled and then hurt when his longtime friend Colm (Gleeson) decides to abruptly end their friendship. Colm, it seems, wants to spend his twilight years composing music that he hopes he'll be remembered for instead of spending hours and days in idle chit-chat with his former drinking buddy.
Colm's warning to Pádraic to stay away—or else—soon escalates into a shitstorm that engulfs most of their tiny village, including Pádraic's compassionate sister Siobhan and rather dim local boy Dominic (Kerry Condon and Barry Keoghan, respectively, in fantastic, scene-stealing performances). With the film set in 1923 against the backdrop of the Irish Civil War, the smaller conflicts on the fictional island of Inisherin mirror those on the mainland, in all their pointless cruelty and pettiness.
Farrell, who's had a hell of year between this, After Yang, and his knockout turn as the Penguin in The Batman, does perhaps the finest work of his career as Pádraic, whose innocence and kindness is gradually whittled away until he becomes unrecognizable. The always outstanding Gleeson is ostensibly the "villain" here, but Colm's question of how much are we willing to give up to be remembered hangs hauntingly over this beautifully shot, poignantly scored, and unsettlingly funny film. – DK
3. The Batman (READERS' CHOICE)
We've reached a point in superhero movie history where most of them at least rise to the level of "pretty good," but only a handful feel like they'll truly stand the test of time and repeat viewings. More ambitious and cinematic than many of its caped peers, Matt Reeves' sprawling look at the Dark Knight's second year on the job and his first encounters with the Riddler, Selina "Catwoman" Kyle, and Oswald "Penguin" Cobblepot immediately earned a place in debates about the greatest Batman live-action stories ever put to film, and yes, even the best superhero movies ever made.
And rightfully so too. As thoughtful and ambitious as Christopher Nolan's Dark Knight trilogy, but displaying a little more willingness to embrace the inherent weirdness of Gotham City (but only a little), The Batman is a bleak tale of a corrupt city machine under assault by a genuinely scary, Zodiac-esque serial killer (played to perfection by Paul Dano). In the course of untangling those threads, Robert Pattinson's Batman, as detached and awkward as he is driven, is faced with the uncomfortable reality that his mission of vengeance has some unintended consequences.
Despite such heavy subject matter, The Batman balances it all out with some truly eye-popping action sequences, including an edge-of-your-seat car chase featuring a scaled-down Batmobile that is one of the best live action Batman moments ever filmed. There is no shortage of superlatives to go around here, with Jeffrey Wright, Zoë Kravitz, and Colin Farrell delivering what might be the definitive performances of iconic DC characters (with the latter truly disappearing into the role in a chameleon-like turn), a production design that doesn't sacrifice style for realism, or Michael Giacchino's score, one of the best to grace any superhero movie in the last decade. We'll gladly follow Reeves down whatever dark alleys he wants to take us in future installments, but until then, give The Batman another watch and you'll find even more to enjoy than before. – MC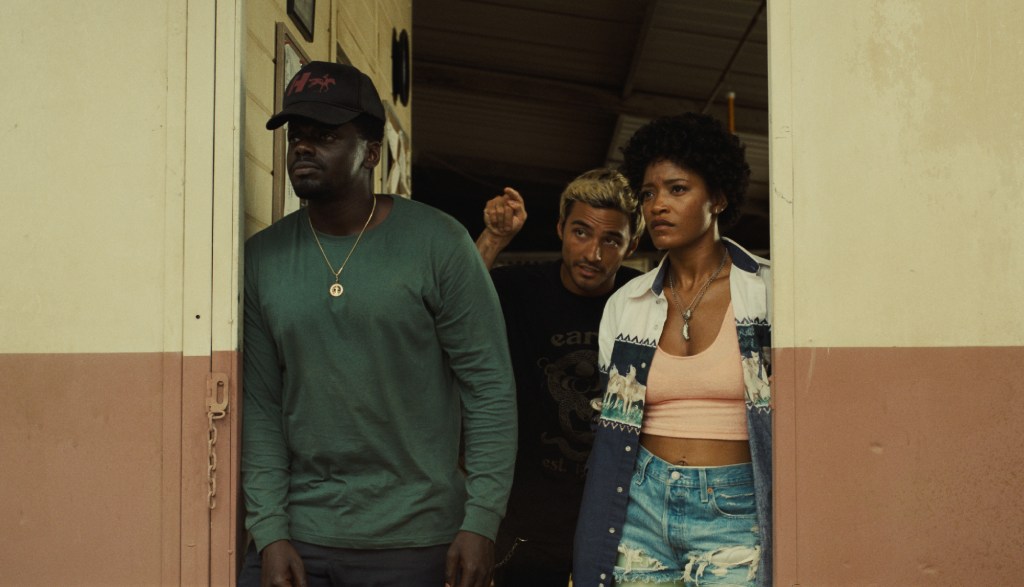 2. Nope
If Get Out announced Jordan Peele as a clever cultural commentator and effective horror filmmaker, his third feature film, Nope, positions him as a big tent, blockbuster auteur in the mold of Spielberg and John Carpenter, whose ideas deepen their cinematic thrill rides. This is Peele's Jaws, a thrilling display of talent and control via the widescreen popcorn movie. But it also has the exploitative nature of Hollywood, and the dangers of "spectacle" itself, on its mind. Sure, you can enjoy the surface level story about man vs nature, in this case "nature" meaning a spacecraft-sized extraterrestrial with an insatiable appetite, but dig in a little deeper and you'll notice the film's more sinister villain: the entertainment industrial complex.
Whether it be a seemingly harmless sitcom, a hokey amusement park, a nature documentary, or big-screen feature, Nope is interested in the ways that Hollywood chews up and spits out the smaller players in the Hollywood ecosystem so that the masses can have something to gawk at. Even those who have literally witnessed people give their lives to feed the content machine feel the allure of fame so strongly that they commit the very same sins that they bore witness to, with the same disastrous results. Even the film's protagonists, the son and daughter of a Hollywood horse trainer played by the stoic and measured Daniel Kaluuya and the charismatic firecracker Keke Palmer, see capturing images of the alien as their only escape from debt, or worse, anonymity.
In a year with pure, uncut entertainment vehicles like Top Gun: Maverick and knotty, arty explorations of the soul such as Tár, Nope manages to split the difference, offering something for everyone. It has visceral, fantastical scares like a claustrophobia-inducing depiction of alien digestion, as well as more down-to-earth terrors like an animal co-star going primal. The film knowingly employs Western motifs with tongue-in-cheek subversion, has immaculate sound design that will delight and haunt in equal measure, and seems to suggest the audience is complicit in the "spectacle" cycle. Pardon the word choice, but there is so much to chew on in this FUN summer blockbuster. I don't know what the word is for a bad miracle, but no matter, Nope is the good kind. – NH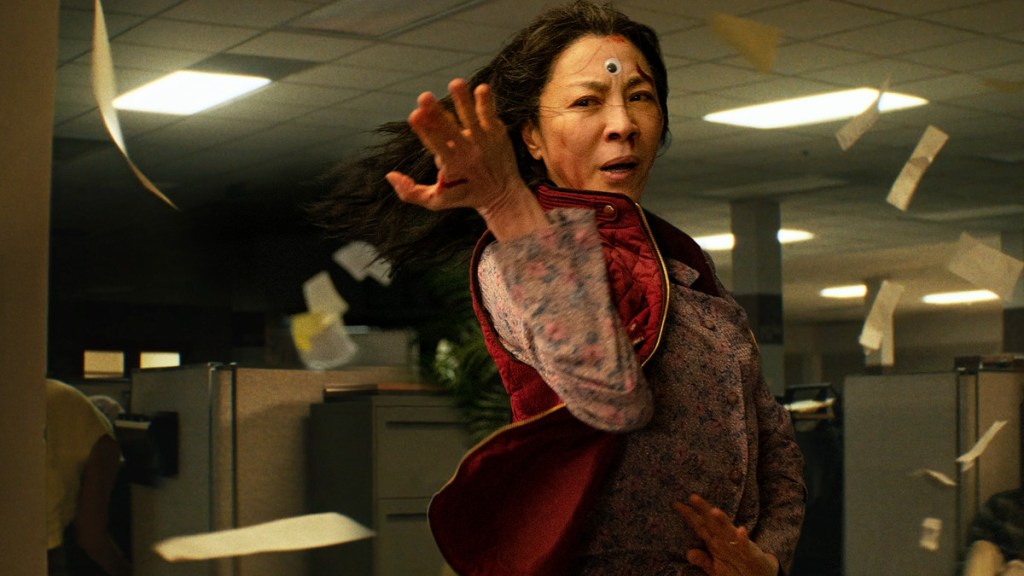 1. Everything Everywhere All at Once
When Everything Everywhere All at Once arrived at SXSW last spring, it was a bit of an anomaly. Filmmakers Dan Kwan and Daniel Scheinert, the self-styled "Daniels" pair who once convinced Daniel Radcliffe to play a rotting cadaver for a whole movie, were releasing a $20 million multiverse flick starring Michelle Yeoh? Those were big numbers for a modern indie but fractional when compared to all the recent industrialized blockbusters riffing on string theory. Yet as it turns out, you can't put a price tag on ingenuity or innovation, and Everything Everywhere is so full of both that it's a wonder the Daniels could keep all that boundless creativity in the frame.
Today, Everything Everywhere is celebrated as 2022's indie Cinderella story, but its success is more impressive than that; this is the type of instant classic that only comes around maybe a few times in a decade—a startlingly original vision that defies conventions while becoming the yardstick all similar fare will be measured against. And at the center of its multidimensional daydream is Yeoh with an American role at last worthy of her talents. As Evelyn Wang, the disappointed and depressed co-owner of a laundromat, Yeoh is able to showcase all her skills: drama, comedy, and martial arts… so, so much kick-ass martial arts!
Indeed, Everything Everywhere All at Once might be the best martial arts movie to come out of the west since Yeoh appeared in Crouching Tiger, Hidden Dragon. The movie's also a science fiction epic; an existential parable for the secular set; and even an intimate family dramedy with no less at stake than the vastness of the universe in its domesticity. With so much on the screen, none of it should work, but it does every time Yeoh or co-stars Ke Huy Quan and Stephanie Hsu grasp onto the smallest of cinematic virtues: an indefatigable humanity. – DC
Movies also receiving significant votes: Thor: Love and Thunder, Doctor Strange in the Multiverse of Madness, Fire Island, Fresh, The Lost City, Turning Red, Nitram, Smile, See How They Run, The Wonder, Petite Maman, The Unbearable Weight of Massive Talent, The Good Nurse, Watcher, Good Luck to You, Leo Grande, Marcel the Shell with Shoes On, She Said, Armageddon Time, Prey, Emily the Criminal, Speak No Evil, Nanny, The Adam Project, Flux Gourmet, Apollo 10 1/2: A Space Age Odyssey, Babylon, I Want You Back, Bullet Train, Aftersun, We're All Going to the World's Fair, Weird, Avatar: The Way of Water, I Came By, Confess, Fletch, Mr. Malcolm's List, Crimes of the Future, Dreaming Walls, All Quiet on the Western Front, Bros, Pearl, Clara Sola, She Will, Honk for Jesus, Deep Water, Cha Cha Real Smooth, Dashcam, Till, Sissy.