Features
The Best British TV Shows of 2022
Looking for UK TV recommendations? We polled our writers for their most loved British TV shows of the year!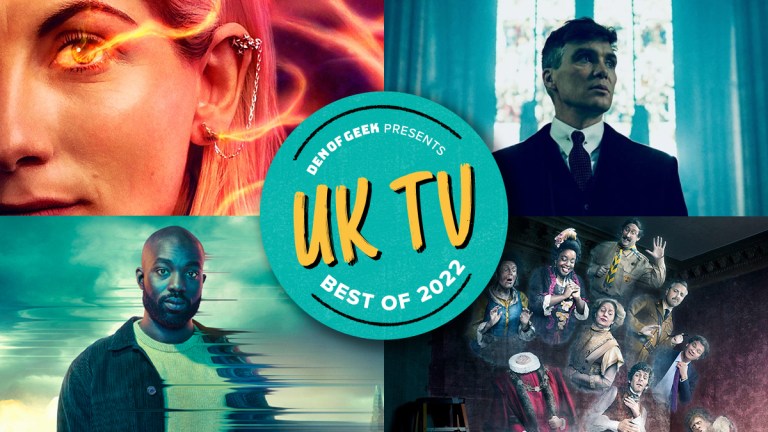 The end of the year is the traditional time to take stock, tally up and remember the highlights of what has been, at times, a very strange old run of it. It also happens to be the point of the year when a lot of us manage to down tools for a little bit and find ourselves in need of viewing recommendations.
If that's you, and you're in the market for some excellent new and returning British drama and comedy, then our writers share their favourites of 2022 below. This list of 15 (plus a few others we had to mention) was arrived at via democracy and an impressively complicated points-awarding system, and represents the most popularly recurring and highly rated favourites nominated by our UK feature writers and reviewers. See if you agree with any of the choices, and if there are other British series you want to sing the praises of, fill your boots in the comments below.
15. The Bastard Son & The Devil Himself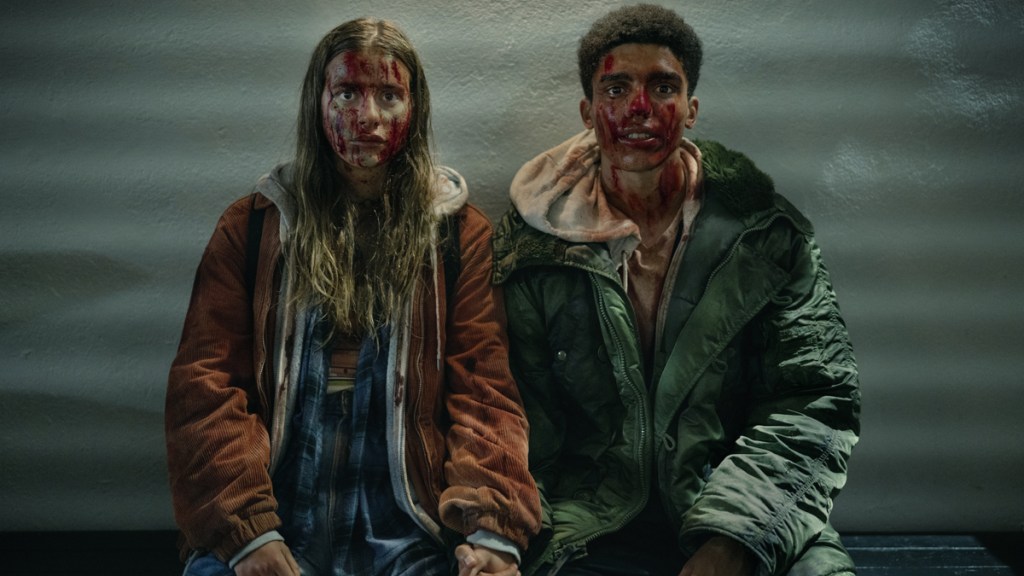 Joe Barton's adaptation of Sally Green YA best seller Half Bad was a classy affair that made smart changes to the source material, cast some of the most charismatic young actors around and filled its story of witches at war with real stakes. So the only reason we can imagine it wasn't a big enough success to get renewed for a season two at Netflix is that the name was a bit off-putting.
Either way, those who saw it loved it, as evidenced by the overwhelmingly positive reviews from both critics and audiences.
This is the red-raw story of Nathan (Jay Lycurgo) a young witch whose father is the most feared 'Blood witch' in the land of the Fairborn witches. Tortured and isolated in the name of training him up for revenge, a trip to Europe with the charismatic alchemist Gabriel (Emilien Venkmans) opens Nathan's eyes to the possibility that the Blood witches might not be the bad guys at all. But what could this mean for Annalise (Nadia Parkes), his de facto girlfriend and the daughter of the head of the Fairborn militia? Funny, romantic, gory, with a great story – if you've not had a chance to watch, now's the time. Rosie Fletcher
14. Somewhere Boy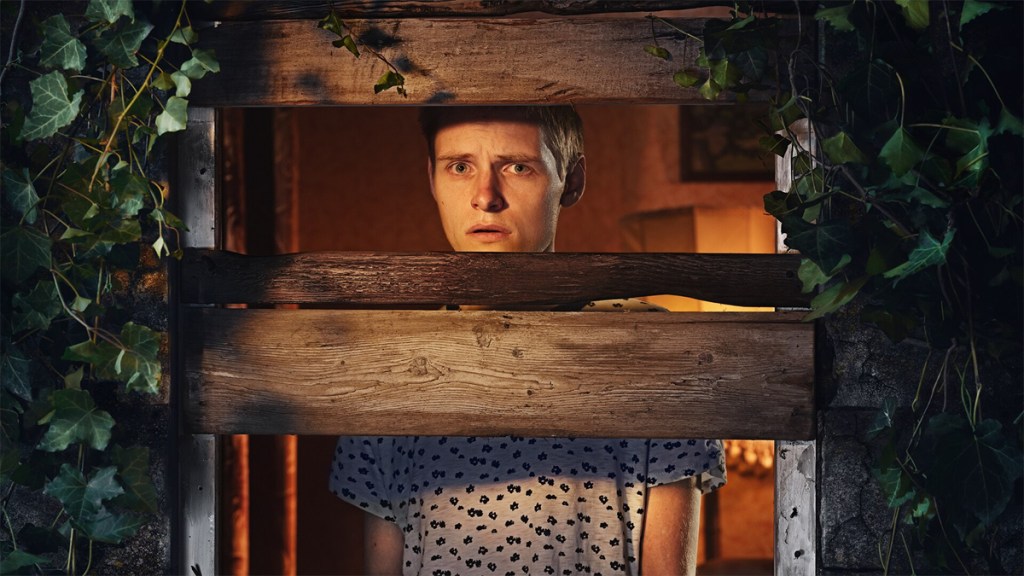 This 8-part half-hour series was a remarkable debut from creator Pete Jackson. It's the character-driven story of Danny (Lewis Gribben), an 18 year old whose dad had kept isolated in a remote farmhouse his whole life with an invented story that terrifying monsters roamed in the outside world. When Danny finally steps outside and realises his father's lies, he starts living for real, but finds the adjustment tough.
Staying with his aunt Sue (Lisa McGrillis) and her family, Danny struggles to understand the world as it is, and finds solace in a dangerous revenge mission. Sue aside, nobody much wants him around, and very little in the modern world makes sense to a boy raised on black and white movies and make-believe. It's a very peculiar and moving coming-of-age story themed around the destructive sides of love, grief and mental illness, that's often funny and ultimately, uplifting. Well worth the time-investment. Louisa Mellor
13. Big Boys
After deferring his place to university following his father's death, Jack (Derry Girls' wee English fella Dylan Llewellyn) starts at Brent Uni and due to a mix up has to live in makeshift accommodation with mature(ish) student and 'lad' Danny (a charming Jon Pointing). As it's set in their first year of university you can expect all the awkward sex stuff and binge drinking, but Jack and Danny's friendship is what makes the show so heartfelt and relatable; Jack struggles with his grief and sexuality while Danny has issues of his own that are revealed throughout the series.
What is so refreshing about Big Boys is the little-explored (by TV) relationship between a straight man and his gay best pal. Creator, writer and narrator Jack Rooke has made something that is hilarious one moment and heartbreaking the next. It's made even better by its excellent supporting cast (the always brilliant Katy Wix as an overbearing Student Union Officer and Camille Coduri as Jack's lovely Mum), noughties pop culture references (Alison Hammond the goldfish, Gamu from X Factor) and accurate university experience representation (a bit rubbish).
Luckily we won't have to wait too long to see the boys again; the second series is set to return in 2023. Elizabeth Donoghue
12. Heartstopper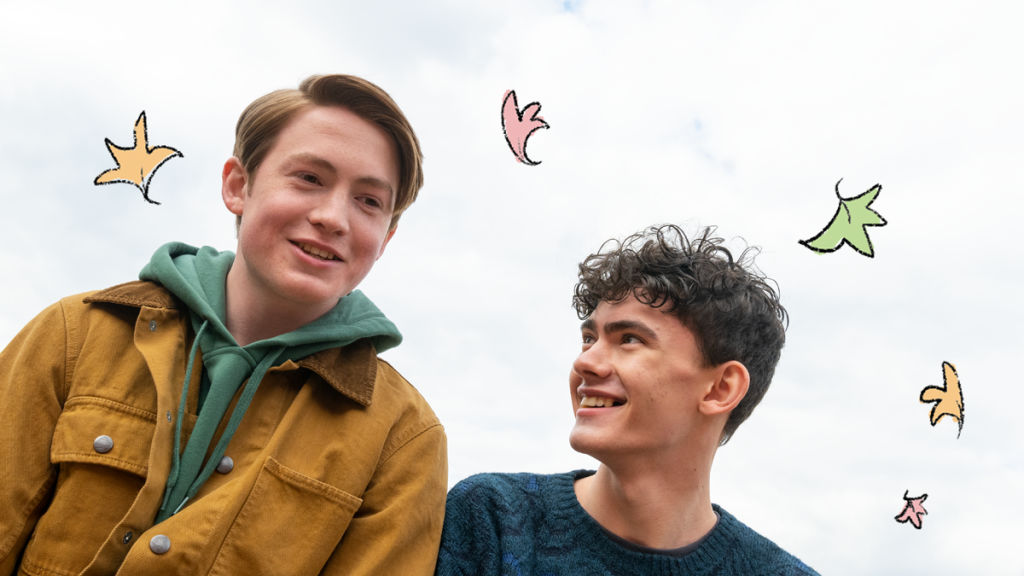 Fans of Alice Oseman's Heartstopper webcomic anticipated this Netflix adaptation with real fervour, and it's easy to see why. Oseman's collection of LGBTQ+ love stories are romantic, pure and a step towards filling the huge gap in portrayals of young gay romance on the page and screen.
An ensemble story but centred around grammar schoolboys Charlie and Nick, Heartstopper is a very sweet account of first love. It starts when musician Charlie sits next to rugby-playing Nick in class, and the pair develop a beautiful relationship that flies in the face of what the rest of the school expects from either of them. Alongside Nick and Charlie are friends Tao and Elle, the latter played by transgender actress Yasmin Finney (soon to be seen alongside David Tennant and Catherine Tate in the Doctor Who 60th anniversary episodes). And there's plenty more in store for Kit Connor and Joe Locke's teenagers-in-love, because Netflix has already renewed the show for series two and three. LM
11. This is Going to Hurt
You can say that again. This BBC adaptation of Adam Kay's best-selling memoir about life as a junior doctor on a gynecological ward pulls no punches. In fact, it adds several more punches to the book with the introduction of new characters and storylines that dramatise some of the gravest threats to the NHS' workers and its brilliant but blighted institution.
Sounds hilarious? It actually is. This Is Going to Hurt is funny and painful and moving and shocking. You'll need your emotional reserves stocked to cope with everything it throws at you, but the experience will be well worth it. The seven-part comedy-drama stars Ben Whishaw as Kay, a dysfunctional obs and gynae doctor who struggles to balance his job with his suffering relationship. Ambika Mod is brilliant as Shruti, an ambitious trainee assigned to Dr Kay's rounds, and they're supported by a terrific cast including Alex Jennings, Harriet Walter, Ashley Maguire and more. Watch it, wince, cry and support our NHS. LM
10. Gangs of London Series 2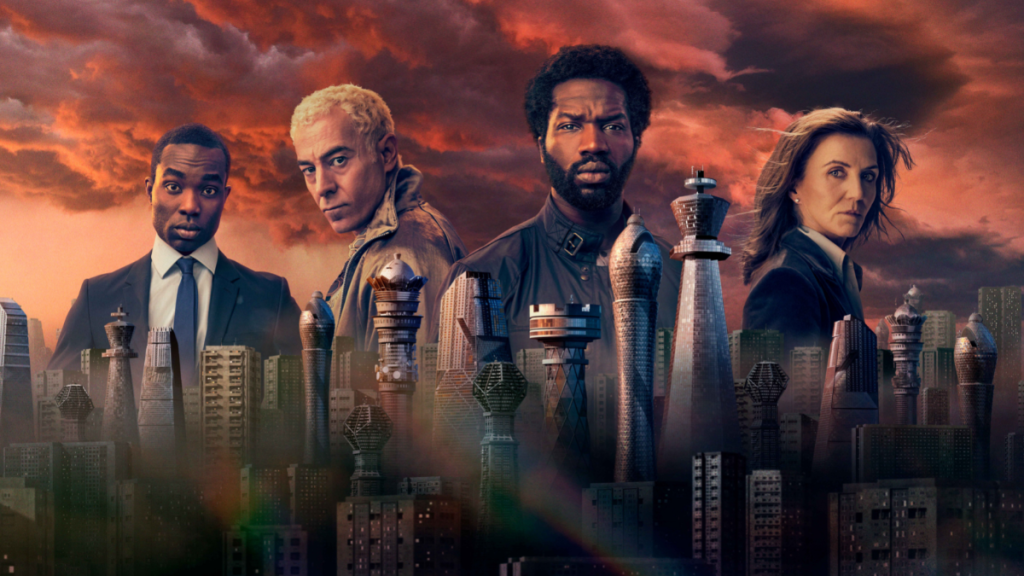 One of the notable things about Gangs of London is how very NOT British it is. If you'd never seen the show you might be expecting an East End geezer-pleaser but you'll get nothing of the sort. This is a sprawling international drama and season two only upped the ante.
Originally created by The Raid's Gareth Evans and Matt Flannery season two was led by acclaimed horror director Corin Hardy. While the first season leant into the spectacular martial arts sequences that Evans is best know for, season two is soaked in horror.
Set a year after the events of season one and the capital is in disarray, with the investors pulling the strings from behind the scenes, Asif working as their figurehead and new enforcer Koba brought in to keep order. But not all the gangs are happy. Season two's arc is about family – can you be a gangster and still protect your loved ones? It's a rollercoaster of gore, a complex study of terrible people and a compelling watch from start to bloody finish. RF
9. Peaky Blinders Series 6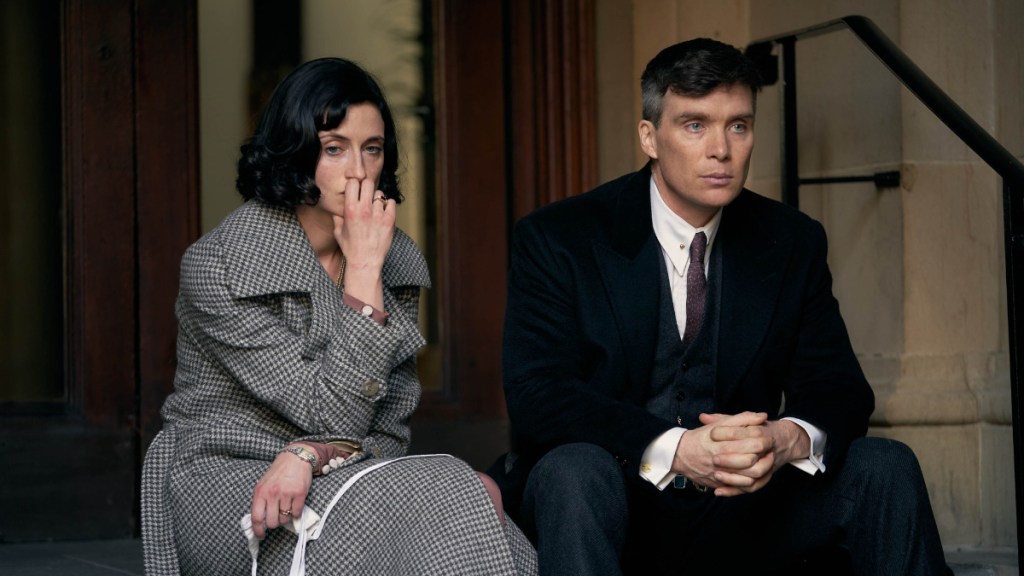 The final series of Steven Knight's hugely popular British gangster drama saw Cillian Murphy's lead Tommy Shelby complete his journey to hell and back, as we watched him go from shell to man, and from bad to… if not entirely good, then at least aiming in that direction.
In Series 5, Tommy had encountered the evil of fascist Oswald Mosley and it sparked his long-buried conscience. Series 6 saw Tommy go up against fascism here and overseas, using his brains and his fortune to attempt to leave the world a better place than he found it. It didn't come without sacrifice, and thrilling twists that kept audiences rapt as they solved the mystery of who had betrayed Tommy in the Series 5 finale. Add Tommy's journey to Ada's ascent, Arthur's descent, and the sad loss of Aunt Polly following the premature death of actor Helen McCrory, and it was a fittingly emotional series. The finale waved goodbye to the TV drama, and paved the way for a planned feature film that's set to continue the Shelby story into the next generation. LM
8. The Lazarus Project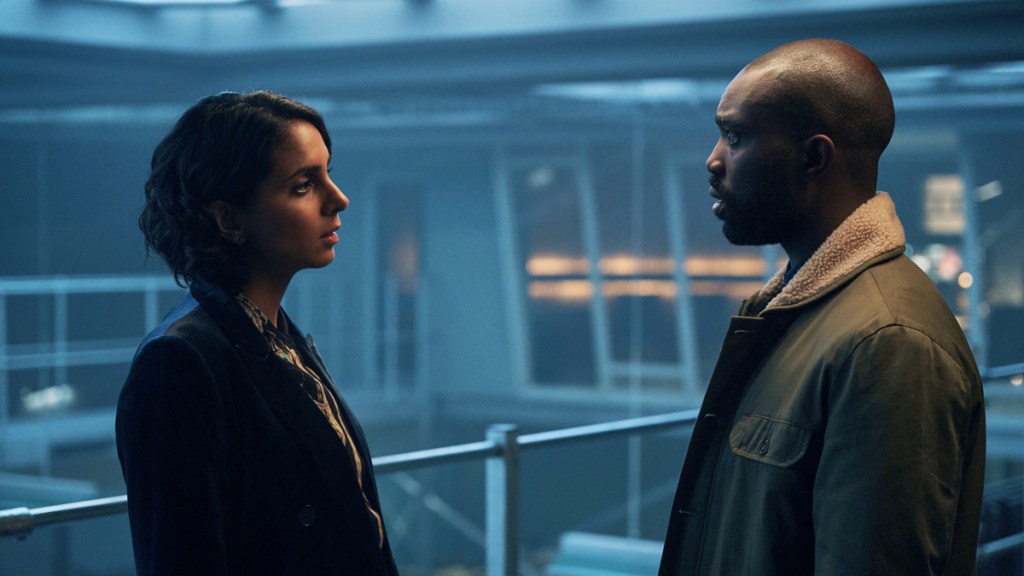 This Sky sci-fi from Joe Barton, creator of the also brilliant Giri/Haji, was one of the year's biggest TV treats. It's the story of George (Paapa Essiedu), an everyman whose life is kicked to shit when he wakes up one morning to find that the last six months never happened. At least, they happened for him, but not for anybody else, who are acting as if nothing's up. George quickly finds out that he's not the only one cognisant of the rewind, and becomes tangled up in a mysterious, top-secret operation that changes everything.
With a top cast led effortlessly by Essiedu, joined by Vigil's Anjli Mohindra, Strike's Tom Burke, Pure's Charly Clive and many more, The Lazarus Project is a mind-bending, action-filled thriller romp with global scope, great characters and a satisfyingly twisty story. Even better? Series 2 is already underway. LM
7. Am I Being Unreasonable?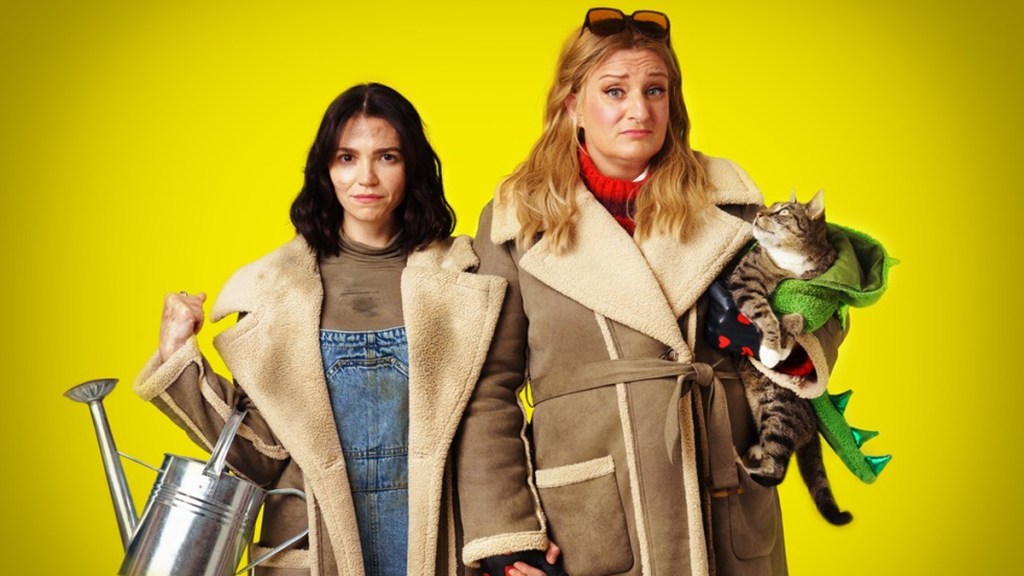 Fans of This Country, the mock doc created by Daisy May Cooper and her brother Charlie will love Am I Being Unreasonable? but they might get something they didn't expect. Though this story of lonely Nic (Cooper), who lives with her son Ollie (​​Lenny Rush) and husband Dan (Dustin Demri-Burns) and battles with the local mums starts like Motherland, it moves quickly into darker territory.
Nic has a secret, and it involves Dan's late brother Alex (David Fynn), who meets his demise in a shocking first episode set-piece. So when struggling mum Jen (co-creator Selin Hizli) arrives in town, it looks like Nic might have a much-needed ally. But Jen has secrets too. With shades of I Hate Suzie, Fleabag and Netflix show Dead To Me, this is a mystery, a comedy and a story of friendship that is still very much its own thing. Compelling stuff that well deserves its second season commission. RF
6. Bad Sisters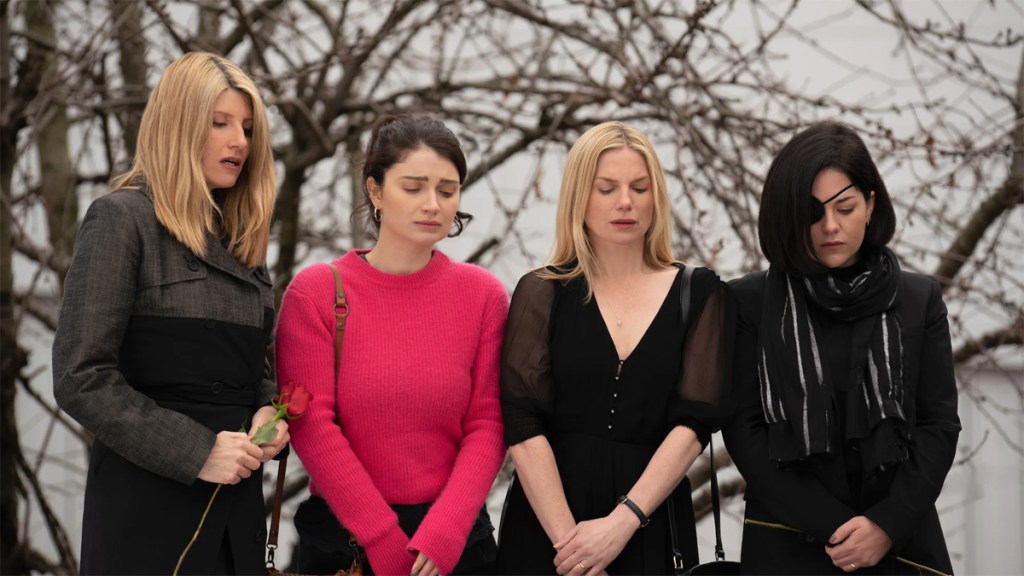 We know it's not British, but an exception had to be made for this Irish gem. Based on the Flemish series Clan, AppleTV+'s Bad Sisters is not so much a whodunnit, rather a howdunnit; we know that sisters Eva (Sharon Horgan, who produced and developed the show), Ursula (Eva Birthistle, The Last Kingdom), Bibi (Sarah Greene, Normal People) and Becka (Eve Hewson, Behind Her Eyes and Bono's daughter!) want their horrendous brother-in-law dead, we know he's dead but we just don't know how he died.
Their sister Grace (Anne-Marie Duff, Shameless) is married to 'the Prick' John-Paul (who is played to absolute perfection by Claes Bang). He is a total bastard and throughout the series you will be rooting for him to get offed as soon as possible. The show switches from flashbacks to the present day as we learn of the many attempts to get rid of John-Paul and all the terrible reasons why they want him gone. In the present, it isn't the police who are trying to work out who's responsible but insurance agents Brian Gleeson (Peaky Blinders, Brendan Gleeson's son!) and Daryl McCormack (also Peaky Blinders) who are desperate to avoid paying out John-Paul's insurance policy.
The characters are all fantastically believable and multi-faceted and the performances are great; Duff in particular brings great depth to a woman torn between her awful husband and her sisters. Weirdly for a show about murder attempts, it's great fun! ED
5. Taskmaster Series 13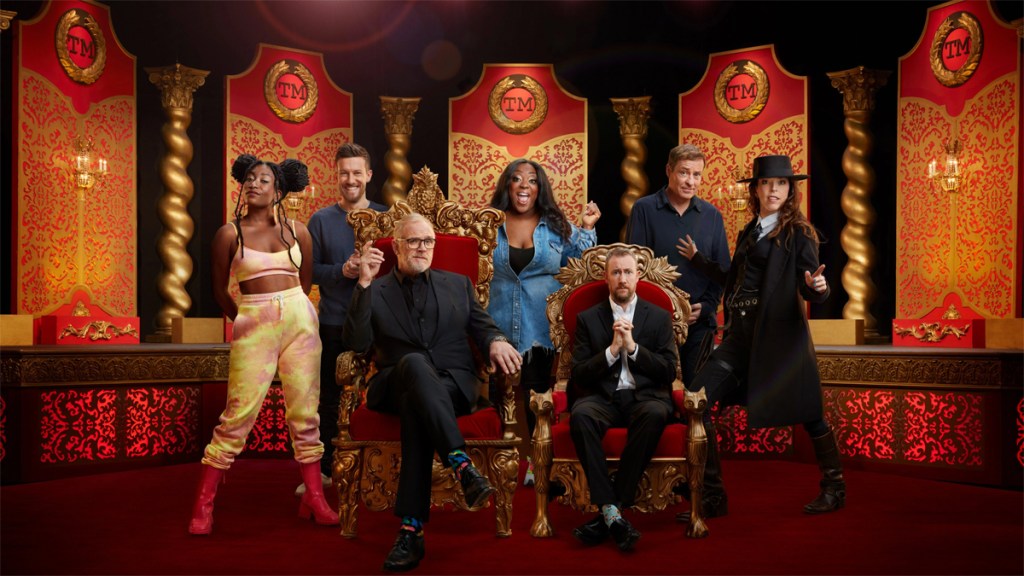 Thank goodness for Taskmaster. Where else on television can you be certain that you'll be consistently and thoroughly entertained by a load of daftness and nonsense?
Taskmaster's thirteenth series had a wonderful cast; Judi Love constantly attempting to talk her way out (or in depending on the task) of absolutely everything, Sophie Duker just being clever, giant puppy Chris Ramsey swaying between enthusiasm and despair, agent of chaos Bridget Christie and not-exactly-like-Father-Dougal-but-enough-like-Father-Dougal-to-please-us-all Ardal O'Hanlon.
Some of the great tasks in this series included 'Display the shoe Alex is thinking of' (frustrating!), 'Give Alex the best stag minute', 'Correctly guess this person's first name' and the very simple but effective 'Show Off'. In the 'Learn Swedish' task we learnt Bridget's brother is fluent in Swedish and Ardal has an excellent memory foreign drinking songs.
Stopcock! ED
4. Inside No. 9 Series 7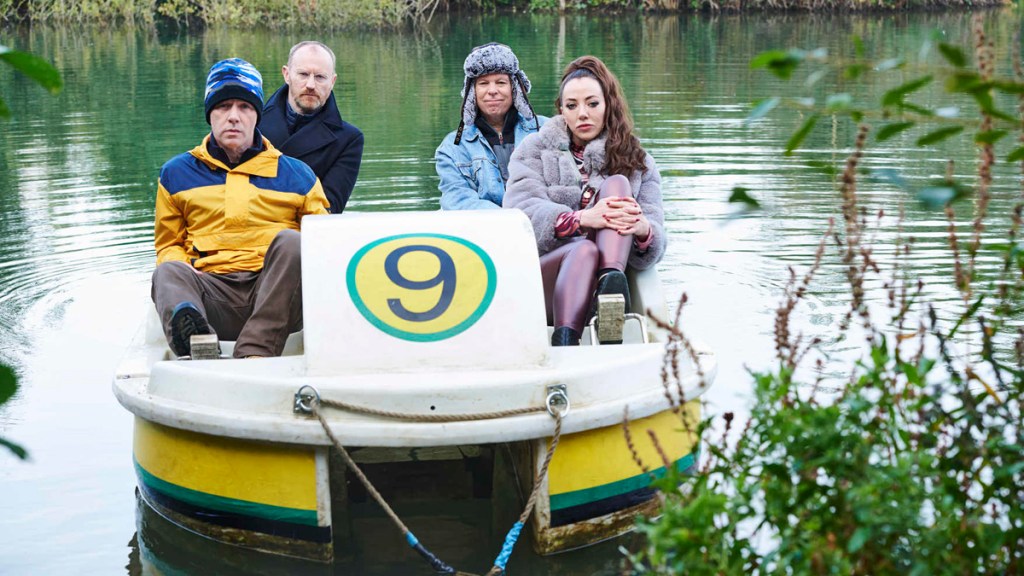 A very comfortable Top 5 place for Reece Shearsmith and Steve Pemberton's brilliant anthology series that continues to deliver surprise and macabre delights year on year. About to enter its eighth and penultimate series (there always had to be nine in total didn't there?), Inside No. 9 is as inventive and entertaining as ever, and in its later years, even more experimental.
Series 7 won our writers' devotion with six gleefully rule-breaking episodes that included a guest appearance from League of Gentlemen co-creator Mark Gatiss, a primary school-set comedy that took a gruesome turn, a high-concept meta-fiction crime mystery starring Sophie Okonedo, a twist-filled kidnap drama, the show's first sci-fi story, and an extremely twisted tale inspired by 1970s public information films. Dark delights, all. Bring on Series 8! LM
3. Doctor Who
Even in a year when Doctor Who aired only three episodes and one of them was that Sea Devils pirate ship adventure, it still nears the top of our writers' vote. That isn't a case of absence making the heart grow fonder, but clearly down to the special place that the TARDIS holds in geek hearts. A Doctor Who special clearly still feels… special.
Jodie Whittaker's outgoing episode 'The Power of the Doctor', with its lorry load of callbacks, nods and Easter Egg references to Classic Who, was special. It featured the return of former companions Tegan and Ace, cameo roles for a handful of past Doctors left out of previous anniversary celebrations, a surprise regeneration and a stand-out performance from Sacha Dhawan as the Master, who really stole the show. And it bid farewell to the Thirteenth Doctor, a glass ceiling-breaking, canon-smashing, tag-playing bundle of energy. Blossomiest blossom indeed. LM
2. Derry Girls Series 3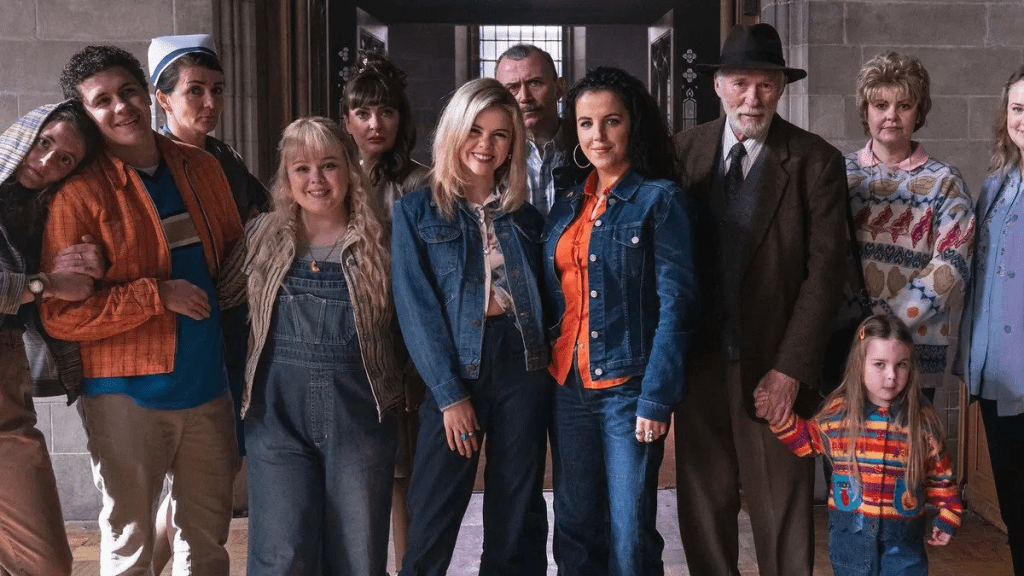 Like all truly great TV shows, Derry Girls ended leaving the audience wanting more, and the Series 3 finale of this Northern Irish sitcom was a tour de force that will stay in viewers' memories (and that of our writers) for a long time to come.
As ever, writer and creator Lisa McGee's wit bubbles away in every line of this irreverant, smart and highly lovable series, which saw the girls (and honorary Derry girl James) get their GCSE results, accidentally assist in a burglary and perform a frankly excellent tribute to The Spice Girls in a Stars in Their Eyes charity event. Siobhán McSweeney remained iconic as Sister Michael and the brilliantly boring Uncle Colm came into his own, saving the girls from their interrogation by an equal-parts hilarious and dastardly police chief played by Liam Neeson.
Once again this third and final instalment of the show takes place with Ireland's infamous Troubles as its backdrop, with the girls finishing their time at Our Lady Immaculate College and coming-of-age just in time to cast their vote in the Good Friday Agreement referendum, a fittingly moving but ultimately hopeful end to the show. We laughed, we cried, we introduced the world to the beige culinary masterpiece that is the sausage roll – it's as close to perfect as we can imagine. Laura Vickers-Green
1. Ghosts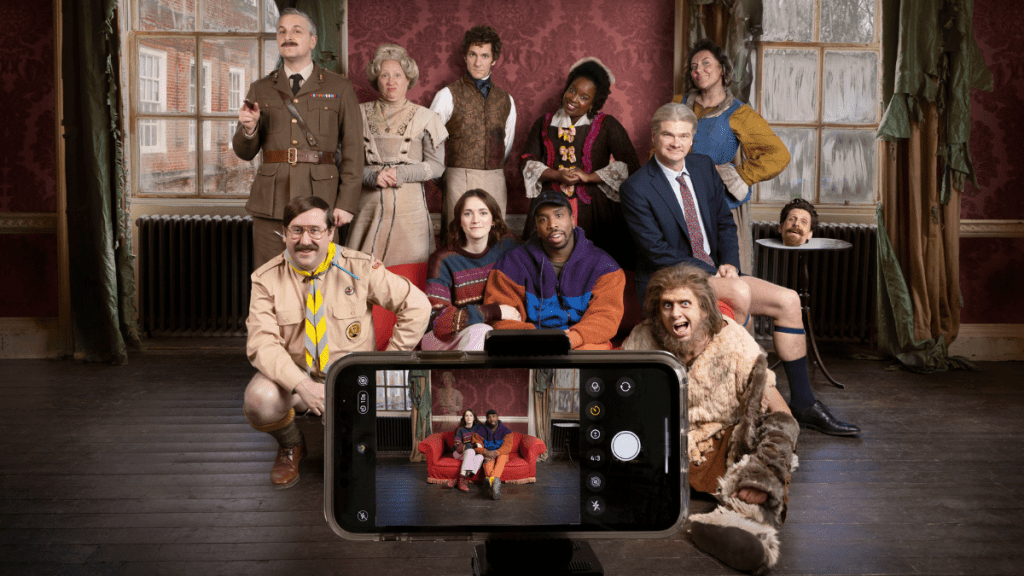 The cherry on our writers' 2022 UK TV cake had to be Ghosts. In a turbulent year of economic, environmental and geo-political turmoil (not to mention three Prime Ministers within 7 weeks), this BBC sitcom about a couple living in a dilapidated mansion full of ghosts was a reassuring squeeze of the hand, giving us plenty of much-needed reasons to laugh and revel in the series' joyous ensemble of characters.
In amongst Series 4's various shenanigans concerning Mike and Alison's attempt to set up a B&B, we also had some major plot developments, including Robin's death story, details of a previous Button House ghost, and a shocking episode 4 twist that gave us a beautifully written reflection on the ways we deal with grief.
The beauty of Ghosts is the way it lets the whole ensemble shine equally: they all get proper laugh-out-loud moments, from Robin chasing after a squirrel to Kitty's adorably flawed attempt at using modern slang, to the simply ridiculous way Pat says 'and shorts and socks' (a delivery which made the cast laugh so much it turned up in the bloopers). But for such a warm, lovable group of creators, the writing room floor must be a brutal graveyard of script edits, because there's simply not a line wasted in this show. These ruthlessly high standards pay off in spades for Ghosts, and our writers agreed there's simply no beating it. LVG
Also Nominated (and Well Worth Watching):
A Discovery of Witches Series 3, Cunk on Earth, Chloe, Conversations With Friends, Ellie & Natasia, Ladhood Series 3, Starstruck Series 2, Inside Man, Life After Life, Marriage, Red Rose, The Baby, The Curse, The Devil's Hour, The Essex Serpent, The English, The Midwich Cuckoos, The Responder, The Tourist, The Walk-In, Toast of Tinseltown, Trigger Point.