Features
The Northman: Inside Robert Eggers' Epic Viking Saga
Robert Eggers explains his own personal journey through the Viking Age's "dark mythology" for The Northman, and how it finally let Anya Taylor-Joy "enjoy her witchy-ness."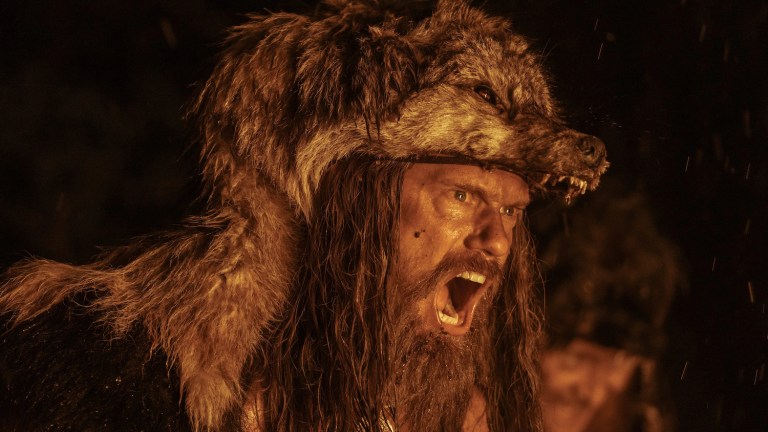 The Northman's Robert Eggers did not know he was making a Viking movie when he sat down with Alexander Skarsgård. The pair were supposed to be having one of those typical industry meetings where talent trades notes, and each party gets a feel for the other person. "Meetings about nothing," Eggers confides a few years later. And yet, when the writer-director of The Witch and The Lighthouse met the star of Big Little Lies and Tarzan, one word came up time and again: Vikings.
"Maybe it was a meeting about nothing or maybe Alex had specific designs for me, I'm not entirely sure," Eggers tells us now. "But we sat and started talking, and quickly he said that he had been trying to make a Viking movie for some time with Lars Knudsen, who was one of the producers of The Witch and a friend of mine, and I didn't know this. So I said, 'Well, I have a Viking movie for you,' even though I didn't really." Nordic sagas have started from less.
As Eggers says, he did not plan to make a Viking movie as his third feature after completing the horror films The Witch and The Lighthouse, but as with those highly specific period pieces, he's long had a fascination with the history and mythology of the Viking Age. It began with his wife reading old Norse literature and Icelandic sagas, most of which were written in the 13th century. Initially, Eggers resisted also diving into them because the "stereotype of the big macho, hairy, pillaging lug was not appealing." But after going to Iceland himself, the director became mesmerized with the mountains and glaciers, the caverns and falls. He was enchanted by the land—and the history therein.
"The landscapes, and I'm not alone in this, were just incredibly inspiring," Eggers recalls. "So then I went home and on my wife's recommendation started to read this fantastic literature and it got me into Vikings." Thus when Skarsgård suggested making a Viking movie, Eggers might not have had a specific story in mind but he already had a fervent vision for what would become The Northman.
When we catch up with Eggers, he's finally returned home to New Hampshire, exhausted and maybe a little relieved that The Northman is almost finished. Filmed in Europe during the height of the pandemic, in brutally cold conditions, then edited in London, the picture's final cut is now locked and just going through its last color corrections. The effort is Eggers' biggest to date, and his first step outside of the horror genre after his earlier, highly contained chillers.
Says Eggers, "It still takes place in the past and there's still dark mythology and all the kinds of things that I'm interested in, but it's nice not to do a horror movie and it's nice to do something that doesn't take place in one location."
Indeed, The Northman is massive: an honest swords-and-shields action movie in which Skarsgård's titular (and often shirtless) Viking goes into berserker rages while traveling much of the Viking diaspora in the 10th century, sailing from islands north of Scotland to eastern Europe, and then back to Iceland.
"It literally is an epic," says Eggers. "It's not to the scale of Lord of the Rings or something like that, but it's a Viking saga, which I think is synonymous with being an epic." Eggers adds with a faint chuckle that it's supposed to be his most accessible movie to date. "Unlike my other films, it's intended for a broad audience. Is it going to work? I hope so!"
Perhaps for that reason, the story Eggers settled on for The Northman is a loose adaptation of Amleth, a Danish tale that dates back to at least the 13th century and which eventually inspired William Shakespeare's Hamlet—and as Eggers points out, in turn, The Lion King. In the new film, Skarsgård plays Amleth, the lost son of a murdered Viking king. In his youth, his father, King Aurvandill (Ethan Hawke), was slaughtered by his brother and Amleth's uncle, Fjölnir (Claes Bang), while Amleth's mother Gudrún (Nicole Kidman) was taken away (although if you know Hamlet, there may be more to it than that). So the prince travels the world and meets figures like a mysterious white witch, or "cunning person" as they were commonly called, Olga (Anya Taylor-Joy). All this occurs before Amleth returns home to wreak a terrible vengeance.
Eggers says he discovered Amleth after his fateful meeting with Skarsgård and was immediately taken by how it provided a perfect engine for murder and revenge—hallmarks of any good Viking saga—on which he could also add brutal set pieces. Additionally, the tale's own legacy would make it easier to draw the audience into the world he's constructing.
"Even though Shakespeare's works play a large part of my mindscape, I actually didn't know about Amleth," Eggers explains. "So that backstory being of old Norse origin was really exciting, because I felt I'm doing Hamlet or The Lion King. I have a story that the audience knows already, so therefore I can really indulge in the world-building without confusing people. If it had been a more unknown story, it would have been harder to dig into the mythology the way I was able to in this movie." That said, he does think it might surprise audiences who are familiar with the Bard's version. "There is no sense of 'should I or shouldn't I be violent?'" Eggers cryptically laughs about his Viking prince.
In terms of realizing that violence—and the whole world built around it—the director and his frequent collaborators, including production designer Craig Lathrop and costume designer Linda Muir, reprised their fanatical devotion to historical authenticity, hoping to surprise audiences with a world we've never seen on-screen. Eggers is of course aware of the current popularity of Norsemen thanks to the Vikings TV series and a recent Assassin's Creed video game, but he's also diplomatic in suggesting those projects are less concerned with historical accuracy.
"Even the haircut that was created for [the Vikings TV character] Ragnar was done because that Australian actor showed up to set with no hair," Eggers says of the medieval biker mullet Travel Fimmel sports on the TV series, and which was then adopted by Assassin's Creed game designers. "A lot of people in the world of experimental archeology who dress as Vikings have this haircut—and it's not from the Viking Age; it's from the TV show."
Conversely, Eggers and his co-writer, the Icelandic poet Sjón, heavily consulted with Viking historians Neil Price and Jóhanna Katrín Friðriksdóttir so the filmmaking team could develop a 10th century setting as close to the historical research as possible. Admittedly, that proved to be a much bigger challenge for an epic like The Northman than the intimate nightmares Eggers and company previously conjured.
"The world of The Witch was so small that I literally knew every single object that they owned in their homes," Eggers says. "But now that I have several villages, I can't, as much as I'd like to, decide what every wooden peg or nailhead looks like. So therefore everyone has more freedom, which is great. We all know what our tastes are."
The filmmaker even confesses he and his team felt a bit spoiled, given the amount of budget and scale The Northman commanded. Says Eggers, "My first two films were so small that we could really afford to build everything, and this movie was so large that we were able to afford to build anything. So if I do a mid-range budget movie where we have to use locations, it's going to drive me crazy, because we basically were just finding the dramatic landscapes that suited the story and then building what we wished."
Eggers' team constructed entire Viking villages, and parts of Viking cities; they built Viking ships and Slavic homes. It felt luxurious. In fact, they were so confident in their replicas of Viking longships that they took them out into open ocean—skirting concerns from their marine coordinator about the vessels' actual seaworthiness. So when you see a wide shot of Skarsgård rowing from the bowels of a medieval boat, that's really him. As Eggers notes, "Alex just fully immersed himself in this world and this person. His body's a work of art."
The film also marks a reunion with most of the casts from Eggers' previous movies. Taylor-Joy, who played the title character in The Witch, has a leading supernatural role again, and the ensemble is filled out by returning players like Willem Dafoe from The Lighthouse, and Ralph Ineson and Kate Dickie, also from The Witch. According to their director, he wrote every role specifically for that actor, including casting Taylor-Joy in a part which allows her to explore witchcraft from a different vantage than the puritanical vision seen in their first movie.
"I think there's definitely a lot of overlap," Eggers says of how magic was perceived in the Middle Ages versus the early modern period that The Witch's Calvinists lived in. "The things that may have been called superstition by the intelligentsia in the early modern period are more canon [here]…. But this is a world that embraces Pagan magic as a positive thing and an everyday thing. So it was enjoyable to create an environment where Anya could enjoy her witchy-ness."
Just how witchy things will get remains to be seen. The filmmaker teases that Olga's cunning abilities are more rooted in Slavic "everyday spells" that would be considered ordinary for the period—not religious or ceremonial magic. Yet when we ask if Norse gods might also appear in the movie, Eggers just begins to smile. "You'll see."
As with Eggers' previous movies, The Northman is intended to place audiences in an alien world that should look strange yet familiar: a half-remembered dream from a collective past when the Vikings' longships connected North America to Asia, and magic was perceived as commonplace. The director says "the intention is for this to be the Viking movie." If he succeeds, that will be worthy of songs and sagas all its own.
The Northman opens in theaters on April 22 in the U.S. and April 15 in the UK.