Features
Best Movie Comedies of the Last 15 Years
Our staff and readers rank their favorite comedies from the last decade and a half!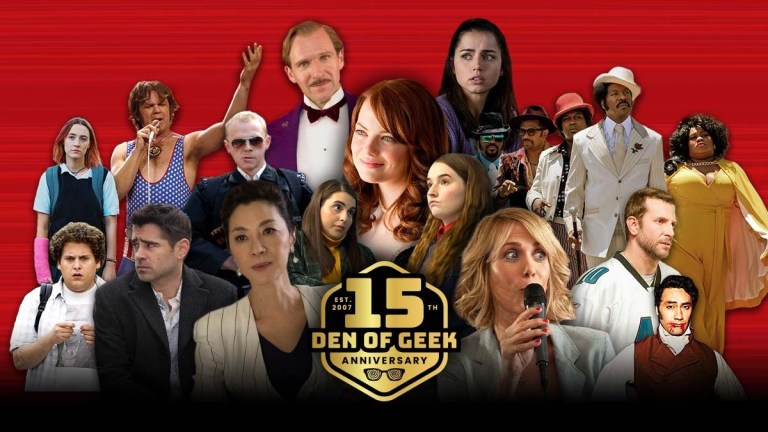 There is likely no genre of film or performance more subjective than comedy. You either laugh or you don't. To explain why something is funny will more often than not rob a joke of its power, and to attempt to classify one type of humor over another could be a fool's errand.
Which must mean we're feeling pretty foolish here at Den of Geek, because in honor of our company's 15th year, we decided to rank and list all the best laughers from the last decade and a half. Now admittedly, what qualifies as a "comedy"—versus, say, a drama with humorous moments—can be as subjective as humor itself. Yet given the wealth of material to work with, even from the last few years when comedies have sadly been mostly abandoned by Hollywood studios, we decided to let our staff and you, dear readers, choose what you think is funny.
Below is a list of 25 entertainments, satires, and gross-out gags that tickled thousands of readers' funny bones, as well those of our discerning staff writers and editors. See if your favorite made the cut.
25. The Big Sick (2017)
Kumail Nanjiani and Emily V. Gordon earned a best original screenplay nomination at the Oscars for their-semi biographical story of a Muslim stand-up comic (played by Nanjiani) and his white girlfriend (played by Zoe Kazan). The latter falls seriously ill after the two break up for cultural reasons. Though there are some quality throwaway gags ("A giraffe walks into a bar and says 'the high-balls are on me'"…), it deals with a serious subject matter and conjures a rollercoaster of emotions. An indie made for $5 million and produced by Judd Apatow, it went on to gross over $50 million at the box office and garnered wide critical acclaim. Quite rightly too, it's an excellent movie that should stand the test of time. – Rosie Fletcher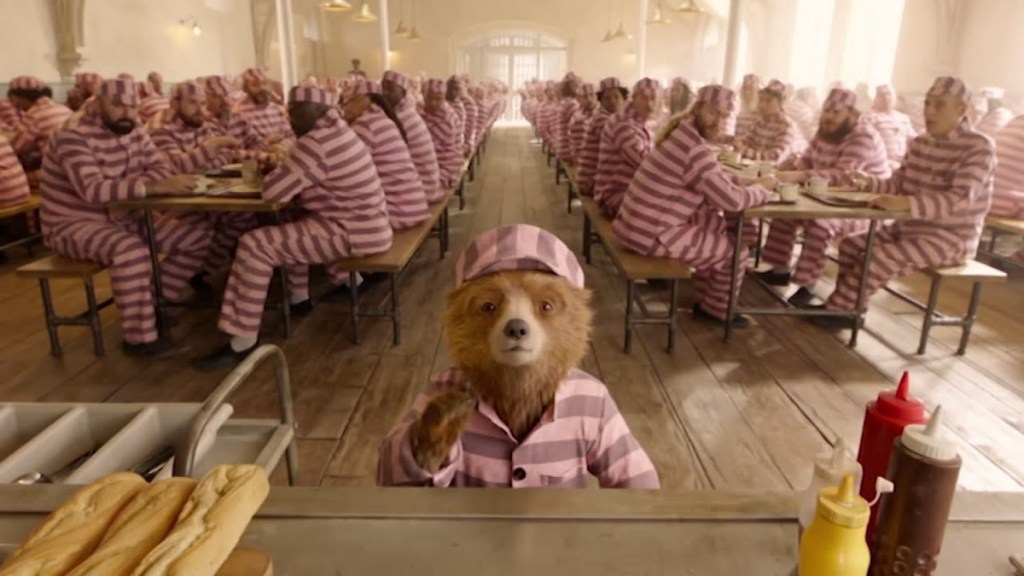 24. Paddington 2 (2017)
Ah, the eternal debate about which perfect film is somehow more perfect: Paddington or Paddington 2. We're giving 2017's Paddington 2 the edge on this list because of how it expertly weaves a warmhearted yet still hilarious message about prison reform in with its family-friendly hijinks. Like a cake with a file in it, Paddington 2 will nourish your soul and set you free. Hugh Grant's finest hour, too. – Mike Cecchini
23. Crazy Rich Asians (2018)
Crazy Rich Asians, based on the Kevin Kwan novel of the same name, is notable for several reasons. Released by Warner Bros., it was unusual for a comedy from a major studio to feature a cast of actors predominantly of Asian descent. It also made a boatload of money, becoming the highest grossing rom-com of the 2010s. And it was nominated for multiple awards.
It's also notable for being extremely good natured and very funny. The movie stars Constance Wu as a young woman meeting her partner's (Henry Golding) family for the first time, only to discover they are one of the richest families in Singapore. A fish out of water comedy, which doesn't stray too far from romance tropes, it's elevated by great performances (Awkwafina, Michelle Yeoh, and others are great in this), bright, glamorous visuals, and just enough sweetness to make it a satisfying watch all round. – RF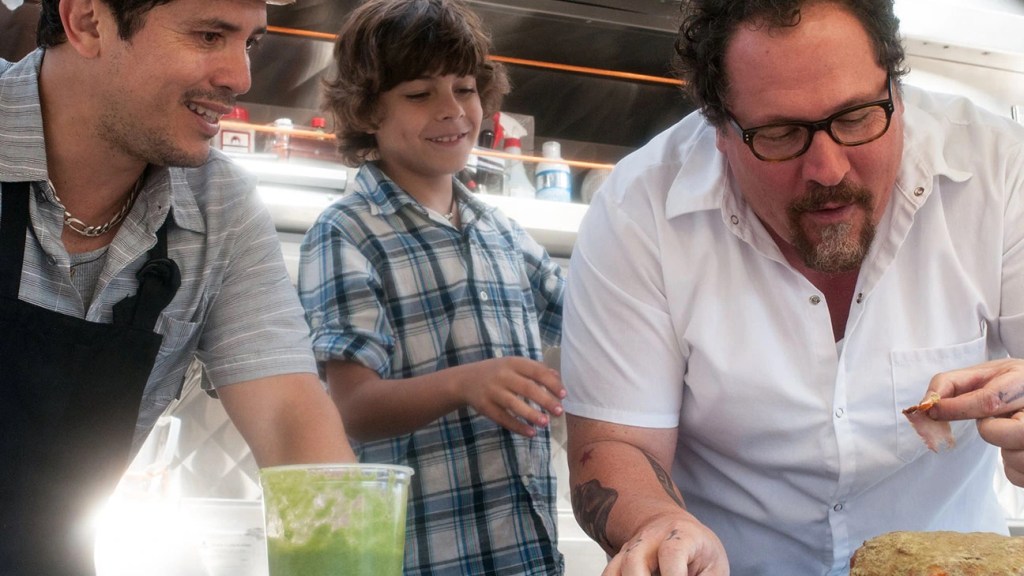 22. Chef (2014)
A hidden amuse-bouche of laughs that Jon Favreau sneaked in between big helpings of Marvel movies and Disney remakes, this feel-good portrait of a chef's life in free fall is still our favorite thing he's done since the first Iron Man. In the film, Favreau writes, directs, and stars as a trendy Los Angeles chef whose world is upended by a particularly nasty restaurant review and his subsequent meltdown reaction to it on Twitter. Now forced to retreat to working in a food truck, he rediscovers a zest for living through the camaraderie of his precocious son (Emjay Anthony) and an always ebullient John Leguizamo as his trusty sous chef. It's breezy, sweet stuff told with a genuine warmth by an artist who took this golden opportunity to get away from franchise mass consumption and make something a little more flavorful. – David Crow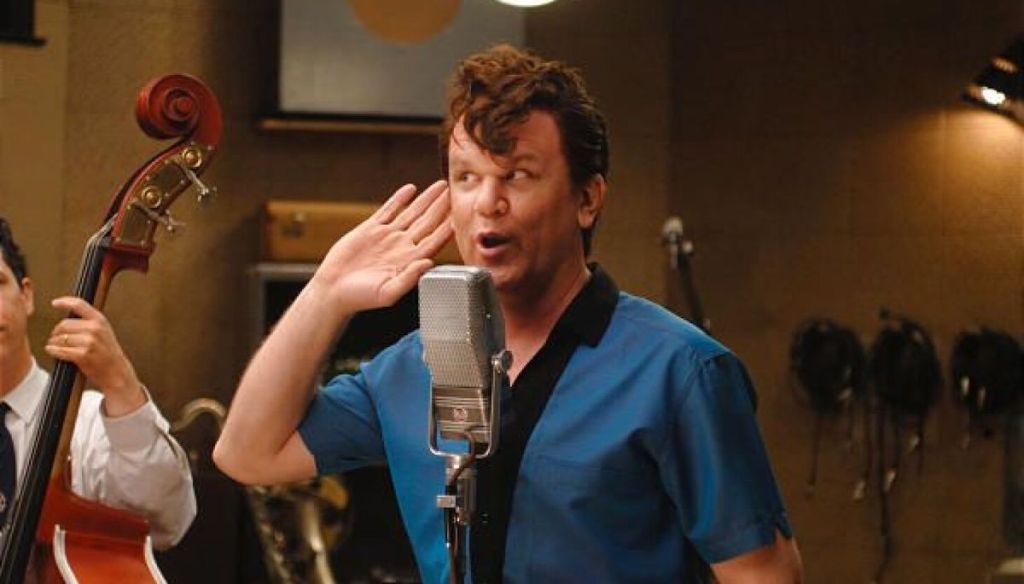 21. Walk Hard: The Dewey Cox Story (2007)
Walk Hard is better than every single Oscar-bait music biopic whose tropes it was spoofing upon its release in 2007 and the ones that came after. It also features, and I absolutely mean this, the greatest cover of David Bowie's "Starman" of all time, courtesy of John C. Reilly. It was a beautiful ride, Dewey. – MC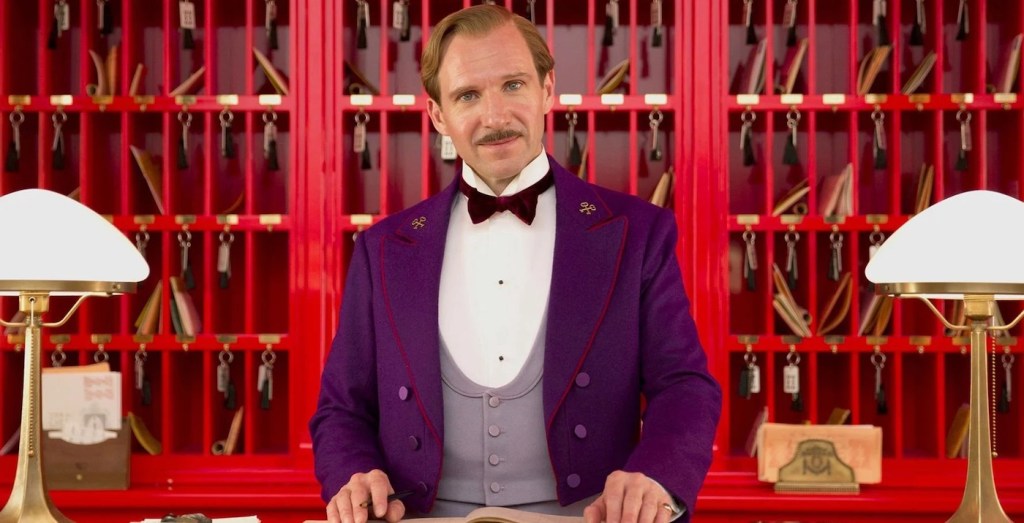 20. The Grand Budapest Hotel (2014)
Picking your favorite Wes Anderson movie is like picking your favorite flavor of chocolate from Mendl's. They're all delicious! Yet one of the sweetest, albeit with a dark bitterness underneath, is 2014's The Grand Budapest Hotel. It's also the director's most exciting and plot-driven adventure. Calling as much on the styles of Alfred Hitchcock as Ernst Lubitsch, this one creates a Matryoshka doll of narratives in which we experience a story within a story, within another person's interpretation of that story. Colors, set designs, and even aspect ratios acknowledge these shifting perspectives.
But at the heart of it all is M. Gustave (Ralph Fiennes), a 1930s grand hotel concierge and European continental modeled after Stefan Zweig. He is a man out of time even in this period setting; a relic of late 19th century charm and decorum that matches Wes' droll symmetry like a glove. However, the filmmaker's familiar artifice has never seemed more fragile, and vulnerable to shatter, as in this era of European history where civilization seemed less like an ideal than a charnel house. The movie is hilarious, whimsical, and thrilling, even. Which makes it all the more tragic. – DC
19. Lady Bird (2017)
Ever hear the phrase "tragedy is when something bad happens to you, comedy is when something bad happens to someone else?" With her solo directorial debut Lady Bird, indie darling Greta Gerwig decides to flip that phrase. The 2017 coming-of-age comedy drama is not necessarily autobiographical for Gerwig but does draw from her experiences growing up as a disaffected youth in Sacramento in the early 2000s.
Saoirse Ronan stars as Christine MacPherson, a California senior in high school who wants to be known as "Lady Bird." The film follows Lady Bird through typical slings and arrows of adolescence. Like many teenagers, Lady Bird wants to get out of her dead-end town, leaving her overbearing mother Marion (Laurie Metcalf) behind to move to the East Coast for college. Also like many teenagers, she wants to smooch Timothée Chalamet and gets the chance to, hooking up with his character Kyle, which leads to predictable teenage complications. All in all, Lady Bird is a warm, empathetic exploration of youth—equal parts funny, relatable, and devastating. – Alec Bojalad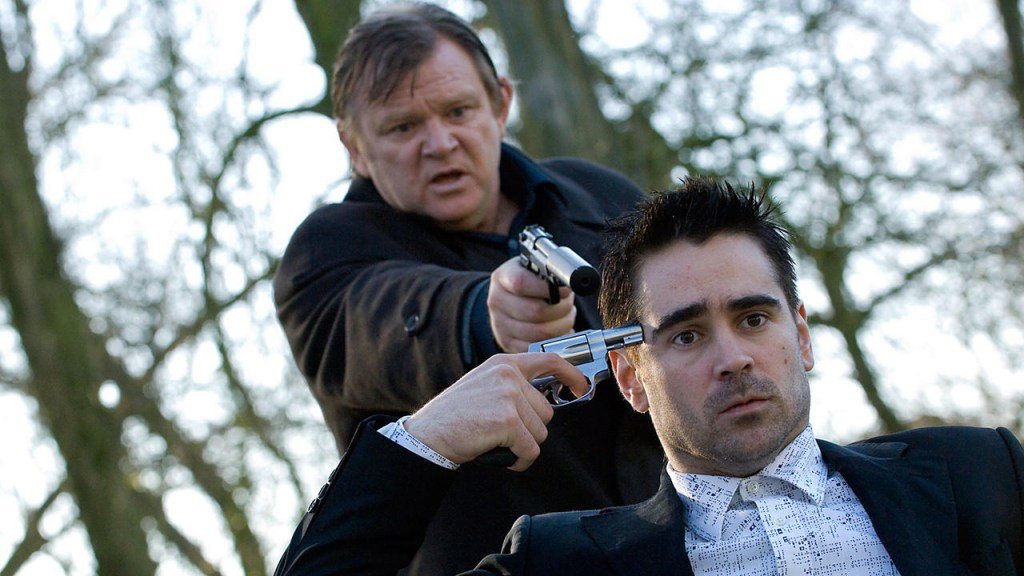 18. In Bruges (2008)
As the feature directing debut of playwright and screenwriter Martin McDonagh—who would go on to write and direct Seven Psychopaths (2012) and Three Billboards Outside Ebbing, Missouri (2017)—In Bruges is a dark crime comedy about two professional hitmen who are dispatched to the Belgian city of Bruges, where the older one (Brendan Gleeson) is supposed to knock off the younger one (Colin Farrell) for mistakenly killing a child during a job.
Their friendship prevents that from happening, however, and they are soon the targets of their boss (a devious Ralph Fiennes) as they also find themselves entwined with various odd personalities within the charmingly Old World city. McDonagh's salty mix of humor, emotion, and violence may not be to everyone's taste, but it's also surprisingly sweet and unpredictable, with Gleeson and Farrell outstanding in their roles. – Don Kaye
17. Game Night (2017)
A fresh mainstream comedy directed by Jonathan Goldstein and John Francis Daley (directors of the upcoming Dungeons and Dragons film), Game Night follows a group of friends whose weekly game night gathering turns into more than a game when one of their members is kidnapped during what they think is a role-playing scenario.
Jason Bateman and Rachel McAdams are the couple who usually host game night while Kyle Chandler plays Bateman's brother, whose double life as a black marketeer initiates the evening's out-of-control activities. All are superb, especially Jesse Plemons as the suspicious, wound-too-tightly cop who lives next door. It may not be a great film, but the laughs are plentiful and the gentle pokes at "routine" suburban life are harmless fun. – DK
16. Silver Linings Playbook (2012)
It's remembered as the movie that won Jennifer Lawrence an Oscar, but it's so much more than that. Directed by David O. Russell at his most sanguine and as a love letter to his son, Silver Linings Playbook in retrospect appears like the perfect romantic comedy for its era: a time where economic uncertainty and anxieties have diminished folks' optimism. Things certainly seem initially bleak for Pat (Bradley Cooper), a former high school teacher who lost his wife due to his failed attempts to white-knuckle his bipolar disorder, and Tiffany (Lawrence), a young widow who is again living at home with her parents. Yet the fact the two can find each other and cha-cha-cha (badly) to their own off-center version of a happy ending, complete with the support of a community populated by appealingly oddball performances in the ensemble, including Robert De Niro and Jacki Weaver, makes this effortlessly charming, if a tad elegiac. – DC
15. The Death of Stalin (2017)
Armando Iannucci's masterpiece about the chaotic hours and days after Joseph Stalin croaked is filmed with all the gravity of a historical drama, features a murderer's row of inspiredly cast comedic talent (see: Steve Buscemi as Nikita Kruschev), and gives not one microscopic fuck about matching accents with its real-life subject matter (see also: Steve Buscemi as Nikita Kruschev). A darkly hilarious romp wherein an egomaniacal strongman dictator dies slowly in a puddle of his own piss as underlings humiliate themselves and scheme against each other in increasingly ridiculous fashion. 10/10 would totally watch a legacy sequel. – MC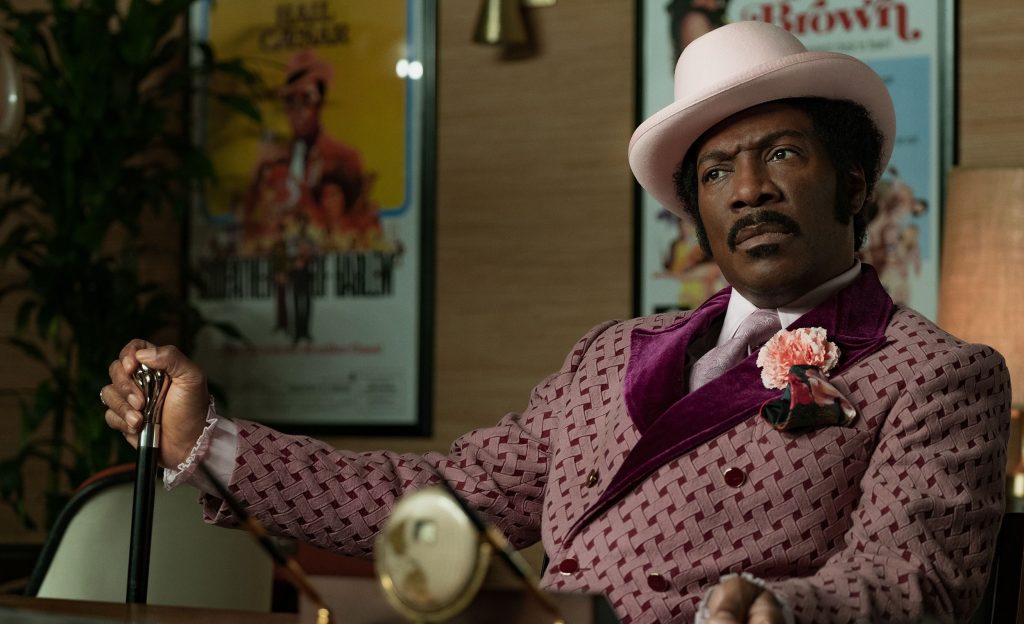 14. Dolemite Is My Name (2019)
It's an utter crime that the delightful Dolemite Is My Name wasn't nominated for a single Oscar. And yet, given the subject of this biopic, it's also fitting. Eddie Murphy delivers his best performance in approximately three decades as comedian, singer, and blaxploitation legend Rudy Ray Moore in a movie that is somehow as warm and affectionate as it is screamingly funny. Wesley Snipes pops in for a positively scene-stealing turn as D'Urville Martin too. Light something up and enjoy again and again. – MC
13. Zombieland (2009)
Zombieland premiered in theaters on Oct. 2, 2009, just over a year before AMC's long-running zombie drama, The Walking Dead, arrived and changed the zombie storytelling landscape forever. The timing was fortuitous because while The Walking Dead firmly established the zombie apocalypse as a never-ending horrifying slog in our cultural mindset, Zombieland understood something else about the undead: they're kind of fun and goofy! Directed by Ruben Fleischer, Zombieland retroactively features an all-star cast with Jesse Eisenberg (Columbus), Woody Harrelson (Tallahassee), Emma Stone (Wichita), and Abigail Breslin (Little Rock).
Amid all the chaos of outrunning the dead, Columbus keeps viewers apprised of his various rules to surviving "Zombieland." These include things like "travel light," "get a kick-ass partner," "check the backseat," and most importantly, CARDIO. Zombieland brings such a strong sense of fun and playfulness that it's hard to resist the movie's charms, shambling hordes of the dead and all. If the climax at a literal amusement park doesn't put a smile on your face, the wildly unexpected and hilarious cameo before it will. – AB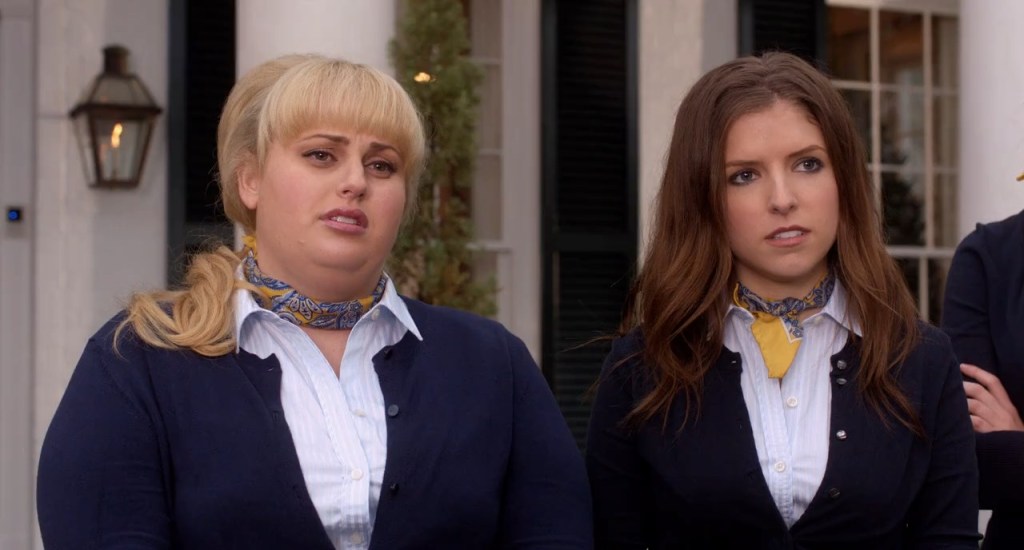 12. Pitch Perfect (2012)
Off the back of the popularity of Glee, Pitch Perfect is a comedy set in the world of competitive acapella. Aca-scuse me? Well quite. Structured like a sports movie with a romance subplot peppered in, it's at its best when it's focused on the Barden Bellas, an all-female group in need of a new burst of energy in their act. It's a strong ensemble that arrived in cinemas post-Bridesmaids—you only need to take a look at the poster to confirm that Pitch Perfect was chasing the same audience. That's no bad thing though. What results is a funny, female comedy with banging tunes and the occasional bit of gross out humor in the background. – RF
11. Crazy, Stupid, Love (2011)
Pre-La La Land Ryan Gosling and Emma Stone showcased their extraordinary chemistry in this dual-plotline rom-com. Steve Carell plays Cal, who is recently separated from his wife Emily (Julianne Moore) and is now schooled in how to pick up women by the cooler than ice Jacob (Gosling). Or at least that's the initial set up. What follows is a complex nuanced, sensitive, but sometimes slapstick look at relationships and sex through the eyes of different generations. The top class cast doesn't hurt, but Dan Fogelman excellent script navigates multiple threads and brings multiple laughs throughout. – RF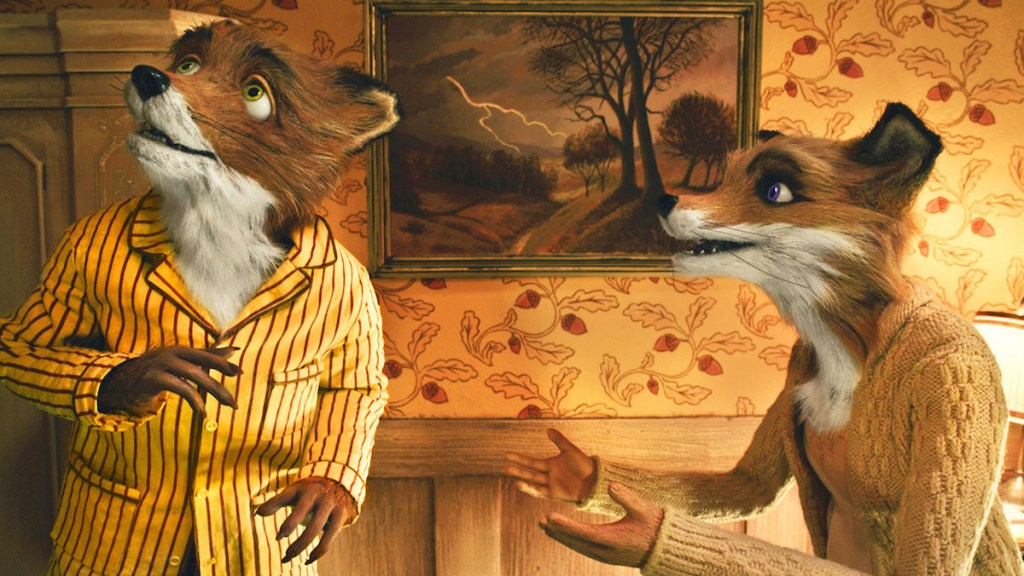 10. The Fantastic Mr. Fox (2009)
It's easy to forget, couched as it is in perhaps the most precious of Wes Anderson's notoriously precious filmography, just how funny The Fantastic Mr. Fox is. It's a fact obscured by the impeccable craftsmanship of its stop-motion animation, its all-star voice cast, and its literary source material. But that doesn't change the fact that this movie is as funny as it is beautiful, with a seemingly infinite number of subtle gags built in to the background to go along with its superbly dry wit, made all the more (perfectly) ridiculous by its adorable cast of animals. Endlessly rewatchable. – MC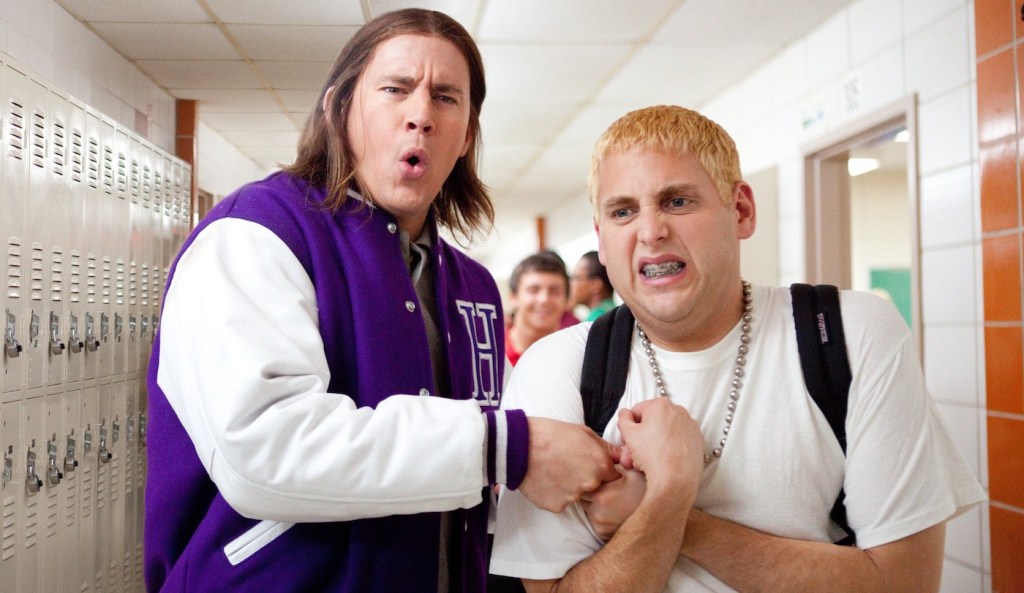 9. 21 Jump Street (2012)
If the only thing to come out of 21 Jump Street was Jonah Hill's hilarious over-pronunciation of the phrase "finger poppin' each others' assholes" it would already have been a rousing success. Luckily for all, however, there's a hilarious two-hour movie built around that one moment for good measure. 21 Jump Street loosely borrows its premise from the classic TV drama of the same name that starred Johnny Depp and Peter DeLuise. In the film, two cops named Schmidt (Hill) and Jenko (Channing Tatum) are given the chance to return to high school as undercover agents investigating the spread of a dangerous synthetic drug.
Reliving their high school years is something that they're surprisingly eager to do since both missed out on their high school proms. Much to their surprise, however, the nerdy Schmidt is far more popular among the contemporary high school crowd than handsome, yet brutish Jenko. Directed by prolific animated comedy maestros Phil Lord and Christopher Miller, 21 Jump Street takes a tired concept that has no business working as a comedy and makes it work anyway. It turns out that when a whole host of funny people put their heads together, laughter will usually follow. – AB
8. Tropic Thunder (2008)
From its failing, self-absorbed star (Ben Stiller) to its befuddled director (Steve Coogan) to its arrogant, obnoxious, volcanic studio exec (an unrecognizable Tom Cruise in a performance that ranks among his most brilliant), Tropic Thunder is one of the most deliciously hilarious satires of Hollywood ever made. Stiller's Tugg Speedman and several other idiot actors find themselves fighting to survive in a dangerous jungle while thinking it's all somehow still part of the movie they're shooting, with even the specter of actual death not stopping their preening self-regard.
At the center of it all is Robert Downey Jr. as Kirk Lazarus, the Oscar-winning Australian actor who takes Method acting and Hollywood pretensions way too far—he affects an "urban" voice and darkens his skin with "surgical" makeup to play a Black military officer from Louisiana—in a performance that was misunderstood just 14 years ago and would probably never even get out of pre-production today. Released just two months after his first outing as Iron Man, Tropic Thunder sealed Downey's comeback as one of our major stars. It also represented a high point for Stiller as a director as well as a nice skewering of those Hollywood types who live inside "the bubble." – DK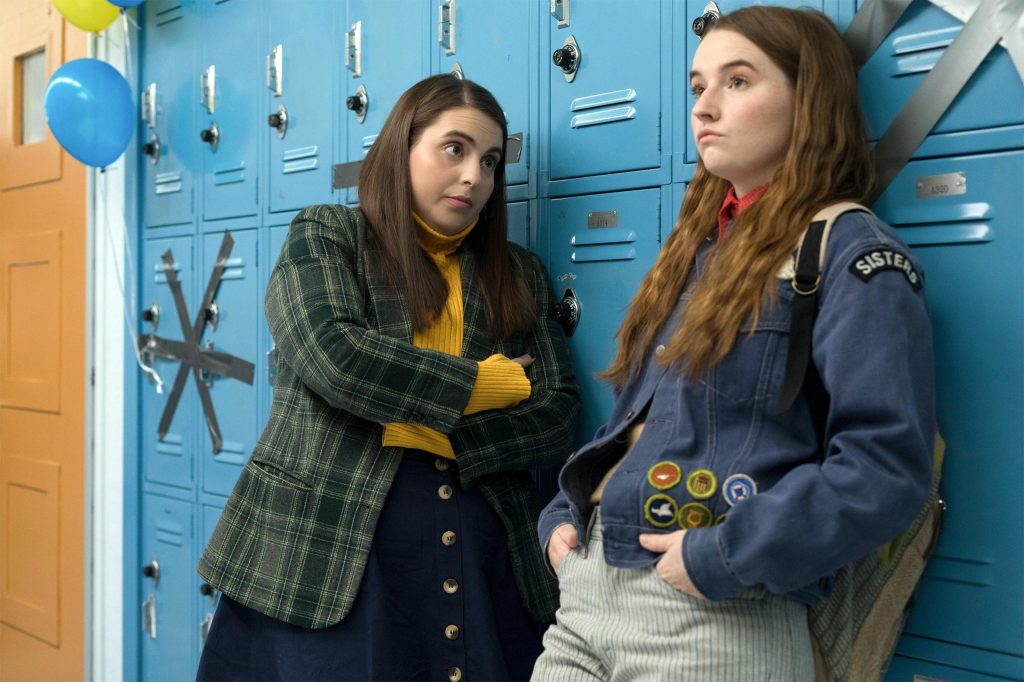 7. Booksmart (2019)
Olivia Wilde revealed herself to be one of the snappiest first-time directors in recent years with the winsome Booksmart. A film about two high school outcasts—albeit by choice due to their academic proclivities—having one wild night before graduation owes more than a little to Superbad, but some of us would argue this is the better variation on the concept, with the relationship between Kaitlyn Dever's Amy and Beanie Feldstein's Molly being just as desperate but also a lot more endearing in what it has to say about first friendships, especially between young women. There's also a greater affection and empathy in Wilde's camera for the modern Gen-Z experience that evades snark all while still finding the heart of an uproarious belly laugh. – DC
6. What We Do in the Shadows (2014)
The third film directed by New Zealand's Taika Waititi (which he actually co-directed, co-wrote, and co-starred in with Jemaine Clement) is a sidesplitting mockumentary about four vampires living together in a flat in Wellington, navigating their way through the modern world and their various interactions with other locals, as well as werewolves and other nearby supernatural beings.
The vampires are hilariously clueless as they stumble through their everyday lives in a world that has long since moved past them, making the film somehow even funnier when they still manage to spill copious amounts of blood from their victims. A cult favorite, the movie launched an acclaimed TV series while catapulting Waititi and his endlessly quirky, surreal style of humor to fame with later directorial efforts like Jojo Rabbit (2019) and Thor: Ragnarök (2017). – DK
5. Easy A (2010)
Easy A is nothing short of an act of public charity to all American teens. Too long have the country's high schoolers had to suffer through Nathaniel Hawthorne's punishingly boring classic The Scarlet Letter without a viable movie adaptation to turn to. As a modern comedic take on Hawthorne's 1850 novel, Easy A won't help anyone pass 10th grade English, but at the very least it won't bore them to death. Okay, okay, Hawthorne hate aside, Easy A is a wonderful little comedy.
Emma Stone (who has popped up a few times on this list) gets her movie star breakout turn as Olive Penderghast, a 17-year-old high schooler in California. After Olive lies about losing her virginity to a college student, she immediately gains a reputation for being a "dirty skank." Instead of running from the charges, however, Olive takes inspiration from The Scarlet Letter's heroine Hester Prynne and leans into it. Easy A is a smart, empathetic exploration of high school politics that is also quite funny. Stone is always worth the price of admission but the movie opts to augment its charming star with a cast that features Lisa Kudrow, Amanda Bynes, Penn Badgley, Thomas Haden Church, Patricia Clarkson, and a Stanley Tucci who is all the way Tucci'd up. – AB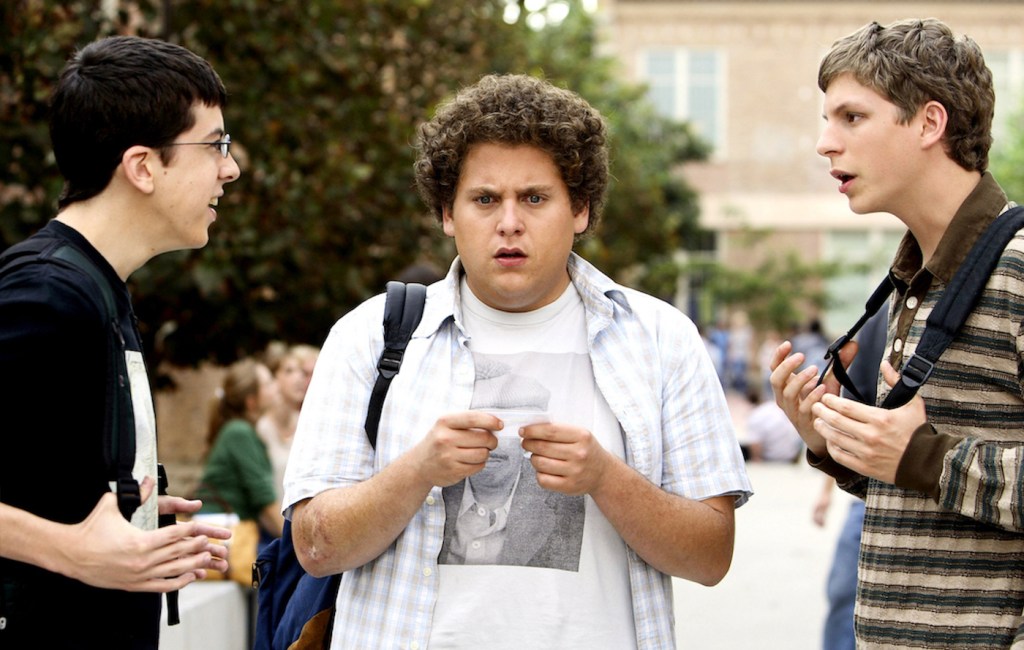 4. Superbad (2007)
Superbad represents the first script that superstar comedy collaborators Seth Rogen and Evan Goldberg ever worked on. The Canadian duo began a draft of the concept while just 13 years old. By the time Rogen and Goldberg were successful enough to get the film produced, they were well out of their teenage years but the authenticity of their younger selves' lived-in experience can be felt all the same in this utterly hilarious and surprisingly affecting flick.
Michael Cera and Jonah Hill star as the creatively named Seth and Evan, two high school seniors and best friends. When the specter of going to separate colleges and growing up begins to loom, Seth and Evan try to grasp one last summer of youthful nonsense, promising to buy alcohol for their classmate Jules' (Emma Stone) party. The journey to secure that booze and get to Jules brings Seth, Evan, and their frenemy Fogell, a.k.a. McLovin (Christopher Mintz-Plasse) into contact with murderous gangsters, two corrupt cops, and a whole bunch of vomit. – AB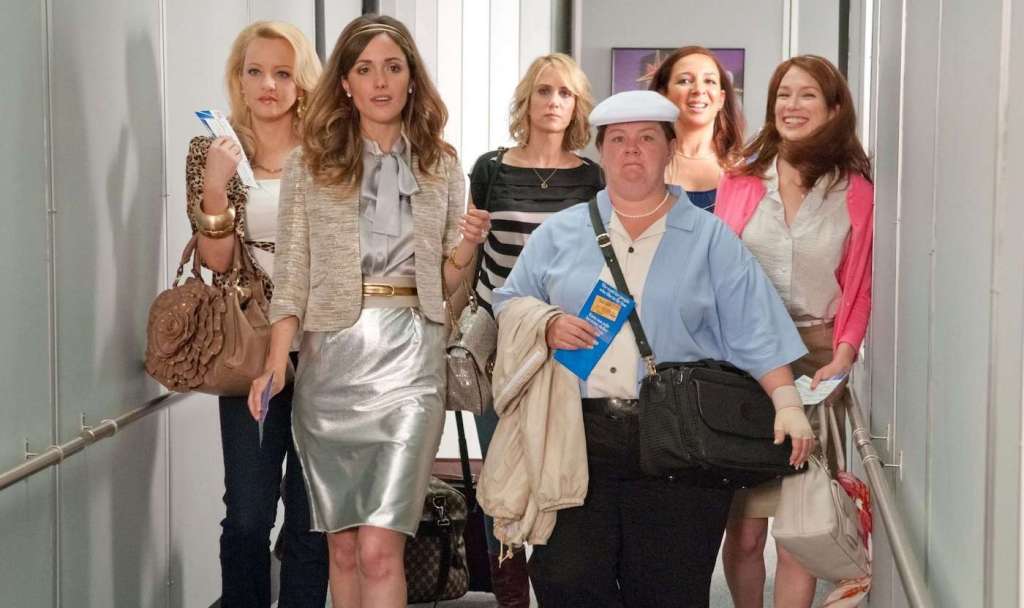 3. Bridesmaids (2011)
Paul Feig's celebration of female friendships is a well-loved comedy staple now, so it's easy to forget that when it landed it actually felt quite groundbreaking. Not that it should have been (as Feig himself stressed to Den of Geek). Kristen Wiig stars as Annie, maid of honor to her best mate Lillian, who feels threatened when Lillian's seemingly perfect new friend Helen (Rose Byrne) gets involved.
Hardly controversial stuff, but the movie felt fresh and subversive simply because audiences were unused to seeing a bunch of funny women being funny and talking about things women talk about. Also there were some gross out jokes, but this is the element that has aged least well. What absolutely endures is the sharp script, great performances, and general sense of joy throughout. – RF
2. Knives Out (2019)
Who knew murder could be so good-natured or life-affirming? Apparently Rian Johnson since he turned the Agatha Christie-styled whodunit murder mystery on its head. All the hallmarks are here: a gentleman sleuth of questionable accent (Daniel Craig), a star-studded cast of suspects (too many to list, but dominated all by an imperious Jamie Lee Curtis), and an eccentric victim who should've known better about all the motives he was handing out like candy on the night of his death (Christopher Plummer in a sublime final theatrical performance). Yet when Johnson rips the rug out from under you in the first act by revealing the put-upon and good humored nurse (Ana de Armas) accidentally killed the patriarch… well things go sideways fast.
That first contour is just one of many that Johnson deploys with a surgeon's precision throughout Knives Out, or as Craig's "Southern" Benoit Blanc might say, this film has a donut hole in the center of its donut hole. It's whacky, endlessly rewatchable and quotable, and ultimately an actor's showcase for the whole ensemble, including de Armas who gets the star turn she deserves as Marta, a woman whose stumble into a world of murder and cover-up also turns out to make her a better person—or certainly wiser to American class dynamics. Who knew? – DC
1. Hot Fuzz (2007)
READERS' CHOICE
Author Thomas Wolfe once said you can't go home again. Maybe. But you can always blow it up. That's what Edgar Wright set out to do in iconic fashion via Hot Fuzz, the second and best of his and co-writer Simon Pegg's fabled Cornetto Trilogy. Filmed at Wright's home of Wells in Somerset—a "cathedral city" (read: village) in southern England—the filmmaker returned to old haunts to craft a guns-blazing actioner made in the image of Shane Black buddy cop scripts and Michael Bay camera movements.
The genius of Hot Fuzz, however, is that it doesn't start out this way. Initially, this is a scathingly sardonic satire of bucolic English country living and the type of prestige BBC television that might be set there. In other words, it's hell on earth for London's big city cop Nicolas Angel (Pegg). But as he and hapless action movie geek Danny Butterman (Nick Frost) uncover a web of murder throughout the community, slowly their world morphs into the Hollywood cheesfests of Danny's DVD collection. The final 20 minutes are a glorious crescendo of action movie clichés and belly-bursting laughs that still echo on 15 years later. – DC
Movies also receiving significant amounts of votes in descending order: The Proposal, Forgetting Sarah Marshall, Midnight in Paris, Scott Pilgrim vs. the World, Good Boys, Hot Rod, The Lego Movie, Deadpool, Hail Caesar!, Happy Death Day, Palm Springs, This is the End, The Simpsons Movie, Blockers, The Nice Guys, Step Brothers, The Wolf of Wall Street, 500 Days of Summer, Emma., Pirate Radio, Logan Lucky, Hairspray, Whip It, The Hangover, The Big Short, Swiss Army Man, Friends with Benefits, Girls Trip, The Favourite, Bad Teacher, Don't Look Up, Fanboys, The Skeleton Twins, Burn After Reading, Death at a Funeral (2010), The Trip, Green Book, Juno, The World's End, Thoroughbreds, Jojo Rabbit, Neighbors, The Disaster Artist, The Other Guys, The Hunt for the Wilderpeople, Bride Wars, Yesterday, The Muppets, Everybody Wants Some!!, The Internship, The Lego Batman Movie, The Peanut Butter Falcon, 22 Jump Street, VHYes, Begin Again, Young Adult, The Art of Self Defense, Cabin in the Woods, Seven Psychopaths, Death at a Funeral (2007), Wine Country, Adventureland, To All the Boys I Love, MacGruber, Spy, Aliens, Clowns & Geeks, Seeking a Friend for the End of the World, I Care a Lot., and Jennifer's Body.