Features
The Best Movies to Watch If You Loved Do Revenge
Here are teen dramas, rom-coms, and thrillers that are as daring, dynamic, and ditzy as Jennifer Kaytin Robinson's dark comedy Do Revenge.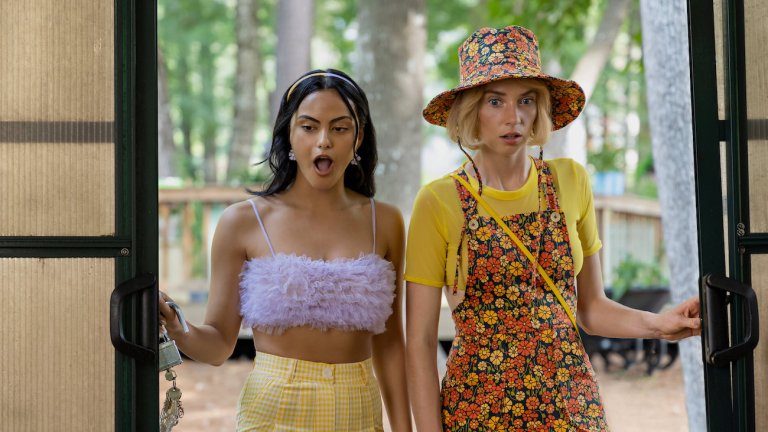 So you laughed, cringed, gasped, and cheered over Do Revenge, Jennifer Kaytin Robinson's delightfully dark retelling of Strangers on a Train for the clout-obsessed Gen Z set, and now you want to do a rewatch? Before you press restart on Netflix, chase that thrill with the teen drama forebears that Robinson spoofed, riffed on, and littered the movie with reverent Easter eggs from the '80s, '90s, and '00s.
Plus, if this is your first introduction to Robinson, you're in luck—we've got your guide to where else to find her incisive, irreverent work, from a feminist vigilante TV series to a movie less about "fucked-up soulmates" and more about your ride-or-die best friends in adulthood.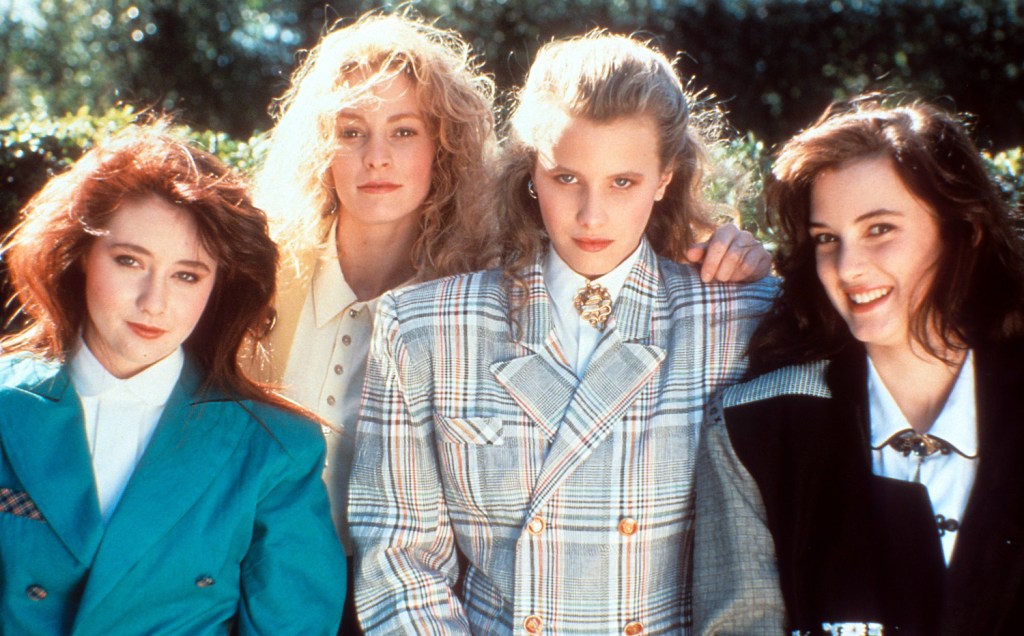 Heathers (1988)
A dark satirical foil for the John Hughes teen movies of the same era, this iconic 1988 black comedy no doubt contributed to the blueprint of Do Revenge: a brutal clique of social-climbing girls, seen through the eyes of an outsider who can't help but get absorbed into their psychodrama; a trend of mounting violence among peers, only for the victims to become martyrs; and the desire to blow everything up, whether or not that will actually fix the problems. Heathers never loses its brutality nor its bite, no matter how many times you watch it.\
The film also, alongside Beetlejuice which was released the same year, made Winona Ryder a star.
Strangers on a Train (1951)
While this Alfred Hitchcock film never gets mentioned by name, an early introduction to Eleanor shows her reading the Patricia Highsmith thriller on which it's based: Two men meet on a train, exchanging their woeful stories of promiscuous wives and overbearing mothers, and hatch the plan to kill each other's troublesome woman. Assuming that their status as strangers grants them the perfect alibi, and having a much bigger world than the microcosm of high school in which to move, they think they'll get away from it. But there is, ah, the small matter of one of the men being a sociopath, and the other thinking they aren't actually going to go through with it. Wonder why Nora was such a fan…
Clueless (1995)
Want a narcissistic protagonist who is a little more palatable than Drea, yet who is also forced to realize that though she draws many into her orbit, the larger world will not follow her every whim? With a fluffy yet killer wardrobe (an app before there were apps, a true icon) that clearly inspired Drea's DIY fashion? And did you notice the homage in Rosehill's Horowitz Hall? This retelling of Jane Austen's Emma nails what it meant to be a '90s teenager—as if we wouldn't include it!
Mean Girls (2004)
Perhaps the most quotable high school comedy has had such an impact on the genre that its Easter egg in Do Revenge was entirely nonverbal: Drea standing amid the chaos of Max "winning" the leaking of his texts is a delicious inversion of queen bee Regina George (Rachel McAdams) after she leaked the Burn Book at North Shore High School.
But also if you loved watching "Ellie" infiltrate Rosehill's ruling class despite her trepidation at feeling actually welcomed in on her birthday party, your gut will twist all over again for poor Cady Heron (Lindsay Lohan), who gets a crash course in popularity and Plastics, only to become the Frankenstein's Monster of the cool crowd.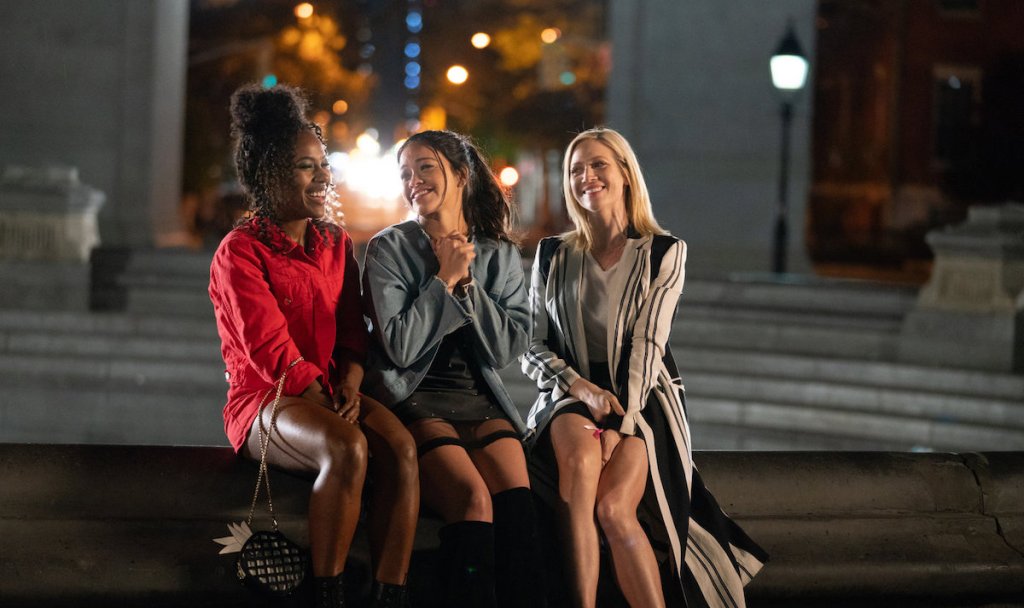 Someone Great (2019)
Robinson's directorial debut for Netflix was this 2019 charmer that approached romantic comedy a little more sideways, with an emphasis on the love among a trio of friends: Jenny (Gina Rodriguez) is reeling from the emotional rollercoaster of getting her dream music journalist job and getting dumped by her longterm boyfriend Nate (LaKeith Stanfield) because said job is across the country.
As she muddles through this destabilizing breakup, her best friends Erin (DeWanda Wise) and Blair (Brittany Snow) take her around New York City for one last night of running into exes and getting closure before moving to San Francisco, promising her that she'll meet "someone great"—knowing what we do about Robinson's gift for subversion, you might be able to guess who that is.
Easy A (2010)
And here I thought that Emma Stone's wry voiceover in this 2010 adaptation of The Scarlet Letter was the be-all, end-all for teen movie narration. Do Revenge gives it a neat twist with the dual voiceover and the late-stage Nora reveal, but don't sleep on Olive Penderghast's own cautionary tale of how a rumor will grow wings, teeth, and a mind of its own.
After a dumb lie morphs into a rumor that Olive lost her virginity, her reputation gets cemented as a "dirty skank." When her gay friend asks her to pretend they had sex to protect him from getting bullied, Olive figures the damage has already been done. But as she gets branded with the metaphorical red A—and then actually sews one onto her newly corset-y wardrobe in an attempt to control the narrative—and more and more boys show up needing to hide behind her tattered honor, Olive learns just how many people she can hurt in the process.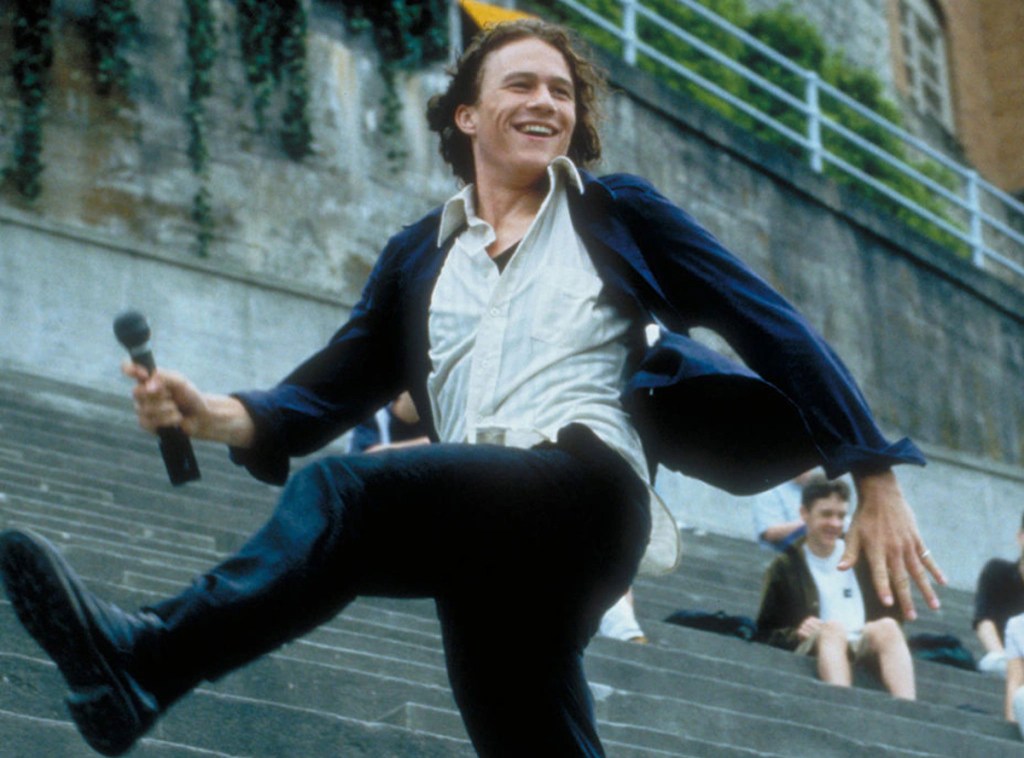 10 Things I Hate About You (1999)
As adorable as it was for Drea and Russ to throw paint balloons at one another, Kat Stratford (Julia Stiles) and Patrick Verona (Heath Ledger) walked before these two could run. Not only does the Shakespeare-in-high-school haters-to-lovers classic have the sweetest paint splatter flirtation, but it also gives us the most ridiculous yet believable cliques, and an angry, earnest retelling of the Bard's Taming of the Shrew. You don't need 10 reasons to watch; the moment that soundtrack starts up, you'll fall in love (either again or for the first time).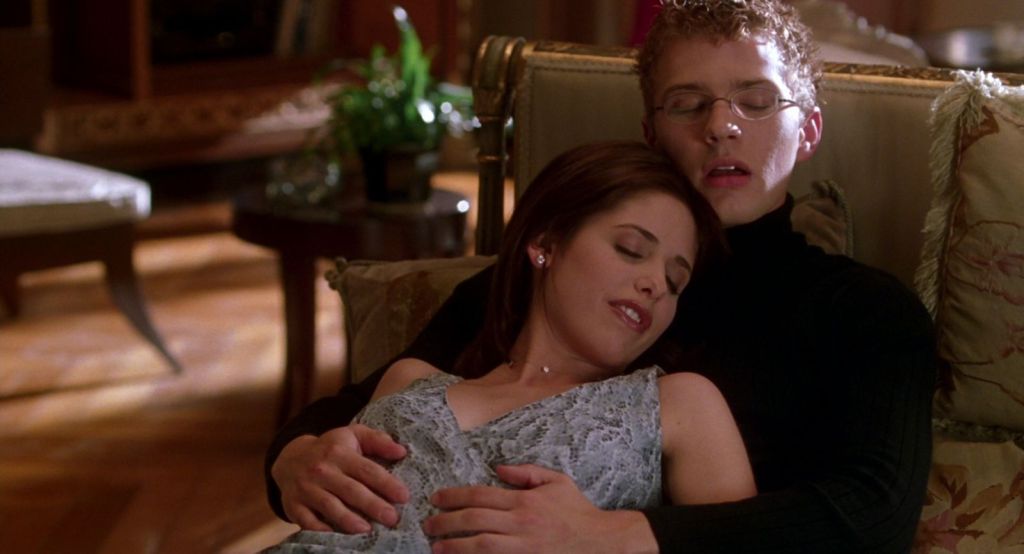 Cruel Intentions (1999)
How can we witness the return of teen movie/TV queen Sarah Michelle Gellar and not recommend her dark cult classic of teenagers plotting delicious revenge? Even for those of us who were used to watching SMG as Buffy Summers in the late '90s, her villainous turn as Kathryn Merteuil was provocative and powerful (and definitely awakened some feelings in female audiences); costars Ryan Phillippe, Selma Blair, and Reese Witherspoon rounded out this titillating foursome.
Plus, if you loved the schadenfreude of a coke-fueled Max getting his comeuppance at the end of Do Revenge, you'll appreciate the scene it was no doubt paying homage to—you'll know it once the opening chords of "Bittersweet Symphony" start.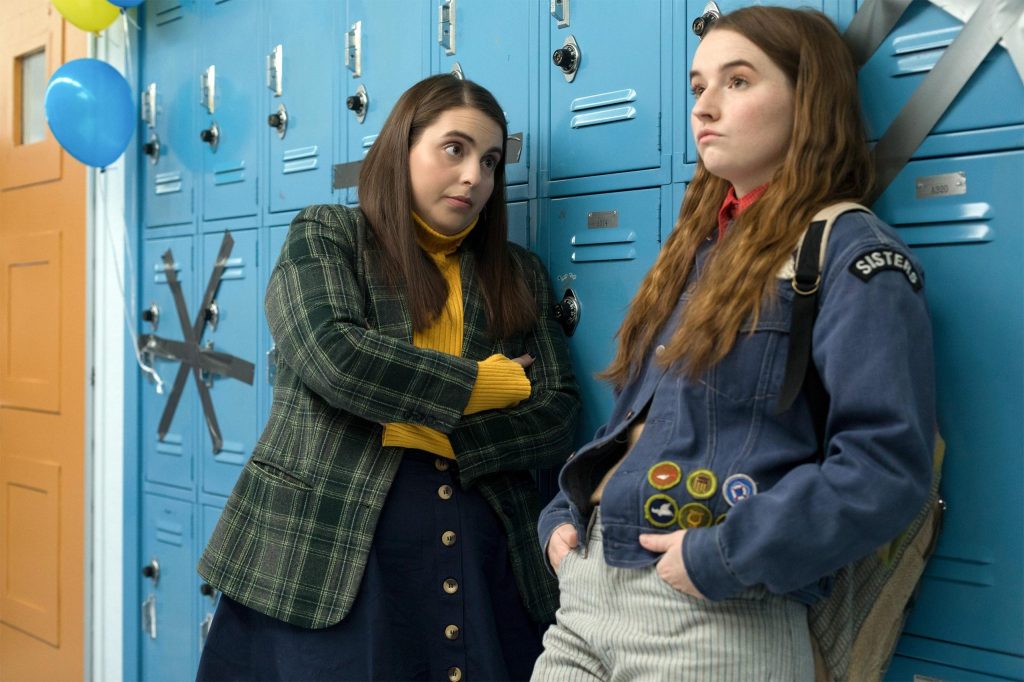 Booksmart (2019)
While Olivia Wilde's Booksmart is better described as "Superbad for girls," you get the sense that chaotic nerdy besties Amy (Kaitllyn Dever) and Molly (Beanie Feldstein) could have barreled their way into the Admissions Party no problem. Afraid that making it to the Ivies means they sacrificed the quintessential high school experiences, the two set out to finally live it up before graduation—which involves bad trips, a cringingly disastrous lesbian hookup, and the most heartwrenching showdown at a house party that you will ever see in the teen genre.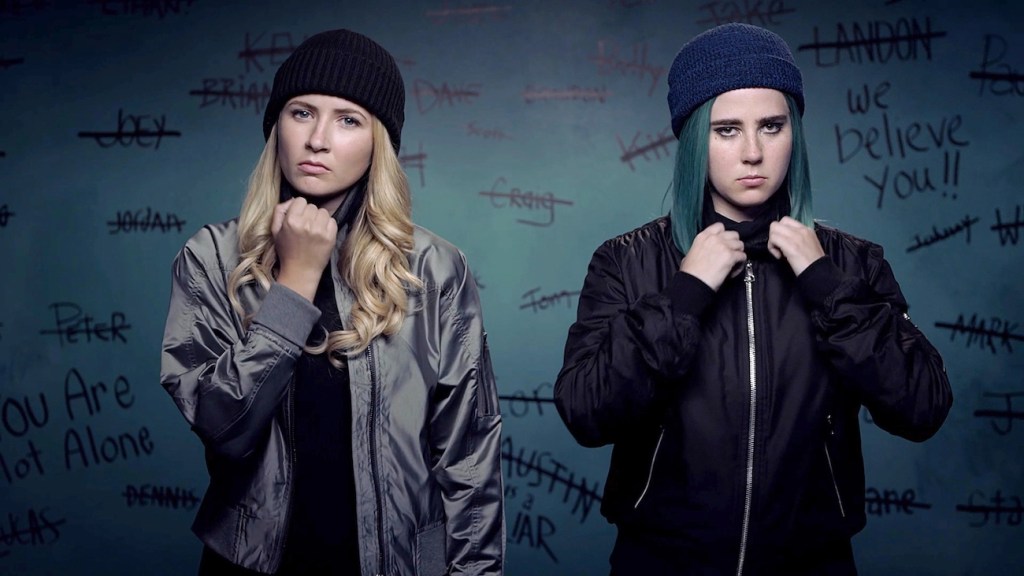 Sweet/Vicious (2016)
A bonus TV option, and a quick watch: Robinson's first big project was this 2016 MTV dark dramedy about an unlikely pair (already sound familiar?) of mismatched undergrads who lead a double life as rapist-hunting vigilantes. Preppy sorority sister Jules (Eliza Bennett) and stoner hacker Ophelia (Taylor Dearden) hunt down their male peers who get to shelter behind "boys being boys" and "she was asking for it," finally bringing down consequences on them—though at least one incident ends much more bloodily.
But it isn't all escapist fantasy; the vigilantes must confront law students and a Title IX office that won't actually do anything, as well as figure out how to have a friendship that isn't just about their shared revenge. Despite its cult popularity, the series ran only 10 episodes.