News
Why hasn't there ever been a good Aleister Crowley movie?
Rob tries to figure out why there has never been a serious movie or TV show made about one of recent history's most enigmatic figures...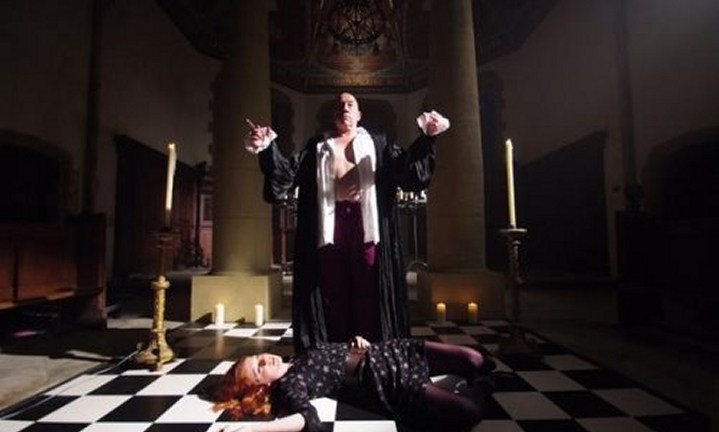 A man of many names, Aleister Crowley through his life was know as the 'magus', 'the guru' 'and also the 'The Wickedest Man In the World'. He has been parodied as Hugo Rune by Robert Rankin, had Alan Moore devote entire comics to his deck of tarot cards (Promoethea), had Ozzy Osbourne singing his praises, and even appeared on a Beatles album cover (Sgt. Pepper's Lonely Hearts Club Band). Aleister Crowley was a man that certainly people have heard of but probably know very little about.
Although a movie was recently released called Chemical Wedding, that had Crowley as the main protagonist (written by Iron Maiden's Bruce Dickinson no less), the film was a B-movie affair at best and, for all the gratuity, along with Simon Callow and John Shrapnel's hamming, it did not really do the character of Crowley any favours, failing to appease both the mainstream and 'geek' audience. However, there is a great deal that could be developed to make the character appeal to those looking for an alternative to the underwhelming blockbusters of this summer or the drab dramas currently churned out on ITV and BBC.
Born in Leamington Spa in 1875 and dying penniless and destitute in a Hastings boarding house in 1947, Aleister Crowley, through his eventful life, was a world class chess player, renowned hedonist, mountaineer and, rumour has it, even a spy. While these things alone would make for a compelling movie (well, maybe not the chess bit), it's his dabbling in magic and the world of mysteries, myths and monsters that would make for a prefect narrative hook that could appeal to a wide television or film market.
Like many controversial historical figures, Crowley was both hated and adored in equal measure. A supposed child genius, Crowley used his parents' wealth to explore the globe, visiting India and the Far East, absorbing knowledge and indulging in all manner of pleasures (both legal and illegal) that these countries had to offer.
Returning to the UK to spread (to quote Ringo Starr) "Peace and Love", Crowley was perceived as being a trouble-maker for both the gentry and the church. On the positive side he opened up channels that allowed many for the first time to express their own sexuality freely and to be freed of certain strict social contexts (remember his 'rock and roll years' were at the turn of the 19th to 20th century when many things were frowned upon), again to the disgust of the ruling classes.
Crowley used his travels to create numerous works based on other religions, belief systems and teachings, and amalgamated them into what is known as 'Thelema', writing down his thoughts, musings and processes of magic in The Book Of The Law. He created an aura of 'magic' that enticed the movers and shakers of the time, infatuated pop stars and musicians, and influenced 101 heavy metal tracks. 
As mentioned above, Crowley was, during his lifetime hated and liked in equal measure, with the negative aspects also providing some of the more interesting, if a little drug-addled, controversial elements to his life. Crowley instigated his teachings in numerous cults including the Golden Dawn and Ordo Templi Orientis, both of which had dubious and morally wrong elements to them, and both which would make fascinating viewing if put on screen. And while some elements may have need of an 18 certificate, it could make for an interesting movie.
Living a decadent lifestyle that would make even the most party-hardened celebs of today blush, Crowley's exploits have been chronicled numerous times. His magic, lifestyle, and experimentation has been cogitated, commented on and dissected in many books, but a definitive televised or cinematic piece has yet to provide a decent portrayal of his life and character.
A show or movie could go in any direction. A straight biographical tale would hold enough action, adventure and compelling storyline to hold an audience's interest. A structure like Interview With A Vampire comes to mind where, in his dying forlorn days, a interviewer tracks down Crowley to his final resting place in Hastings where, to get his story, he interviews the dying penniless former cult leader and the viewers get a 'factual' account of his life (with the odd embellishment for good measure).
Or, of course, there could be a movie played out in a more metaphysical way with a focus on, not the man himself, but rather the spiritual and mythical elements of his story. From supposedly summoning demons to taunt his rivals to trying to raise the Loch Ness monster, there are numerous far-fetched tales on which to hang a good strong script that could tackle tarot, magic and such.
Whatever a screenwriter thought to tackle there is enough material out there, both genuine and less easy to prove, on which a screenplay could be developed. Taking the concept further (and doing my own casting call), seeing a leading man like Johnny Depp or Robert Downey Jr as the charismatic young Crowley or even Gary Oldman or Geoffrey Rush (or even Stephen Fry) as an older Crowley  would have people intrigued.
A rock and roll lifestyle before rock and roll existed, a period setting, the world of the strange, unusual, exotic locations and even a hint of debauchery are all the elements usually needed to make a good solid movie.
So then, Sony, Paramount, Universal (and even the BBC), do a bit of digging, see what's there and let's see Mr Crowley on the big screen.