Matthew Schuchman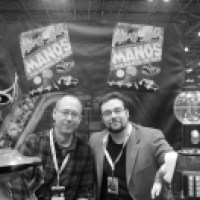 As a young man growing up on the, not so mean streets of North Massapequa, Matthew Schuchman became a film buff at the age of 10. Encouraged by friends and family to build a life based on his interest in the medium, he embarked on a journey through film schools and movie sets. The highlight of his career as a production assistant came in 2005 on the set of Michal Cuesta's Twelve and Holding; where during production he was used as an extra and appears on film as the guy who is sitting back down after letting future two time Academy Award Nominee, Jeremy Renner get to his seat in an auditorium.
Under the belief that almost all films need to be taken apart and analyzed he started his own site , Movie Reviews From Gene Shalit's Moustache  to bring his views about cinema to the general public. Along with his love of film, Matthew has deep feelings about music and Richard Pryor's stand-up. He currently resides in Brooklyn, NY and is still looking for the perfect frame for his original release Time Bandits poster.
Matthew provides film related pieces and concert photography for IPaintMyMind and Verbicide Magazine and loves every minute of it. 
You can find Matthew on the internet on twitter (@stachereviews) or Facebook (http://tinyurl.com/bwzf4lo).