Features
Top 10 badass movie guys
Get your affairs in order before getting into a spat with one of these fellas…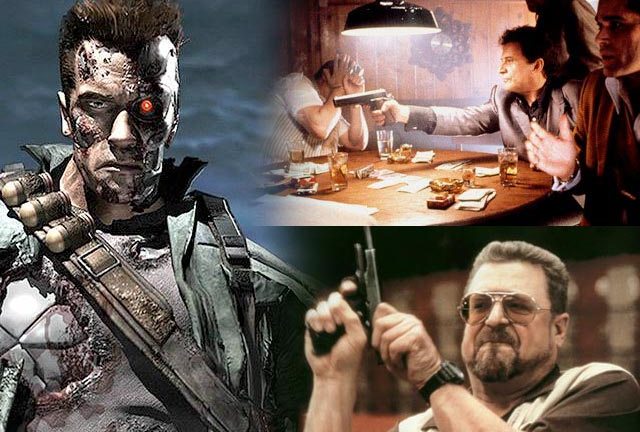 10: Tony Montana – Scarface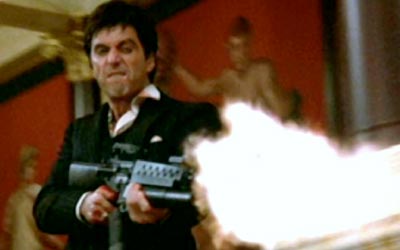 Perhaps Mr. Montana should be higher on this list but there is just such a plethora of bad-asses to choose from I had to make room for others. The thing about Tony Montana is that he spends the entire movie being bad-ass, so there really isn't any argument as to whether or not he should be on this list.  Of course if I were forced to pick one single moment that deems him worthy it would be that great final scene. Tony must know his world is about to come to an end so what does he do? He snorts some cocaine, and lots of it. Then he grabs his, uhh, "little friend" and says hello to his unwelcome guests. Tony then proceeds to blow a few of those guests to smithereens. Unfortunately for our Mr. Montana he runs out of bullets and, well, let's just say he gets shot. But our hero is not done yet… Tony Montana gets back up and blows some more of his guests to smithereens. But really the thing that makes him so bad-ass is how he dies. It takes a double barreled shotgun from about five feet away to finally bring this guy down, and how does he fall? Into a freaking pool. Very dramatic, very beautiful, and well, very bad-ass.
9: Walter Sobchak – The Big Lebowski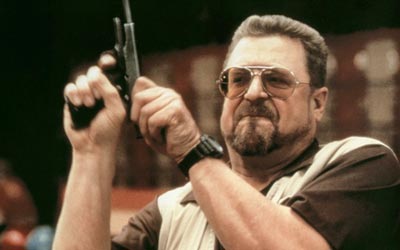 Have you ever been bowling, saw another player's toes cross the line and decided "Hey. I am going to pull a gun on that guy unless he marks it zero". Not many people can say they have done that, but Walter Sobchak can say he has done that. Can you get a toe by 3 o'clock this afternoon? Walter Sobchak can. We all remember the scene where they interrogate the little kid and Walter walks outside the house, grabs a crowbar, and after smashing in the windows of a very nice car Walter yells out to the kid "This is what happens when you fuck a stranger in the ass!". When I am sad and lonely I think of that moment and a smile will always stretch across my face. Thank you Walter Sobchak for just being so dang bad-ass.
8: Frank Lucas – American Gangster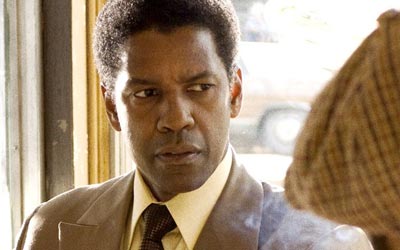 Frank Lucas may not spend the entire movie being a bad-ass gangster but he has one defining moment that earns him the number eight spot on this list. Frank Lucas, drug lord and crime boss, is eating breakfast with his brothers and he just decides it is time to show everyone who is boss. He politely excuses himself from the table, leaving his brothers to watch what he is about to do. Frank walks casually up to a man who has disrespected him and, right in the middle of a sidewalk crawling with people, Frank Lucas shoots the man and walks casually back to the restaurant to finish his meal with his brothers. The guys got class. What a scene, what a bad-ass.
7: Sgt. Dignam – The Departed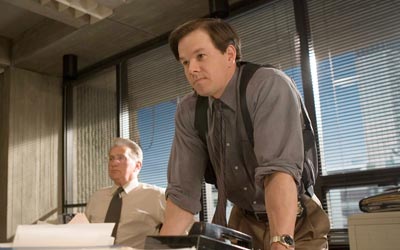 You see this guy for maybe fifteen minutes during the whole movie, but as you walk away from the movie he is the one you are talking about. He grabs you right from the start and he never lets you go, you find yourself wishing they would have given him more screen time. He throws punches left and right, doesn't give you a moment to think. I remember driving home from the movie theater after seeing The Departed and thinking to myself "huh", because honestly I didn't know what else to think. Dignam found a way to be bad-ass with the way he looked, talked, and even the way he moved. And then, right in the end, after everything that has happened, Dignam makes his presence in the movie unforgettable by showing up in the bad guy's apartment and taking care of business. He even gives Matt Damon a moment to think before he ends his life. Dignam is a bad-ass with quality.
6: Al Capone – The Untouchables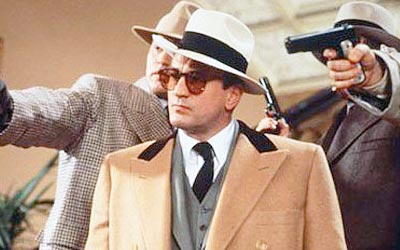 This dude is just a bad-ass. Robert DeNiro couldn't have done a better job portraying the most-respected man to come out of the 20s and 30s. Throw this movie in the DVD player next time you get the chance and just wait for that one scene. Capone walks cordially around the table talking about being a team and working together, only he is wielding a bat so something is bound to happen right? You can see it on all the bosses faces, they know its coming, but to whom? Well, then we find out, its that guy. That guy who gets his head smashed in about half a dozen times by Al Capone himself. Can you think of anything that sends shivers down your spine quicker? At least we know Mr. Capone got his point across.
5: Tommy DeVito – Goodfellas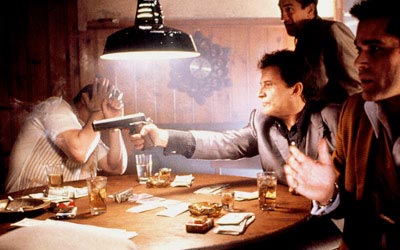 I know I know, another gangster movie. I mean heck, another Scorsese movie, but what can I say, he knows how to create a bad-ass. Doesn't it just eat you up inside whenever you think about Tommy? I know I get the chills if I sit down and watch this guy at work. Tommy is the kind of bad-ass who always means business. You don't mess with him. You don't even mess with messing with Tommy. You have to control yourself, a dirty word or look will get you six feet under even if you've been 'Made'. No one wants to be Tommy, he isn't that kind of bad-ass. He is the kind of bad-ass that we actually want to stay away from, simply because he is so bad-ass.
4: Walt Kowalski – Gran Torino
Walt Kowalski is a classic All-American Bad-Ass. Walt gets right in your face and says "Don't fuck with me". And the thing is, if you do mess with the old dude, something is going to happen. You're not going to be happy with what happens. Walt makes you pay for your disrespect. Walt is the bad-ass that you respect, and if you don't, well, you'll see what happens. He knows the difference between right and wrong, honor and disrespect. He knows how to be a man. He will protect his family and his friends because that is the right thing to do. He just goes about it all very bad-ass. Walt's just an old time, old fashioned, no-bullshit kinda guy.
3: Tyler Durden – Fight Club
What can be said about Tyler Durden? Expertly portrayed by Brad Pitt, Tyler climbs his way into our souls the moment we first lay eyes on him. Tyler becomes something that words cannot describe. Its just one of those things that you have to see. There is an unspoken bond between everyone who has seen him that no other character has ever created again. We all find ourselves looking in the mirror thinking what it would be like to be Tyler Durden. Tyler Durden is a force that we all know could be out there somewhere just doing whatever it is Tyler Durden does. 
2: T101 – The Terminator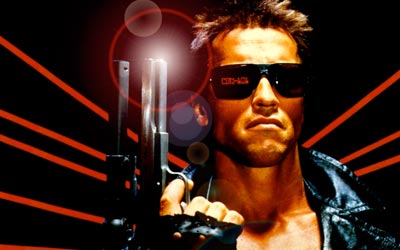 Okay, this guy came from the future to kill a chick. Come on? Can Hollywood ask for anything more than that? If your front door crashes open tonight and The Terminator is standing there, what are you supposed to do? Run? Fight? Pray? I have no clue what I would do but I know it wouldn't run or fight. The thing that makes Terminator so dangerously bad-ass is that NOTHING MATTTERS. He would never accept a bribe. Give him the information he wants or he will kill you, and even if you give it to him, he will probably kill you anyways. I just need to make sure there is something in my garage that can crush him, or a large vat or molten metal that I could ask him to lower himself into. But we'll just have to wait and see what happens.
1: Anton Chigurh – No Country for Old Men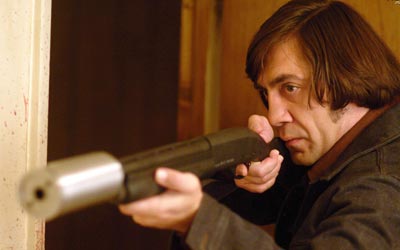 What would you compare Anton Chigurh to? The Bubonic Plague? What is this guy? The Ultimate Bad-Ass? Who knows where this guy came from? Who knows where this guy disappears to? Anton Chigurh is so bad-ass that even the guy who wrote the book that the movie is based on didn't tell us anything about him. He just cannot be described, explained, studied, nothing. Anton Chigurh IS the Ultimate Bad-Ass. Anton Chigurh just IS. I would pick a fight with The Terminator before I picked a fight with Anton Chigurh, only because there is no such thing as a fight with Anton Chigurh. Thank you so much Coen brothers for this bad of a bad-ass, and you too Mr. Bardem. Thank you.