Features
Upcoming Movies in December 2020: Streaming, VOD, and Theaters
Here's a preview of upcoming movies to be released in December 2020!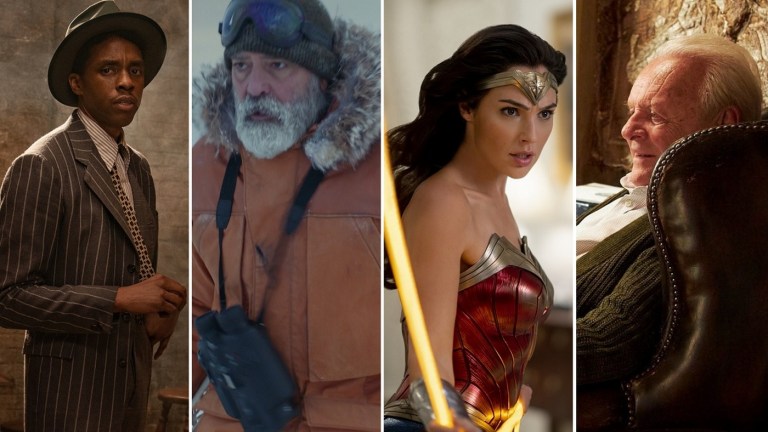 As we recover from whatever Thanksgiving celebration we were able to safely put together in these strange times, there is something reassuring about the fact that December is here and 2020–a challenging year on every level–is almost over.
While December is normally packed with theatrical releases that range from buzzy awards contenders to end-of-the-year blockbusters and holiday-themed comfort films, this year is not business as usual. Sure, Oscar hopefuls abound, such as Mank, Ma Rainey's Black Bottom, and Nomadland, but two of those three will be on Netflix. As for the tentpole contingent, well, only Wonder Woman 1984 is still opening in theaters–and you can also watch that on HBO Max right after opening your presents on Christmas morning.
In other words, there are plenty of new movies coming out this month, and more than one way to watch them. That's not the worst thing in the world even when a pandemic isn't raging, and perhaps an unintended gift for cinema lovers–one that may keep giving well into 2021.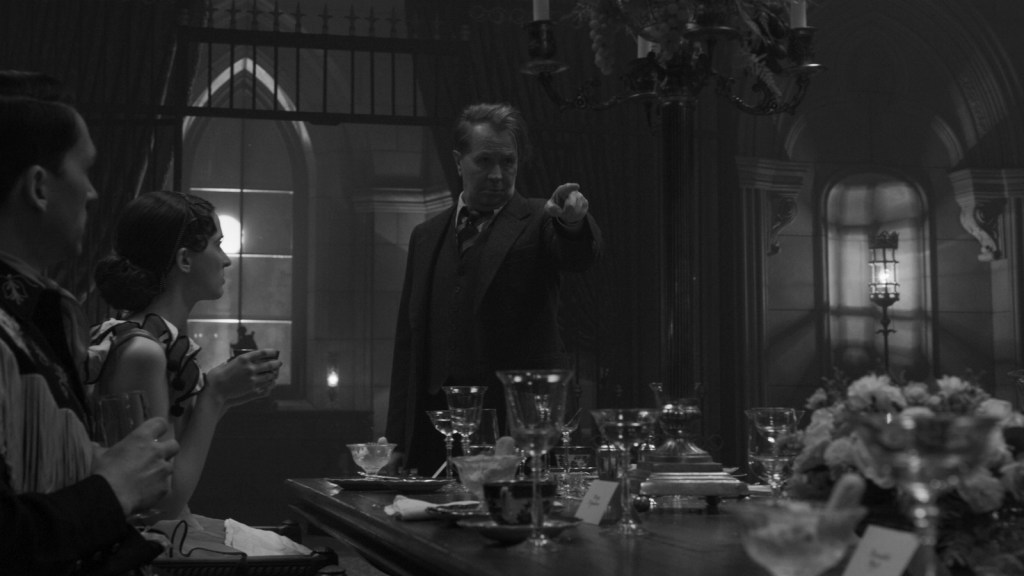 Mank
December 4 on Netflix
Director David Fincher's film is either a masterful ode to old Hollywood or a dull vanity project, depending on your point of view. Many critics, including our own David Crow, love its devoted recreation of both the era in which Citizen Kane was created and the style of that and other films of the period; others asked aloud why we should be so invested in a dissolute writer and the long-forgotten gubernatorial race that dominates a large portion of the film?
There's no doubt, however, that Mank is beautifully crafted (right down to the "cigarette burns" indicating film reel changes) and is anchored by a typically immersive Gary Oldman performance. Oldman plays the enigmatic Herman J. Mankiewicz, whose authorship of Orson Welles' masterpiece has been a source of contention for many reasons. After a limited theatrical run, it now comes to Netflix as one of the streamer's major awards contenders.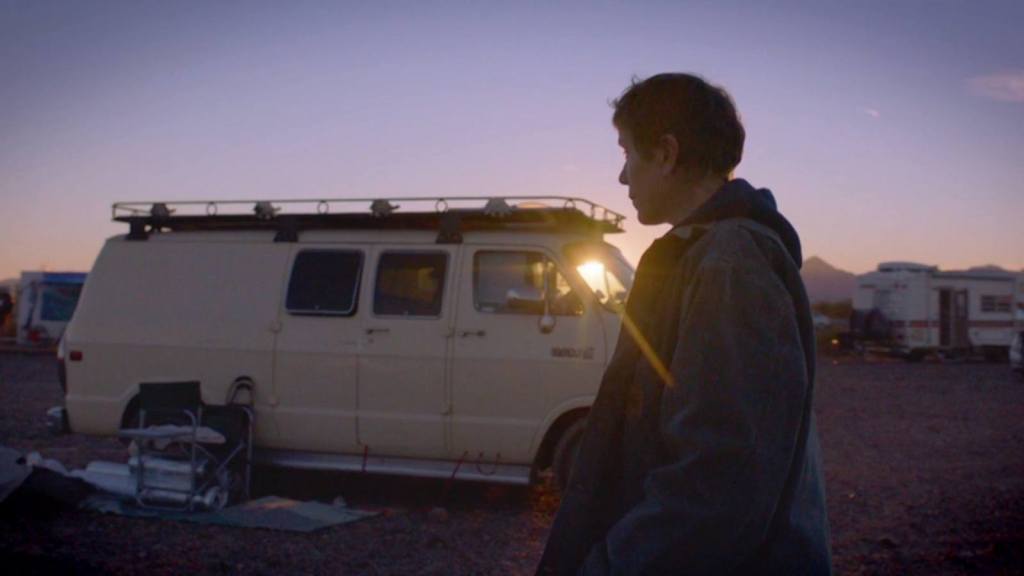 Nomadland
December 4 in U.S. Theaters, February 19 in the UK
Pegged as the film to beat for all the Oscar love this year, Nomadland tells the story of Fern (Frances McDormand), a woman in her 60s who lives an itinerant existence–as a literal nomad–out in the American West after losing everything to the Great Recession. The narratively sparse film explores both the liberation of living off the grid as well as the despair that comes with the feeling that the world has forgotten about you.
Our review from the Toronto International Film Festival called the movie a "modern day Grapes of Wrath" and in addition to utilizing real American nomads in the film, both director Chloe Zhao and McDormand lived and traveled in vans during the shoot (which took place while Zhao was prepping for Marvel's Eternals, a project which seems like it couldn't be more the opposite of this).
The Prom
December 11 on Netflix and in Select Theaters
Based on a Tony-winning Broadway musical, The Prom stars Meryl Streep and James Corden as New York City stage stars whose careers go down the tubes after their expensive new Broadway show becomes a major flop. But they soon plot a way to revive their flagging fortunes by heading with two other actors to small-town Indiana. There high school student Emma Nolan (newcomer Jo Ellen Pellman) has been banned from attending the prom with her girlfriend Alyssa (Ariana DeBose).
Directed by Ryan Murphy (Glee, American Horror Story), the film's sparkling cast also includes Nicole Kidman, Keegan-Michael Key, Kerry Washington, Andrew Rannells, Tracy Ullman, Mary Kay Place and more. We're not familiar with the stage show, but Murphy's first huge mainstream success was Glee, so this kind of brings him back to his high school musical days. But wait, no role for Sarah Paulson?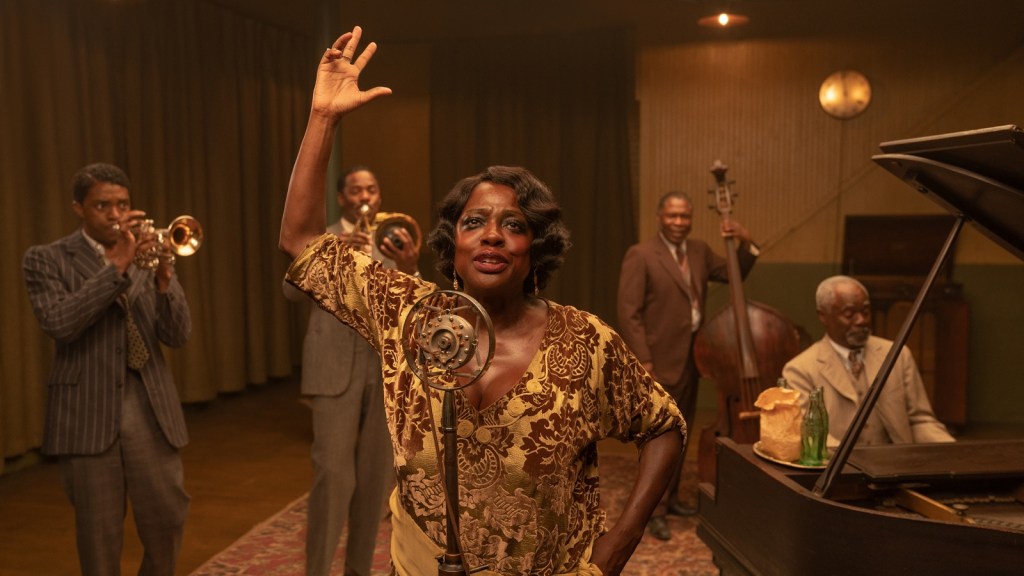 Ma Rainey's Black Bottom
December 18 on Netflix
There's no avoiding the heartbreaking reality that Ma Rainey's Black Bottom contains the final screen performance of Chadwick Boseman, who died last August from cancer. And seeing him on screen again makes one realize just what an incredible talent we lost. As the ambitious yet hot-headed trumpet player Levee, Boseman is stupendous: he has two scenes in this movie in which all the rage and pain of being a Black man in America pours out of him, and he simply sears the screen.
As does Viola Davis in the title role of the blues singer who assembles her band on a fateful day in 1927 to record her songs–for a white-owned record label, of course. Based on August Wilson's Tony-winning play and directed by George C. Wolfe, Ma Rainey's Black Bottom is certainly about the exploitation of Black musicians by white businessmen. But it's also about the blues themselves, as well as race, religion, sex, and African American culture, all stirred up in gripping fashion. One of the year's best.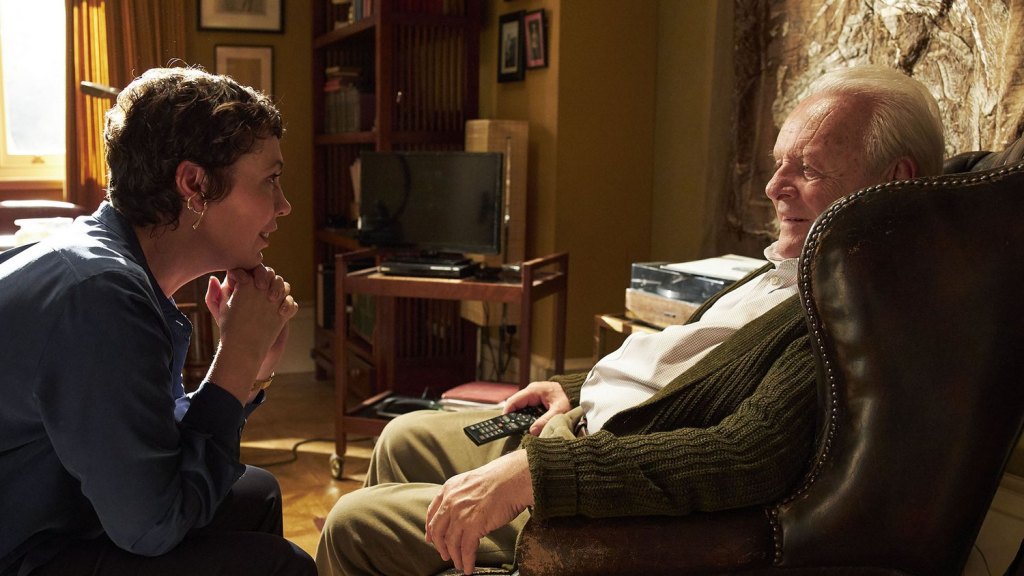 The Father
December 18 in U.S. Theaters, January 8 in the UK
The Father is simply one of the best films we've seen this year. Director/screenwriter Florian Zeller's adaptation of his own play stars Anthony Hopkins as Anthony, an elderly English man suffering from the onset of dementia. Olivia Colman is his daughter Anne, who is apparently planning a move to Paris to live with her partner and trying to find a new caregiver for her father after he scared off the last one.
Or is she? As the film goes on, the viewer begins to wonder what is actually happening. People drift in and out of the narrative under different names, Anthony's spacious apartment seems to change around him, and time itself seems to bend. As a result, what could have been a conventional drama about illness and memory becomes something brilliant and utterly heartbreaking.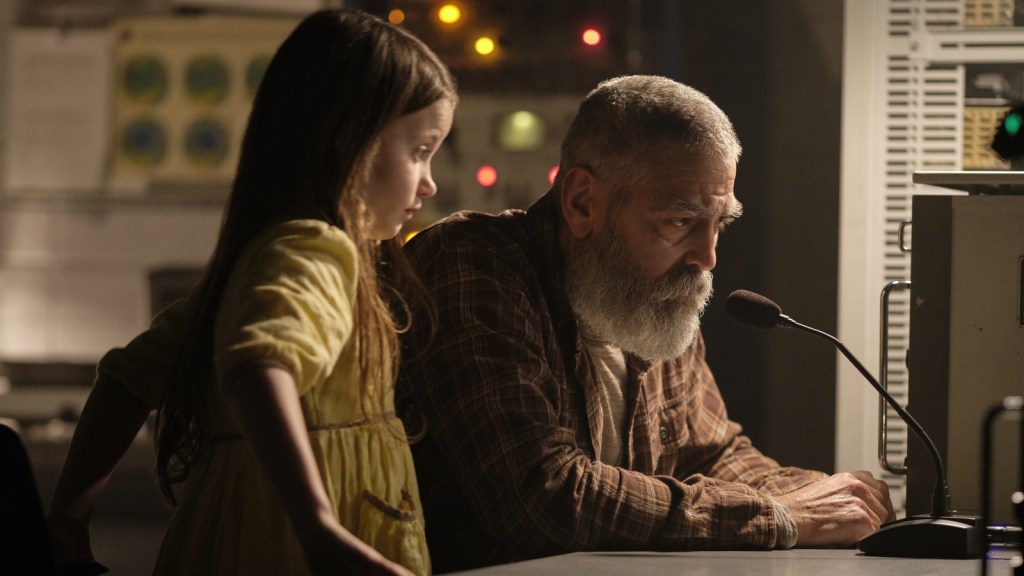 The Midnight Sky
December 23 on Netflix
George Clooney's seventh film as a director (and his first acting gig in four years) finds him back in the same sci-fi territory he's traversed as an actor in movies like Solaris and Gravity. Here he plays Augustine Lofthouse, a lonely scientist who (along with a little girl) may be the last person left alive on Earth after a global catastrophe. He races to contact the crew of a spacecraft that has been sent to explore a potential new home for humankind, in order to warn them away from Earth and give themselves a chance to survive.
Based on the novel Good Morning, Midnight by Lily Brooks-Dalton, The Midnight Sky looks like it will be a beautifully shot and designed film at the very least. The premise is engaging, but Clooney has been hit and miss as a director (his last good directorial effort was 2011's The Ides of March). We'll see if sci-fi adventure is a genre at which he can excel again.
Wonder Woman 1984
December 16 in the UK, December 25 in U.S. Theaters and on HBO Max
Patty Jenkins' long-awaited follow-up to her culture-shifting 2017 origin story of the Princess of Themyscira has bounced all over the 2020 release map, with Warner Bros. not giving up hope of getting Wonder Woman 1984 into theaters at some point. Now the studio has split the difference, resolving to open it in theaters on Christmas Day while also giving nervous fans the chance to watch it at home (and give the struggling HBO Max platform a needed boost).
Gal Gadot returns as Diana in a standalone adventure that takes place in the 1980s and features her squaring off against both the diabolical Maxwell Lord (Pedro Pascal) and the grievance-fueled Barbara Ann Minerva, who evolves into arch-villain Cheetah (Kristin Wiig). Plot details are under wraps–including how the supposedly dead yet still youthful Steve Trevor (Chris Pine) ends up back in Diana's life–but we hope that this second Wonder Woman adventure channels the sheer exhilaration that its predecessor brought to the table.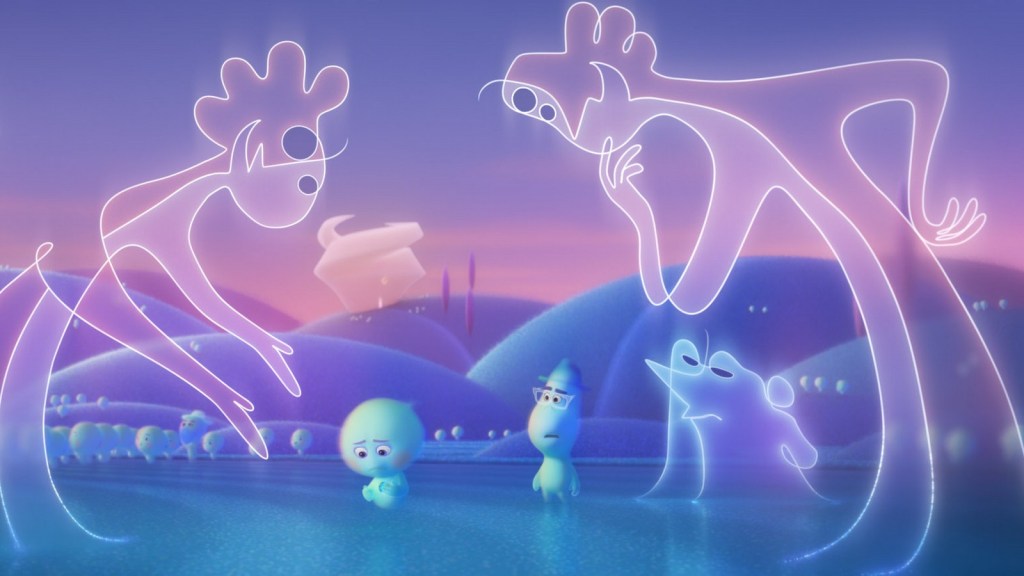 Soul
December 25 on Disney+
Director Pete Docter follows up his brilliant Inside Out with another animated exploration of the metaphysical and existential. In this case, aspiring jazz pianist Joe Gardner (voiced by Jamie Foxx) accidentally finds himself headed for the Great Beyond, but manages to change course and land instead in the Great Before, where souls prepare to join life on Earth. Can Joe and a cynical soul named 22 (Tina Fey), who has no desire to become a human being, find a way to get Joe's soul back to his body in time for the biggest gig of his life?
Docter (and co-writer Kemp Powers) tackle some of the Big Questions this time around, and the answers will no doubt prove as thoughtful as any of Docter's previous work. The visuals are of course up to the usual jaw-dropping Pixar standard, and the striking score is a mix of jazz by Jon Batiste and electronics by Trent Reznor and Atticus Ross–that's right, Nine Inch Nails have scored a Disney release.
Promising Young Woman
December 25 in U.S. Theaters, February 12 in the UK
Originally slated to come out last April, Promising Young Woman stars Carey Mulligan as Cassie, whose one-time dreams of completing medical school were derailed by an unspeakable tragedy that has gone unpunished. Now the smart yet single-minded Cassie is obsessed with righting that wrong–and will stop at nothing to seek justice.
Killing Eve showrunner Emerald Fennell makes her directorial debut with this mix of thriller and black comedy (which she also wrote) that is certainly part and parcel of this particular moment in history. The always compelling Mulligan is joined in the film by Alison Brie, Laverne Cox, Bo Burnham, Jennifer Coolidge, and Connie Britton.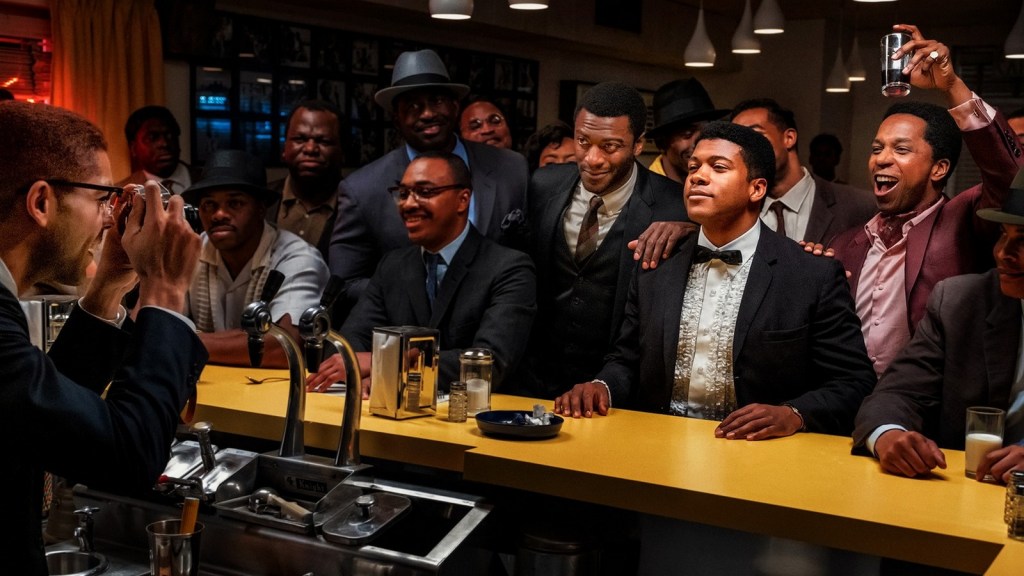 One Night in Miami
December 25 in Select U.S. Theaters, January 15 on Amazon Prime Video
You can read a comprehensive review of Watchmen star Regina King's directorial debut here. Adapted by Soul co-writer Kemp Powers from his play, the film envisions what happened on the night in February 1964 that Cassius Clay (El Goree), Malcolm X (Kingsley Ben-Adir), Sam Cooke (Leslie Odom Jr.), and football star Jim Brown (Aldis Hodge) all assembled in a motel room after Clay–later known as Muhammad Ali–defeated Sonny Liston for the heavyweight championship.
King may not fully escape the movie's origins as a play, but she projects confidence behind the camera and gets distinctive performances out of her four stars. Goree and Hodge are the strongest, but Ben-Adir's doomed civil rights leader and Odom Jr.'s introverted singer are the heart of this timely story, which builds to a powerful and inspiring finish.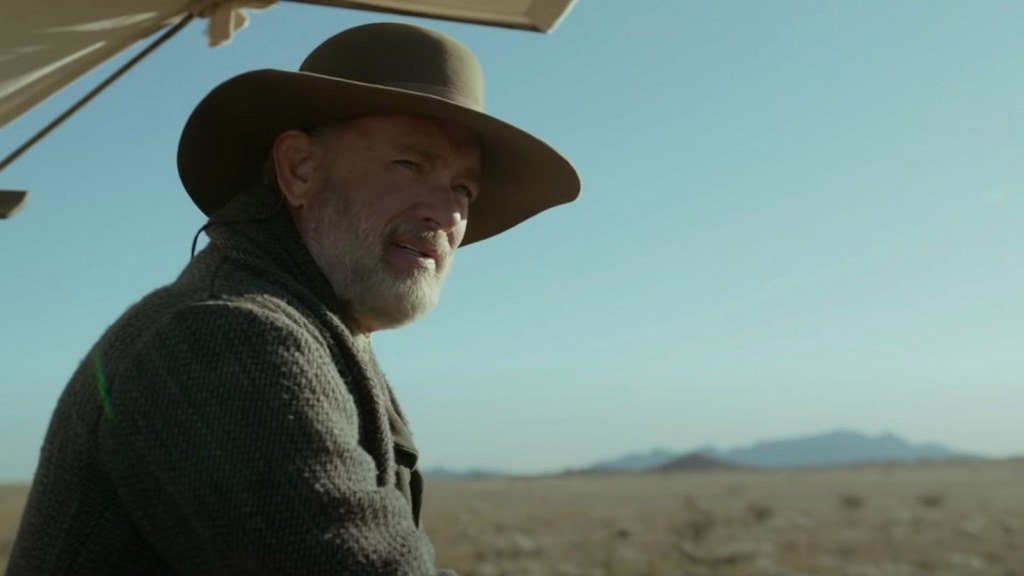 News of the World
December 25 in U.S. Theaters, January 1 in the UK
Director Paul Greengrass' first feature since 2018's grim 22 July stars Tom Hanks as a widowed Civil War veteran and traveling storyteller who agrees to deliver a girl to her aunt and uncle against her will, years after she was taken by the Kiowa people. They travel hundreds of miles and face grave dangers as they search for a place that either can call home.
Based on a 2016 novel by Paulette Jiles, News of the World was originally set up at Fox three years ago, but was sold to Universal following the Disney/Fox merger. It marks the second time Hanks and Greengrass have collaborated, following 2013's excellent Captain Phillips, and its vast natural scope and period setting are new territory for the director.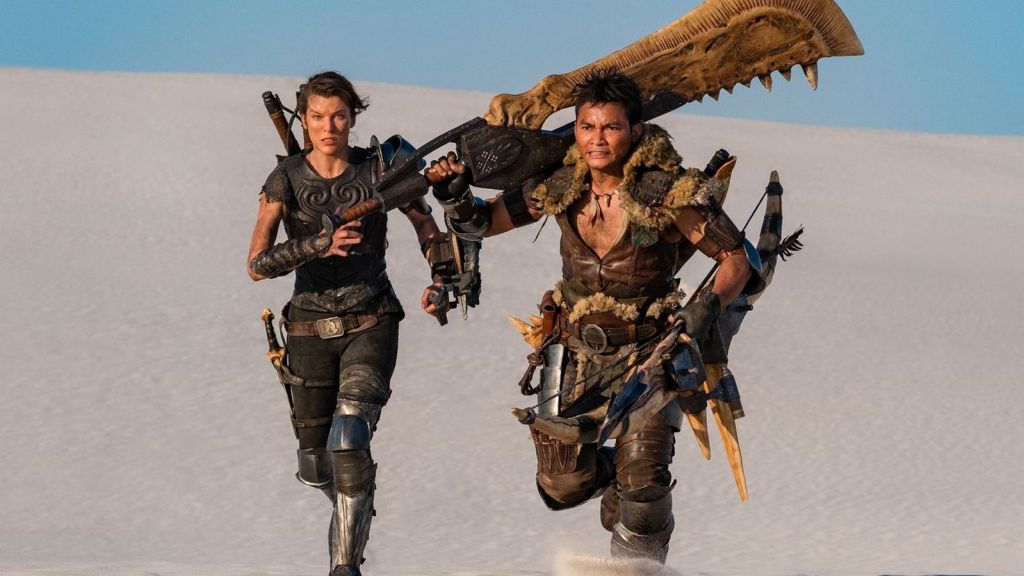 Monster Hunter
December 25 in U.S. Theaters, 2021 TBC in the UK
Based on the globally popular video game series, Monster Hunter stars Milla Jovovich as Captain Artemis, who is inexplicably transported along with her military unit (via sandstorm) to a different world where dangerous, powerful monsters reign supreme. Their only hope to survive and stop the creatures from destroying our world is to team up with another band of warriors for the ultimate battle.
Monster Hunter finds Jovovich working once again with her creative and real-life partner, director Paul W.S. Anderson, on yet another video game adaptation–although doing all those Resident Evil movies together certainly didn't seem to hurt their bank account. Nevertheless, video game movies are notoriously hit and miss (mostly miss), so we'll see if Milla and Paul work their magic again.