News
Chadwick Boseman's Final Film Ma Rainey's Black Bottom Gets Trailer
Viola Davis and Chadwick Boseman in his final performance lead Netflix's Ma Rainey's Black Bottom. The film seems destined to live up to Boseman's high standards for his projects.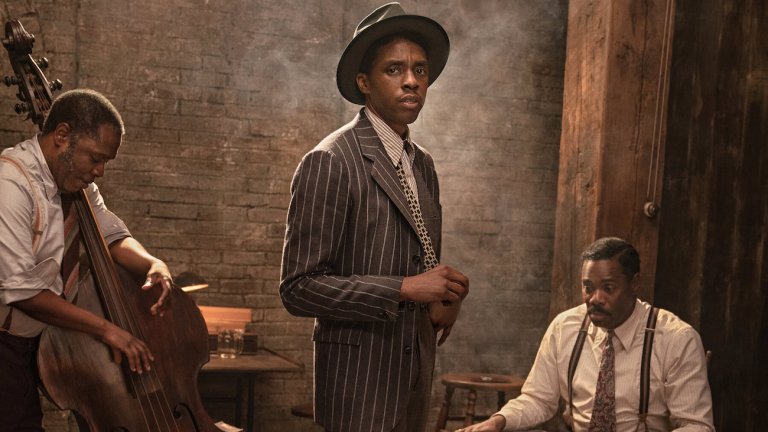 The Blues is one of the earliest and most enduring musical traditions in Black American culture. Rooted in African musical traditions, spirituals, and African American work songs, the blues sprang forth from the American South in the 1860s and by the early 20th century would begin a cultural revolution, paving the way for jazz and modern popular music. Ma Rainey's Black Bottom, a film which stars Viola Davis and Chadwick Boseman in his final performance, seeks to unpack that with fire.
The first trailer lays out the age-old American battle between artist and and capitalist, and Black talent and white entrepreneurial culture vulture. In the case of Ma Rainey's Black Bottom, it's the struggle between real-life "Mother of the Blues" Ma Rainey, played by a bombastic Davis, and her manager. The film likewise follows Boseman in the role of Levee, an ambitious new trumpeter with an eye on Ma's girlfriend and dreams of musical stardom that would change how the industry is perceived.
The film is based on August Wilson's 1982 play Ma Rainey's Black Bottom and has been written for the screen by Rubin Santiago-Hudson, and is directed by George C. Wolfe. It is also notably produced by Denzel Washington, who starred in the phenomenal Wilson adaptation, Fences, in 2016.
The movie has obvious poignancy for moviegoers as it marks Boseman's final performance. The Black Panther star died earlier this year in August, passing after a four-year battle with colon cancer. Even more painful for some fans is that until his death, Boseman had been able to keep his illness a secret from the press, appearing in films like the pop culture phenomenon that was Black Panther, as well as the last two Avengers movies, Spike Lee's Da 5 Bloods, and now Ma Rainey's Black Bottom during that itme.
The movie also keeps in line with Boseman's commitment throughout his brief career to pursue roles that would seem to highlight often marginalized and neglected voices, from historic figures like Jackie Robinson and Thurgood Marshall to fictional ones, such as a Wakanda King. His character in Ma Rainey's Black Bottom likewise appears to be a fictional composite. However, it's in keeping with Boseman's commencement speech to his alma mater of Howard University in 2018 to make good on his purpose.
"Your protests are also promising because many of you will leave Howard and enter systems and institutions that have a history of discrimination and marginalization," Boseman said at the time. He went on to state, "Purpose is an essential element of you. It is the reason you are on the planet at this particular time in history… When I dared to challenge the system that would relegate us to victims and stereotypes with no clear historical background, no hopes or talent, when I questioned that method of betrayal, a different path opened up for me: the path to my destiny."
One more performance from that remarkable, dazzling path will be available to all when Ma Rainey's Black Bottom premieres on Netflix on Dec. 18.