News
The Queen's Gambit is Reportedly Netflix's Most-Watched Limited Series Ever
According to Netflix, the Anya Taylor-Joy-starring chess drama The Queen's Gambit has been watched by over 62 million households.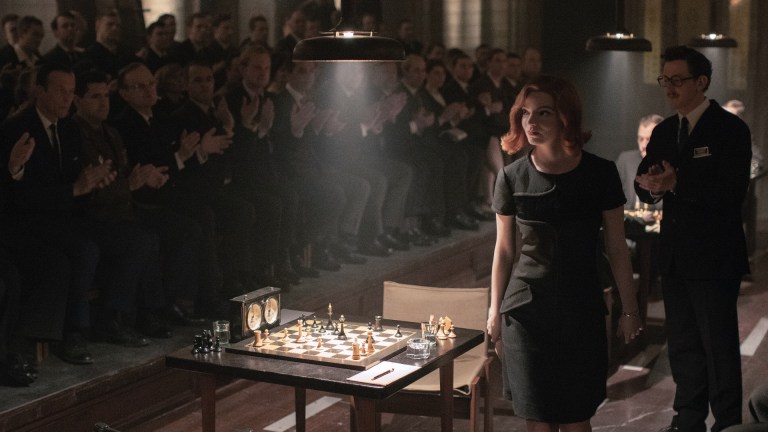 If your teens have been using troubling slang of late like "Pawn to E5," "Castling," and "Ponziani Opening," we now have some evidence as to why. Netflix announced today that The Queen's Gambit, its chess drama starring Anya Taylor-Joy, has become the most-watched Netflix original miniseries ever, with over 62 million households having taken in all the chess action.
Per Netflix, those 62 million households watched The Queen's Gambit in its first 28 days of release. The show made Netflix's curated "Top Ten" list in 92 different countries and topped out at number 1 in 63 countries, including the U.S. and U.K.
The Queen's Gambit is a seven-episode miniseries produced by Scott Frank (Godless) and based on Walter Tevis's 1983 novel of the same name. It follows Beth Harmon (Taylor-Joy), a young Kentucky orphan who is thrust into a larger world of competition and intrigue when she is revealed to be a chess prodigy. All seven episodes of the series premiered on Oct. 23 and have been quickly picking up word-of-mouth steam over the past month.
"Three years ago when Scott Frank first approached us about adapting The Queen's Gambit – Walter Tevis' 1983 book about a young chess prodigy – we felt it was a compelling tale," Peter Friedlander, Netflix VP of Original Series, wrote in a blog post. "Beth is an underdog who faces addiction, loss, and abandonment. Her success – against the odds – speaks to the importance of perseverance, family, and finding, and staying true to, yourself."
62 million household views would put The Queen's Gambit among the most watched Netflix entities ever. Information on this front is sparse and inconsistent but last year Netflix reported Stranger Things season 3 took in 64 million viewers while the Sandra Bullock-starring thriller Bird Box gained 80 million. Numbers have undoubtedly shifted since then, but if Netflix is to be believed, The Queen's Gambit has beat out other compelling limited series like Unbelievable, When They See Us, and even the early-quarantine juggernaut Tiger King.
Now, to be clear, there is no compelling reason to take Netflix at its word when it self-reports big records like this. It would be like taking Tony of Tony's Seaside Clam Shack at his word when he reports to have sold 9 million clams today. Tony, like Netflix, kind of has a vested interest in appearing successful. But The Queen's Gambit's clear, observable impact on online culture and for chess retailers around the world certainly support Netflix's claims.
Walter Tevis's original Queen's Gambit novel is once again at the top of the New York Times bestseller list, 37 years after its release. Additionally, Google searches for chess have doubled and "how to play chess" has reached a nine-year peak, per Netflix. eBay reports that searches for chess sets are up 250% and Chess.com reports that new players have increased five-fold.
Chess is a nearly 20-century old game and all it took to reach a fever pitch of renewed interest was one bright-eyed Kentucky orphan.