Features
New Netflix Christmas Movies in 2020 Ranked from Best to Worst
With the holiday season here, we dig into the new Christmas movie offerings from Netflix, letting you know what's nice (and naughty).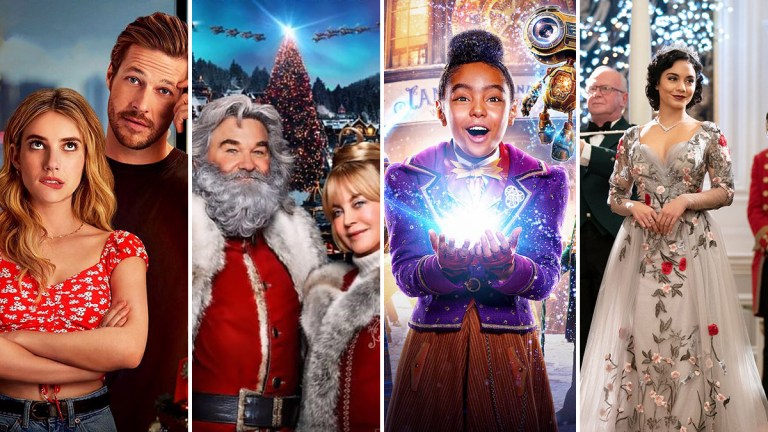 Netflix is doing its level best to eat everyone else's entertainment lunch, and the holiday movie game is no exception. Just a few short years after planting the flag that was the cult megahit A Christmas Prince, the streamer has more offerings than ever, including some sequels to their top-notch 2018 productions. We break down some of this winter's already released heavy hitters so you know what to watch and what to skip.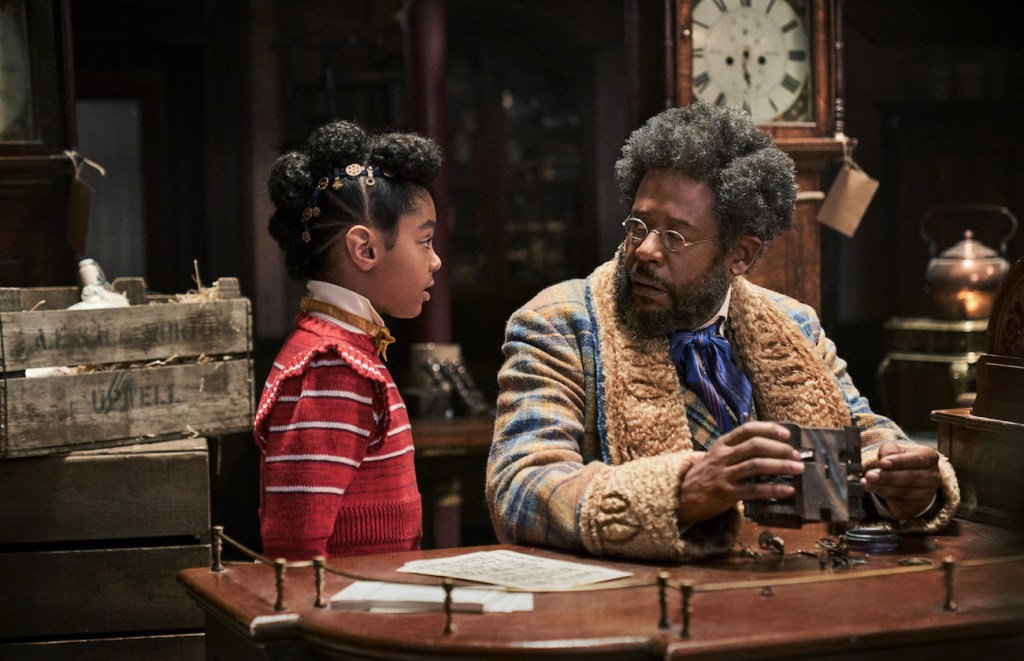 Jingle Jangle: A Christmas Journey
Available Now
This star-studded Christmas musical is the most magical of the bunch. Picture The Wiz meets Willy Wonka, with John Legend as a producer. Forest Whitaker stars as a down-and-out toymaker who has lost his touch and everything else that makes life special: his wife (Sharon Rose) has passed and his daughter (Tony winner Anika Noni Rose, Little Fires Everywhere, The Princess and the Frog) moved away, estranged. Years earlier he created a unique matador toy that comes to life (voiced by a delightfully villainous Ricky Martin, who has a lot of fun with a wandering accent). The naughty toy and the toymaker's apprentice (Kegan-Michael Key) left with the toymaker's book of ideas, putting him out of business and making themselves mega-rich.
Things really get going when the toymaker's granddaughter (bonafide star Madalen Mills, who I can't believe is a newcomer) comes to town and she, along with a neighborhood boy with aspirations of being a great toy inventor, try to save the toymaker from himself. There's singing, dancing, baroque steampunk galore, earnest lessons learned, and magic that's something like science. It's the kind of movie the phrase "family fun adventure" was invented to describe.
Clocking in at more than two hours, this one could tighten up the runtime a bit, but that just means there are plenty of safe opportunities to refill your eggnog or run to the restroom. I dare you to watch this movie and not feel the holiday spirit.
Operation Christmas Drop
Available Now
In order to protect her boss' interests, congressional aide Erica (our girl Kat Graham/Bonnie Bennet from Vampire Diaries!) is sent to a military base in the Pacific over Christmas to find excess spending in order to justify budget cuts. Her biggest target is Operation Christmas Drop, a real-life program where service members from the U.S., Japan, and Australia drop presents (and life-saving supplies) to remote surrounding islands. Hyper-focused Erica knows there's a possible promotion on the line and she has to work harder than a bunch of white dudes named Matt back in DC in order to get it, putting her at odds with the base's own Santa, Capt. Andrew Jantz (Andrew Ludwid, Vikings, The Hunger Games).
Any time one of these movies has a protagonist of color, it's unfortunately notable, though Netflix (with the exception of the Christmas Prince franchise) creates more diverse offerings than just about anyone else. In addition to directly engaging with how much harder the Ericas of the world have to work to get their due, Operation Christmas Drop also highlights the people who live on Guam and the surrounding islands, as the first full-length major studio movie filmed there.
Featuring the old favorite romance trope "enemies to lovers," a tropical Christmas, and some of the real-life people who make the actual Christmas Drop possible, Operation Christmas Drop is an ideal holiday romcom. It's still goofy at times and heart-fluttery at others, and of course everything will work out in the end, but it's better written than most of what's on TV and casting Kat Graham is always a good choice.
The Princess Switch, Switched Again
Available Now
It's not Christmas until you've seen Vanessa Hudgens chloroform herself. The sequel to 2018's The Princess Switch, The Princess Switch, Switched Again, rightly knows that Kevin (Nick Sagar) is a better leading man than the walking melba toast that is Prince Edward (Sam Palladio). When we last saw the sous chef dad with the six-pack abs who likes sappy Christmas movies and wearing the hell out of sweaters, he was making out with Lady Margaret. In the two years since then, they've split up, the king of Montenaro has passed away, and Margaret's cousin who was next in line for the throne has abdicated, which means Lady Margaret will be crowned on Christmas. Naturally.
The Princess Switch franchise has found the sweet spot between "painfully bad" and "so bad it's good." The latest iteration adds what the first lacked – a worthy villain. Vanessa Hudgens gleefully vamps around as a Kardashian-esque cousin of Lady Margaret's who goes after the Montenaran crown. It's fun to watch Hudgens be bad, and it adds a requisite layer of novelty to the proceedings.
There's also a little crossover moment from the Christmas Prince franchise. It's very quick and I don't think anyone even says a word, but it's a fun one for fans. It also probably means that in the world of the NCCU (Netflix Christmas Cinematic Universe), The Christmas Prince movies are documentaries, which is more than I can handle.
It's a rarity, but with The Princes Switch, the sequel is even better than the original. The Princess Switch 2 knows exactly what kind of movie it is – fun, silly, romantic, distracting, a purveyor of both great and terrible fashion, and maybe a little eye roll-inducing. Perfection.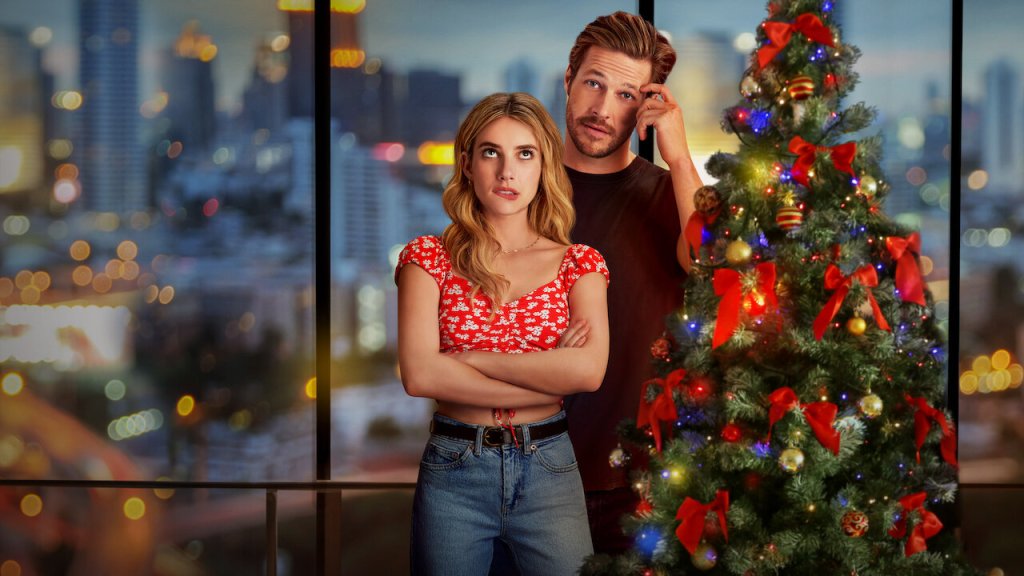 Holidate
Available Now
If you like a little spice with your sugar, Holidate is the right holiday rom-com. Netflix is already the anti-Hallmark in this category, trading judgey and Jesus-y for a sense of humor and soundtracks worth bookmarking on Spotify. And Holidate doubles down on the snark and PG-13-ness of it all.
Emma Roberts and Luke Bracey star as Sloane and Jackson, two singles sick of shrugging off a million questions and setups throughout the holiday season. The cast is rounded out with Frances Fisher (Watchmen, Titanic), Jessica Capshaw from Grey's Anatomy, SNL's Alex Moffat, Jake Manley from The Order, and Manish Dayal of Halt and Catch Fire and The Hundred-Foot Journey, proving he deserves to play a romantic lead.
Taking inspiration from Sloane's perpetually single Aunt Susan (Kristin Chenoweth, who gets away with being so much weirder than anyone else ever could thanks to her many charms), Luke and Sloane go out as platonic dates to a year's worth of holidays, starting with New Year's. That also means that while we see two Christmas', the movie spends a large chunk of time on the other holidays – St. Patrick's Day, the Fourth of July, Halloween, etc – so this one doesn't always feel the most Christmas-y.
This flick may end up being too tart (or just plain awkward) for some, and the repeated use of the word "pussy" during what's ostensibly a Christmas movie is not for everyone. But if all the sappiness of the season is feeling too saccharine and you're sick of being seated at the kids table or getting grilled about when you'll finally get married, Holidate might just hit the spot.
The Christmas Chronicles 2
Available Now
The follow-up to one of Netflix's best family holiday offerings, The Christmas Chronicles 2 brings back Kurt Russell's cool Santa for a sequel that has 100 percent more wormholes and time travel than fun side characters and snappy jokes. There's a much larger role for Goldie Hawn's Mrs. Claus, who is something of a kind-hearted Christmas sorceress. Kate (Darby Camp, Big Little Lies) is now staring down the barrel of teenagerhood and spending Christmas in Cancun while her mom makes heart-eyes at a new guy, who brings with him his 10 year-old son, Jack (Jahzir Bruno).
Big brother Teddy (Judah Lewis) moves into the backdrop as Kate and Jack go on an adventure in the North Pole, squaring off with one of Santa's former elves, Belsnickel (Julian Dennison, Hunt for the Wilderpeople, Deadpool 2).
While it's always nice to revisit a favorite – and Christmas Chronicles is so much about the best aspects of a family movie – the sequel loses a lot of that appeal. Without a clear and compelling story to drive the plot forward like the original had, Christmas Chronicles 2 lags significantly throughout and it's unclear when the adventure starts, what it's goals are, and then the movie even struggles to wrap up as a result.
It doesn't help that this movie is bogged down by some convoluted mythology tying the elves to Christianity via the Star of Bethlehem that low-key paints Santa as a Moses-like figure.
The musical number does bring things back to life for a while. This time it's in a 1990-era Logan airport in Boston with Darlene Love singing a duet with Santa instead of Stevie Van Zandt, though they are singing his song, "The Spirit of Christmas."
This makes for Darlene Love's second appearance in the NCCU; The first was Holiday Rush, where she played Rush's Aunt Jo. I'm ignoring the fact that she's credited as "Denise" in Christmas Chronicles 2 and choosing to believe that Aunt Jo worked a desk for Pan Am, TSA or whoever in the '90s to pay the bills while waiting for her true calling as a singer to take off.
Dolly Parton's Christmas on the Square
Available Now
In between funding a possible cure for the coronavirus and trying to solve illiteracy, Dolly Parton found time to star in and write 14 original songs for a Christmas special. The great Debbie Allen of Fame fame (more recently, Dr. Catherine Avery on Grey's Anatomy) directs this all-singing, all-dancing Christmas musical, bringing her multi-talented prowess to bear. That means this thing follows the musical tropes more closely than those of a typical Christmas TV movie, even though it also falls into the Hallmark penchant for religiosity that feels a bit off.
The best parts of Christmas on the Square are all the toe-tapping small-town songs about the townsfolk banding together to stop local Scrooge named Regina (played with adroit dry wit by Christine Baranski) from selling off their town. There's a pastor named Christian (obviously) and a cute kid who gets hurt but only in a way that's dramatic and leaves her still very cute and able to join in the final town celebration. That's the kind of silly holiday fun we all signed up for.
Regina's best friend Margeline (Jenifer Lewis, The Princess and The Frog, Black-ish) is a scene-stealer and the back half of the movie is lesser for her relative absence. The numbers get a little less zippy and the movie feels a lot longer than roughly an hour and a half. Somewhere along the way, we get the sort of slutshame-y backstory of Baranski's character, whose first-ever high school dance resulted in a pregnancy which she (obviously) carried to term. Her father took her baby away from her while she was crying in the delivery room, giving it up for adoption. Pretty intense for the genre!
It's not like the movie becomes a portrait of gritty realism from there–Dolly Parton is definitely a floating, glowing, rhinestone-encrusted angel, although that's closer to what folks come for. An underutilized Jeanine Mason (Roswell, NM) and Matthew Johnson (Songland) – whose voice is arresting – add to the fun, but there's no two ways around it: It's an odd little movie.