Features
Soul: How Nine Inch Nails Scored the New Pixar Movie
Trent Reznor and Atticus Ross of Nine Inch Nails composed their first family film score for Soul.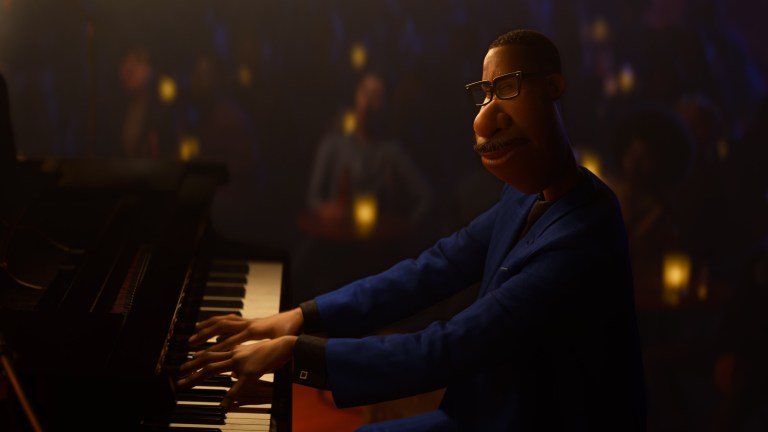 For many music fans, the name Trent Reznor has long been synonymous with Nine Inch Nails. It is, after all, the groundbreaking industrial rock act that Reznor founded in 1988 and was the sole stationary member of until Atticus Ross was added as a permanent member in 2016. For others still, Reznor and Ross are the Oscar and Emmy-winning composers of scores for acclaimed films and TV shows like The Social Network, Gone Girl, and Watchmen. And yet, even with this eclectic legacy, it's likely few except the minds at Pixar ever thought of either NIN member as the sound for a Disney movie.
Until now. The duo, who were just inducted into the Rock and Roll Hall of Fame last month, have composed the electronic portion of the music for the new Pixar film, Soul, which also features jazz compositions, performances, and arrangements by Jon Batiste.
Asked if the idea of Nine Inch Nails scoring a Pixar film was met with a raised eyebrow or two, director (and Pixar chief creative officer) Pete Docter tells us, "That's what was attractive about it, because I think we all have a little bit of 'let's pull the rug out from underneath all of this.' For sure, we knew it was going to make some people go, 'What?' and scratch their head. I love [the score]. I think it's really going to speak to a lot of people. It sounds simultaneously appropriate for a Disney film, a Pixar film, but also still Trent and Atticus."
Soul stars Jamie Foxx as the voice of Joe Gardner, a high school music teacher and aspiring jazz pianist who meets a potentially fatal accident on the evening of a gig that could jumpstart his career. Finding himself–or his soul–in The Great Before (after accidentally wresting himself off the escalator to The Great Beyond), Joe teams up with a soul named 22 (Tina Fey), who has no interest in joining the living on Earth, to try and find a way to get back to his body.
Music, as one might expect in a movie about a jazz musician, is vitally important to the story, themes, and emotional content of Soul, both as the passion of Joe's life and the backdrop of his metaphysical journey into the realm beyond life as we know it.
Jon Batiste–musical director of The Late Show with Stephen Colbert and creative director of Harlem's National Jazz Museum–seems like a natural choice to incorporate the jazz element into the film, saying in a recent press conference, "This film has a lot of light in it, a lot of light and life force energy, and that was really the beginning of me figuring out my way into the music, and finding the spiritual tone."
But just as the lines blur in the film between the world of the living and the world of the yet to live, the musical contributions of Batiste, Reznor, and Ross weren't neatly segmented either.
"Trent and Atticus did the score, and some of their score is actually in the human world as well," says Docter. "It's just that Jon Batiste did all the jazz arrangements. When you hear a jazz performance, that's Jon Batiste, but the score is Trent and Atticus. There's one jazz piece that they did because of COVID. We were kind of not able to do in person recording sessions with Jon anymore."
"That's Batiste playing the music," adds Kemp Powers, who co-wrote the script with Docter. "That's actually an original composition by Trent and Atticus, but Batiste plays."
As for how Reznor and Ross felt about being asked to score a film for the Mouse House, Docter says, "They were really intrigued. I think they were in. They have kids now. It could be that 15 years ago, they would have been like, 'What are you talking about?' But they're artists. They're also really looking to stretch and expand what they're doing."
"Trent related so much to Joe," adds producer Dana Murray. "He was deeply invested in the story himself and he would call us and give great notes. So yeah, they were so great."
Batiste says that he is pleased with the way the music he performed for the movie and the score that Reznor and Ross composed complement each other. "I really am thankful that we had the chance to do that, because at first we didn't even hear each other's music," he recalls. "And then as the process started to go along, I got a chance to hear some of the music they were making, they heard some of the music that I was making, and we came together in this one moment and it really changed the rest of the music that I was composing for the film, because I got a chance to see into their process."
Docter agrees that the collaboration of the three artists was a once-in-a-lifetime stroke of great creative luck. "It's hilarious to get Trent and Atticus, and Jon Batiste together because they're so polar opposites as people," he notes. "It's a real joy. They're all so incredibly talented and come at things from such a different way that it ended up being a great marriage, I think, in the film."
The director adds that Reznor and Ross' style of working was also different than that of some of Pixar's best-known and most popular composers. "With Randy Newman or Michael Giacchino, we usually lock the picture and then they start scoring," he explains. "In this case, Trent and Atticus started developing themes as we were cutting the sequences, and so they just threw a barrage of different music at us, and we'd be like, 'Oh, wait. This one. That would work great here.'"
The seemingly spontaneous way in which the musicians worked lends itself to the idea of jazz as a metaphor for life, with its unpredictability and improvisation–one of the main themes (no pun intended) in Soul.
"Much like life, in jazz most of the time you're handed a tune, here you go, now what are you going to do with it?" says Docter. "You could take it any number of ways, and it's also such a group activity. You're playing and you're listening to other musicians and sparking off them, and what magic that brings to it is so familiar to life, as well."
"I think we picked about as entertaining a metaphor as humanly possible. Music is just something that connects people," adds Kemp Powers. "It was really encouraging when we did our first kid's screening to watch kids lean into the musical performances, even though it was a genre that a lot of the children had never heard of or knew anything about before. They became immediate fans. I think seeing a passion for music is something that kids really are able to connect with, so it's a really great device for delivering a metaphor with that."
Soul will premiere on Disney+ on December 25.