Features
New Christmas Movies to Stream: A Holiday 2020 Streaming Guide
We round up all the new seasonal Christmas movies on Netflix, Hulu, and more.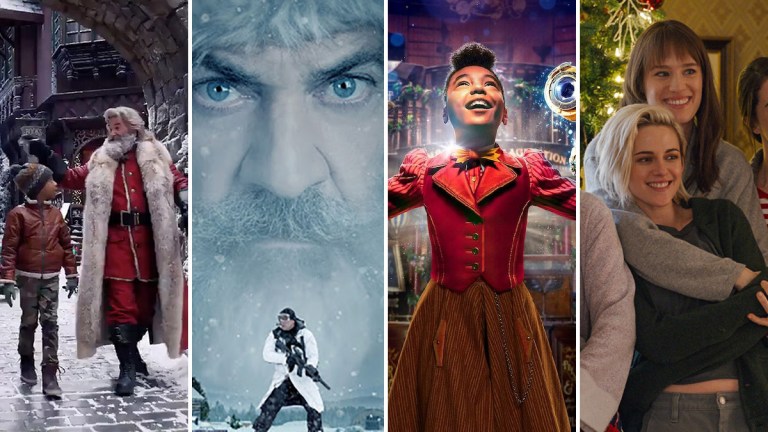 It's the holiday season again. Thank goodness. After what has been a particularly difficult year, a little seasonal cheer has never felt more comforting or needed, even if the smiles need to be hidden behind Christmas themed masks.
There's never been a better time to curl up with a good Christmas movie on the streaming service of your choice. Of course that includes all of your favorite Christmas classics, which we've rounded up a schedule guide for here, but it also means a chance to try something new. Netflix has already gotten a hardy start to the holiday season, and yet more streaming carolers are headed for your door. So without further ado here is a guide to the new streaming presents waiting to be unwrapped.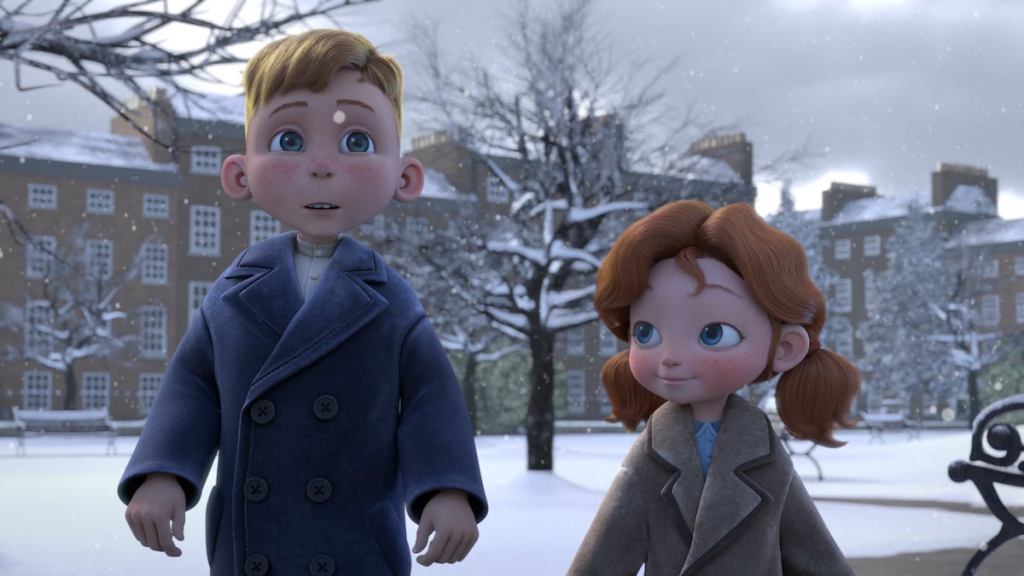 Angela's Christmas Wish
Available on Netflix on December 1
Certainly a Christmas movie meant for younger families, Netflix's upcoming animated film, Angela's Christmas Wish, promises gentle Yuletide cheer for all-ages. With computer-generated imagery, this film is a sequel to Angela's Christmas. Like the earlier film, it's set in the town of Limerick, Ireland at the turn of the 20th century. There Angela is desperate to be reunited with her father for Christmas. Unfortunately, Da's in Australia. So her first notion is to travel Down Under for the holidays. When that doesn't work, her next choice is to wish very hard…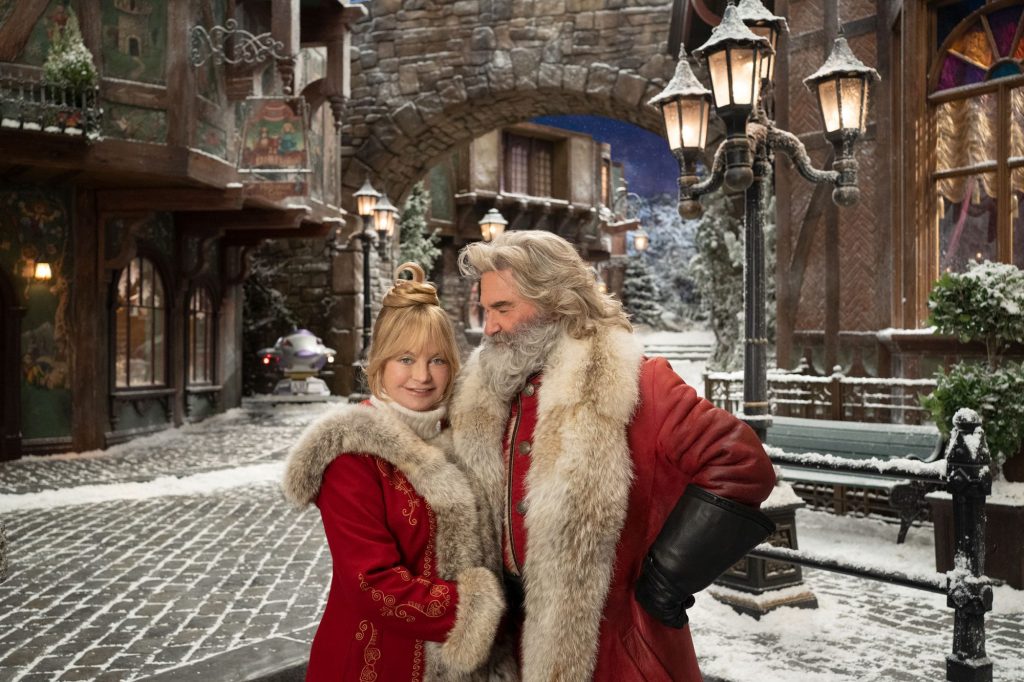 The Christmas Chronicles 2
Available now on Netflix
Santa Claus never looked as cool as when Kurt Russell slipped into the red furs with The Christmas Chronicles, a mini-holiday event on Netflix. And with the much anticipated sequel, the man who once was Snake Plissken is bringing real holiday firepower back to the Christmas hearth.
For starters Goldie Hawn reprises the role of Mrs. Claus in The Christmas Chronicles 2, but this time as more than a cameo. In fact, the whole film is set in the North Pole with Santa's workshop never looking so grandiose in its Dickensian cheer—at least until Hunt for the Wilderpeople's Julian Dennison tries to steal its Christmas magic! A sincere Yuletide epic, this is the first Christmas movie Chris Columbus has made since helming the original two Harry Potter movies. Before that? He directed the all-time classic Home Alone and wrote Gremlins. Will he finally give Santa's workshop the Hogwarts treatment?
Dear Santa
Available on VOD on December 4
After helming the sweet and heartfelt documentary, Batkid Begins: The Wish Heard Around the World, filmmaker Dana Nachman returns with this all-ages doc for the holidays. Dear Santa shines a bright light on one of the noblest duties of the U.S. Postal Service, which USPS has been executing for more than a century. With "Operation Santa," the letters and Christmas wishes of thousands of children from around the country are gathered and sorted—and a lucky number are then answered by Santa's helpers at the Post Office.
From Small Town, USA to Operation Santa's ambitious outreach in New York City, Dear Santa might offer some much needed unity and happy tidings this holiday season.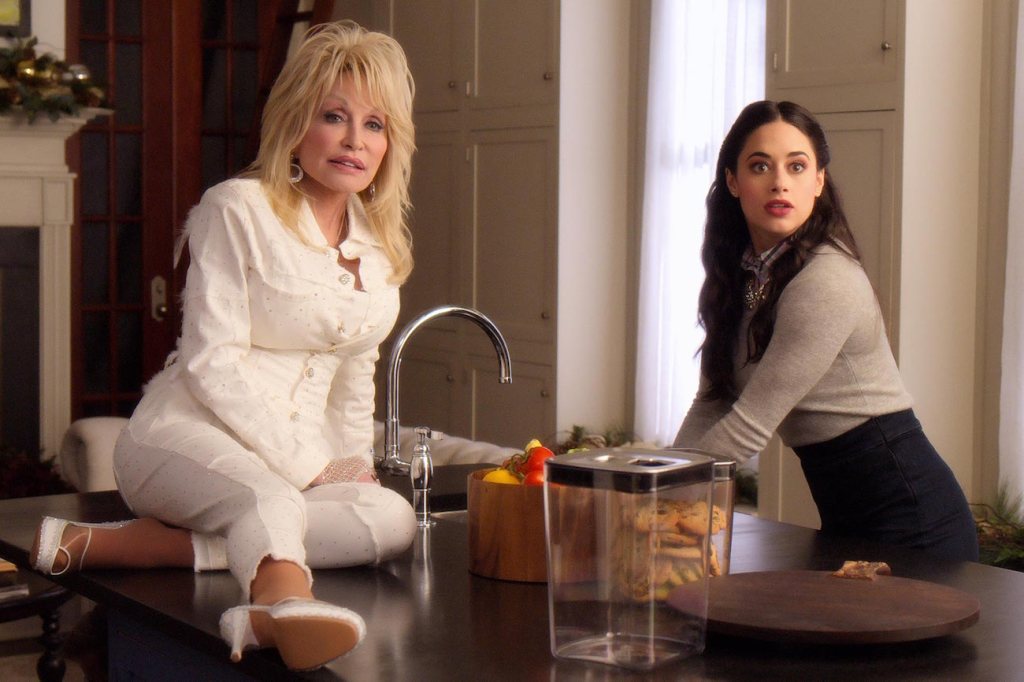 Dolly Parton's Christmas on the Square
Available now on Netflix
Dolly Parton is amazing, isn't she? Just this year, she may save us all as one of the key sponsors of a COVID-19 vaccine that is showing significant promise. And in addition to sponsoring coronavirus research and being an absolute delight, this national treasure still found time to star in and write the songs for Christmas on the Square, another all-original Netflix Christmas movie musical.
The film is a bit of a Christmas Carol parable with Christina Baranski being a real Scrooge: She plays a woman who is going to sell her entire small town and evict all her neighbors on Christmas Eve. But with a little musical cheer and divine help from an angel—played by Dolly Parton, of course—she's going to learn it's a very Dolly Holiday, after all!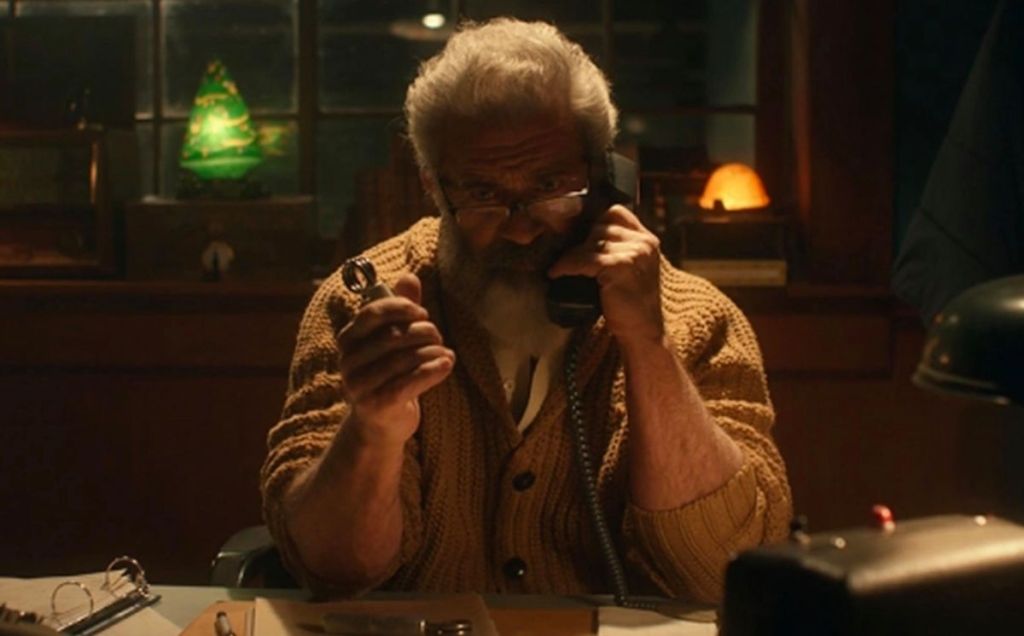 Fatman
Available now on VOD
Even Santa Claus has his limits. And they begin with threats on his life. That's the amusing premise of Eshom and Ian Nelms' dark comedic take on the Santa Claus legend. Essentially trying to ground Santa in the same type of earthy nihilism that James Mangold brought to Logan, or Clint Eastwood infused into his own onscreen legend via Unforgiven, Fatman stars Mel Gibson as Chris Kringle, a man at the end of his rope.
He's over the hill and exhausted about the loss of Christmas Spirit in today's youth. Worst of all, some snot-nosed kid he gave a piece of coal to has hired a hitman (Walton Goggins) to take him out. Essentially a Western in the North Pole, and a violent one at that, Fatman is amusing because of how straight it plays its nonsense. Definitely not for everyone, we're sure this film will find its niche by the time of Chris' big night.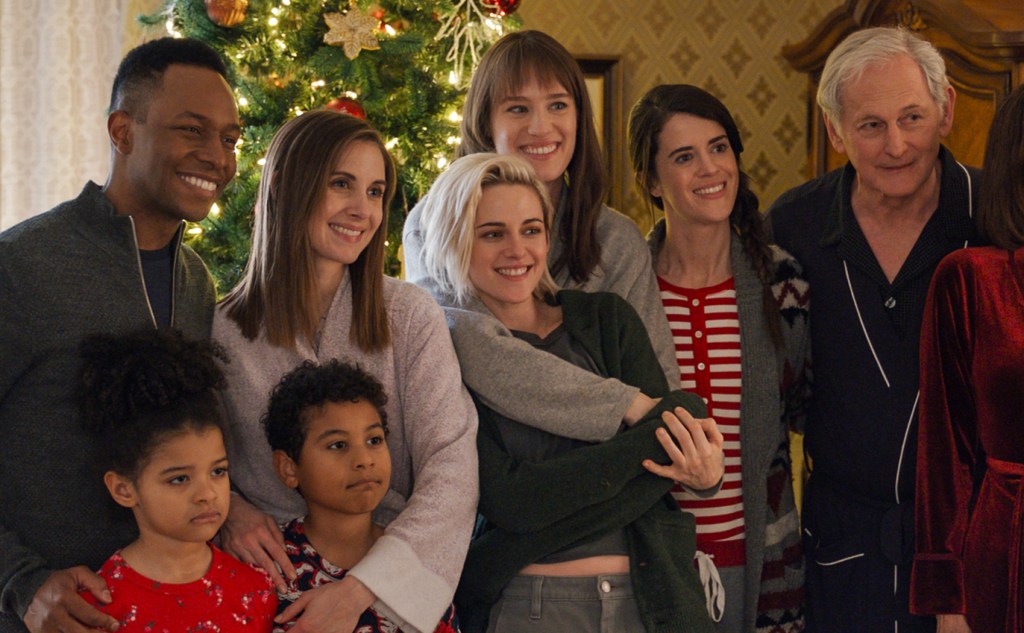 Happiest Season
Available now on Hulu
A true crowd-pleaser, Clea Duvall's Happiest Season is the type of holiday movie most filmmakers hope they're lucky enough to make. As a story about family, love, and tinsel, this is an old-fashioned Christmas romantic comedy with a modern twist: It's the love story of Abby (Kristen Stewart) and Harper (Mackenzie Davis).
In the film, Abby is going home for the holidays with Harper for the first time to meet her family, which includes a stiff WASPy patriarch running for mayor, Ted (Victor Garber). He and Mom (Mary Steenburgen) are happy to meet their daughter's roommate… but they know her only as a roommate. Harper passed for straight her whole childhood and still won't come out of the closet now with her father's political career potentially on the line. Festive holiday cheer and familial anxiety abound in equal measure.
Our own Natalie Zutter said of the movie: "That tension will be familiar to all who have weathered past holiday seasons, while the comfort of a happy ending is a much-needed panacea. You'll want to spend every future Christmas with Abby, Harper, and DuVall."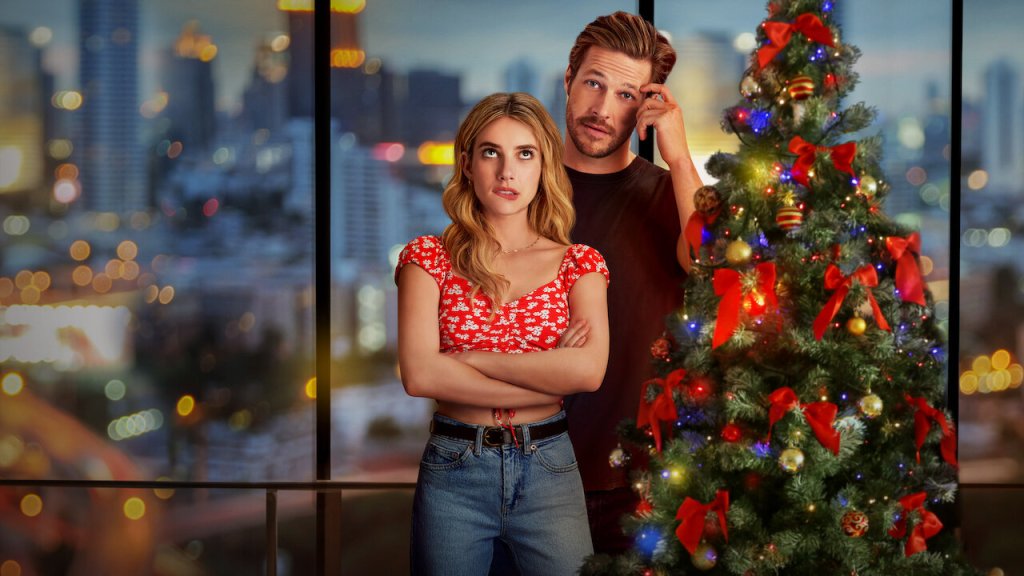 Holidate
Available now on Netflix
Like all romantic comedy subgenres, the Christmas rom-com has been underserved in the last decade. Once a reliable staple of any multiplex diet, it could produce fleeting entertainments like The Holiday or genuine all-time classics like Love Actually.
Holidate will not be mistaken for a classic by anyone. It's a film that gets by a lot on the general charms of stars Emma Roberts and Luke Bracey, as well as the ability to indulge an R-rated vocabulary in its humor. Otherwise, it's a pretty standard rom-com setup with both Sloane (Roberts) and Jackson (Bracey) being ridiculously beautiful people who just can't find a date for Christmas. So they decide to pretend to be a couple to appease each's family by going on "holidates." Guess what happens next?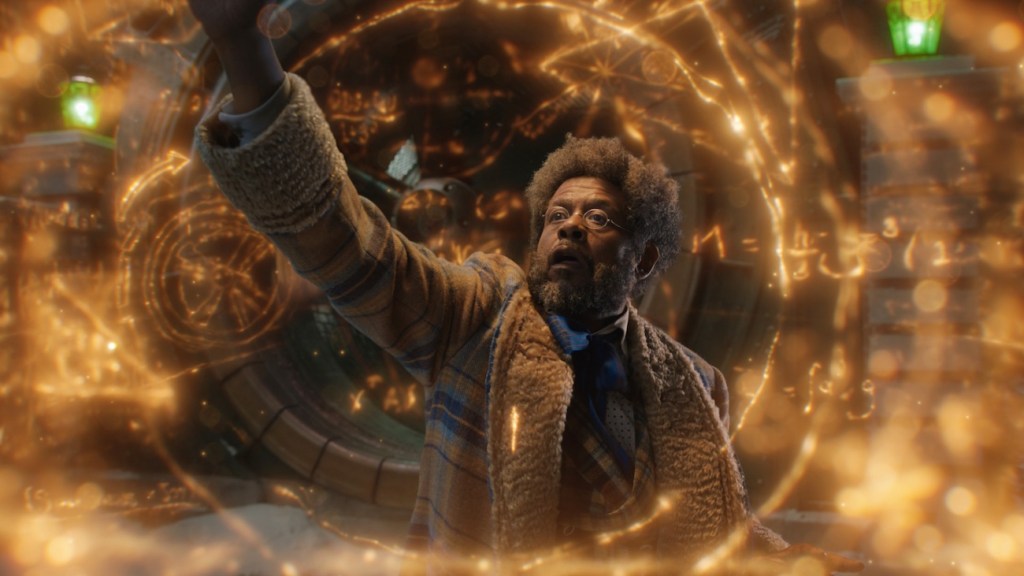 Jingle Jangle: A Christmas Journey
Available now on Netflix
John Legend and Philip Lawrence wrote the songs to this all-original Christmas musical. Let's repeat that. John Legend, the Grammy winning singer and songwriter behind "All of Me" and "Glory," and Philip Lawrence, another Grammy winning songwriter partially behind hits like "Grenade" and "Marry You," wrote the songs for a Christmas musical.
To top it all off, the film stars Forest Whitaker as Jeronicus Jangle, a toymaker who has just finished his masterpiece: a sentient doll that will change Christmas forever. There's also a dastardly Keegan-Michael Key as a rival toymaker who wishes to steal the toy, but the point is it's a Christmas musical with ear worms for days. What are you waiting for?
Operation Christmas Drop
Available now on Netflix
Operation Christmas Drop is a real procedure that is one of the most remarkable (and remarkably overlooked) performed by the U.S. Air Force. With cooperation with local authorities in Guam, the American military drops medicine, food, and toys over multiple islands across Micronesia, bringing Christmas to tens of thousands of people each year. And this event is finally getting recognized as the setting for a lovely Christmas comedy that it is.
In Operation Christmas Drop, the Netflix movie, Kat Graham plays Erica, a congressional aide who has come to the islands looking for a promotion, and perhaps unwisely toward a future as a Grinch. She's here to determine if Operation Christmas Drop is money Congress no longer needs to allocate. But with the help of a dreamy smile from an Air Force captain, and a little Yuletide adventure, she might just discover Christmas miracles really do come from the sky.
The Princess Switched, Switched Again
Available now on Netflix
Remember The Princess Switch from two years ago? It's the one where Vanessa Hudgens plays both a small town American girl and a European royal who, as luck would have it, are complete doppelgangers. And they switch places just in time for the holidays! Either you recall it or you don't, and if you do we've got good news: They made a sequel!!!
In the follow-up, the princess and small town gal switch places again during the holiday season. But wait, there's more! Lady Margaret (Hudgens) also has an evil cousin named Fiona who looks pretty familiar (she's also played by Hudgens)… and who switches places again with the princess who is not in fact a princess. Surely Santa won't be the only one confused by all these hijinks come Christmas Eve.
Soul
Available on Disney+ on December 25
While technically not a movie about Christmas, we can't imagine a more festive film for the actual 25th than Pixar's long-awaited Soul. A new film co-directed by Pete Docter (Inside Out, Up), Soul is Pixar's most ambitious film since Coco and a real emotional stunner.
In the movie, Jamie Foxx voices a guy named Joe, a jazz musician who finally gets his big break… and then falls down a manhole. Seemingly sent to the other side, Joe's not ready to go toward the light and instead ends up taking another soul under his wing… literally since 22 (Tina Fey) is a soul who's never lived, nor has any desire to do so until Joe teaches her the magic of jazz, pizza, and, well, living. It's sweet, surprising, and more than its marketing suggests…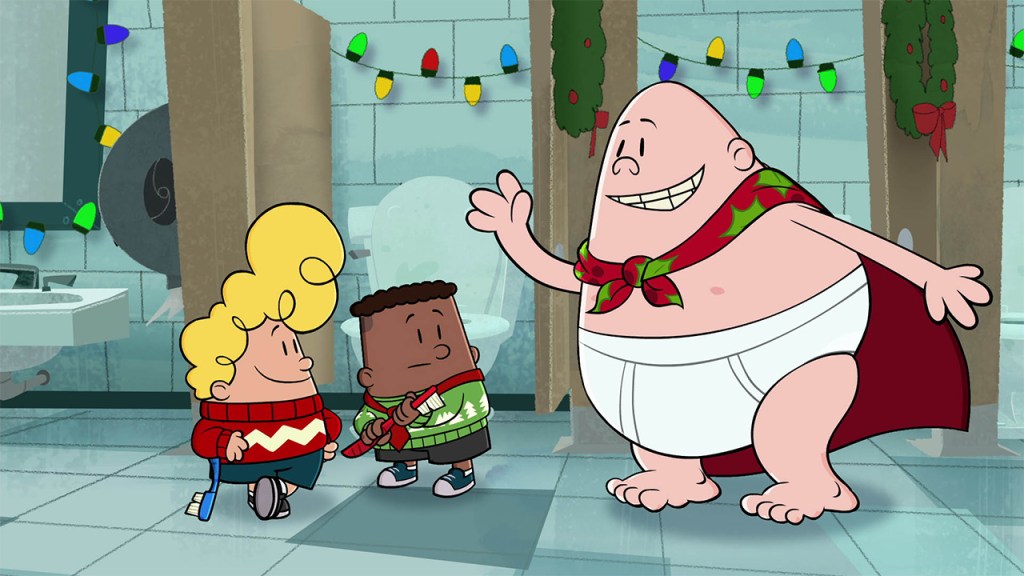 Captain Underpants: Mega Blissmas
Available on Netflix on December 4
Technically more of a "Christmas special" than a Christmas movie, Captain Underpants: Mega Blissmas appears just too blissful to ignore. Based on the mega popular Captain Underpants children's books by Dav Pilkey, this Netflix special follows George and Harold's misguided attempts to make Christmas "Blissmas," a period of supreme satisfaction for everyone… but perhaps with too much selfishness. Can Captain Underpants save the day? Do you have to ask?
Also coming to streaming:
Mighty Express: A Mighty Christmas (Netflix, Dec. 4)
Super Monsters: Santa's Super Monster Helpers (Netflix, Dec. 8)A Trash Truck Christmas (Netflix, Dec. 11)