News
Mank Trailer Shows David Fincher Going Old Hollywood with Gary Oldman
The first teaser trailer for David Fincher and Netflix's Mank promises a Citizen Kane styled biopic for the man who wrote the 1941 classic.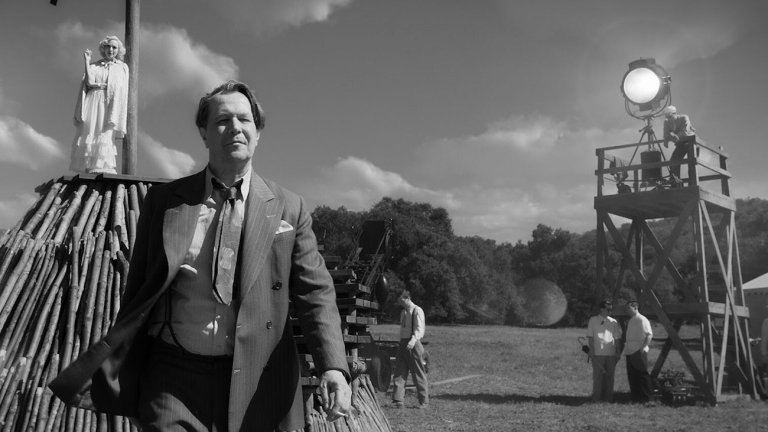 When it comes to Old Hollywood screenwriters, there are few names that loom larger than Mankiewicz. That is probably because between two very different Mankiewicz brothers, some of the greatest screenplays of all-time were penned. In the case of Herman J. Mankiewicz that included The Wizard of Oz (1939), San Francisco (1936), The Pride of the Yankees (1942), and a little movie called Citizen Kane (1941). And it's in the latter's style filmmaker David Fincher is visiting Mank's life.
In Fincher's first film at Netflix, the modern filmmaker is teaming with Gary Oldman, still fresh off his Oscar win for playing Winston Churchill, to offer a highly stylized and intriguing interpretation of the life and times of Herman "Mank" Mankiewicz at time when the silver screen was still black and white, and life in a smoke-filled Tinseltown took on an ambiguous gray.
With a teaser trailer absolutely dripping with atmosphere, we're teased that Gary Oldman's version of Mank will be a figure haunted by ghosts and demons, the latter in a bottle, as he writes a screenplay that satirized one of the most powerful newspaper publishers of the early 20th century, William Randolph Hearst, which won him an Oscar alongside Orson Welles for Citizen Kane.
The real Mankiewicz began his career as a newspaper reporter in the 1920s, quickly earning the reputation of being a young member of New York City's literary elite. A member of the fabled Algonquin Round Table, Mank drank and debated alongside other luminaries like Dorothy Parker, Harpo Marx, and George S. Kaufman before taking a lucrative deal to head west and begin writing screenplays in Hollywood. The most famous of such scripts is obviously Citizen Kane.
Fincher, working from a script by his father Jack Fincher, clearly intends to homage and emulate that classic with its gaze zeroed on biased, unreliable perspectives, deep focus photography, and an emphasis on what appears to be cross-fades that elicit a dreamlike energy. Also, judging by the trailer alone, there may be some seedier noir movie influences from other Hollywood movies of the 1940s that may not have been written by Mank, but informed the viewpoint of his era.
The real Mank lived until 1953 and was also paterfamilias to a legendary family of Hollywood scribes, including his brother Joseph L. Mankiewicz, who wrote one of the greatest screenplays of all time in All About Eve (1950). Joseph's son Tom Mankiewicz also has genre geek distinction for writing several Bond films, including Live and Let Die (1973), and the final, real screenplay for Superman: The Movie (1978), which shaped the superhero movie genre ever after.
Mank returns to the eldest of the Mankiewicz writers and features an intriguing cast beyond the always fascinating Oldman. Indeed, Tom Burke is playing Orson Welles, Tuppence Middleton is Sara Mankiewicz, Lily Collins is Rita Alexander, Tom Pelphrey is Joseph Mankiewicz, Amanda Seyfried is Marion Davies, and Charles Dance is William Randolph Hearst. The film also is to feature another nifty score by Trent Reznor and Atticus Ross.
Mank will open in select theaters in November and be released globally on Dec. 4, 2020.