News
Diana and Steve's Relationship in Wonder Woman 1984 is "More Intimate"
Den of Geek visited the Wonder Woman 1984 set, and had the chance to talk to Gal Gadot and Chris Pine about the Diana/Steve romance.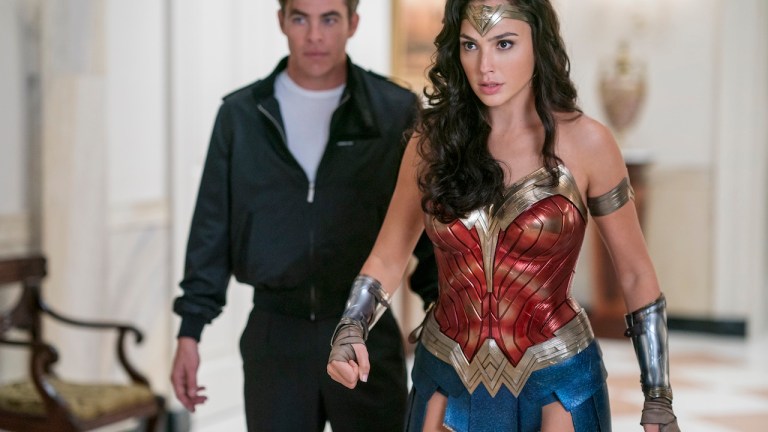 When news broke that Chris Pine would be returning at Steve Trevor for Wonder Woman 1984, fans were understandably surprised. After all, Steve died in the final act of 2017's Wonder Woman, sacrificing himself to stop an attack on London—but not before telling Diana he loves her, giving her his watch and letting her know he wishes they had more time together.
Well, it turns out they do! In the trailer for Wonder Woman 1984, we see Steve and Diana reuniting, with Steve placing that same watch into a shocked Diana's hand. It's unclear, at this point, how Steve is back on this mortal coil (though my money is on Maxwell Lord having something to do with it), but I'm not one to look a gift Chris Pine in the mouth—he is, after all, one of modern cinema's Best Movie Boyfriends.
Honestly, I'm not that bothered with how it happens (superhero shenanigans!), I've already moved onto follow-up questions: Like, what does the the dynamic look like between two former lovers who have been separated (by death) for almost 60 years? Is it awkward? Is it joyous? Is it complicated?
Den of Geek was part of a group of reporters who visited the Wonder Woman 1984 set in London back in 2018. Here's what we learned about the ongoing romance between Diana Prince and Steve Trevor…
"I think Steve and Diana have a really special dynamic that wasn't fully—how should I put it?—wasn't fully explored in the previous movie," says Gal Gadot (Diana), "because we just met and we just built a relationship. And now we have an opportunity to kind of continue from where we stopped last, and now we're doing it after, at least my character, [having] carried the big loss of him [for] all those years. So having someone that you love so much after so many years, and be[ing] with him again is just, like, great."
Pine echoed Gadot's characterization of the Diana/Steve dynamic in Wonder Woman 1984, saying: "Yeah, the first one was about falling in love, when you have that wonderful 'will they, won't they,' and so much about their personalities don't fit, but they do, goddamnit, and we want them to, that kind of thing. The consummation has already happened, so now it's an exploration of that missing and that longing and knowing what it is, so there's the strength of that bond."
Gadot teases that "it's even more intimate this time," saying: "And also doing it from an adult place, rather than, you know, being a young woman who falls in love. She's much, much more mature. You could say she's very old. It's a different relationship."
Having Steve back is obviously a major change for Diana, who has started to isolate herself in the years since we saw her in Wonder Woman, which was set in 1918.
"She doesn't really want to make close connections with anyone, because she knows, either she's going to hurt them because she'll have to disappear one day, or she will lose them because they'll grow old," says Gadot of Diana when we catch back up with her. "So I think, after the loss of Steve and the entire team later on, I think Diana is in a place where she's happy where she is. She's fairly lonely, but she made the decision to do that. And she does go to the world whenever it's needed. But she's not complete, you know what I mean? … She has issues."
The return of Steve will no doubt force Diana to address some of the more emotion-driven issues in her life, all amidst the much more plot-driven issues that are sure to arise with both Cheetah and Maxwell Lord causing problems. Will Diana and Steve have the time and space to explore their feelings amidst all the superhero chaos? Let's hope so.