Features
Doctor Who: Top 10 fan animations
Doctor Who attracts the creative attentions of some pretty talented geeks, as these videos attest...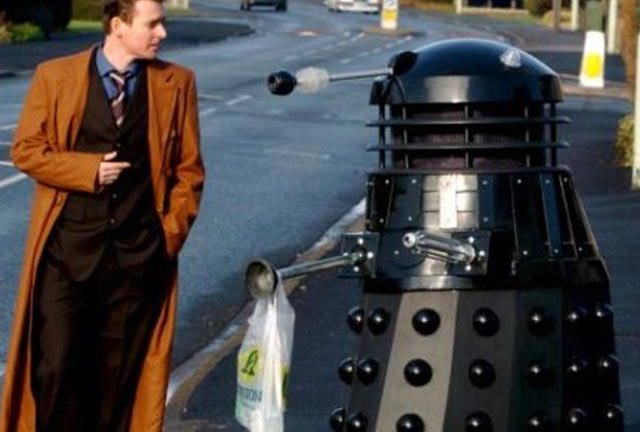 If there's one thing you can say about Doctor Who fans, it's that they are productive. No other show can boast a bigger catalogue of unWhofficial creations courtesy of its audience. From zero-budget audio and visual adventures more authentic to the original series in the way the scenery wobbles than anything else, to professional-standard animations that wouldn't look out of place on the small screen, fans have consistently made their own contributions to the Whoniverse. With more fan-generated content on the web than you could comfortably fit into a Matrix Data-Bank, I've decided to break things down into themes, starting things off with a top 10 fan animations.
Dial D for Dalek and The Hues of Doom
Back in the early 1990s there was talk of producing an animated series of Doctor Who to keep the series alive, but the idea was nothing new, as the two clips below prove. Both made in 1984 by Barbara O'Quinn and Christopher Cook, 'Dial D for Dalek' and 'The Hues of Doom' are charming examples of traditional animation. Both have a comic strip mentality to them (complete with speech bubbles and captions to compensate for the lack of speech), and the emphasis is very much on fun, though the frankly bizarre 'Hues…' does have a rather sinister ending involving '80s Who producer John Nathan Turner. The soundtracks are seemingly sourced from incidental music from the series proper and add to the enjoyment of these curios.
Fan Con
Made by Lee Adams in Glamorgan, 2005 (if the credits are to be believed), 'Fan Con' is a satirical clay animation targeting the more obsessive fans that Doctor Who seems to attract. Overall, it's a bit confused but the TARDIS-as-toiler gag is great, the Who nerd is wonderfully gross, and the Tom Baker impersonation isn't half bad either.
Davros
Stop motion animation at its most basic, but still highly effective in getting a narrative across. Using official Who action figures, the creator has visualised an old short story by Paul Cornell (writer of new-Who's superlative season one episode 'Father's Day') published in Doctor Who Magazine. Davros is at his most sinister and his voice is spot on, thanks to Audacity software and a ring modulator plug-in. This is a fine example of how fan-made productions can complement and enrich the series' mythology.
Thomas/Doctor Who Parody
From the sublime to hilariously ridiculous with this inspired Who/Thomas the Tank Engine mash-up. Using audio from ancient PC game Destiny of the Doctors (featuring the voice of Anthony Ainley in his final performance as the Master) coupled with footage from the '80s animated Thomas the Tank Engine TV series, the genius behind this twisted remix tells the story of how the evil Diesel-cum-Master has captured the first seven incarnations of his arch-enemy. It's worth viewing just to see which trains represent which versions of the Doctor and at just short of three minutes in length, it's a joke that's never in danger of running out of steam.
Planet Of The Dead: Scottish Falsetto Sock Puppet Theatre
They've tackled Demons and Primeval, Life On Mars and even King Lear, but darn it if those crazy Scottish Falsetto Sock Puppets haven't out-done themselves with their interpretation of Who's Easter special, 'Planet of the Dead'. OK, this is live action, but it does involve animating puppets (see what I did there) so it counts. Deliberately filmed on a £0 budget and full of post-modern irony and deconstruction, this is seriously funny but worryingly might just be better than the episode it's mocking.
Doctor Who Animated: The Massacre – WhoSprites
In 2006 2|entertain created waves of excitement in the Who community when it released the DVD of '60s Patrick Troughton Cybermen story 'The Invasion', featuring specially-commissioned animated versions of missing episodes one and four. Unfortunately, that is the only time famed animation studio Cosgrove Hall has been involved with recreating missing footage from the show, but it has had the upside of inspiring others to attempt something similar. One of the most impressive has to be artist Garrett Gilchrist's sadly defunct WhoSprites project. Using high-quality digital artwork created by Garrett, animators could come together to recreate classic stories such as 'The Tenth Planet' and 'Evil of the Daleks'. The featured clip is of a scene from William Hartnell story 'The Massacre', animated by Garrett himself with the sprites inserted into a faithful 3-D representation of the TARDIS. Even if it is in colour when the original was black and white it still gives a real feel for the story, and is the next best thing to having the episode back in the BBC archives.
Power of the Daleks Scene Recon I and II
Like the WhoSprites project, this is an attempt to reconstruct scenes from a missing Who adventure, Patrick Troughton's 'Power of the Daleks'. Rather than start fresh, the animator has used telesnaps (professional off-screen photos taken when the episode aired) to give an authentic feel to the scene, mapping the pictures on to 3-D objects, adding motion and inserting a CGI Dalek.
Doctor Who: The Anime series trailer
Intriguing to say the least, makers Westlake Films are promising a 'train wreck' collision of Doctor Who and Japanese anime in a short spoof featuring uber-cool Cybermen. Sadly, the trailer doesn't feature the silver giants (you can see drawings at http://www.westlakefilms.co.uk/drwhotrailer.html) but my appetite for more Who anime has been well and truly whetted.
Absolute Power
A test sequence from a 'CGI fan movie' currently being made by Jon Brunton. The Dalek voices seem a bit camp, but that aside it's impressive stuff, reminiscent in some ways to CGI-pioneering cartoon ReBoot back in the '90s. Like the Anime series, I hope we get to see more of 'Absolute Power' soon.
Doctor Who
Last, but not least, there's this child-like computer-animated cartoon with sound effects reminiscent of something off an old Atari game. Yeah, its basic and dumb, but it just goes to show that you don't have to be Leonardo da Vinci to generate some Who-inspired merriment for others to enjoy.