Features
The Teleprompter Interview: Katy Wix 'My First Screen Crush was King Kong'
Comedian and writer Katy Wix, star of Ghosts, Stath Lets Flats, Taskmaster and more, talks Den of Geek through her TV memories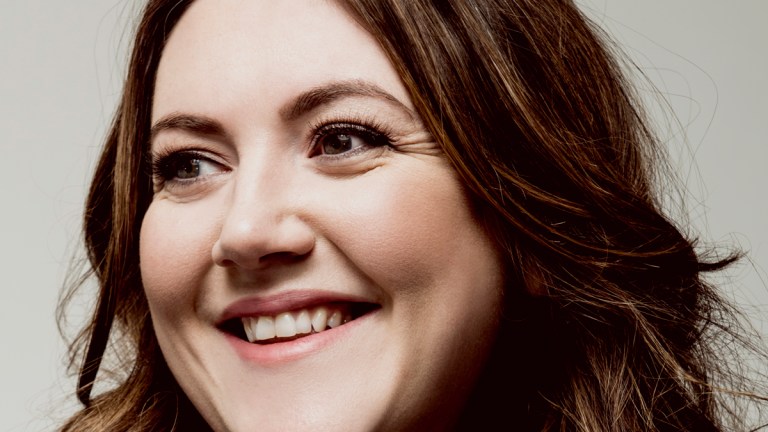 "Anchors, rigging, shackles," lists Katy Wix down the phone, "poop deck, wheelhouse, three sheets to the wind…" The comedian and writer has had a productive year. Filming wrapped on Ghosts series two just as UK lockdown began. Since then, she's finished one book – Delicacy: A Memoir – due out next April, is pitching another, writing a TV show, and thanks to a new-found obsession with Netflix yacht-based reality show Below Deck, has also managed to acquire an enviable grasp of nautical terminology.
Wix is an established UK comic actor, with credits across the board, starting with cult hit Time Trumpet and going mainstream as witless, lovable Daisy in BBC mega-sitcom Not Going Out. She's currently part of Channel 4's Stath Lets Flats, the hottest comedy around, fresh from multiple Bafta wins. She plays Fergie in royal satire The Windsors, and was among the comedian-contestants in series nine of Taskmaster. In BBC One sitcom Ghosts, Wix plays Mary, a 17th century yokel burned as a witch and now part of the motley group haunting a modern-day stately home. Mary's distinctive west country accent "just came out", says Wix. "It's an insult really, because I can't claim to do that accent well. It's sort of a stock noise. The more I do it, the more I think it sounds like Nanny from Count Duckula. Ducky!"
Ghosts series two, which lands as a boxset on BBC iPlayer on Monday September 21st , will give fans more about Mary's background, says Wix. "I think people will really love it, and then there'll be another series next year, depending on the big C. Not cancer. The other big C."
From superyachts to Alan Partridge, The Day Today to Ghostwatch, Anna from This Life to formative sexual fantasies about prehistoric apes… here's the Katy Wix Teleprompter interview.
Your parents were quite arty, working in dance companies and the theatre. Did your childhood allow for much TV watching?
Oh my god, yes! My routine was: come home from school, watch the tail-end of Fifteen to One, and when I was really young, repeats of The Oprah Winfrey Show. Then it would be The Broom Cupboard, something like Round the Twist, then the sound of the Six O'Clock News and turning over to The Simpsons. I still do it now, if I'm at home and it's five to six, I'm going to watch The Simpsons, it's a tradition.
Welsh telly was slightly different to the rest of the country. We have S4C rather than Channel 4. I remember going through the TV listings and seeing what was on normal Channel 4, like The Word, then I'd look at Welsh Channel 4 and it would just be something boring in Welsh at the same time.
Was there a TV show that inspired you to start acting and comedy?
The one I remember the most is Abigail's Party. Seeing Alison Steadman's performance made me want to do character acting. It was just a phenomenal, convincing, detailed performance. Years later, I wrote a radio sitcom that she was in. It was one of those absurd moments where you just have to leave your body and look down on yourself to be able to handle it.
That must happen a lot, you've been part of a lot of great comedy casts…
What got me into comedy was Brass Eye and The Day Today. When I was about 15, that's what changed my brain. It was the first time I'd seen adults being silly and coming up with absurd situations that were my sense of humour. Before that, comedy on TV would always feel like just something your parents would watch but this really felt like it was for us, for me and my friends. It was the same with The Office.
And then you were in This Time with Alan Partridge with Steve Coogan last year.
I was in sixth form when Knowing Me, Knowing You came out and I had it on VHS. Watching people like Rebecca Front and Doon Mackichan… anytime Alan had a guest on the sofa, the level of detail and all the reactions and the tiny little social awkward moments, that made me think I want to do that type of performing. So then, when I got to be in the last Partridge, it was mad. It was phenomenal to be that near to the character and all his tiny micro-expressions. Even the colour of his socks – this weird salmon pink – that was so perfect. Tim [Key] was there as well and we're old pals, so that made it feel more like, well if Tim can deal with it. But I think even Tim now says he still has times where he has to go into the loo and give himself a moment.
Who or what was your first TV love?
This will sound like a joke, but I swear to God it's true. It was a running joke in our family that my first crush when I was about four, was King Kong [laughs]. My mum used to tease me about it all the time. It was the combination of brute strength and these massive, soulful, pained eyes – which I still look for in men – that absolutely got me. It was an erotic connection for me. When I look back on it in a Freudian way, it feels like a really obvious, very heterosexual image for a little girl to have, because I wanted to be that woman in the nightie in his massive hairy hand.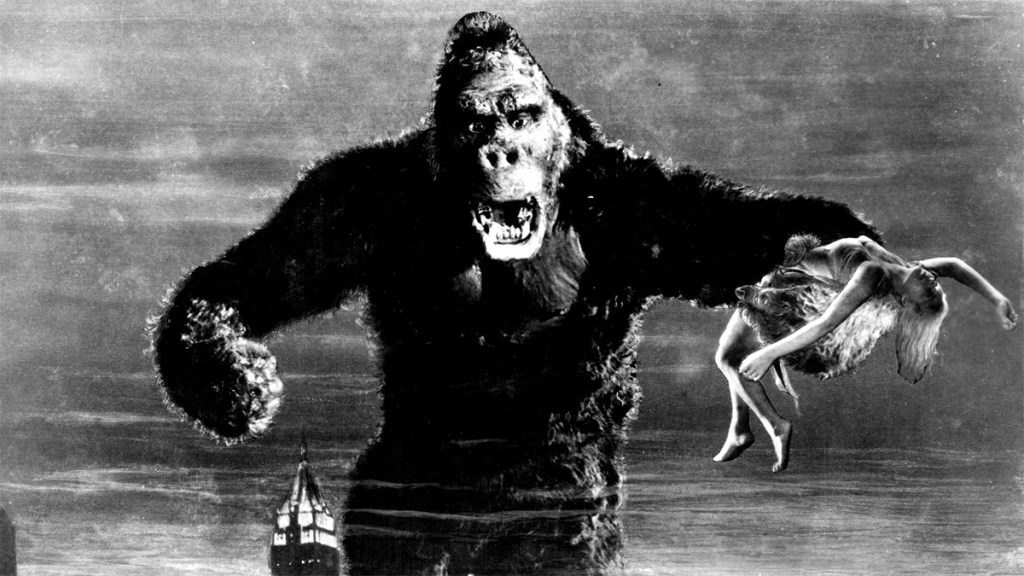 Unusual, yes, but then a lot of people our age cite the fox in the Robin Hood Disney film as their first screen crush.
I do get that. I do get that. What was it about that fox?
He's rakish. And politically, he was sound too – rob from the rich, give to the poor.
You're right. And he was really confident too.
Growing up, which TV character did you idolise?
There are two, a younger one and a slightly later one. When I was 11 or 12, I wanted to be a fashion designer. I would draw outfits all the time in my school books and I had the Usborne Book of Fashion Design and spend hours on it. So I wanted to be Hilary Banks from The Fresh Prince of Bel Air because she just had incredible fashion. She always got boys and she was really cool and confident and wore amazing clothes. She was everything I wanted to be.
Then a little bit later, maybe sixth form or in my early 20s. I wanted to be Anna from This Life, so much and I kind of still do. Because she was tall and really cool and had dark hair and a lot of attitude and wore black a lot and smoked a lot and didn't give a shit. That was my vibe at university.
Is there a TV character you'd like to be now?
Probably still Anna?
Which TV show gave you nightmares?
The massive one for me, when I was about 11 or 12: Ghostwatch. I went to a friend's house to watch it and I remember being a bit like 'yeah right' watching it, and then when I got home that night, I just cried. I was in the bath, hysterical and my mum had to come in and calm me down. It was horrendous.
Everyone totally swallowed it at the time, because we were less TV-savvy in 1992. I remember they had a phone-in and someone called in to say 'There's a shape in the curtains', which really fucked me up. The whole Pipes thing. I remember being in my bedroom and seeing a shape of an old man in the curtain all the time. I've got really vague memories of Craig Charles being in a park, saying that someone had killed a Labrador. I was thinking about watching it again. I actually don't know if I dare.
When did you last cry watching television?
Last night. Have you ever seen the show Below Deck? I'm obsessed with it. I'm not massively into reality TV but it's an American reality show all filmed on superyachts that rich people charter. It's almost like a perfect sitcom family – you have a different captain every time and the deckhands and then the interior, who do the hotel stuff, and then you have the chef, who's always a temperamental big personality and then each episode has a different group of insanely rich, usually quite horrible, sexist people with loads of money who get really drunk, that's the premise. It's non-stop drama. You're just watching people fall off boats and have arguments.
How did it make you cry?
In this episode, there was a girl who'd been really quiet and grumpy and everyone was slagging her off, and then she revealed that she'd got a text that morning saying her estranged father had died, so that's what set me off. It's got me through lockdown, it's so addictive.
When did you last laugh out loud watching television?
Below Deck, same episode!
All human life is there!
I think it was someone's malapropism, that's my favourite thing about reality TV, the way people talk in a kind of Stath-like way and get it wrong.
What was the last TV show you recommended to a friend?
Below Deck! [Laughs] I've just got Lolly [Adefope] onto it, and Adam Drake – he's a comedian in a sketch show called Goose and does Capital, a podcast with Liam Williams – he's now devoted. One of my best mates was bemoaning that her boyfriend's not into reality TV, but boys can watch Below Deck too. It's got loads of boat stuff in it. Chains and anchors. I'm learning all these terms, like shackles, poop deck, wheelhouse, three sheets to the wind… That's where the expression 'in my wheelhouse' comes from. Three sheets to the wind means you're sailing off course.
Which TV show would you bring back from the dead?
Good call.
I also loved The Late Review. I really loved that.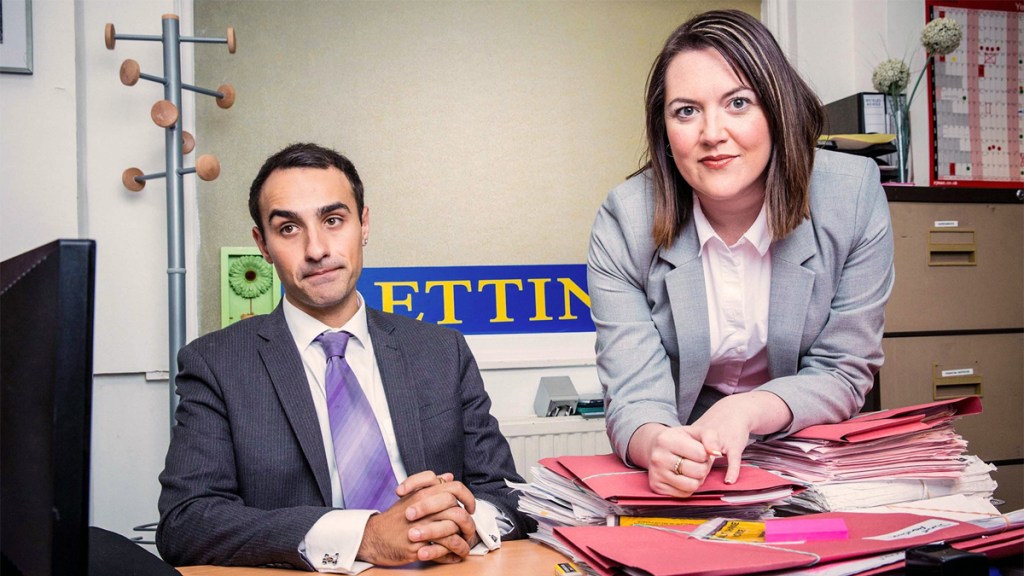 What's a TV show you wish more people would watch?
Do you know Iyanla Vanzant? She started off on The Oprah Winfrey Show – I love Oprah so much – and she's a TV therapist/healer/spiritual. She's got a show you can only get on American TV called Iyanla: Fix My Life. She just speaks so much wisdom. She spends a week with people who are really traumatised and it's their healing journey. It's so moving, it's so profound. She's doing incredible work for the human race.
She did an amazing show called, I think, 'The Myth of the Angry Black Woman' with a house full of women of colour who all got to talk about this trope that they were angry and how they felt unable to speak without being silenced. She did a show that was rehabilitating people that had come out of prison and women that had been sex workers all their loves, just amazing.
Which current TV show do you never miss an episode of?
In lockdown, what kept me going was I May Destroy you, obviously, Below Deck, obviously. I also became obsessed with the Japanese Big Brother Terrace House, but it just got pulled because there was a suicide. It was so, so awful. I read an article saying the producers didn't behave well, so I feel like I can't like it any more. I love Succession too. I started watching this show on Netflix called Intervention and got totally obsessed with it. Again, it's maybe ethically a bit dubious. It's American, obviously, and they'll film an addict who's in a really desperate state and then the family kind of trick them, or persuade them to go into a room and then the intervention therapist is there and they're like 'Guess what, you're going to rehab now!' Anything that's got human suffering, and then a redemption story in it, I'll watch.
Given the power, which TV show would you commission?
I think about this a lot – what if I had a channel? I'd commission the sketch group Sheeps to make tons of series. That's Liam Williams, Al Roberts and Daran Johnson, and so far they've only done live shows, but I would commission them for hours of TV. Colin Hoult doing his character Anna Mann, I'd commission hours of that. Everyone involved in Stath Lets Flats, I'd just say 'Turn up, pitch and we'll make it'. There's a documentary from the 70s that I adore, that I would like to show again, which is John Berger's Ways of Seeing. It's one of the most beautiful, gentle documentaries. I feel like that should be on TV. And just whatever Gemma Collins is doing, commission that.
Also, you know in the 90s, late at night you'd get some weird, bizarre performance art happening on BBC Two? I miss that. The sort of stuff that was on after The Word. And then finally, maybe just all of Peep Show again?
What's the most fun you've had making television?
Ghosts is where I probably laugh the most because of Lolly [Adefope]. We make each other laugh all the time. When me and Anna [Crilly] did our sketch show on Channel 4, it was incredible. It was stressful but exciting. It was such a nice atmosphere to be with all these gorgeous people that you find funny.
Stath Lets Flats is like that, because we're all genuine mates. When people take comedy so seriously I really love it. I love that attention to detail. Jamie [Demetriou] and everyone involved really cares. There's no 'that'll do' attitude, everyone wants it to be the best it can be. Why not treat comedy as a science that you have to absolutely get right?
Ghosts series two starts on Monday the 21st of September on BBC One at 8.30pm. All six episodes will be available to stream on BBC iPlayer from then.