Reviews
Gangs Of London Season 2 Review (Spoiler Free): the Brit Crime Drama Hits New Highs
Gangs of London returns, bringing a brutal new character to the capital.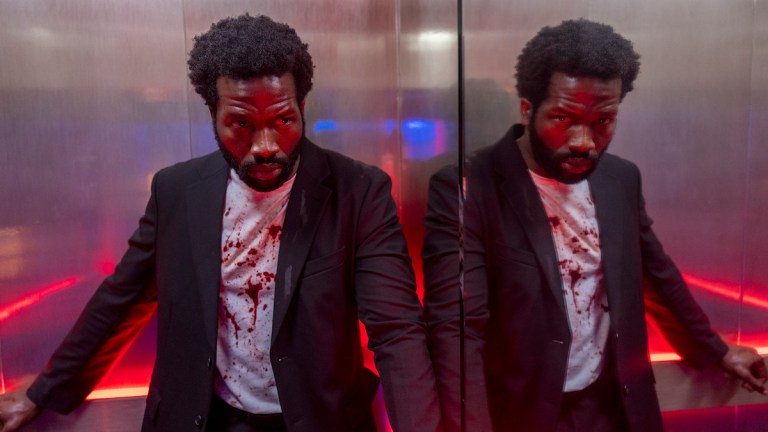 Gangs of London season one smashed onto our screens at the very start of the pandemic like a sharp kick to the nads. No one knew what to expect, and despite the title evoking Guy Ritchie East End geezer-pleasers, what we got was a glossy, highly cinematic drama about international factions vying for power in a Gotham-ized version of the capital city. It was electric and fans were hooked. Now almost three years later and the second season is with us. The good news is it's brilliant. 
You wouldn't want to be a henchperson of any denomination in Gangs of London, and season two ups the bodycount while maintaining the palpable tension and twisty plot audiences will be expecting. And don't assume your favorite returning characters are safe either.
Set one year after the events of season one (here's a recap to get you up to speed), London is in chaos. With the Wallace family spread far and wide, pulling the strings in the background are the investors, with Alex Dumani (Paapa Essiedu) the acceptable face of the business and heroin baron Asif Afridi (Asif Raza Mir) as the slightly less acceptable one. The Investors have sent in a new enforcer to get the various gangs in line – this is Koba, a Georgian assassin with no affiliation to any of the gangs. No one is to buy guns other than from him, no one is to buy heroin other than from Asif – push back and the punishment will be extreme.
Waleed Zuaiter as Koba is a revelation. A wiry, bleach-blond nightmare, in a velour tracksuit and bright white trainers, Koba has no scruples and no loyalty to anyone but himself. He's a vicious bully who makes the other criminals in the room look like heroes.
"Power or family, you can't have both," is Koba's mantra and it is this that season 2 hinges on as loyalties are forged and broken and bonds are tested. The season as a whole is an emotional journey, though it starts with a bang. Episode one concentrates on setting the scene, introducing a new gang, the Algerians, establishing Koba, and setting out its stall with breathtaking and brutal set pieces.
It's a different structure to series one, not a descent into chaos but chaos from the off, which starts with an almost nihilistic picture of London. The Investors are everywhere, the city is entirely corrupt and there seems to be no consequences for Koba, whatever he does, as he repeatedly brings powerful men to their knees. Elliot (Sope Dirisu) is a broken man, now a hitman for the Investors who have his father captive. The once powerful Ed Dumani (Lucian Msamati) knows which side his bread is buttered and has turned chief negotiator, especially now his daughter Shannon (Pippa Bennett-Warner) is out of jail and reunited with her young son Danny. But someone has to fight back…
Season two sees the return of most of the gangs from season one and with a new antagonist in town the audience's stand-in has switched. In season one it was Elliot, the undercover cop who was infiltrating this world just as we were. In season two it's Luan.
Orli Shuka's Albanian drug dealer was a stand out in season one (particularly in his fight sequence with Nigerian leader Mosi) and in season two he takes it to the next level. An incredible physical presence (Shuka really earns his paycheck in episode one), family man Luan becomes an unexpected hero, one of the few people with the bravery to stand up to Koba and face his cruel retaliation. We are with Luan every step of the way, and miss him when he's not on screen. His story is emotional, indeed, it's emotionally exhausting, and Shuka gives an extraordinary performance.
With horror maven Corin Hardy now lead director on the show it is perhaps no surprise that the levels of gore and violence are ramped up. Eyes are gouged, limbs are severed, it's a show ideally watched with your own gang so you can share in the communal gasps and flinches. Really it's a show that would benefit from the big screen. Like season one, Gangs of London season two is the closest you'll get to cinema from a TV show. The whole thing looks stunning, the cityscapes are gothic and strange, while looking ultra modern at the same time, and the cinematography is gorgeous, with this season leaning into occasional slow mo for certain stand out 'money shots'. 
As well as Luan, several returning favorites are stretched physically too. Lale (Narges Rishidi) gets a blistering extended fight sequence, Billy Wallace (Brian vernal) becomes something of a tragic hero, Marian (Michelle Fairley) has stepped into her son's shoes in Sean's absence, and you definitely wouldn't want to mess with Shannon. In fact the women of Gangs have a bigger part to play than in season one, which allows for many more flavors. While the show as a whole builds to a crescendo, there is room for light and shade, for quietness and intimacy as well as huge shoot 'em ups. 
New character Saba, a young family member of the Algerian gangsters will be one to watch going forward. Played by French Rapper Jahz Armando, in her first acting role, Saba is about the only 'innocent' (at the start at least) character in the show and she brings a much needed level of naivety and conscience – almost everyone else in the show wouldn't think twice about killing someone. Gangs does an excellent job of messing with our perception of morality. There is a very strong instinct (absolutely born out at the big screen season two premiere) to cheer as multiple goons are blown to bits. It is an extremely violent show and very much not for the squeamish.
Hardy, who directed four episodes, and Marcela Said and Nima Nourizadeh who did two a piece, have crafted a follow up to Gareth Evans and Matt Flannery's creation that is in keeping with the first but brings something new to table throughout. It's a great story with real emotional depth that does justice to new and returning characters. And thank goodness. Gangs of London is one of the best British shows on TV: epic, ambitious and international in a way Brit TV often is not, but without ever compromising character or story. And there's plenty of avenues left to explore for a third season. With a follow up this good there's no way it's the end for these gangs.
Gangs of London episodes one and two are available on Sky Atlantic and Now TV, with new episodes dropping weekly. Episode will arrive on AMC on Nov 17 in the US.