Features
Taskmaster: Ranking Every Series From Merely Quite Good to Ludicrous Best
As Series 14 arrives, we rank all previous runs of Taskmaster according to which have the perfect combination of comedians, absurd challenges and studio camaraderie.
Imagine being someone who's never seen Taskmaster. A virgin to joy. Someone whose eyes have never before drunk in the sight of a banana-Noel Fielding hiding in a fruit bowl, of Joe Wilkinson presenting the mayor of Chesham with 42 Calippo ice lollies, or of Charlotte Ritchie stumbling around a golf course blindfolded like an adorable Minion. What promise awaits! The prize tasks, the flashes of creative genius, the glorious failures… Alex Horne's challenge-based comedy panel show is one of the most reliably entertaining TV programmes ever made.
If you've yet to have the pleasure, and would like a steer as to which series are the best of this show, then here's our attempt to lead you though the highs and less-highs (full runs only here, no Champion of Champions or New Year Treats included). Please note that this ranking was produced by democratic process, which means that even we don't agree with it (the Daisy May Cooper one was robbed – Ed).
13. Series Six
Alice Levine, Liza Tarbuck, Asim Chaudry, Russell Howard, Tim Vine
There's no such thing as a bad series of Taskmaster. Instead, there are series of Taskmaster where contestants neither reach for the stars nor end up hilariously in the gutter. They simply, like this lot, go about their challenges with a faintly embarrassed competency and a sense of trying to get it over with as quickly as possible. The highs aren't that high, the lows aren't that low and so the result is… middling. What Series 6 lacked was a madman contestant (your Noel Fielding, your Bob Mortimer, your Daisy May Cooper, your Bridget Christie) to drag the whole thing into proper absurdity. Yes, the legendary Liza Tarbuck had Alex sink his bare arse into a custardy cake, and Tim Vine memorably pulled topless muscle man poses from inside a cardboard box next to the A316, but the whole thing had too much controlled reserve and as a result, not quite enough shared-trauma-hysteria studio camaraderie. LM
12. Series Eight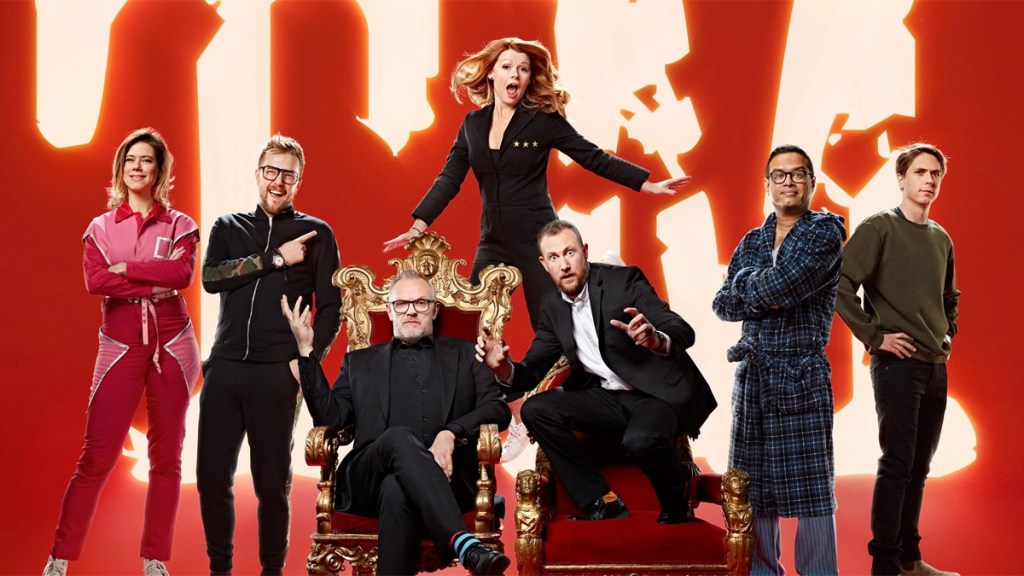 Iain Stirling, Joe Thomas, Lou Sanders, Paul Sinha, Sian Gibson
The outfits – Lou Sanders' correctly predicting winner jumpsuit, Paul Sinha's Arthur Dent-style dressing gown – were top for this one. There were real highlights too: Sanders in general, the apparent psychological unravelling of dry-humoured Joe Thomas who despite a long acting career appeared to be meeting himself for the first time on screen, the sight of five adults (one wearing a bin) attempting to sneak up on Alex Horne on a railway bridge… Overall though, 8 didn't quite reach the heights of other series. Perhaps it was a lack of bonding in the studio. Perhaps the tasks fell into the 'insane bureaucracy' category ("Catch all the red balls in things from the shed. Catch all the yellow balls in clothing. Don't let the green balls touch anything other than the grass. Catch the blue ball in something from the kitchen", etc) more often than the freer creative category ("Make the best ventriloquist dummy and be chatted up by it". A classic.). Or perhaps Iain Stirling's 'comedy' rage was too uncomfortably convincing as just… rage. LM
11. Series Three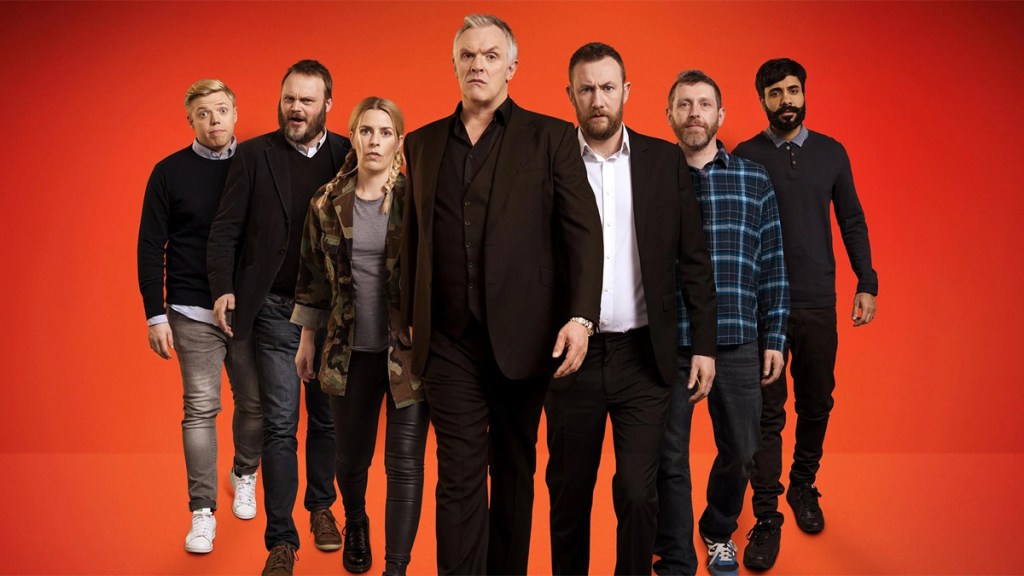 Al Murray, Dave Gorman, Paul Chowdhry, Rob Beckett, Sara Pascoe
A mixed bag for Series 3 that swayed between completely hilarious to a bit meh. Sleep-deprived new father Rob Beckett was on the edge the whole series – either maniacally laughing or absolutely kicking off but gave us truly one of Taskmaster's best moments in the 'surprise Alex' task.
Even though both she and Al Murray considered kidnapping Alex's children, Beckett's 'Aryan twin' teammate Sara Pascoe knew the assignment and mostly just got on with it. The rest of the line-up included the self-styled 'trio of dickheads', an absolutely hapless but nonetheless incredibly entertaining Paul Chowdhry, cheater Dave Gorham and Al Murray who tried to throw money at every problem. Even a surprising unplanned cameo from Ben Fogle can't help improve this series' ranking. All in all, good fun but not one of the best. ED
10. Series Twelve
Alan Davies, Desiree Burch, Guz Khan, Morgana Robinson, Victoria Coren Mitchell
This lot were simply too clever for their own good. For goodness sake, the series loser was Victoria Coren bloody Mitchell, arguably one of telly-land's smartest women – and even she had moments of absolute Taskmaster glory like the riddle task. Add the creative genius of Morgana Robinson, the Dad smarts of Alan Davies, Guz Khan's lightning-speed wit and the gutsy brilliance of Desiree Burch and there really weren't enough funny fails this series. Just lots and lots of smart silliness. The one major exception is Desiree Burch's attempt at popping the red balloon, which was designated the 'worst task attempt ever'. An entertaining series overall, but lacking a bit of punch. LVG
9. Series Ten
Daisy May Cooper, Johnny Vegas, Katherine Parkinson, Mawaan Rizwan, Richard Herring
The pressure was on for Series 10, as the first post-Dave run on Taskmaster's new Channel 4 home. Would it look different? Would it feel different? Would the tasks be as good and the contestants as funny? The answers to those questions were: a bit (but only due to Covid), not really, yes and yes. This was Taskmaster's first series filmed during the pandemic, so the required social distancing and lack of a studio audience did change things (watch these outtakes without the added 'live' viewing audience laughs to see how), but it still worked and there was much fun among the strangeness. Not least the infectious mutual adoration between Daisy May Cooper and Johnny Vegas, the out-there genius of the 'paint a picture of a howling wolf on a teapot while naming American states' task and the return-with-a-twist of Series 1 classic: 'eat the most watermelon'. Simple joys in a complicated time. LM
8. Series Thirteen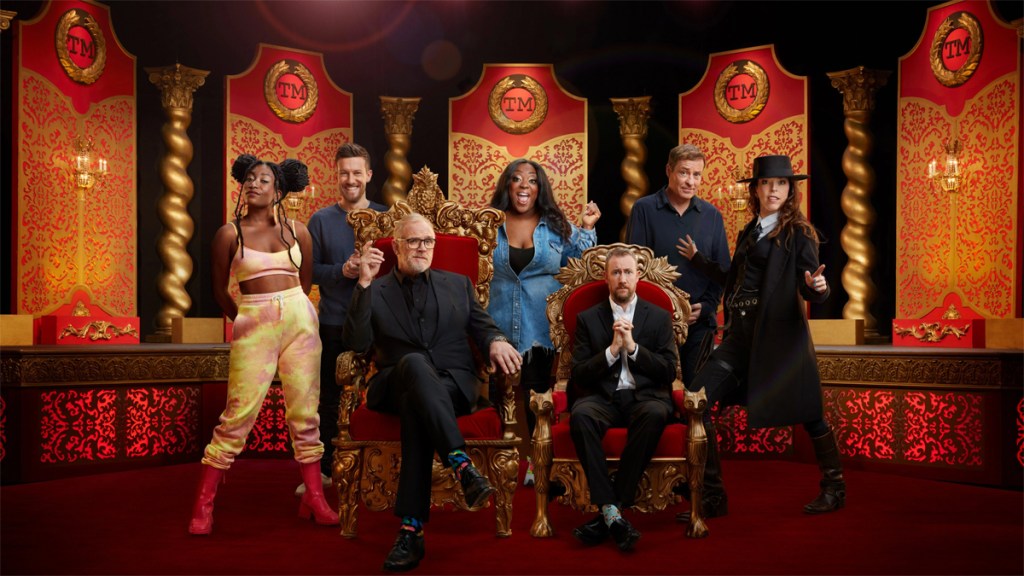 Ardal O'Hanlon, Bridget Christie, Chris Ramsey, Judi Love, Sophie Duker
For generations of people Ardal O'Hanlon will always be Father Dougal McGuire, and we all breathed a sigh of relief to know that the real man is apparently not that far off the beloved priest (bringing in his cool never-worn red leather jacket as the most surprising thing in his wardrobe and having a wonderfully daft glint in his eye throughout the series). Sophie Dukar classed up the joint by actually being clever and logical, Bridget Christie (dressed as a very stylish lady Zorro) created the menacing stop-cock dance and Chris "no way!" Ramsey charmed even the most cynical of us by continually being surprised watching back every task he'd participated in.
If there was an award for Taskmaster's best blagger, Judi Love would win by an absolute landslide. Who else could talk their way out of every sly dig from Greg Davies and keep him in check with a don't mess with me stare? Tasked with showing off for twenty minutes there was some very British reluctance from the contestants until Judi decided to completely relish the opportunity ("I feel like I'm in the popular mums' Whatsapp group", "Lidl have sent me free stuff before"). Top class entertainment from a bloody good group of lads. ED
7. Series Two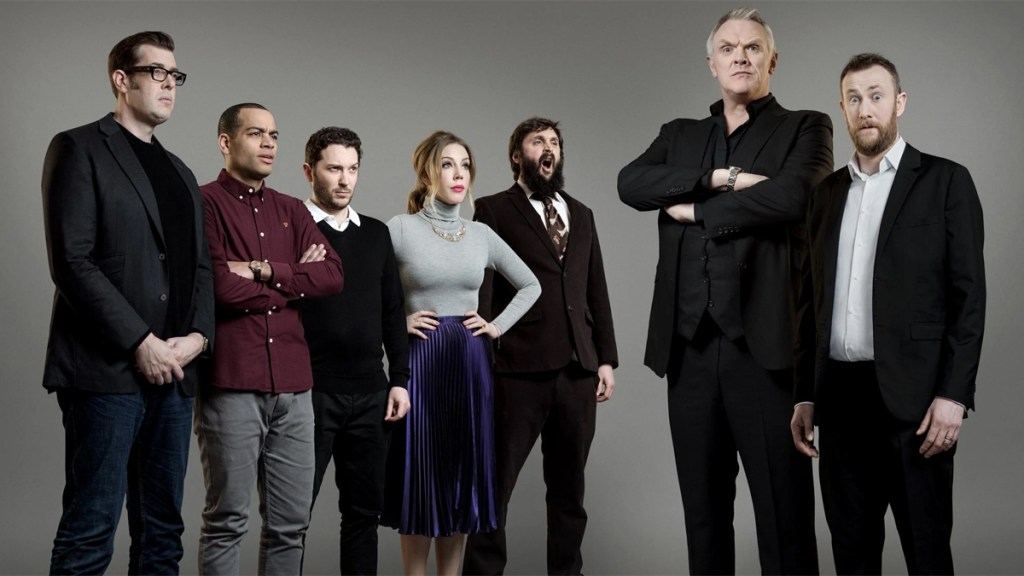 Doc Brown, Joe Wilkinson, Jon Richardson, Katherine Ryan, Richard Osman
Taskmaster's second series has two of the most memorable moments of all time: Richard Osman outsmarting the Taskmaster with the 'Place these three exercise balls on the yoga mat at the top of that hill' task (especially juxtaposed with Jon Richardson and Doc Brown's hilariously exhausting attempts) and the legendary Taskmaster moment that is the Joe Wilkinson potatogate tragedy.
The problem is those two key moments overshadow most of the rest of the series. We will give serious bonus points to Katherine Ryan's genius method of extracting answers from a Swedish person and Doc Brown's hiphop reimagining of '1, 2, 3, 4, 5, once I caught a fish alive.' LVG
6. Series One
Frank Skinner, Roisin Conaty, Josh Widdicombe, Romesh Ranganathan, Tim Key
As first runs go, Taskmaster Series 1 is a perfect introduction to why the show has become such a roaring success, and that's really down to the cast. Roisin Conaty was lovably naff, whereas Tim Key was so fearlessly competitive he broke all the rules, stooping low enough to lie about shooting a TV show for Comic Relief to win a task (yes, really!). The combination of quietly furious Romesh Ranganathan and dry-witted Frank Skinner gave us the beautiful moment where, during a task about throwing a tea bag into a cup from the greatest distance, Frank Skinner jokes 'someone will spend the first 45 minutes realising it's easier when they're wet' and the scene cuts to an infuriated Romesh discovering just that.
But the 'five points' for best moment of the series is easy to award: the bewildered outrage of Josh Widdicombe realising he's the only one to have been given several pointless tasks involving counting baked beans, spaghetti hoops and grains of rice. LVG
5. Series Nine
David Baddiel, Ed Gamble, Jo Brand, Katy Wix, Rose Matafeo
Older contestants on Taskmaster vary from the wonderfully bizarre and iconic (Bob Mortimer) to what could be very accurately described as the can't-be-arsed. Jo Brand and David Baddiel largely, could not be arsed. Surrounded by peppy and competitive youngsters these comedy veterans had the air of people wondering when their next cup of tea and sit down was going to be. So much was his lack of enthusiasm and miscomprehension that Baddiel drove Ed Gamble to complete and utter rage and what was a fairly simple drawing task. This time around, the contrast in approach proved entertaining.
Although Jo Brand spent most of her time in the CBA club, she also had moments of sheer brilliance (scream-singing Jerusalem down the phone to Alex as an egg timer) and other series highlights were Ed Gamble's meltdowns and Rose Matafeo's outstanding rootin' tootin' Taskmaster theme. ED
4. Series Eleven
Charlotte Ritchie, Jamali Maddix, Lee Mack, Mike Wozniak, Sarah Kendall
The line-up of Taskmaster's eleventh series is a mix of wonderful characters; wholesome and adorable Charlotte Ritchie, quietly tenacious and compliant Sarah Kendall, Jamali Maddix who swayed between excited to absolutely not having any of it, safe pair of comedy hands Lee Mack and the wonder that is Mike Wozniak.
The true breakout star of the series, Greg's Man Down co-star and self-proclaimed bloody milk guzzler Wozniak charmed us all with his unwavering politeness, delightful turn of phrase (undermining a vole by telling it, "You've got no chutzpah, your organisational skills are lacklustre, and your time keeping is abysmal"), and commitment (literally getting a mohawk for 'tough guy o'clock' at the final prize task). He may not have won (Sarah Kendall was this series champion) but he undoubtedly won the hearts of Taskmaster nation. ED
3. Series Seven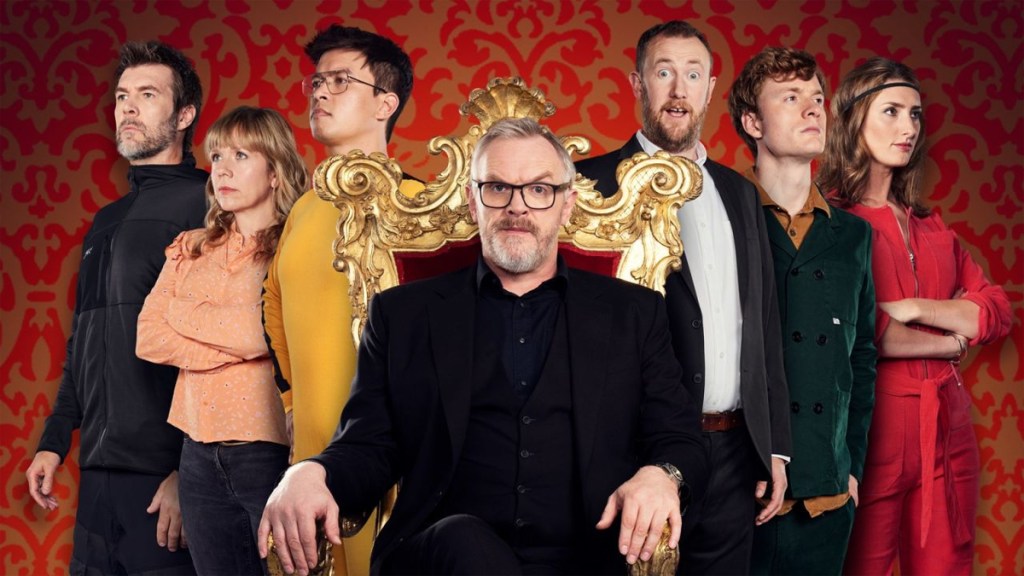 Kerry Godliman, James Acaster, Jessica Knappett, Phil Wang, Rhod Gilbert
So many delights in Series 7! Phil Wang's exposing costume, Kerry Godliman's 'bosh!' approach to tasking, James Acaster's continuing refusal to return a hello from Alex, Rhod Gilbert's disturbingly singular imagination and Jessica Knappett falling off the stage while demonstrating her most magnificent walk. A particular treat in this series was that, like Roisin Conaty's before him, Rhod Gilbert's friendship with Greg Davies opened the door to insights into the Taskmaster's life… and his wardrobe (which Rhod hid inside while Greg slept). Who else could get a picture of the Taskmaster's mum in a fez, in the bath? Top-tier trolling from a clearly troubled soul, and an excellent set of contestants. LM
2. Series Four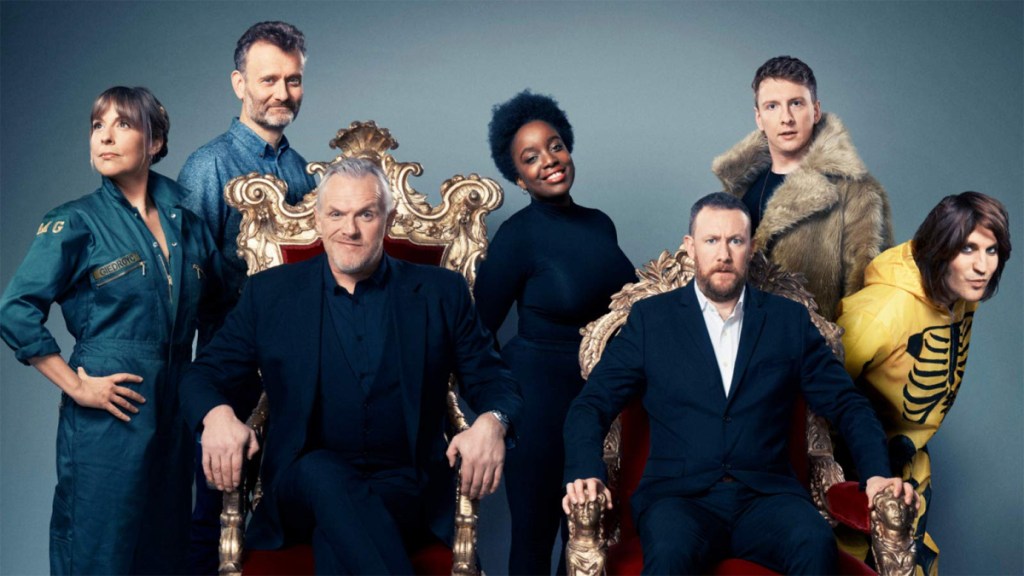 Hugh Dennis, Joe Lycett, Lolly Adefope, Mel Giedroyc, Noel Fielding
There isn't a name in this line-up that doesn't inspire childlike joy, and all five contestants of Series 4 really do deliver pure unadulterated silliness with a dash of pure genius. While Noel Fielding manages to disguise himself as a tiny banana, Lolly Adefope shows she's an absolute menace at Hide and Seek to the point that Alex basically gives up. The Mum and Dad of the group, Mel Giedroyc and Hugh Dennis, have equally as much blissful pride in working out how to get a camel through the smallest gap and knocking over a huge amount of rubber ducks in less than 10 seconds. And when Joe Lycett – much like Josh Widdecombe in Series 1, above – finds out he's the only one who got a bizarre extra element to a painting task, we share the many, many, maniacally joyful looks on his face. LVG
1. Series Five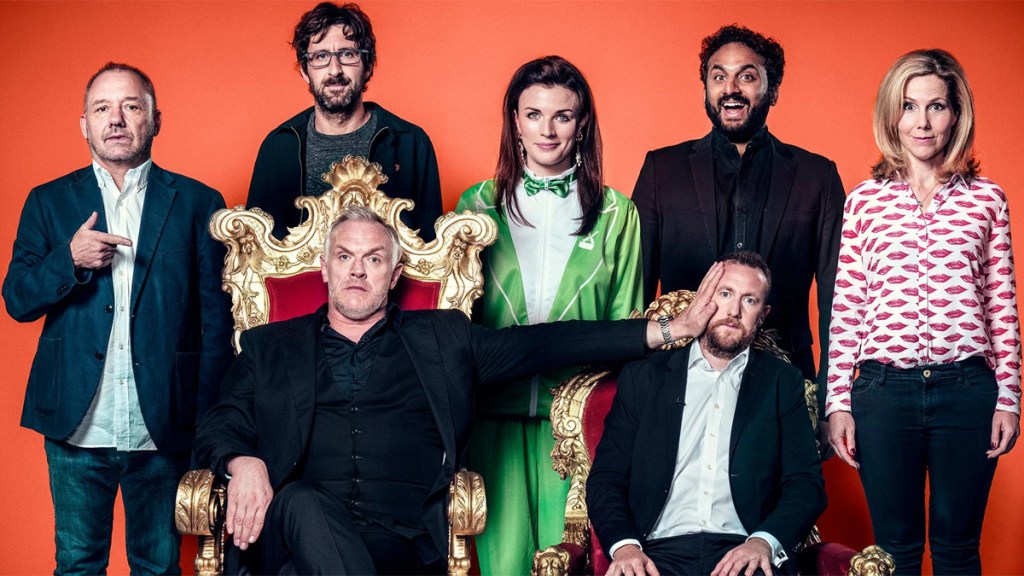 Bob Mortimer, Mark Watson, Sally Phillips, Aisling Bea, Nish Kumar
Two words: Bob Mortimer. The others were good too, of course, but Bob Mortimer's contribution to Taskmaster history was god-tier. From his spinning sausage and pork pie presentation unit (to encourage his children to eat the cheaper meats) to the special cuddle he had with Alex in the boot of his Audi, little he said or did wasn't a cause for celebration in Series 5. Add to that Sally Phillips' filthy mind, Aisling Bea's quick wit, Mark Watson's extreme dedication, and Nish Kumar's utter inability to perform in very nearly every single task, and you've got a recipe for pure Taskmaster joy. How to narrow down the highlights? Send the Taskmaster an anonymous cheeky text every day for 5 months! The Rosalind songs! Make Marmite! Sally Phillip's watercooler moment! Make this coconut look like a businessman! There's not a dud among them. LM