Reviews
Bloodbath At The House Of Death DVD review
Craig rediscovers the comic genius of Kenny Everett in this blood-spattered tale of creepy happenings in a haunted manor...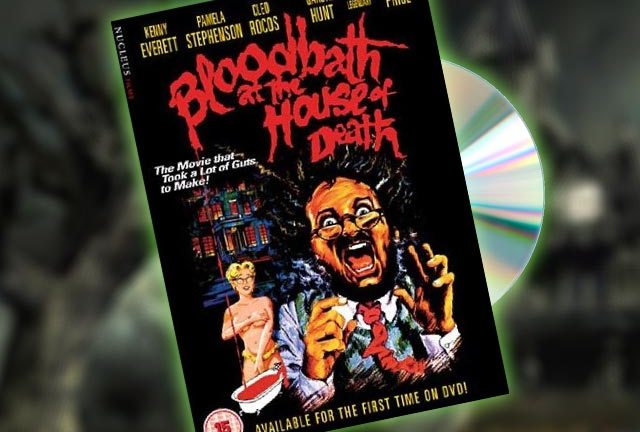 I first saw Bloodbath at the House of Death when I was too young to properly understand a lot of the humour but, even so, I've been since unable to sing the 12 Days of Christmas without adding in a "Two throats-a-cutting", much to the concern of anyone in the vicinity…
The trouble is, of course, that too few people have seen this film, so can't get the joke and just assume I'm being threatening. Well, the good news for us all is that Bloodbath has been rescued from the dustbin of history and now you CAN join in the fun.
I had (and still do have somewhere) a Betamax copy of Bloodbath but, tragically, no Betamax player on which to re-watch it and trying to find a VHS one for anything less than £50 on eBay proved repeatedly difficult. For years, the idea of a DVD release seemed preposterous. But now, thanks to the great guys at Nucleus Films, here it is!
Bloodbath is a lost gem that pits the late comic genius Kenny Everett against the king of horror himself, Vincent Price. Everett plays Dr Lukas Mandeville, a metal-legged scientist who (in the style of "The Haunting") enlists a group of paranormal investigators to check out the spooky goings on in Headstone Manor. Many years prior, eighteen people were gruesomely murdered there and the locals are terrified to go near it.
As their first night in the house unfolds, events spiral out of control and the scientists find themselves at the mercy of a strange cult led by The Sinister Man (Price, of course), a 700-year-old immortal servant of Satan.
I'll be honest. If I put my nostalgia glasses on the side and watch with honest eyes, the film itself has dated a little – there's no doubting that – and it isn't as good as I remember, although the talent of the cast shines through even the TV-standard direction and occasional limp gag. Everett is at his maniacal best, his gift for physical comedy dominating the screen and Price, deadpan even as he delivers lines like "Now I'm on fire, you schmuck!", proves yet again his underrated brilliance and versatility. The supporting cast (including Pamela Stephenson, John Fortune and the divine Cleo Rocos) all ham it up appropriately throughout a series of irreverent spoofs on classic horrors, interspersed with the odd fart joke (but it's all done in the best possible taste, of course!).
Basically, if you like the Scary Movie series or are hardcore enough to have seen (the admittedly superior) Wacko!, then this is parodic horror on a similar level, but with the added benefit of Everett and friends. Likewise, if you're interested in collecting odd little films from the past that no one else remembers, then this is a must to add to your collection of arcana. If neither of things appeal, then this one probably isn't for you.
The DVD contains a solid transfer of the film, with a couple of extras (about as much as can be expected considering the film's obscurity and the subsequent deaths of many several participants). There's a short documentary, two different theatrical trailers and a bit of bonus footage of Everett tooling around and doing his thing. And really, if you've never seen him in action, you don't know what you're missing.
Film and extras: