Features
Best British TV Shows of 2023 (So Far)
Looking for UK TV series recommendations? Catch up on these excellent shows on streaming.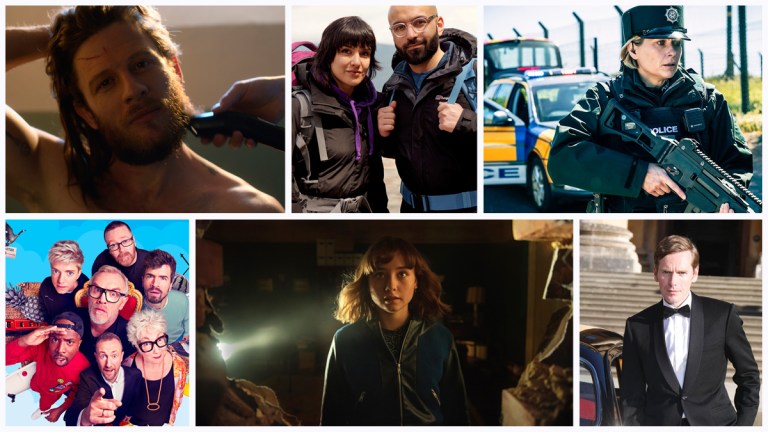 It can't go on. Must-watch TV shows have been arriving at an unmanageable rate for so long that releasing an excellent new series is now essentially an act of violence. Nobody has the time to be this thoroughly entertained.
Curation is our only solution. Recommendations that cut through promotional budgets and PR hype, leaving behind just the good stuff. Below, we've collected the best of the best from this year of UK television so far. If you only have time to watch a handful of shows in 2023, make them these gems. We'll add any others that make the grade as the year goes on, and do please make your own recommendations below.
Happy Valley Series 3
Stream on: BBC iPlayer (UK); AMC+/BBC America/Acorn TV from May 22nd (US)
Series three is when the word-of-mouth enthusiasm for Sally Wainwright's Happy Valley started to break through even for those who'd formerly dismissed it as just another BBC police drama. The chances are that you've already seen it, but if not, oh, the jealousy! Waiting for you are 18 episodes of some of TV's most gripping storytelling and finest acting.
It's the story of Catherine Cawood, a West Yorkshire sergeant raising her grandson solo after the painful loss of her daughter. When the boy's biological father – James Norton's dangerous convict Tommy Lee Royce – comes into the picture, it's down to Catherine to protect her family, and everybody else in the drug-flooded valley she polices.
Played by Sarah Lancashire in a career-best performance, Cawood is a legendary TV character. Inspiring, funny, hard as nails, strictly no-nonsense and very good at her job, she and the cast of characters around her are a joy to watch. Honestly, you won't see a better or more involving drama, and the ending is pretty much perfect.
Endeavour Series 9
Stream on: ITVX (UK); Masterpiece on PBS from June 18th (US)
This Inspector Morse prequel pulled off an astonishing feat by creating a series that's every bit as beloved and (whisper it) perhaps even stronger than its parent show. Written by Russell Lewis, a master of trickery and mischief who folds Morse and pop culture references into every two-hour mystery, it's a great period drama with an excellent central cast.
Shaun Evans leads the ensemble as young detective Endeavour Morse, whom we follow over seven years from his first posting at Oxford's Cowley Gate police station in 1965, on to 1972. Bagman to Roger Allam's redoubtable Londoner Fred Thursday, and reporting to Anton Lesser's prim and proper ACC Bright, Endeavour makes friends, enemies and case solves as he gradually morphs into the man we know he'll become.
The ninth and final series gave us some of the show's finest episodes and bowed out on a moving emotional note. As detective shows go, this one's hard to beat.
Taskmaster Series 15
Stream on: Channel 4 (UK only)
If you're not on the Taskmaster train yet, take our word that there isn't a more reliably funny show on television. Every series, five comedians are set a series of weird, creative and entirely pointless challenges by the show's creator Alex Horne, and their performance is then judged by the Taskmaster Greg Davies. That premise barely touches on the laughs contained within – Taskmaster's not just a TV show, it's a repository for joy.
Series 15 is only in its early stages and it already feels like a classic line-up. Frankie Boyle joins Jenny Eclair (if you need lessons in having fun, look no further than her), Ivo Graham, Mae Martin and instant favourite Kiell Smith-Bynoe. Stupid, absurd and an hour a week you can count on to escape everything, get on board.
Lockwood & Co.
Stream on: Netflix
For family viewing that isn't a TV talent contest, Netflix YA adaptation Lockwood & Co. is a fun fantasy romp. Adapted from Jonathan Stroud's hit book series by a team including Attack the Block director Joe Cornish, the eight-episode first series is set in an alternate London plagued by lethal ghosts. The only people with the power to fight the spectres? Teenagers, who've been enlisted into the all-powerful Fittes Agency to do the dangerous work of protecting the world.
Snapping at Fittes' ankles are the titular Lockwood & Co., a tiny agency run by a wealthy orphan, his bookish best friend and powerful psychic newcomer Lucy. It's filled with mysteries, sword fights, peril and scares, and boasts an excellent 80s Goth soundtrack. Fingers crossed that there'll be a series two.
Race Across the World Series 3
Stream on: BBC iPlayer (UK only)
Don't be put off by the 'reality TV' label, this is a world away from engineered slanging matches and wannabe stars flexing their pecs in a two-way mirror. It's one of the most captivating shows currently on TV, offering both human interest and a journey through an escapist landscape.
The premise is simple: teams of two have to make their way from checkpoint to checkpoint using no air travel and no internet, on a tight budget of what would have been the equivalent journey's airfare. Series three is set entirely in Canada, which means mountains, wild bears, never-ending stretches of road and scant opportunity to use public transport. The teams (there's a married couple, two father-daughter pairs, a set of friends and two brothers in this series) have to make connections, work, barter, and rely on human kindness to reach their goals. All that, while negotiating their own pressure-tested relationships. It's emotional and a window into another world. The first two series (London to Singapore, and Mexico City to Argentina) are well worth catching up on too.
Blue Lights
Stream on: BBC iPlayer (UK only)
Just when you thought we'd had enough crime dramas, along comes the deliciously fresh Blue Lights, a compelling series about three new police recruits in Northern Ireland. Belfast is a dangerous city to police, but newbies Grace, Tommy and Annie – not to mention the viewers – are taken under the wing of experienced cops like the wry, fatherly Gerry, charming Stevie, and their brave sergeant McNally.
The characters are instantly loveable thanks to a mixture of superb performances from a relatively unknown cast and great writing from Blue Lights creators Declan Lawn and Adam Patterson. You'll find yourself rooting for them all as they tackle nail-biting front-line police work, taking on the seemingly untouchable McIntyre gang, and navigating the sinister influence of MI5.
It's dynamic, sometimes heartbreaking, often unbearably tense, but ultimately completely addictive viewing. Series two please.
Don't Miss: Guilt Series 3
The McCall brothers will soon be back in the third and final series of Neil Forsyth's excellent BBC Scotland drama Guilt. A thriller with shades of the Coen Brothers, led by a terrific performance from lead Mark Bonnar, and boasting a cracking soundtrack, Guilt is a must-watch.
If you missed out on the previous two instalments, there's time to catch up on BBC iPlayer before the concluding four-part chapter in Max and Jake's tale of Edinburgh gangsters, troubled pasts and switching fortunes arrives on BBC iPlayer on Tuesday the 25th of April. (Episodes will also air weekly on Thursday nights on BBC Two from Thursday the 27th at 9 p.m.).