Reviews
Good Omens Season 2 Review: Neil Gaiman's Angelic Comedy Is Devilishly Good
With an excellent cast and imagination to spare, Good Omens season two is a warm hug of a TV show.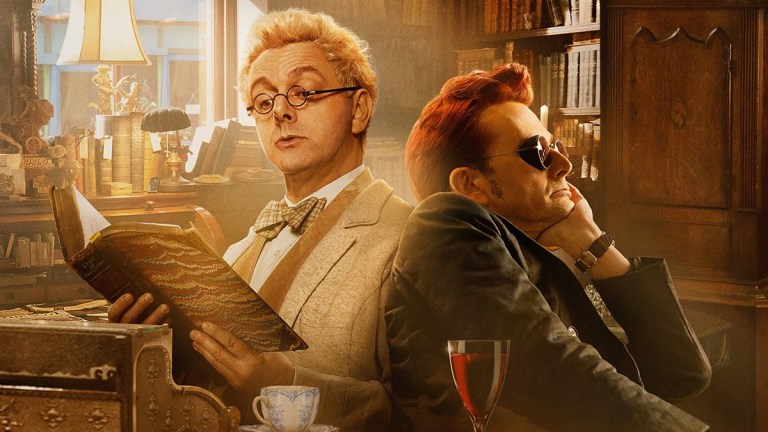 Good Omens season two is a story of friendship and love and, to quote Terry Pratchett's Moving Pictures, "Passione in a Worlde Gone Madde!" Gorgeous-looking, perfectly cast, and full of joy, it's like a warm hug and a mug of hot chocolate… with a little macabre horror and sketch show comedy bobbing beneath the surface.
Good Omens season one was based on a standalone novel written by Terry Pratchett and Neil Gaiman, which meant that it was a complete story. That's why most of its characters and plotlines – Adam and pals, Agnes Nutter, Anathema and the Four Motorcycle Riders of the Apocalypse – don't appear in season two (though do look out for the odd Easter egg, of course!).
But more than any of those, Good Omens season one was the story of the friendship between the demon Crowley and the angel Aziraphale. They're the true protagonists of the book, and indisputably the stars of the TV show, played to perfection by David Tennant (demon) and Michael Sheen (angel). The fact that Good Omens' second season focuses almost entirely on these two, alongside some of their fellow angels and demons, is no surprise.
Gaiman explained to SFX magazine that he and Pratchett had partially developed the plot for a sequel to the novel, but that it would be the basis of a hypothetical third season, with season two forming a bridge between them. Pratchett's influence of course remains strongly present – there are Easter eggs to be found, and some jokes that will be very familiar to Discworld fans. Rob Wilkins, the head of Pratchett's literary estate, was on hand to be, as he told Den of Geek "Terry Pratchett's voice… on Earth". So this is still very much a show based on the work of Terry Pratchett and Neil Gaiman, even if Gaiman has been more directly involved.
Casting aside the elements of British children's adventure story from season one, it fully embraces a story of Heaven and Hell and the demons and angels stuck in between, in the vein of Lucifer (which is also based on works by Gaiman) or Supernatural (heavily influenced by the works of Gaiman). This is all to the good, because as much fun as the rest of Good Omens is, Crowley and Aziraphale are its beating heart and what will keep audiences coming back for more. Their history together is one of the things season two has been able to add depth to and flesh out.
The half hour cold open to season one, episode three, 'Hard Times', which followed highlights of Crowley and Aziraphale's friendship across the millennia, was probably the most significant addition to the book for the first season and was one of the fans' favourite sequences (and is also coincidentally similar to one of the best-received half hours of The Sandman, also written by Neil Gaiman). Season two offers even more depth to the story of Crowley and Aziraphale's friendship across the whole of human history, and the lengthy sections devoted to their backstory are really engaging and great fun to watch.
Horror is also at the heart of what Good Omens is, since it originated as a re-working of horror classic The Omen (The original concept for the novel was "what if the Antichrist from The Omen was a normal English kid 'with a dog and a gang'?"). Fans of horror and black comedy will not be disappointed in this season. While episode one 'The Arrival' focuses on setting up the story for the season and the mystery of why Gabriel has turned up unannounced on Aziraphale's doorstep, later episodes seamlessly incorporate elements of the horrific and the macabre, entirely appropriately for a series whose co-lead character is a demon.
It is also, of course, very funny. This is still a series that bears the name of Terry Pratchett in its credits, radio sketch-comedy genius John Finnemore is the co-writer, and Gaiman is obviously no slouch when it comes to humour himself. It has the sort of subtle, gentle laughs that suit a rain-drenched British series, much of which takes place in a bookshop. It's in amusing shop signs, plans gone awry, odd couple bickering and misunderstandings. The tone of the series as a whole maintains the light touch that it established in season one, taking place in a slightly heightened reality in which the steady flow of humour feels natural.
The cast, directed by Douglas Mackinnon, are as brilliant as ever. David Tennant and Michael Sheen could watch paint dry together and we would be entertained (as they proved in their lockdown comedy Staged). Returning angels Jon Hamm (Gabriel), Doon Mackichan (Michael) and Gloria Obianyo (Uriel) are also all excellent, alongside newcomer Quelin Sepulveda as Muriel. Some actors from season two have also returned in new roles, including Nina Sosanya and Maggie Service, formerly Chattering Nuns, and now shop owners on Whickber Street, in new roles written especially for them. And Miranda Richardson is having a fantastic time hamming it up as a demon, Shax, in a bigger role than she had previously.
The book Good Omens ended with its original protagonist, Adam, and a hopeful hint of his future. It would perhaps be nice, if the show is renewed, to check in on Adam and his Dog, and Anathema and Newt, and even Mr Shadwell. But for now, this angels-and-demons-focused season tells a tightly controlled story about, in the words of Jane Austen, love and friendship.
Based on the first five episodes available to preview, knowing it is the middle course between the first season and a hoped-for season three, this was a 5-star mug of hot chocolate with angel's wings on the side. If it has a flaw, it might be that it's almost too sweet (body horror aside), but frankly, isn't a little sweetness what we all need?
Good Omens season two is out now on Prime Video.