Reviews
Blue Lights Review: BBC Belfast Police Drama Is a Fresh, Compelling Must-Watch
From the makers of The Salisbury Poisonings comes a lovable, refreshing drama about three new police recruits in Northern Ireland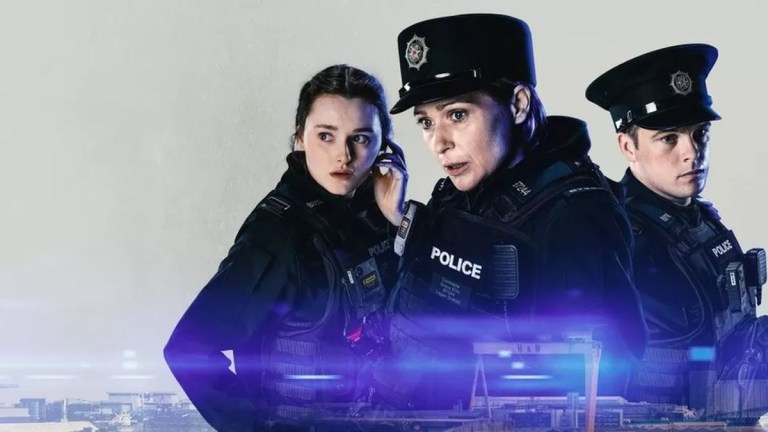 Crime dramas are rarely revolutionary – we often watch them because they're comfortingly formulaic – but every so often you get a gem that changes the game. We saw it with Line of Duty, Happy Valley, and Luther – and now Blue Lights is here to make you sit up, stop scrolling and get invested.
What the detectives from the above shows all have in common is experience, but Blue Lights focusses on three fresh-faced officers on probation in Belfast, Northern Ireland's most dangerous city. Annie (Katherine Devlin) is scrappy and impetuous, Tommy (Nathan Braniff) is bookish and a terrible shot, and Grace (played by Trying's Sian Brooke) is naively optimistic about making a difference despite having joined the force in her forties after a career as a social worker.
The good news is that what they lack in policing potential, they make up for in instant likeability, and this effortless knack for charming the audience also extends to the rest of their police station colleagues, including PCs Stevie (Marcella's Martin McCann) and Gerry (Richard Dormer, Game of Thrones), and desk sergeant Sandra (Andi Osho, Line of Duty).
This is rare enough, but considering none of the cast are household names, and several – like Braniff and Devlin – are relative newcomers, the sheer speed at which we root for them all is a testament both to their impressive talent and high quality writing from Blue Lights' co-creators Declan Lawn and Adam Patterson (who also co-wrote The Salisbury Poisonings).
Patterson and Lawn make Blue Lights almost painfully tense at times, filling the plot with action-packed front line police work, as the force attempts to tackle the seemingly untouchable McIntyre crime family, and has its efforts constantly thwarted by the sinister influence of MI5.
This compelling storyline is enough to make it a wholly decent police drama – but what elevates Blue Lights to greatness are its deeply authentic characters. They buck the 'hero cop' trend, instead presenting as relatable human beings who often don't have a clue what to do for the best when difficult situations arise. When Annie witnesses her sergeant, McNally (Joanne Crawford) being attacked, she freezes. McNally herself is faced with impossible choices on a night where there are more serious threats to life than available officers on her beat, with tragic consequences. And when Grace's son Cal (Matthew Carver) is wrongfully arrested, she has to decide whether to help him or continue to apprehend a murder suspect.
The characters also attack serious situations with a uniquely Northern Irish humour that peppers the show's darker themes with genuinely funny moments. Most notably, the gravel-voiced man's-man that is PC Gerry Cliff, who has demons aplenty, but still mentors rookie officer Tommy with affectionate fatherly teasing that makes their dynamic addictive viewing.
The Northern Ireland setting contributes far more than just humour; it's integral to Blue Lights, and the shadow of The Troubles is never far away, adding a unique sense of danger to the act of policing a city like Belfast. Like award-winning Northern Irish comedy Derry Girls, Blue Lights does a deft job of keeping the politics prominent but always secondary to the characters' own problems.
Their growth over the series' six episodes is palpable, as is their capacity to surprise you, nowhere more so than PC Jen Robinson (Hannah McClean), the daughter of the police commissioner whose initial condescension towards the new recruits is clearly an attempt to shield the fact that she's terrified. 
While Robinson's redemption arc is satisfying, be prepared for Blue Lights to keep you guessing right up to its poignant end, which holds zero punches. Despite that, Blue Lights manages to leave you ultimately feeling slightly better about the future of police drama, policing, and maybe even the world in general, which makes it a breath of fresh air.
Blue Lights episodes 1-6 are available to stream now on BBC iPlayer in the UK.