Reviews
Black Mirror Season 6 Episode 5 Review: Demon 79
Season 6 ends on a high with a top 1970s British horror homage led by an excellent performance from Anjana Vasan. Spoilers.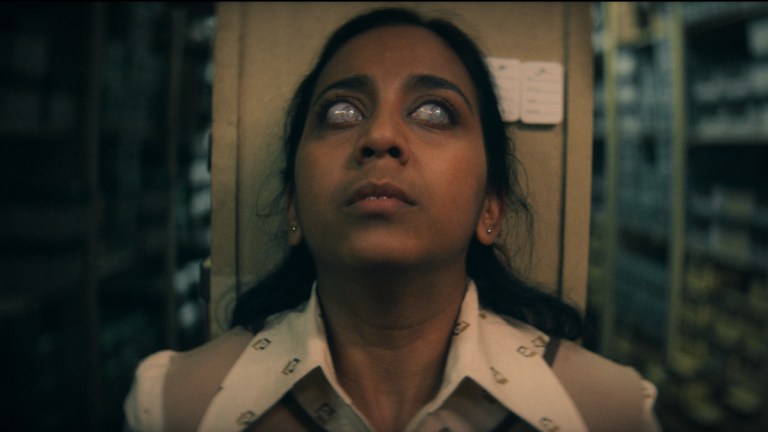 This article contains spoilers for the Black Mirror episode "Demon 79."
Black Mirror Season 6 Episode 5
Here's another dubiously happy ending to add to Black Mirror's growing pile: Girl summons demon, girl fails to commit the required number of human sacrifices to avert the apocalypse, demon asks her to spend eternity with him cast into a matterless void, girl says  she'll give it a go.
A matterless void, as protagonist Nida (Anjana Vasan) dryly notes, isn't a million miles away from the life she was leading at the start of "Demon 79", which was co-written by Charlie Brooker with new exec producer, Ms. Marvel and Loki's Bisha K. Ali.
A young Anglo-Indian woman living alone in a drab flat, working a thankless department store job and having to wordlessly absorb the drip-drip-drip of ambient racism in 1979 Britain, Nida's world didn't have much to recommend it.
Enter: Satanic minion Gaap (a very funny turn from Papa Essiedu. Gaap's a kind of Clarence from It's a Wonderful Life by way of The Good Place, but in the impressively pimped-out form of Boney M's Bobby Farrell). When Nida unwittingly activates his talisman, she triggers a ticking apocalypse clock. If she doesn't sacrifice three human lives over the next three days, then it's burning skies time. Three murders to avert the death of billions. Can Nida do it?
Can she! Well no, she can't, but by the end, it's not for a lack of trying. The demonic contract turns out to be the very thing that gets Nida's groove back. And in a rushed development at the end, Gaap turns out to be the ally she's been lacking.
"Demon 79" is a terrific episode, bloody, funny, unsettling, and tackling real-world truths through an inventive fantasy lens. It's presented under the series' new "Red Mirror" imprint, and expertly styled by Doctor Who director Toby Haynes and co. in homage to 1970s British horror. It's a fitting tribute to make, seeing as that's where it all began inspiration-wise for so many beloved series, from Black Mirror, to Garth Marenghi's Darkplace, to Inside No. 9 whose "The Devil of Christmas" would be a good double-bill here.
The murderous impulse was always in Nida, as shown by two beautifully violent, screechily scored fantasy sequences in which she smashes her National Front-supporting colleague Vicky's head through a glass shop counter, and strangles a customer who choked his wife to death (Nathan Barley's Nicholas Burns in a mini-Charlie Brooker reunion).
Those attacks though, were all in Nida's mind. The real thing proves trickier for her conscience. Her killing spree gets off to a hesitant start, but by the end, having bludgeoned two wrong'uns and stabbed an innocent bystander, she's raring to go. That's because Nida's settled on a target – sinister Tory parliamentary candidate Michael Smart, the acceptable race of racism and bigotry, and as Gaap's flashforward tells her, the future PM destined to lead the UK into a dystopian future. (Those robo-dogs in Metalhead? His fault.) Even though it's going to piss off Satan, who's apparently a big fan, Nida is dead set on taking Smart out.
She fails, thanks to the intervention of Shaun Dooley's police officer Len (a none-more-1970s type from his moustache down to the cigarette ash he drops on crime scene corpses). Her failure, though, does set off a nuclear apocalypse that kills him, everyone else and their little dog too, so in a roundabout way, job done.
Or was it? Is "Demon 79" a pure fantasy episode, or an episode about a pure fantasist? Plenty of off-ramps were provided during its runtime for anyone who prefers to believe that demons still aren't real in this world, and this was all just the invention of a deranged mind (other than Charlie Brooker's). Anjana Vasan's performance is strong enough to sell both stories at once, from Nida and Gaap's irritated comedy bickering, to the idea that Nida was always alone but seriously unwell and suffering from paranoid delusions.
First, there was the theme song's "is it a kind of dream?" lyric – yet more confirmation that Art Garfunkel's "Bright Eyes", from the soundtrack to animated children's film Watership Down, is the creepiest single ever to reach No. 1. There was the (real) book Nida was reading: "Creative Visualisation: Use the Power of Your Imagination To Create What You Want in Life". There was Nida repeatedly told Gaap "I'm dreaming" and Vicky cruelly telling Nida "You're dreaming if you think you can pull that off" in reference to the bold red leather jacket she coveted and eventually claimed. We heard Nida say she needed a doctor and mention her mother's suspected mental illness – the truth, or just more intolerance?
It all bubbles up into a rich horror-comedy stew that's part immigrant experience revenge slasher, part video nasty, and part state-of-the-nation drama. Despite its nostalgia-tickling Stork tubs and Smash Robots and Sapphire and Steel clips, it captures the complexity of the late 1970s without any shallow 'simpler times' longing to return there. Nuclear anxiety, barely disguised bigotry, National Front graffiti… it's no wonder that Nida's mind either conjured that colourful escape, or she walked away to oblivion with a smile on her face.
All episodes of Black Mirror season 6 are available to stream on Netflix now.