Features
Upcoming Horror Movies Heading Your Way in 2019, 2020 and Beyond
All the best and buzziest scary movies coming your way at the end of 2019 and into 2020.
It's been a great few years for horror fans: from Jason Blum's ever-expanding empire and the scaling up of James Wan's Conjuring cinematic universe to the massive breakout successes of the likes of Get Out, A Quiet Place The Witch, Hereditary, the genre is in good health.
That looks set to continue in 2019 and beyond, with a bevy of exciting horror projects on the horizon. Over the next year, we're looking forward to a host of bold new visions, intriguing reboots and sequels to some genre favorites, as well as a number of new Stephen King adaptations (natch).
We'll be updating this list with the latest trailers and developments as we get them, as well as adding in new films as they're announced. Meanwhile, here are all the biggest horror projects coming your way…
Black Christmas
Often cited as one of the underrated forebears of the slasher genre, Bob Clark's original Black Christmas (1974) is a cult classic with the unusual pedigree of being directed by the man who would also helm the wholesome A Christmas Story years later. It's been remade once before, but we have higher hopes for this version due out in time for the 2019 holidays. After all, it is being produced by Blumhouse Pictures and Imogen Poots set to star. It remains, however, the familiar story of a group of sorority girls looking to spend the holidays on campus… even as they receive creepy phone calls at all hours through the night from an apparent stalker…
ETA: December 13, 2019
The Grudge
When someone dies in the grip of a powerful rage, apparently they're cursed to remake the same movie over and over again… We kid, but in all seriousness The Grudge, or Ju-On has had a lot of iterations, including a U.S. remake and two sequels. Grudge looks like it'll be a reboot rather than a further sequel and Nicolas Pesce, who made The Eyes of My Mother, is directing. The reboot will center around a house haunted by the grudge curse and Andrea Riseborough, Demián Bichir and John Cho star.
Read more about The Grudge reboot here.
ETA: January 3, 2020
The Lodge
Severin Fiala and Veronika Franz follow-up Goodnight Mommy with another unsettling chiller in The Lodge, a slow-burn journey into paranoia in which you are not sure which character to trust–and which one might be destroying the sanity of the others. Set right before the holidays, Riley Keough gives a tour de force performance as Grace, a young woman who is attempting to connect with the children of her fiancé during a trip to a remote snowy lodge… children who blame her for their mother's suicide. Long buried demons, as well as Grace's own grim childhood, begin to manifest in disturbing ways.
ETA: February 7, 2020
The Invisible Man
Universal Pictures admittedly has had some trouble in recent years with adapting its iconic Universal Monsters to 21st century sensibilities. 2017's attempt to turn them into superheroes via The Mummy was downright pitiful. However, with the studio now turning to Blumhouse Pictures, they appear to have an eye on correcting past mistakes. Beginning with The Invisible Man, Blumhouse is reimagining iconic horror stories for a new century.
Loosely based on the 1897 novel by H.G. Wells (as well as the 1933 James Whale movie), this new vision is from Leigh Whannell, who co-created the Saw and Insidious franchises with James Wan, and who also wrote and directed 2018's underrated Upgrade. It is also a pretty timely reimagining where the mad science of Adrian Griffin (Oliver Jackson-Cohen) is recontextualized from the point-of-view of his ex-girlfriend Cecilia Cass (Elisabeth Moss). Cecilia left Adrian because he was dangerously abusive, and he's now only more so after faking his death and perfecting invisiblity. Becoming a "ghost" who haunts her, and can physically stalk her without being seen, this is a terrifying reimagining for the #MeToo era.
ETA: February 28, 2020
The New Mutants
It's the film we thought we'd never actually see, but The New Mutants is finally getting a belated cinema release this summer. A much darker take on the X-Men universe than previous franchise entries, the film follows five young mutants, including Anya Taylor-Joy's sorceress Magik and Maisie Williams' shape-shifter Wolfsbane, as they struggle to deal with their demons while locked up in a sinister secret facility.
The New Mutants has gone through extensive reshoots and release date changes, which isn't often a good sign (see Josh Trank's Fantastic Four). But apparently the additional filming was scheduled in to allow writer/director Josh Boone (The Fault in Our Stars) to move the film away from the "neutered" YA compromise the studio originally wanted and back to the "full horror" movie he originally pitched–after Fox's fear-focused first trailer, released back in 2017, proved to be a hit. And hey, reshoots worked out pretty well for Rogue One, right?
Read more about the project here.
ETA: April 3, 2020
Antlers
Scott Cooper, the dramatic director of films like Crazy Heart and Hostiles, is directing an original horror movie. Better still, it is one getting produced by, and getting the stamp of approval from, Guillermo del Toro. Antlers is the tale of two adult brothers, one a teacher and the other a sheriff, getting wrapped up in a supernatural quagmire that involves a young student and a "dangerous secret." And with a cast that includes Jesse Plemons, Keri Russell, and Graham Greene, we are very intrigued.
Read more about Antlers right here.
ETA: April 17, 2020
Antebellum
Ah, time traveling to the past. It's almost always a romantic fantasy in which characters in the present learn to be their best selves in "simpler times." Think Starz's Outlander or romantic comedies like Kate & Leopold and Midnight in Paris. But hang on, what about people who view the past in less than rose tinted glasses? What about people who would view being sent back in time as a death sentence?
Thus enters the intriguing Antebellum: a new horror movie from Gerard Bush and Christopher Renz that sees a 2020 author (Janelle Monáe) trapped in a hell where her present is blurring with the Antebellum South: a time of slavery and eventually the Civil War. Faced with the prospect of being sent to a lifetime of bondage and soon-to-be-enacted Jim Crow laws, Monáe's Veronica needs to figure out how to prevent these trips to the past from becoming permanent.
ETA: April 24, 2020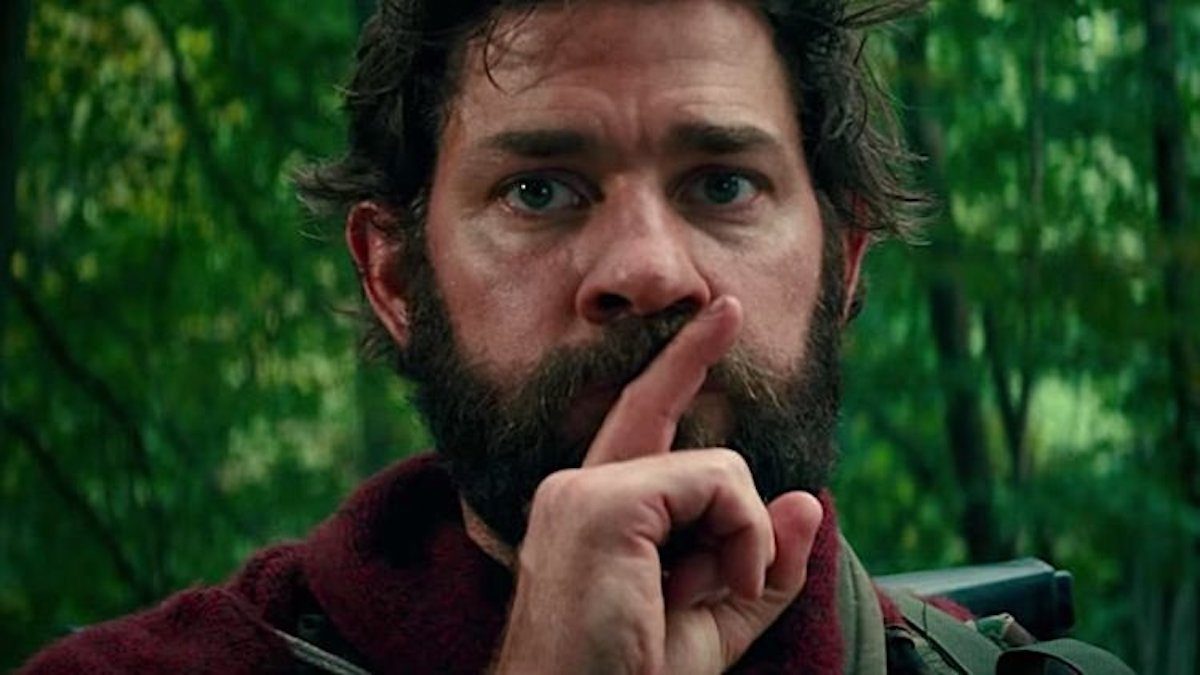 A Quiet Place 2
Though very little is actually known about the sequel to 2018's break out hit, a follow up is definitely on the cards with star and writer/director John Krasinski working on the script. In November last year co-star Emily Blunt spoke to EW about it, teasing "The idea of seeing who these people were before this all happened would be interesting. But I think actually it's now what's the next chapter and what happens next… I think people feel very invested in this family… I think it's such an open book right now, and certainly for John who is lasering into something as we speak." While Krasinski added: "This is a world you can play in, this isn't just a character to remake…. it's actually a world, which is a whole different, very unique experience," Before? After? The Abbotts? Not the Abbotts? It's all up for grabs, but we're quietly excited.
Read more about A Quiet Place 2 here.
ETA: March 20, 2020
Saw Reboot
Initially slated for October 2020, the month in which Saw movies have traditionally landed, it was announced that this one is being brought forward, likely as a reaction to the announcement that two new Halloween sequels are on their way, slated to land in October 2020 and October 2021 (more in a moment). Not a lot is know about Saw 9 which is probably won't be called, other than it'll be directed by Darren Lynn Bousman who made Saw II, II, and IV and will be based on a story by none other than Chris Rock. More tricks and traps with a brand new slant? We could be on board for that.
ETA: May 15, 2020
Candyman
Jordan Peele's Monkeypaw Productions is behind this redo of the '90s slasher, which will address "toxic fandom" according to Creative Director Ian Cooper. Aquaman star Yahya Abdul-Mateen will play the lead role, originally inhabited by Tony Todd, and the director is Nia DaCosta who made Little Woods. The original 1992 movie, written and directed by Bernard Rose, based on Clive Barker's short story, starred Todd as the titular hook-handed boogeyman who spits bees and haunts a housing project in Chicago. This reboot is set to "return to the neighbourhood where the legend began: the now-gentrified section of Chicago where the Cabrini-Green housing projects once stood."
Read more about the Candyman reboot right here.
ETA: June 12, 2020
Malignant
James Wan is directing an original horror movie. The last three times he did that he birthed iconic franchises in Saw, Insidious, and The Conjuring. Can he do it again? Malignant certainly has a grim premise about a cancer patient who discovers his parasite is actually a mysterious parasite–one that gives him powers to see behind the curtain of our reality. It's based on a 2012 graphic novel that Wan also co-wrote, and which we admittedly haven't read. But this sounds like a gnarly melding of science fiction and Lovecraftian horror. It has also been adapted by the screen by Wan and Ingrid Bisu who stars in the movie…
ETA: August 14, 2020
The Conjuring 3
James Wan is sadly stepping away from the mainline The Conjuring movies after directing the first two superb entries in the saga. Yet the series is carrying on with The Conjuring 3, a new horror movie directed by Michael Chaves (The Curse of La Llorona) and starring a returning Patrick Wilson and Vera Farmiga as the Warrens. This will be the first Conjuring film produced after Lorraine Warren's passing in 2019, and while the full storyline screenwriter David Leslie Johnson (The Conjuring 2, Aquaman) selected is unknown, it's been hinted that it will be set in the 1980s and tackle a Warren case alleged to involve demonic posession causing a werewolf-like transformation. At least that's what they said in court!
Read more about The Conjuring 3 right here.
ETA: September 11, 2020
Last Night in Soho
Another horror movie based around the idea of time travel, Last Night in Soho comes from the feverish mind of Edgar Wright. One of the most versatile directors of his generation, Wright tries on different genres like he's trying on new hats, including when he mixes them like with the comedy-horrror classic Shaun of the Dead.
Last Night in Soho, which Wright co-wrote with Krysty Wilson-Cairns (1917), is expected to veer closer to dramatic horror with its concept of a young woman aspiring to break into the London fashion scene being transported to the 1960s where she meets her idol, a then wannabe singer. But the past is not what it seems, as things fall apart to horrific results. The film stars Anya Taylor-Joy and Thomasin McKenzie as its two central young women, and features an apparently nefarious turn by Matt Smith. Yeah, we feel this London calling too.
ETA: September 25, 2020
Halloween Kills and Halloween Ends
Announced during this year's San Diego Comic-Con were two back-to-back sequels to the 2018 Halloween reboot/sequel which will turn this into a new trilogy. We've including these as one entry until we know more but what we know now is that Laurie Strode (Jamie Lee Curtis) is going to be back, as will director David Gordon Green, while Malek Akkad, Jason Blum and Bill Block are back to produce; John Carpenter and Curtis are returning as exec producers. This shouldn't come as a surprise since the 2018 movie, which saw Michael return to Haddonfield after his first murder spree 40 years before, made a little over $255 million at the worldwide box office. Judy Greer and Andi Matichak as Karen and Allyson, Laurie's daughter and granddaughter, are also returning, as is Nick Castle. More as we have it.
Read more about the Halloween sequels right here.
ETA: October 16, 2020 and October 15, 2021
Untitled James Wan Movie
We know virtually nothing about this other than James Wan is locked in to direct a currently untitled horror movie set up at Warner's New Line Cinema before he begins production on Aquaman 2. He'll be working from a screenplay he's co-writing with Ingrid Bisu (one of the co-stars of The Nun) and that he is also producing the film alongside Michael Clear via his Atomic Monster production label.
ETA: TBA
The Troop
James Wan's production company Atomic Monster has the rights to Nick Cutters wonderful, icky body horror novel about a group of scouts and their leader who go on a camping trip and encounter a stranger with a very unpleasant affliction. E.L. Katz who made excellent indie Cheap Thrills is attached to direct. No news on the ETA yet (could be a while) but we reckon this one will be worth the wait.
ETA: TBA