Features
Upcoming Stephen King Movies and TV Series: Which Projects Are Still Happening?
For a minute it seemed like every Stephen King property was destined for the screen. Now, not so much, but there's still plenty in the works.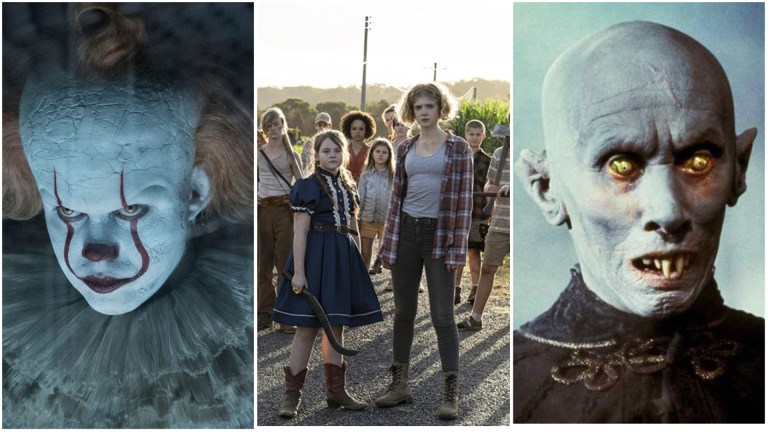 On Sept. 8, 2017, New Line Cinema/Warner Bros. Pictures released It: Chapter One, the first of two movies based on the classic 1986 novel by Stephen King and a film destined to go down in cinema history as the highest grossing horror movie of all time.
Opening to a record-shattering $124 million and eventually earning $701 million worldwide (against a measly budget of $40 million or so), It: Chapter One was also a fantastic movie. It captured both the unimaginable terror of the entity known as Pennywise the Dancing Clown (helped by a genuinely unnerving performance by Bill Skarsgard) and the emotional, coming-of-age story of the seven kids known as the Losers Club, who bond together to battle the malignancy under their town.
It: Chapter One also proved that a mainstream, high-quality, studio-backed picture could still be made from King's work, after a nearly 20-year period in which many adaptations either did moderately well (1408), bombed outright (Dreamcatcher), or vanished into VOD hell (Cell, A Good Marriage).
So naturally, no sooner had the dust settled in Derry, Maine than a new wave of King adaptations, both for theaters and hungry-for-content streaming services, was seemingly spitting out new titles every week.
But five years and one global pandemic later, very few of these projects have actually made it in front of cameras, let alone onto their respective platforms.
What Happened to the Stephen King-naissance?
Following the release of It: Chapter One, several more King-based movies did in fact come out — and all underperformed.
It: Chapter Two, which arrived in 2019, earned $473 million worldwide — a handsome sum, to be sure, but nearly 35 percent below Chapter One. A heavily promoted (and awful) remake of Pet Sematary, issued in April 2019, stalled at a mere $113 million worldwide.
Sadly, the excellent Doctor Sleep, a clever and powerful adaptation from director Mike Flanagan of King's The Shining sequel, was a complete bust in late 2019, topping off at just $72 million globally. A half-based 2022 remake of Firestarter barely made an impression with either theatergoers or streamers, a blessing in disguise for that dud.
While it's harder to calculate how several King-based TV or streaming projects did, it's reasonable to conclude that two recent limited series, the CBS All Access (as it was called at the time) production of The Stand and Apple TV+'s Lisey's Story, came and went without making much of a dent in the pop culture conversation, although HBO's limited series based on The Outsider garnered more attention. Meanwhile, Hulu's J.J. Abrams-produced anthology series Castle Rock was canceled after two underwhelming seasons.
The TV series Mr. Mercedes, based on King's Bill Hodges trilogy, was a moderate three-season success on first the now-defunct Audience network and then Peacock, while we dare you to find someone who watched Epix's Chapelwaite, based loosely on a short story called "Jerusalem's Lot" (itself only tangentially connected to King's classic novel). Somehow, Chapelwaite has been renewed for season 2.
The 'Sematary' of Lost King Projects
As we write this, probably around half the King-based projects we last surveyed are still in some sort of active development or even production, while others — all announced with some sort of fanfare in the industry trades — have seemingly vanished or stalled. Whether they fell victim to the pandemic's disastrous effect on film production, a lack of financing, an unsatisfying script, or all of the above — not to mention the cooler response to post-It King projects — is not always clear to ascertain.
Films or TV projects like The Bone Church, From a Buick 8, The Eyes of the Dragon, The Little Green God of Agony, Joyland, Mile 81, Rest Stop, Revival, Sleeping Beauties, and Suffer the Little Children have all gone silent for years or been scrapped, while Overlook – a high-profile The Shining prequel series from Abrams' Bad Robot company – was canceled outright by HBO before it even went into production.
So what happened? Was Pennywise the Dancing Clown iconic enough to warrant the first movie's massive success, without necessarily signaling a wholesale embrace of more King material on the big screen? Did Covid-19 stop all this King mania in its tracks? Did a handful of critical and audience flops derail the whole hell-bound train?
Whatever the cause is, there are still a bounty of King works out there, just waiting to slither onto theater screens or your widescreen TV. Let's take a look at them all, whether they're ready to pounce or destined to be consigned to a dark, musty tomb.
The Boogeyman
Originally published in 1973, then included in King's 1978 collection Night Shift, "The Boogeyman" is a classic King tale that has intrigued filmmakers for years (it's been filmed seven times as a short). Problem is, it's only a few pages long and takes place entirely in a psychiatrist's office, where a patient tries to convince his shrink that the title monster is real and has been slaughtering his kids one by one.
Nevertheless, a feature film version was announced back in 2018, briefly canceled when Disney bought Fox, was then revived again and began filming in early 2022. Rob Savage (Host) is directing and A Quiet Place writers Scott Beck and Bryan Woods are among the four scribes to contribute to the screenplay. It seems some extensive liberties have been taken with the story, which centers now on two kids who try to convince their widowed dad that the boogeyman is real.
Don't look for this one to hit theaters. 20th Century Studios will premiere it on Hulu sometime in 2023, perhaps following the Prey playbook.
Children of the Corn
Yes, it's true: there is a new Children of the Corn movie that allegedly exists. Filmed in early 2020 and completed during the pandemic by director Kurt Wimmer (whose last directorial effort was 2006's Ultraviolet), this 11th entry in the inexplicably long-running Children franchise was reportedly screened in two theaters in Sarasota, Florida in late 2020 before mysteriously vanishing again.
The company behind the film, ANVL Entertainment, has listed a wider Fall 2022 release on its website, but there's been no official confirmation of that. A few images have surfaced from the movie, which serves as a prequel to King's story and shows how the children of a small Nebraska town rose up and murdered all the adults in the name of an entity hiding in the corn. For a bunch of filmmakers and small but seemingly devoted cult of fans, King's original 1977 story is the gift that keeps giving.
Christine
Blumhouse teamed last year with Sony Pictures and director/writer Bryan Fuller on a fresh version of King's classic haunted car story, which was filmed by John Carpenter in 1983 with mixed results. Deadline announced the remake in June 2021, although King told the Bangor Daily News in February 2022 (via Movieweb) that he was doubtful about whether it was actually going to get made (a strange comment from King, who is usually either positive or neutral about the films being made of his work).
To be honest, we'd be surprised if Fuller is still involved, since the mastermind behind shows like Pushing Daisies and Hannibal has lately been better at leaving projects (like Star Trek: Discovery and American Gods) than seeing them through. Blumhouse itself has been largely silent about the project; if the recent, nearly unwatchable Firestarter is any indication, perhaps the company should take a time-out from developing any more King-based stories.
The Dark Half
Deadline reported in December 2019 that King's 1989 novel The Dark Half, previously filmed by legendary horror director George A. Romero 30 years ago, was going to go in front of the cameras for a second time. Tapped to write and direct this one was Alex Ross Perry, the filmmaker behind the acclaimed rock 'n' roll drama Her Smell, which starred Elisabeth Moss.
The story was inspired by the real-life revelation that King had written five novels (he's published two more since) under the name Richard Bachman, a secret that came to light with the arrival of the fifth book, Thinner. In The Dark Half, a novelist named Thad Beaumont lays his own writing alter ego to rest — he writes successful crime novels under the name Richard Stark, while his own more literary books struggle — only to discover that Stark isn't quite ready to retire.
The Romero version is a little-seen and underrated gem, with a terrific dual performance from Timothy Hutton, but in the right hands The Dark Half could be resurrected as a tense supernatural/psychological mind-bender. MGM, which owns the rights, has been purchased by Amazon since the Perry version was announced, and there's no word on whether the studio is still developing it.
Elevation
One of the shortest King books in recent memory (clocking in at 144 pages – more a novella than a novel), 2018's Elevation tells the story of a man named Scott Carey who begins to inexplicably lose weight. It might be more accurate to say he's losing mass, because while Carey appears healthy, he begins to become unmoored from the Earth and faces the danger of literally floating away.
It's an odd, melancholy, yet strangely hopeful tale (there's a subplot involving Carey's attempts to help a lesbian couple fight off bigotry as they open a restaurant in his small town), and writer-director Jack Bender casually mentioned to Cinemablend in February 2021 that he had written a film treatment for it. Bender has some fairly extensive King-related experience, working on shows like Mr. Mercedes and The Outsider, but we haven't heard a word about this one since.
The Girl Who Loved Tom Gordon
This has always seemed like an odd one to us, since King's relatively slim 1999 novel basically takes place mostly inside the head of a little girl who gets lost in the woods while hiking with her family. She begins to hallucinate, first talking to her favorite baseball player, former Red Sox pitcher Tom Gordon, and then coming to believe she is being stalked by an evil supernatural entity. It's similar in some ways to the more adult Gerald's Game, which was also thought to be unfilmable and yet was done pretty successfully by director Mike Flanagan, so maybe there's a way to do this one too.
In any case, George A. Romero had it in development for years, and his family has still been pushing to get it made even after their patriarch's death in 2017. A film version was announced in August 2019, and in November 2020 (via THR), Lynne Ramsay (You Were Never Really Here) was attached to direct and co-write the feature. Little has been heard since, and tellingly the movie does not currently appear on Ramsay's IMDb page.
The Institute
King's novel about a sinister facility that houses children with powers like telekinesis or telepathy was announced as a TV series literally on the same day that it was published (September 10, 2019). Spyglass Media Group announced (via Deadline) that it was developing the limited series, with David E. Kelley and Jack Bender (the same team behind King-based series Mr. Mercedes) attached to write and direct the project respectively.
Despite King saying in a statement that he thought the series was "going to be a great success," we've heard nothing about it since. With heavyweights like Kelley (Big Little Lies) and Bender (Lost) involved, it seems strange that something like this would vanish down the development rabbit hole, but again, the disruptive nature of Covid and possible King adaptation fatigue may be keeping this one locked away.
The Jaunt
This 1981 short story, one of King's very best, was announced as a feature film in 2015 by Plan B, Brad Pitt's production company. Although It director Andy Muschietti and his sister, producer Barbara Muschietti, were attached to the project in 2017, the project went quiet — that is, until Deadline revealed that Fear the Walking Dead co-creator Dave Erickson was going to develop the story as a series proposition for MRC Television.
Like the movie version, nothing has been heard about this iteration either, and frankly, we're not really sure that "The Jaunt" would work as a TV series. It's a relatively brief story set in a future where teleportation is widely used – but with certain requirements. The story really hinges on its shock ending, one of the best in King's entire catalog. You can find it in his Skeleton Crew collection – and we advise you to read it there, since we doubt this one will show up in a screen anytime soon.
The Long Walk
Perhaps King's best novel under the Richard Bachman name – if not the favorite among fans as well – The Long Walk is set in a dystopian future America where a totalitarian government forces 100 teenage boys to participate in a nationally televised contest in which they must walk US Route 1 without stopping or falling below four miles an hour. Contestants who do either are shot to death by soldiers, and there can only be one winner.
Predating like-minded franchises such as The Hunger Games or Squid Game by decades, the novel (the first King ever wrote, starting in college) has long been a source of interest for filmmakers. Most notably, Frank Darabont – a King specialist with The Shawshank Redemption, The Green Mile, and The Mist all on his filmography – tried to develop it for years.
Darabont's option finally lapsed and New Line Cinema snapped up the rights in 2018 in the wake of its success with It. James Vanderbilt (Zodiac, the recent Scream reboot) got the script assignment, and in May 2019, Andre Øvredal (Scary Stories to Tell in the Dark) was tapped to direct. But that was three years ago, New Line parent company Warner Bros. is under new management, and what happens from here is anyone's guess.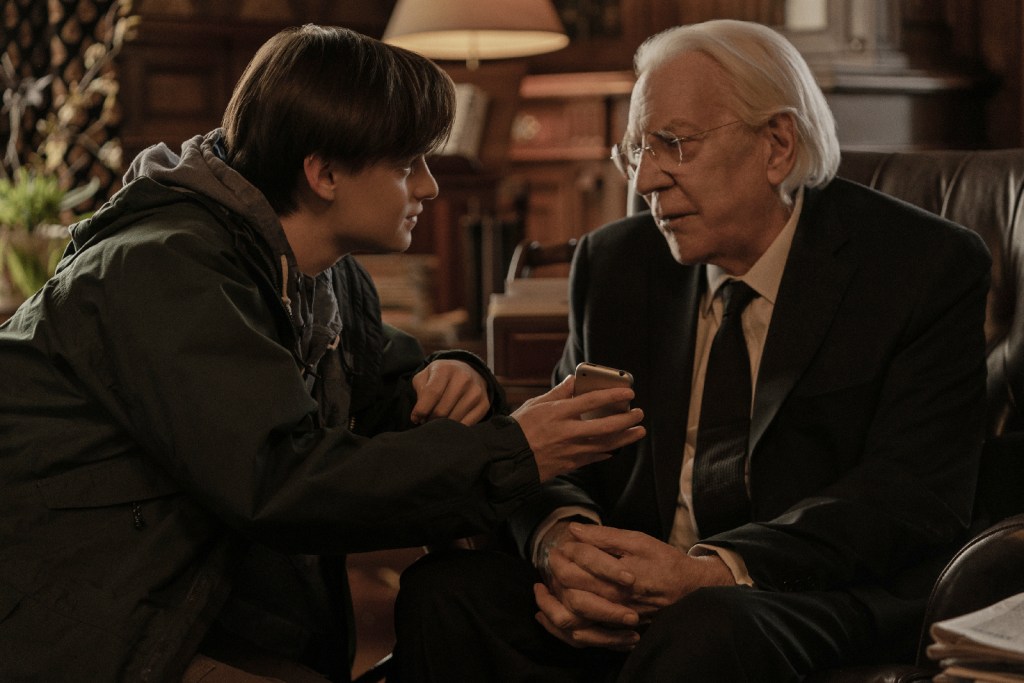 Mr. Harrigan's Phone
If you're dismayed by all the uncertainty surrounding these many King projects, don't despair: there's one you can watch any minute now! (Or perhaps already, depending on when you read this.) Based on a novella from King's recent If It Bleeds collection, Mr. Harrigan's Phone arrives via Netflix on Oct. 5, with director John Lee Hancock (The Little Things) presiding over a cast that includes Jaeden Martell (It), Donald Sutherland (The Hunger Games), and Kirby Howell-Baptiste (The Good Place).
Martell stars as a young man who becomes the caretaker for a rich elderly gentleman (Sutherland), even buying the man his first iPhone not too long before the latter passes away. But when the younger man keeps texting his friend as a way to assuage his grief, he discovers that the departed is continuing to text him back from the grave.
Netflix is well-versed in the King business, premiering original films based on Gerald's Game, 1922, and In the Tall Grass (co-written by King and his son Joe Hill) during the past few years. All three have gotten decent to good reviews, so with any luck Mr. Harrigan's Phone will tide fans over until some bigger King titles hit the screen.
Pet Sematary Prequel
As if the 2019 remake of Pet Sematary wasn't horrendous enough (and it was pretty bad), we are apparently getting that most pointless and unnecessary of follow-ups, a prequel. Yet to be given an official title, the film was greenlit in early 2021 with the remake's screenwriter, Jeff Buhler, returning to pen this one, although first-time director Lindsey Beer reportedly did her own rewrite as well.
The movie is said to explore the background of the ancient Native American burial ground that is the centerpiece of the original tale, as well as the town and the early life of elderly Jud Crandall from the first film. The cast includes Henry Thomas, Samantha Mathis, Pam Grier, Natalie Alyn Lind, and Jackson White as young Jud. This one's been shot and is in post-production, with a premiere on Paramount+ slated for some time in the near future.
The Running Man
This was not on our radar either when we last rounded up all the King properties in development, but it's a notable addition indeed: In February 2021, it was announced that Edgar Wright (Last Night in Soho) had been tapped by Paramount Pictures to co-write and direct a new adaptation of King's early dystopian novel, which was originally published under the Bachman pseudonym.
A 1987 movie starring Arnold Schwarzenegger retained the basic idea of a game show in which a man is hunted all over the world by assassins, but took a more satirical, action-oriented bent than King's bleak, bitter novel. Wright was interested in taking the new version back to the tone of the book.
While this was labeled a "top priority pic" for Paramount when Deadline reported the news, there's been little in the way of updates on its status.
'Salem's Lot
Here's the good news: the first big-screen treatment of King's seminal 1975 novel, about a small Maine town overrun by vampires, has been filmed! The movie was shot in late 2021 and early 2022, with some reshoots in the summer. But here's the bad news: after first moving from its September 2022 release date to April 2023, the movie has been removed altogether from the Warner Bros. schedule. Will it fall victim to the Warner-Discovery merger like Batgirl or emerge into the light? No one knows at this point.
What we do know is that the film is written and directed by Gary Dauberman, who wrote both parts of It and also wrote and directed Annabelle Comes Home. The cast includes Lewis Pullman, Makenzie Leigh, Bill Camp, Pilou Asbæk, John Benjamin Hickey, Alfre Woodard, and William Sadler as characters long beloved by King fans, many of whom consider 'Salem's Lot one of his all-time masterpieces. The book was adapted twice before, in 1979 and 2004, both times as a four-hour miniseries. Neither was totally great nor totally bad, so a definitive version of this classic remains elusive. Let's hope this is it.
The Talisman
This dark fantasy novel co-written by King and the late horror giant Peter Straub has been in development for decades. Steven Spielberg's Amblin Entertainment has held the rights for what seems like forever (they literally own the property in perpetuity), with the project occasionally surfacing from a long development hell slumber as Amblin commissions yet another new screenplay.
This EW article recaps some of the proposed versions that have gone by the wayside, including a TNT miniseries and a feature film directed by Mike Barker (The Handmaid's Tale). But the most recent news (via THR) — from March 2021, alas – was that Amblin was going to team up with the Duffer brothers of Stranger Things fame to bring The Talisman to life as a series for Netflix, with Spielberg and the Duffers executive producing.
A showrunner was named at the time of that report (Curtis Gwinn, who also worked on Stranger Things), but we've heard little about its development since — although with the combined power of Spielberg and the Duffers, we can't imagine that this falls through the cracks again (and if it's a hit, they should make King and Straub's underrated sequel, Black House, as well).
The Tommyknockers
King's 1987 novel about a town possessed by an alien force emanating from a long-buried spacecraft got the ABC miniseries treatment (rather forgettably) in 1993. The book itself — the last one he wrote before he got sober — has generally ended up near the bottom of any serious ranking of King's many novels, and the author himself dislikes it. But that didn't stop producer-director James Wan (Aquaman, The Conjuring) and producer Roy Lee (It) from cracking it open again in 2018, when they signed onto the project with the backing of Universal, which won out over Sony and Netflix for the rights.
Since then, however, crickets. Wan tapped Jeremy Slater to script it after Slater previously created and oversaw the writing of Fox's The Exorcist TV series. It was speculated that Wan might direct as well, but no official announcement on that front has been made and he's still finishing up Aquaman and the Lost Kingdom, recently booted all the way to December 2023. Perhaps The Tommyknockers, like a number of other hastily-announced King projects, will stay buried after all.