Features
Best Family-Friendly Spooky Movies to Stream for Halloween 2023
Time to curl up with these fright-light family films for Hallo-weans to Hallotweens!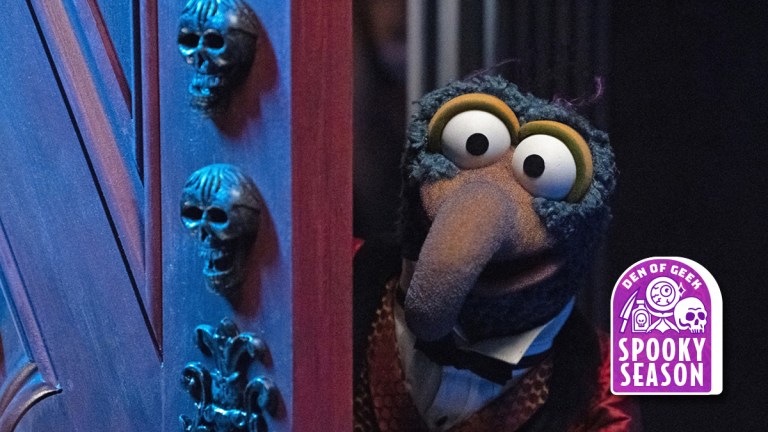 Halloween is spine-chilling in general, but especially so if you're a parent.
The amount of calories you consume while stealing your children's hard-won candy? Gasp. Running out of sweets when there's a minibus worth of spooky kids at your front door (and panic-shoving whatever you find in the cupboards their way, from loose handfuls of cereal to Oxo cubes)? Whimper. The price of Halloween costumes they'll grow out of by Christmas? SCREAM.
You'd be better off extinguishing the pumpkin, barricading the door and curling up with one of these family-friendly Halloween movies instead – from animated delights to cult classics – which all fall under the ooky-spooky rather than blood-and-guts end of the scale.
(All streaming info correct as of September 2023)
FOR PRE-SCHOOL KIDS
Wallace & Gromit: The Curse of The Were-Rabbit (2005)
This Oscar-winning stop-motion classic was the fourth film for classic British double-act Wallace and Gromit, a cheese-loving inventor and his silent anthropomorphic dog, and like their previous short films (such as The Wrong Trousers) it's full of uniquely British, silly humour. This time the pair have set up a humane pest control business (called Anti-Pesto, because of course it is) to protect the gardens of the village from rabbits in the lead-up to the annual vegetable competition. But things get spooky when a giant were-rabbit starts terrorising the village at night, and only these unlikely Yorkshire heroes can save the day. Alongside Peter Sallis as Wallace, the voice cast is packed full of British treats, from comedian Peter Kay (Car Share) to Helena Bonham Carter (Sweeney Todd) and Ralph Fiennes (The Grand Budapest Hotel).
Where to stream: BBC iPlayer (UK), Netflix (US)
Room on the Broom (2012)
Two magic words bring instant joy to any parents of pre-schoolers: JULIA DONALDSON. The children's author has had one hit after another since creating The Gruffalo, from Superworm to Zog to The Smeds and the Smoos, so it's no surprise she's created an adorable Halloween tale too. Room on the Broom is about a kind witch and her cat – voiced by Gillian Anderson (Sex Education) and Rob Brydon (Gavin & Stacey) respectively – who invite other animals to join them for flying adventures on their broomstick. The cast includes other big names like Timothy Spall (The Sixth Commandment), Sally Hawkins (Paddington) and Martin Clunes (Doc Martin) so even the grownups will enjoy this, but its 55-minute running time should keep even the shortest attention spans entertained.
Where to stream: Prime Video, BBC iPlayer (UK only)
Mickey's Tale of Two Witches
You can't go wrong with Mickey Mouse, and this 45-minute movie is a spooky treat that even scaredy-cats will enjoy, as we follow witches-in-training Minnie the Wonderful and Daisy Doozy as they try to pass their witch exams. There's cute songs, whizzy magic spells and an amusing mischievous ghost – the kind of harmless Halloween fun that's aimed at the youngest members of the family, but will keep the grown-ups entertained too. 
A less overtly Halloween-y but still spooky Mickey Mouse option is Disney's 1940 classic Fantasia, (also on Disney+) but that might be more suited to slightly older children.
Where to stream: Disney+ (UK and US), Fubo (US only)
LEGO Star Wars Terrifying Tales (2021)
The perfect way to introduce the littlest family members to the Star Wars universe, this 45-minute mini TV movie has much of the irresistibly silly humour of the proper LEGO movies, so it's perfect all-family viewing. It takes place after the events of Star Wars: The Rise of Skywalker, with Poe and BB8 forced to make an emergency landing on the planet Mustafar, where they encounter the villainous Graballa The Hut, who is renovating Darth Vader's castle into a luxury Sith-inspired hotel. While at the castle, they hear three creepy stories linked to ancient artefacts and iconic villains from across all eras of Star Wars. While these references will no doubt entertain Star Wars-loving parents, they'll probably wash over the kids watching, but they'll be kept amused by the film's frequent kid-friendly jokes.
Where to stream: Disney+ (US and UK)
FOR OLDER KIDS (5+)
Hotel Transylvania (2012)
This animated comedy makes great use of its talented cast. Adam Sandler (You Are So Not Invited to My Bat Mitzvah) voices Dracula, who runs a remote hotel resort for all the spooky non-human types and is a typical overprotective father to Mavis (Selena Gomez, Only Murders In The Building), his 118-year old vampire daughter. While she tries to convince him to let her see the world, a human backpacker called Jonathan (Andy Samberg, Brooklyn Nine-Nine) miraculously stumbles upon the hotel and causes havoc when he checks in as a guest, and he and Mavis fall in love. Some of the humour is surprisingly grown-up (a sentient suit of armour gets kicked in the privates and doubles over before asking "Wait, why did that hurt me?") so it really will entertain the whole family, and it's got enough spooky vibes for the season while still retaining plenty of heart.
Where to stream: Netflix / NOW (UK), Hulu (US)
Labyrinth (1986)
When The Muppets' Jim Henson, Monty Python's Terry Jones, and Star Wars' George Lucas collided, we were blessed with Labyrinth, and the good news is you get to be the ones to introduce this magnificent movie to your kids. A young Jennifer Connelly (Top Gun: Maverick) plays Sarah, who wishes away her little brother Toby to the Goblin King (the inimitable David Bowie), but when she changes her mind she discovers the only way to get Toby back is to defeat a tricksy, otherworldly maze full of riddles and challenges. The puppet characters she meets are just the right side of freaky without being scary, David Bowie is just as amazing as you'd expect, and almost four decades later Labyrinth still more than deserves its cult film status.
Where to stream: Netflix (UK), Hulu and Pluto (US)
Scooby Doo (2002)
Is this a good movie? No. Should you still watch it? Absolutely, preferably every Halloween without fail. Since it launched in the sixties, Scooby Doo has always been the epitome of kid-friendly spooky, with comedic "monsters" which usually have the comforting element of being unmasked as just bad guys in disguise, and any peril interspersed with plenty of giant sandwiches. This live-action remake falls roughly along these lines, and the gang (with the cast including Buffy's Sarah Michelle Gellar as Daphne, and She's All That star Freddie Prinze Jr as Fred) visiting the unimaginatively named "Spooky Island" to investigate why tourists seem to be falling under a demonic curse. But the plot isn't really important – all that matters is Matthew Lillard embodies Shaggy so accurately that it defies the laws of science. And it won the Kids' Choice award for Best Fart in a Movie. So there's that.
The movie's sequel and a series of animated Scooby Doo movies (also featuring Lillard's voice as Shaggy) are also available.
Where to stream: NOW (UK), Max (US)
The Nightmare Before Christmas (1993)
One of Henry Selick's greatest creations, Tim Burton-produced The Nightmare Before Christmas is often the subject of 'Halloween or Christmas' movie debate, but why not watch it on both occasions? All that really matters is that it's a modern classic: surreal, freaky, dark, and an explosive visual and musical feast. The stop motion film follows leggy Jack Skellington (Chris Sarandon, Fright Night), the pumpkin king of Halloween Town, who discovers Christmas Town and tries to take over. There's a host of recognisable voices – Catherine O'Hara (Schitt's Creek) as Jack's love interest and poison enthusiast Sally, Glenn Shaddix (Beetlejuice) as Halloween Town's mayor, and Patrick Stewart (Star Trek: Picard) as the narrator. It might be too weird for some younger kids to enjoy, but is definitely something you can watch with more robust tweens and teens.
Where to stream: Disney+ (US and UK)
Coraline (2009)
Similarly dark, weird and visually stunning is Coraline, a stop motion film based on Neil Gaiman's novel, and – like The Nightmare Before Christmas – directed by Henry Selick. The titular character Coraline (voiced by Dakota Fanning) is a young girl who hates her new home and feels ignored by her parents, but then she discovers a magical alternate universe behind a secret door in the house. At first it seems idyllic, with much more adoring versions of her parents lavishing her with attention – it's just they have buttons sewn where their eyes should be… and Coraline gradually realises that the alternate world is much more sinister than she thought. The impressive female-led cast includes Terri Hatcher (Desperate Housewives) as Coraline's mother, and comedy duo Dawn French and Jennifer Saunders as their eccentric neighbours. Definitely one for the older, less sensitive children, but a Halloween family staple nonetheless.
Where to stream: ITVX (UK), Max (US)
Frankenweenie (2012)
Once you've done the important job of introducing your kids to The Nightmare Before Christmas, you can show them Tim Burton's animated Halloween creation, Frankenweenie, based on his 1984 short film of the same name. It's about a young boy who revives his beloved dead dog in a child-friendly twist on the classic Frankenstein format. The cast is superb: Ozark's Charlie Tahan is convincingly lovable as the young Frankenstein, Catherine O'Hara and Martin Short (Only Murders in the Building) are his parents, and Winona Ryder (Stranger Things) plays his school friend Elsa. Expect the textbook twistedness of Burton, including lots of dead animals coming back to life, so it's another one for the less squeamish kids.
Where to stream: Disney+ (UK and US)
Hocus Pocus (1993)
If a family viewing of Hocus Pocus isn't in your Halloween plans, you're simply doing it wrong. It's the ultimate in silly spooky, with Bette Midler (The First Wives Club), Sarah Jessica Parker (Sex and the City) and Kathy Najimy (Sister Act) as the addictively entertaining trio of Salem witches who are accidentally brought back to life by teenagers Max and Allison and Max's little sister Dani while out trick-or-treating at Halloween. The witches are out for blood – or, more accurately, the souls of children – and it's up to the kids to save the town from their deadly appetite. Hocus Pocus is the ultimate camp Halloween romp, with the emphasis heavily on comedy over horror, and Midler's performance of her version of I Put a Spell on You remains a certified banger.
Parker, Midler and Najimy all reunited for Hocus Pocus 2, released in 2022, which is a not-quite-as-good but still hugely fun and nostalgic sequel, also available on Disney+.
Where to stream: Disney+ (UK and US), Hulu (US only)
The Haunted Mansion (2003)
Even ghosts can't be properly scary when they're haunting Eddie Murphy (The Nutty Professor), who stars in this classic and silly film based on Disney's Haunted Mansion theme park attraction. Murphy plays a workaholic estate agent Jim who visits the mansion with his family, hoping he can sell it, but they soon find themselves trapped there, accosted by spirits, and embroiled in solving a century-old mystery about the death of the mansion's former owner. Other cast members include Marsha Thomason (Lost) as Jim's wife Sara and Wallace Shawn (The Good Wife) and Jennifer Tilly (Family Guy) as two of the mansion's ghostly inhabitants, but it's Murphy who really shines. 
Where to stream: Disney+ (US and UK)
The Addams Family (1991)
There have been so many iterations of this famous spooky family over the past century – including the recent Netflix series Wednesday – that it's hard to know where to start, but you can't go wrong with the original 1991 feature film. Anjelica Huston (The Witches) and Raoul Julia give us one of the best ever on-screen partnerships in Morticia and Gomez Addams, Christina Ricci is divine as their morbid, no-nonsense daughter Wednesday, and Back To The Future star Christopher Lloyd's delightful gurning is unforgettable as the imposter Uncle Fester. It's a strange film, but the ensemble cast's performance makes it a must-see.
The sequel, The Addams Family Values, (sadly one of the last acting appearances for Raoul Julia before his death) is also on Paramount+.
Where to stream: Paramount+ (US and UK)
Ghostbusters (1984)
Hollywood royalty like Bill Murray and Sigourney Weaver? Check. Mild comedic peril involving three enthusiastic but inept supernatural specialists setting up their own ghost removal service in New York City? Check. The catchiest theme song of all time (probably)? Double check. There's a lot of good reasons why this eighties blockbuster has stood the test of time and it remains an absolute belter of a family film, especially during spooky season.
If you're after a more modern version, the 2016 Ghostbusters reboot (starring the likes of Melissa McCarthy, Leslie Jones and Chris Hemsworth) is also on Netflix.
Where to stream: NOW (UK), Peacock Premium and Fubo (US)
Muppets Haunted Mansion (2021)
Yes, we've been blessed with a Muppets Halloween special, and it's every bit as good as you might expect. Gonzo and Pepe the King Prawn attend a fright challenge at the local haunted mansion, where they meet the Ghost Host (Will Arnett, Arrested Development), who tells them they must face their biggest fears and survive one night at the mansion or else be stuck there forever. All kinds of spooky shenanigans ensue, with just about every familiar Muppet face turning up (Miss Piggy is Madame Pigota, Rowlf is the organist, Kermit is the Mansion Show Host… the list goes on) with other human stars including Glee's Darren Criss as the caretaker and Alfonso Ribeira (The Fresh Prince) as one of the mansion's resident ghouls. Packed with excellent jokes, it's a textbook Muppets delight.
Where to stream: Disney+ (US and UK)
Gnome Alone (2017)
An animated Netflix original, this fun family-friendly fantasy centres on Chloe, a girl whose mother moves them to a creepy new home that she discovers is overrun with sentient garden gnomes, who are battling an evil other-wordly race called the Troggs. It's an action-packed, if unserious, treat, which the kids might well enjoy more than the grownups, but it's entertaining enough to keep the attention of all ages. 
Where to stream: Netflix (US and UK)
Spirited Away (2001)
Admittedly not all (or even… any) of the other films on this list are particularly highbrow, but if you're after a truly beautiful movie for your family's Halloween watchlist, choose Spirited Away. Produced by Japan's prestigious Studio Ghibli, it tells the story of a young girl called Chihiro who is moving house, when her family stumbles into an abandoned theme park which turns out to be a magical world ruled by spirits, gods and witches. It's up to Chihiro to work out a way to save her family and return to the human world. This stunning, enchanting family film rightly won dozens of awards, including an Oscar for Best Animated Feature.
Where to stream: Netflix (UK), Max (US)
Goosebumps (2015)
Many millennial parents spent their childhood thoroughly enjoying being scared daft by R L Stine's Goosebumps novels, so expect a big dose of nostalgia when watching this comedy horror film adaptation. It stars Dylan Minnette (13 Reasons Why) as Zach, a teenager who befriends his new neighbour Hannah (Odeya Rush, Dumplin'), before discovering her father is secretly R L Stine himself, played superbly by Jack Black. When the kids accidentally open some of the books he keeps locked away, they unleash a range of his fictional monsters which magically come to life, sending them on a rescue mission to save the town from a whole host of terrors. Unlike the nineties TV series, there's plenty of jokes in the Goosebumps film to keep things light, so expect harmless pseudo-horror fun.
Where to watch: Netflix (UK and US)
King Kong (1933)
It's a rite of passage to watch this legendary 1933 picture, arguably one of the greatest films of all time, and there's no better time than Halloween to introduce the next generation to the piece of movie history. The image of the giant ape Kong scooping a terrified Ann (Fay Wray) from her bed through a skyscraper window, and climbing the Empire State Building with her screaming in his grasp, has to be one of the most enduring in all cinema. While Kong is certainly a menacing monster, the film's age means there's no particularly alarming gore, so it's easily suitable for older children to enjoy.
Where to stream: BBC iPlayer (UK only)
Monster Family (2017)
Yes, Monster Family was a box office flop, but this animated adventure has enough familiar voices to make it worth your time. Emily Watson (Chernobyl) and Nick Frost (Hot Fuzz) star as parents Emma and Frank who, along with their two children, attend a Halloween costume party before a witch (voiced by Doctor Who's Catherine Tate) transforms them into real monsters. Other voice cast include solid names like Jason Isaacs (Harry Potter) and Celia Imrie (Calendar Girls), and while it might not be a masterpiece, it's certainly fun, and about as Halloweeny as it gets.
Where to stream: NOW (UK), Hulu, Peacock and Pluto (US)