Reviews
Wednesday Review: Nancy Drew Meets The Addams Family
Wednesday normalizes the outcasts as Tim Burton indulges every The Addams Family whim.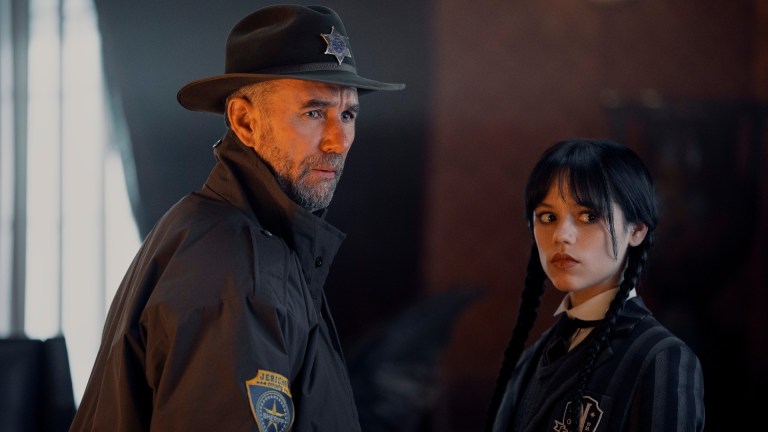 This Wednesday review contains no spoilers.
The Addams Family is iconic. Created by Chas Addams, the single panel cartoons debuted in 1938 in The New Yorker magazine. Director Tim Burton is an obvious fanboy, eager to put his unique spin on the family dynamic. The Netflix series Wednesday is an original spinoff. Jenna Ortega plays Wednesday Addams without much family support, the way the character prefers it.
The series opens with the traditional dysfunctional unity. Wednesday protects Pugsley (Isaac Ordonez) from bullies because only she is allowed to torture her brother. Her ghastly genius sets the tone immediately. Swimming with piranhas in a school pool is all fun and games until someone loses a testicle. Then it's a one-way ticket to Nevermore Academy, a place which encourages artful dodgers.
For The Addams Family, a plot is merely a device to hang gags on. Wednesday is a simple story. Girl goes to a new school, meets a monster, and does monstrous things, with Thing (Victor Dorobantu) lending a hand where it can. Itt does not make an appearance. The only real twist is the monster is also a threat, and a mystery which has to be solved, turning Wednesday into a dark Nancy Drew.
There are holes, of course, nothing stitched together like an old corpse would be complete without them. One character is very un-monstrous, from a family of anti-outcasts who burned them at the stake as witches in the 1600s. Yet, this person uses the supernatural, invoking both dark magic and Mary Shelly's Frankenstein. This should put her in solid with Wednesday, but the crack remains. The internal logic is tested on a few fronts.
Ortega brings extreme confidence, committed to make Wednesday stand out in the midst of an overriding desire to be ignored. Socially awkward by design, Wednesday is a teenager, snarky, snide, and unyielding in judgements, and Wednesday is a coming-of-age story. Named for the day of woe, she sees things in black and white, with an emphasis on black, and looks like a living black-and-white Instagram filter.
The Wednesday Addams character was originated for series TV by Lisa Loring, who remains the spookiest. Chloë Grace Moretz, who voiced the character in the animated The Addams Family films, is the ookiest. The kookiest reimagining may be Melissa Hunter, who played her in the sadly underseen YouTube series Adult Wednesday Addams. The gold standard, however, is Christina Ricci's embodiment in the Barry Sonnenfeld films. She appears in the Netflix series to endorse and champion a new generation with a harsher take. Ortega's Wednesday is the most openly narcissistic of the portrayals, veering far from borderline status directly into the headlights of sociopathic indulgence. We genuinely feel Wednesday wants to be the most outcast of the outcasts, the most dangerous monster in school uniform.
As this is a Wednesday feature, she is granted independence from her parents, even ghosting them on crystal ball calls. While Morticia Addams (Catherine Zeta-Jones) plays out a full arc in her short time allotted, we don't get enough of Luis Guzmán's Gomez. This has little to do with screen time. I was looking forward to Guzmán's interpretation, expecting it to be a fresh departure driven by abandon and a desire to put an individual stamp on an iconic character. He brings lust and a soft heart, all the better for piercing, but leaves the madness behind. His eyes bring more sadness than mischief when he is not lost in amorous entangling. He must be given more to do if Wednesday moves on to a second season.
Fred Armisen's Uncle Fester leans into Jackie Coogan's portrayal, subtly mimicking the voice, but overtly playing with the electricity. He is in town "incognito," but rides in a dalmatian colored motorcycle with a matching sidecar because he wants to stand out. He is the black sheep in a very colorful family. Rounding out the dynastic character accouterments, George Burcea plays Lurch, a perfect butler, in this case, because he never gets in the way, and barely takes up frames.
Danny Elfman's score is a major character, not only thematically, but as an emotional delivery system. It makes the chills creepier, the jokes funnier, and the tingles tangible. The introduction music still features the harpsichord, but does not melodically cop from the original theme. The series leaves the snapping to the secret society.
The Nevermore Academy student body is a diverse group of contrarians, eagerly played. Emma Myers is a bright and fuzzy Enid Sinclair, Wednesday's werewolf roommate who loves rainbows and spreads gossip on social media. Myers is consistently enthusiastic, and makes a very effective contrast to Ortega's Wednesday. The duct tape which delineates the room expresses this great divide with emotional clarity. Joy Sunday mixes vulnerability with imperiousness as Bianca Barclay, big siren on campus.
Off campus, Hunter Doohan's latte-pouring Tyler Galpin is a multidimensional character in many ways. He is a foil, a creep, a loving friend, and trusted ally. But his father is Sheriff Galpin (Jamie McShane), who has a complicated relationship with Wednesday, and the school she attends.
Gwendoline Christie from Game of Thrones is a tricky Larissa Weems, the principal of Nevermore Academy. Very protective of her students, she is always a veiled threat away from being the problem. Ricci is at her most affable, spoon-feeding the venomous plants she adores playing Ms. Thornhill, the only normie teacher at the academy. Honored to just be there, she loves her pupils to death. The faceless students stand out in spite of themselves, a marvelous visual gag with a tantalizing touch of terror.
Introductions and settings are exquisitely laid out. Whether at the Nancy Reagan High School, the Nevermore Academy, crematoriums or mortuaries, there's not a cobweb out of place. An evil mansion hidden in the woods bears a creepy resemblance to drawings a student can't help but commit to paper, which occasionally come alive. The bright contrast of the surrounding town carries its own freakish atmosphere. This is, after all, the outside world, and it is rendered more like a goldfish bowl than a refracted visual image of society.
Wednesday does some disservice to The Addams Family itself. There is an uncomfortable twist to the family dynamic. Wednesday doesn't want to be anything like her mother, but Morticia is a rebel youth's dream mom. This is sheer teen angst, which is a tad too mundane for abrasive relations, and too vaguely defined. As are the ever-ulterior motives Wednesday has for estranging herself from the cheerfully strange supernatural student body.
Like any school, Nevermore has its cliques. Fangs, which are vampires, Furs are werewolves, sirens are called Scales, and Gorgons are Stoners. A nicer group of marginalized creatures you may never meet, and talk about afterward. They are at odds with the title character who is the epitome of odd. The peer pressure feels displaced. Wednesday has a mother and a therapist, isn't that enough torture? I get it, and Burton is right on this, you can never have enough monsters. But making her an adversary to the adversary bothers me on a cellular level. Didn't she see the way those werewolves played frisbee? That was adorable. And her classmates have their priorities intact. "Wait, we're never eating that cake, are we?" asks a stoner. Gorgons know what's important.
Wednesday is creepily cheerful, and as delightfully subversive as the best of the franchise. Coming from the vantage point of Burton's setting, screening Legally Blonde as a horror movie appears to be a very subliminal nod to Barry Sonnenfeld's Addams Family movies. Gore and splatter are deliciously displayed, and highlight a horrifying conclusion: A group hug ambiance more suited to Harry Potter. The series dynamic resembles Chilling Adventures of Sabrina, which owed a great debt to Burton. He owes a great deal to his knowledge of forensics, which permeates much of macabre dialogue without sacrificing a laugh.
In spite of a cartoonishly frightening monster stalking the woods, the eight-episode run allows for an acceptably warped reality. Wednesday grows over the course of the series, even harboring a grudging pride in her family, subtly hidden under backhanded brags about year-long Día de Muertos celebrations. Wednesday delivers a promising opening season, which should be given room to grow, like a black dahlia. Like a monkey's paw, I hope it comes back.
Wednesday will drop all eight episodes on Netflix on Nov. 23.