Features
The Best Bob's Burgers Halloween Episodes
Few other shows understand the appeal of Halloween better than Bob's Burgers. Here are its best spooky season installments.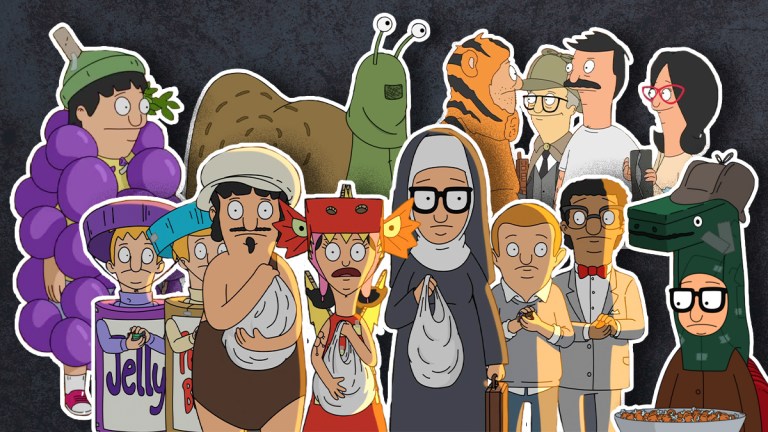 Bob's Burgers knows how to do a holiday episode. And Halloween, especially, brings out the best in Fox's long-running animated sitcom. The streets of the show's vaguely Jersey shore town become crowded with kids in costumes. The leaves change and the sky darkens. The puns get a little more sinister. Candy and creepiness are everywhere.
Ranking the episodes by "best," though, is a fool's errand; they're all gems in their own eerie way. So, instead – and in anticipation of season 13's upcoming "Apple Gore-chard! (But Not Gory)" – let's take a look back at the ten spooktacular installments so far, ranked from merely Halloween-y to the absolute Halloween-iest.
10. Season 10 Episode 4: Pig Trouble in Little Tina
Trying to fit in with her friends, Tina (Dan Mintz) insults the dead pig she's dissecting in class, only to find herself haunted by the spectral swine afterwards. With a little help from resident demon-possession expert Louise (Kristen Schaal), she tries to exorcize the pestering pork chop before a romantic hayride with Jimmy Jr. Bob (H. Jon Benjamin) and Linda (John Roberts), meanwhile, battle a ball of earwax, in what has to be one of the weirdest B-stories ever written.
"Pig Trouble" has, hands down, the scariest horror-movie imagery in the series and a killer end credits song by Fiona freakin' Apple. (Whoever decided not to put it online is the real criminal here.) It's an unquestionably great episode, and unsettling as all get-out.
But an ocean of spilling pig intestines aside, there's very little actual Halloween to it. Even the haunted hayride is more falloween than anything. By the time the requisite costume fashion show arrives, you've almost forgotten there was supposed to be any trick-or-treating at all.
9. Season 12 Episode 3: The Pumpkinening
Back in high school, Linda and Gayle (Megan Mullally) smash some pumpkins, a crime that haunts the sisters for the next 27 years. When a mysterious letter arrives, they head back to their hometown to try and uncover the vaguely threatening note's author. At the restaurant, Bob finally figures out how to buy decent Halloween candy – but maybe he did a little too good. The burger joint devolves into a "child zombie candypocalypse," much to the concern of Gene (Eugen Mirman), Tina, and Louise.
Pumpkin carving contests and candy buying are hallmarks of Halloween, but, quite frankly, there's a little too much daytime in this episode. Everything's the opposite of spooky. Even the candy subplot, which focuses on all the little kids who go out before it gets too dark, somehow feels like it belongs to another, less malevolent holiday. And, try though the show might, even the scariest dog groomer isn't that scary.
8. Season 6 Episode 3: The Hauntening
With Halloween fast approaching, Louise laments that she's unable to be scared. Bob and Linda tell her not to worry, because they've set up a haunted house that will, finally, terrify her. It ends up being "the world's worst haunted house," and Louise is more disappointed than ever. But as the Belchers try to leave, they discover the car's tire has gone flat. Soon enough there's old men with enormous shears, creepy dolls, cultists, and a house that might really be haunted after all.
Is "The Hauntening" scary? Yes. And, like, a lot. Is it the most Halloween-filled of all Bob's Burgers' offerings? Not so much. In fact, it's one of the few years we don't get any costumes from the kids. But, hey, ending the episode for Boyz 4 Now's video for "I Love You So Much (It's Scary)" – a reverse "Thriller" – is a nice touch.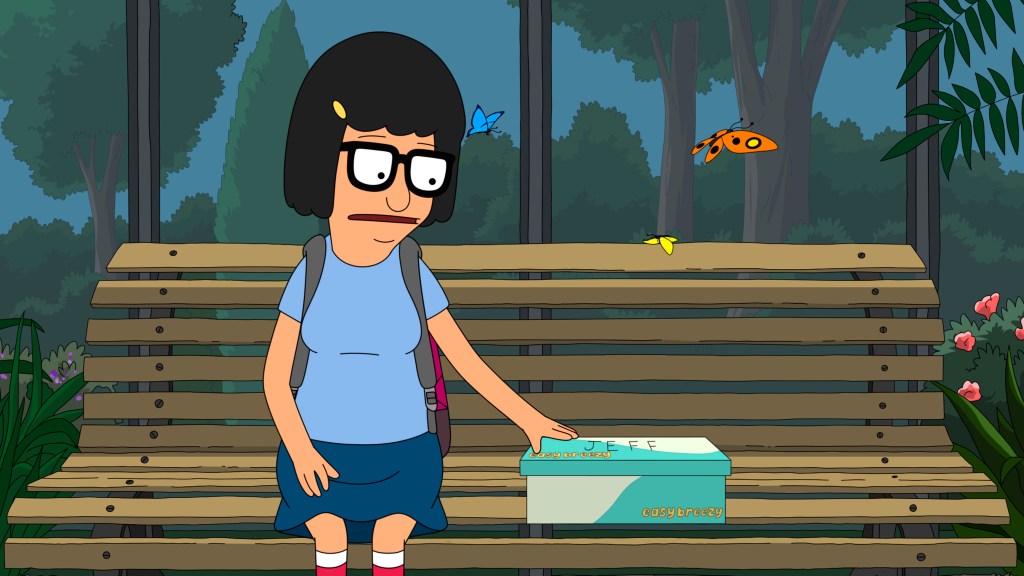 7. Season 5 Episode 2: Tina and the Real Ghost
A jittery exterminator believes the restaurant is haunted, and soon enough paranormal investigators are combing the burger-stained booths for spectral traces, drawing a much-needed crowd. Tina, meanwhile, finds herself dating the ghost in question – a 13-year-old boy named Jeff, trapped, naturally, in an old shoe box. But a "creepy crush" isn't enough and, as with all teenage romances, things quickly get complicated.
This one leans hard into the ghost angle, and the climax in the mausoleum is suitably scary, but most of the episode takes place in the days before Halloween. Heck, even Gene laments the lack of trick-or-treating. Nevermind that butterfly kisses from a real butterfly kind of spoil the spooky mood.
6. Season 7 Episode 3: Teen-a Witch
In another Tina-centric episode, the eldest Belcher child tries to out-costume Tammy (Jenny Slate) for the upcoming school costume contest, only to become a full-blown witch instead. But when she crosses the wrong crossing guard, Tina finds herself cursed. Back at the restaurant, Bob is on a mission to figure out who keeps stealing his burger-etched jack-o-lanterns.
School costume contests are a nerve-racking part of a lot of children's Halloweens, and, even if not, everyone can relate to wanting a better costume than their mortal frenemy. Bob's pumpkin pursuit similarly ties the episode directly into the spooky season, while the final scene of Mr. Fischoeder's glowing Jack-O-Land is the stuff Halloween dreams are made of.
5. Season 4 Episode 2: Fort Night
Making a brief pit stop in their box fort to retrieve some dragon eyes, en route to what promises to be an epic Halloween, the Belcher children (and Darryl, Andy, and Ollie) soon find themselves trapped. With a ticking candy clock and the walls quite literally closing in, will they escape in time to get some trick-or-treating done? Will aspiring serial killer Millie (Molly Shannon) let them escape at all?!
"Fort Night" is tense and excellent – and given the genuine peril the kids find themselves in, is maybe one of the most stressful episodes of Bob's Burgers out there – but the whole point is that the kids are being kept away from Halloween. Still, plastic spiders, Teddy's Halloween Scream CD, and Bob and Linda running around dressed up as "Godzilla's ding-dong" go a long way to remind everyone what the kids are missing.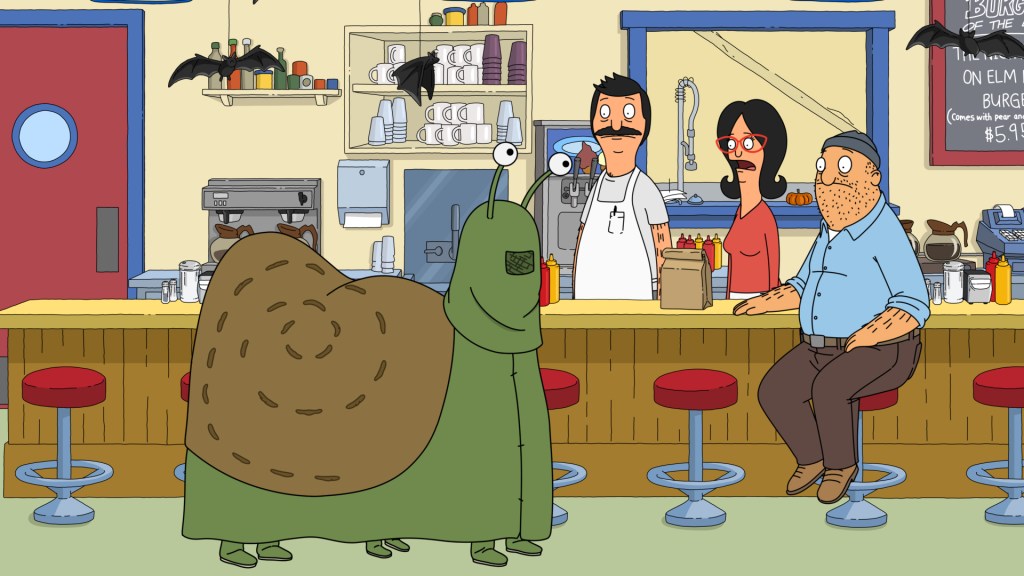 4. Season 11 Episode 4: Heartbreak Hotel-oween
An old woman tries to conjure the ghost of her former lover, who died on Halloween 50 years ago, so she can tell him off for good. Louise, meanwhile, is out for some trick-or-treating revenge, two years after an unconscionable candy crime was committed against her. Tina, seeing the similarities, ropes Louise into solving the mystery of the dead man's death to avoid having any bad candy karma. Farther down the street, Teddy (Larry Murphy) is donating blood – "the candy of the veins" – and brings along Linda and blood-phobic Bob.
Taking place entirely on Halloween night, there's seances and haunted hotels and people in costumes everywhere – even the bloodmobile is dressed up as a vampiremobile! And, as a bonus, we're treated to an entire second Halloween set in the 1970s, too. A hotel might not seem like the ideal location for a ghost story, but Stephen King (and anyone who's tried to book a tour of the Stanley Hotel in October) would likely disagree. "Heartbreak Hotel-oween" brings both the heebies and the jeebies.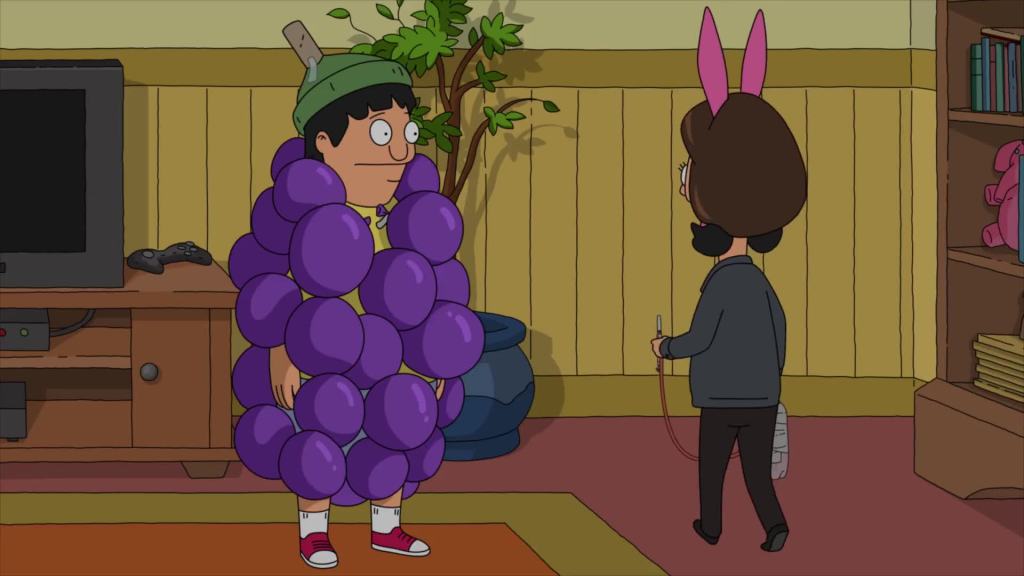 3. Season 8 Episode 3: The Wolf of Wharf Street
Rampant fog and rumors of a wild animal roaming the streets threaten to derail Halloween, but Linda decides the lingering specter of doom is exactly what she needs to become a "fun" mom. So into the spooky the Belchers go. Well, except for Bob. He's at home, laid up with a bad knee – and utterly convinced that sexy nurse Teddy is a werewolf out to get him.
For an episode where Halloween's basically canceled, "The Wolf of Wharf Street" is nonetheless a creepy (and characteristically heartwarming) holiday. The fog and the full moon set the mood, while the flickering light of the apartment television perfectly captures the late-night, horror movie-viewing experience.
There's more than enough suspense and paranoia to make up for the lack of candy; even the kids are okay with it. Nearly getting mauled by a wolf makes for a memorable holiday, after all. As Linda herself says, "We're not Hallo-quitters, we're Hallo-winners."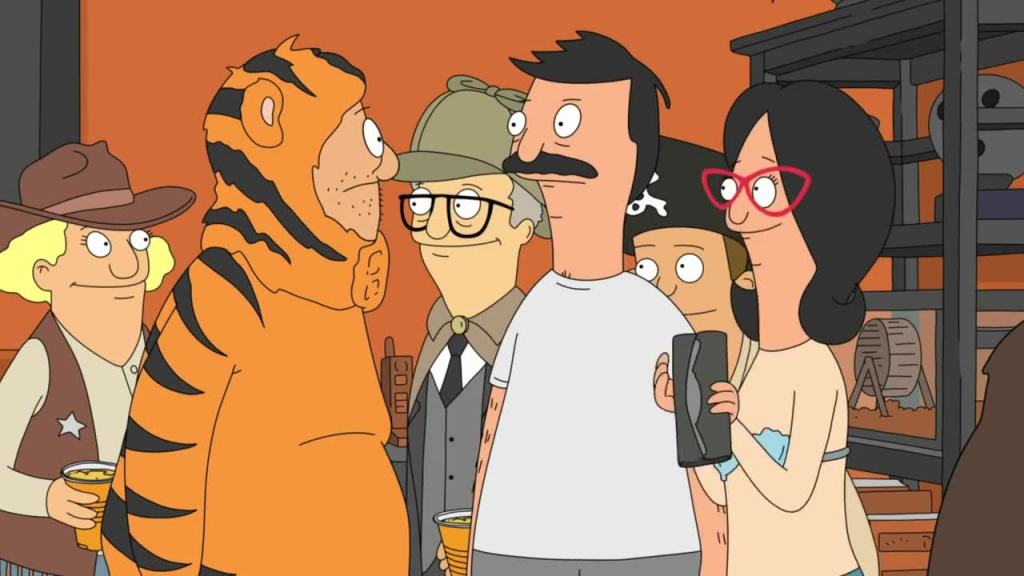 2. Season 3 Episode 2: Full Bars
Trick-or-treating alone for the first time, the kids escape to King's Head Island, in search of better candy opportunities. Suddenly free (and out of excuses) Bob and Linda attend Teddy's disastrous "black and orange" themed party.
Bob's Burgers' first Halloween episode remains among the best. There's a true feeling of late October in the air, with red and orange trees in the background and teens shivering on the sidewalk. Teddy's party is suitably awkward, showcasing the full-range of adult costumes, from unnecessarily sexy to entirely afterthoughts.
More than anything else, though, "Full Bars" captures the unbridled giddiness (and occasional terror) that comes with being a kid on Halloween. From the excitement of full-sized candy bars – "How does this not topple your economy?!" – to the horror of being hell hunted and pee-ballooned, there's no better way to relive your childhood.
And if that childhood was in the '80s, there's plenty of echoes of Garfield's Halloween Adventure, too, from the ferry's approach of the island to the overarching plot. The only thing missing is a pillowcase and a cheap plastic mask.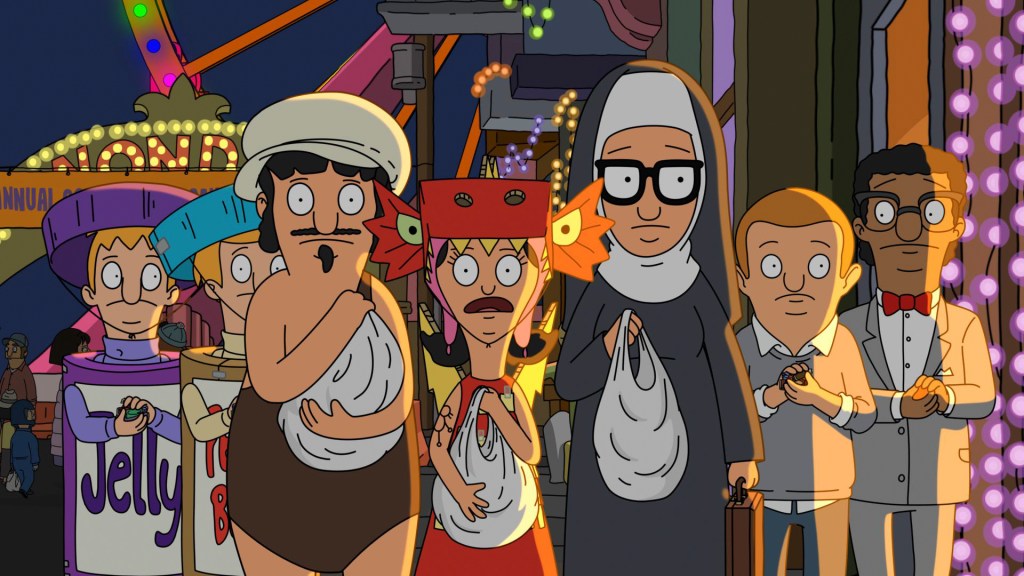 1. Season 9 Episode 4: Nightmare on Ocean Avenue Street
Ocean Avenue is turned into a one-stop trick-or-treating spot for the first annual Candy Crawl. But then tragedy strikes: all the neighborhood kids are forced together as a mysterious stranger starts stealing their hard-won candy, one by one. With an embarrassment of Sticky Sugar Booms on the line, Louise leads the charge against the costume-changing treat thief. As the kids follow the fiend into Mutilation Mansion, Bob and Teddy end up in a Halloween decor arms race that culminates in a chainsaw-wielding spider attacking a candle store.
If ever there was an episode to embody the spirit of Halloween, "Nightmare on Ocean Avenue Street" is it. There's haunted houses, teenagers throwing snappers, decorations, costumes, candy, and deranged dentists begging children not to eat chocolate. All of it coming together into a single cohesive whole, every Halloween you've ever had condensed into twenty minutes.
Louise even delivers the perfect holiday pitch: "There's no hugging, there's no singing, there aren't even cards. You dress as monsters and you threaten people with tricks and they give us candy and it's beautiful!"
Bob's Burgers understands the spooky season better than almost any other show out there. Choose any episode you like and, to paraphrase Mr. Fischoeder, you're sure to make your Halloween at least a little Halloween-er.