Features
The Best Horror Movies to Kick Off Your Halloween Season
Spooky season is here again. The Den of Geek team celebrates the movies to watch to kick off the creepy festivities.
We all have our own Halloween traditions. Decorating the house, dressing up like monsters, trick or treating, apple bobbing, throwing toilet paper at people's roofs or, even just putting on a warm sweater and getting hot chocolate on the go – it's all part of the autumn fun.
Spooky season has to start somewhere, and just like Christmas, it often kicks off with a movie. If you're looking for suggestions of how to ease into Halloween month, here are the movies Den of Geek writers are drawn to as the nights get shorter and the blankets get snugglier. Let us know in the comments what your Halloween must-watch is…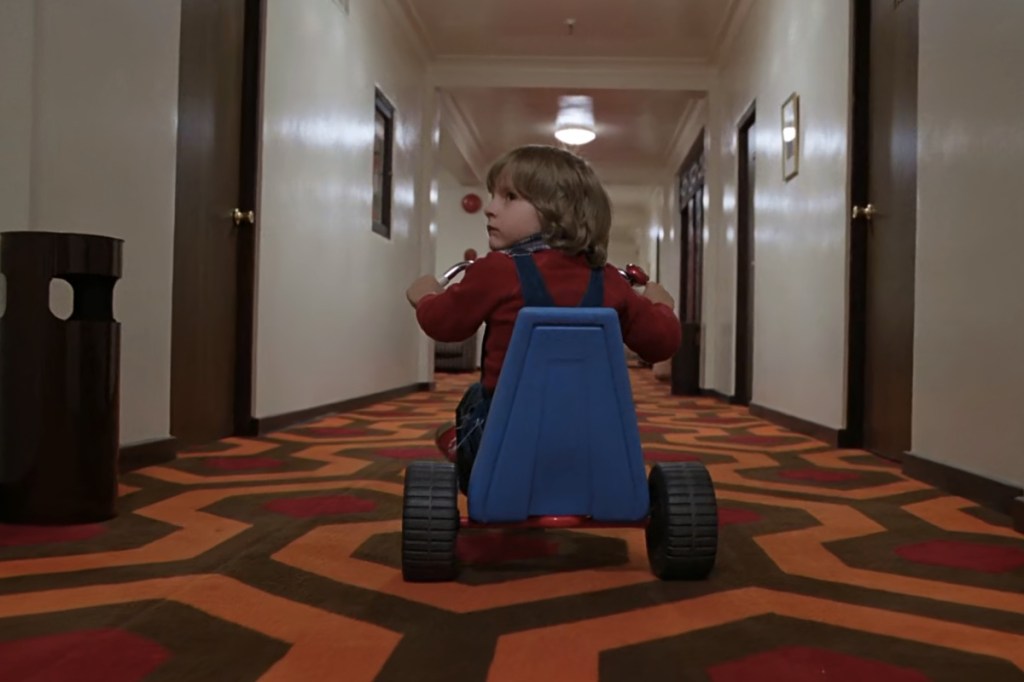 It's not Halloween until I watch… The Shining
There aren't many of the usual Halloween trappings in The Shining. The Overlook Hotel isn't crawling with cobwebs, werewolves, or slashers. Save for one notable exception of a dead lady in a bathtub, there is nary a ghoul to be seen. But none of that matters when October rolls around, because The Shining is the perfect Halloween mood-setter.
Stanley Kubrick's (loose) adaptation of Stephen King's third novel is, as the kids say, a whole vibe. Wide open shots of empty hallways combined with a sparse, yet pounding score hypnotize viewers into the proper horror mindset. The movie itself seems haunted, as if the Stanley Hotel (where the exteriors were filmed at) cursed the very film stock it was captured on. The Shining is not so much a movie as it is a Halloween tulpa—or at least that's how I view it. Spooky season doesn't officially start for me until all work and no play makes Jack a dull boy. – Alec Bojalad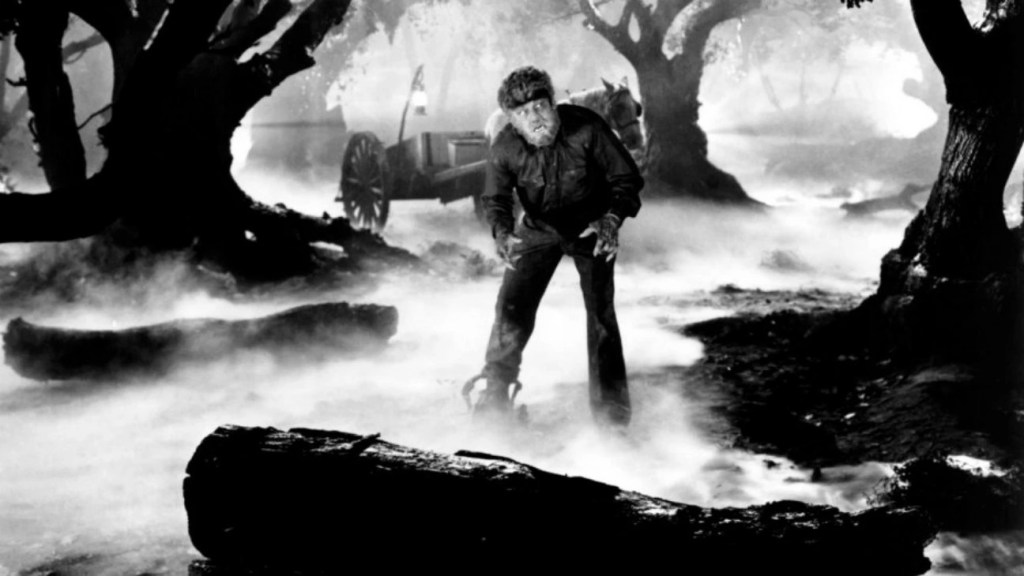 It's not Halloween until I watch… The Wolf Man (1941)
Universal Pictures' original The Wolf Man is not the first of that studio's fabled monster movies I watched. Nor as an adult do I recognize it as the best Universal Monsters movie. But it was my favorite growing up, and the one I wore out the VHS tape on every October.
Screenwriter Curt Siodmak alleged late in his life that the idea for The Wolf Man occurred to him because as a German Jewish immigrant who fled the rise of the Nazi Party, he had seen firsthand how "good men" turn into monsters. And there is something primal about the battle between good and evil in the story of Larry Talbot (Lon Chaney Jr.), the unlikely son of a Welsh nobleman who returns home from America after his brother's death. What he finds is the most werewolf-obsessed town in movie history… and eventually an actual werewolf to boot.
As a kid, the appeal to me was Jack Pierce's iconic monster makeup that glued Yak hair to Chaney's face, as well as the overwhelming Grimm Fairy Tale quality to a film that seems simultaneously set in the early 20th century and the land of medieval Europe that time forgot. Later I came to better appreciate the underrated sense of despair in Chaney's performance conveyed through his doleful eyes. And the movie is heightened further by two truly great performances courtesy of Claude Rains as Larry's doubting father, Sir John, and Maria Ouspenskaya as the Romani woman who sees all. When those two interact around Sir John's wayward son in the finale, it's as good as any monster movie there's ever been. – David Crow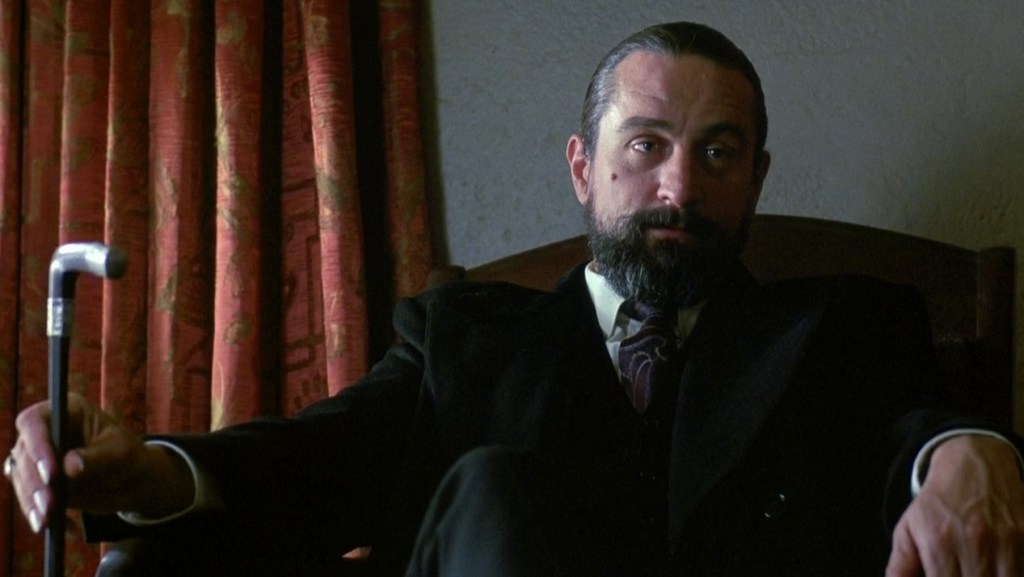 It's not Halloween until I watch… Angel Heart
The spooky season, for me, begins with Angel Heart. Mind you, I may watch it in the middle of June, but it will set off a binge of deep psychological satanic horror that will last until Christmas. Every year, I follow Mickey Rourke's Harry Angel from his private detective's office on 23rd Street, down to Coney Island, and off to New Orleans for the all-consuming thrill of dread. But be warned: most horror films will pale in comparison, leading viewers to a deeper dive into demonic terror looking for a more potent dose. There are none. Angel Heart is horror perfection.
Made by master storyteller Alan Parker, the devil is in the details, and they are always shrouded in a corner, framed by burnt color coding, and teasing foreshadowing. Robert De Niro's Louis Cyphre is a Mephistophelian marvel, which is a mouthful in Manhattan, whose very presence tingles with the charge of sinister energy. He invokes the most evil parts of Martin Scorsese for a charismatic and seditiously seductive overseer. Charlotte Rampling brings ice cold, dead-eyed menace to her Margaret Krusemark, alias Madame Zora, alias the Witch of Wellesley, the debutante with the ceremonial dagger, and the right hand of a convicted murderer, cut off while his neck was still in the noose. But the most damning temptation is the young voodoo priestess Epiphany Proudfoot (Lisa Bonet), the true victim and lost salvation.
The private detective signed on for a simple missing person case, a golden-throated singer who skipped out on a personal contract, and gets dragged so deep in the muck that the audience feels dirty. As Johnny Favorite rides the elevator to perdition, we are more than scared. It feels like we've sinned. – Tony Sokol
It's not Halloween until I watch… Ed Wood
Is Ed Wood about Halloween? No. Does it deal in the supernatural? Nope. Is it even a horror movie?!? Absolutely not. And it's a true story that doesn't feature a single murder or even an investigation into an alleged paranormal happening? Correct. Yet despite all of these apparent strikes against it, Ed Wood, perhaps more than any of Tim Burton's other work (and that's saying something), evokes the shadowy, creepy, yet also strangely warm and nostalgic feelings that often go along with the season.
Not a horror movie, but a movie about and for people who love horror movies, Burton's black and white masterpiece isn't a rehabilitation of the reputation of the alleged "worst director of all time" (we disagree), but a sympathetic portrait of the outsiders who try their damnedest to fit into a world that simply isn't theirs. Lit to resemble the kind of shadowy B-picture that would populate broadcast TV late nights in October, Ed Wood is a celebration of the wonder of weird, contrasting the bright daylight of its 1950s Hollywood with the creepy nights where the titular director would shoot his lousy movies with borrowed props and an assortment of freaks, misfits, and outcasts in front of and behind the camera.
The fact that one of those freaks is none other than the ultimate Dracula, Bela Lugosi (played to tragic perfection by Martin Landau), as he's nearing the end of his life, enfeebled by alcohol and morphine addictions, and yet still able to conjure his eerie screen magic, is the equivalent of getting a full-sized candy bar in your Halloween bucket. It's likely Burton never had more fun than his note perfect re-creations of scenes from Wood's infamous Plan 9 From Outer Space (itself a late night TV spooky season staple). I couldn't decide between Lugosi's Dracula and Burton's Beetlejuice when first asked to contribute to this list, but Ed Wood gets the best of both worlds. – Mike Cecchini
It's not Halloween until I watch… Trick 'r Treat
The UK does not do Halloween properly. We try. The shops certainly have a good old go at hawking orange and black tat ahead of the Christmas push. And certain pockets of the spooky community make it work in their own way. But as a people, Brits suck at Halloween. So there's a bittersweet joy in watching peak Halloween perfection, Trick r Treat, the anthology movie from writer/director Michael Dougherty.
This is a cheeky, chilling showcase of everything Halloween should be. Five stories are carefully and cleverly intertwined, each featuring the appearance of a ghoulish little fella named Sam, a child-like entity dressed in an orange onesie with a burlap sack on his head who punishes the residents of a small Ohio town if they break Halloween traditions. Don't take your decorations down before midnight! Don't steal the Halloween candy! And don't mock the victims of a horrific bus crash…
Trick r Treat is so much fun and it's packed with a great cast including Anna Paquin, Brian Cox, Dylan Baker, Leslie Bibb, and more. There's long been talk of a sequel, and I am here for it, even if it just serves as a further reminder of all the spooky season delights we in the UK do not nail. – Rosie Fletcher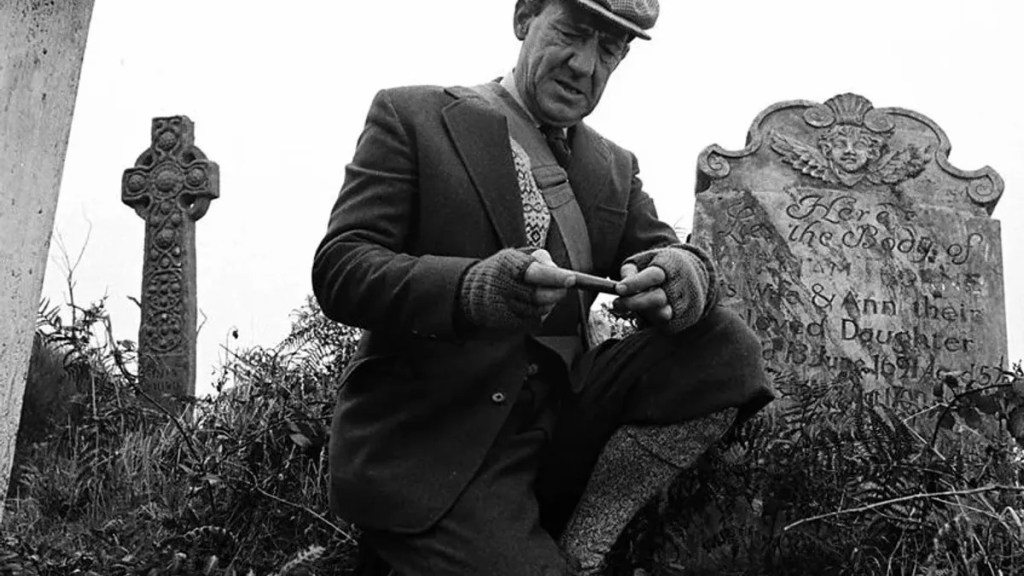 It's not Halloween until I watch… Whistle and I'll Come to You
Forget howling werewolves, comical cackling witches, and Bobby Pickett gurning through the Monster Mash, here's a proper Halloween soundtrack: silence, howling wind, the single high pitch note of an ancient whistle, the rustle of bedsheets, and Michael Holden's professor quietly, desperately, repeating the words "oh no, oh no, oh no, no."
Adapted from M.R. James' short story and directed by Jonathan Miller, this 1968 BBC production conjures a disquietingly spare atmosphere. Set on the blustery Norfolk coast (the British seaside in winter filmed in its natural black and white), it's about a Cambridge don staying at a guest house for a week to investigate a coastal graveyard. It's a wonderfully restrained film, only 42 minutes long with very little dialogue, but lacking nothing. When Professor Parkin (Holden) unearths an historical instrument engraved with the Latin motto "Quis est iste qui venit" or "Who is this who is coming," he naturally blows into it to find out. What follows is a moral lesson about solitude, terror, and the hubris of intellectual pride. Watch it alone, in a dark room, wearing headphones, with a window open to the whistling wind. Eerie perfection. – Louisa Mellor
It's not Halloween until I watch… Young Frankenstein
When you're a horror wimp, Halloween might seem an odd choice for your favorite holiday, but I'm all over the PG ooky spooky and campy horror. Young Frankenstein is simply in a league of its own in this category; a Mel Brooks classic, co-written with Gene Wilder, and riotously silly, spoofing textbook horror movie tropes often with proper laugh-out-loud results.
Wilder is unleashed to play at his comic over-the-top best as Dr. Frederick Frankenstein, alongside slapstick guru Peter Boyle as the Monster and the delightfully daft Marty Feldman as hunchback sidekick Igor. Terri Garr and Madeline Khan take on amusingly suggestive roles parodying the 'damsel in distress' motif as lab assistant Inga and Frankenstein's fiancee Elizabeth respectively, alongside a very funny matriarchal Frau Blücher in Cloris Leachman.
If you're looking for high art or razor-sharp wit, you'll be disappointed, but if your comedy tastes fall more in the 'dad jokes' territory, Young Frankenstein will tick all your boxes. But it's a self-aware production – it's not trying to be clever, it just knows what makes its target audience laugh – so I dare even the more sophisticated comedy/horror fans not to crack a smile at some point while watching this. – Laura Vickers-Green