Features
9 Best TV Roles From Gillian Anderson
Please keep making television shows forever, Gillian Anderson.
Full-time TV goddess and part-time television detective Gillian Anderson is never far from our minds. Here are nine of our favorite TV roles from the actress, whose on-screen legacy reaches far past The X-Files franchise to British period dramas, eccentric Bryan Fuller shows, and animated snarkiness.
Dana Scully in The X-Files
Let's just get this way out of the way, shall we? Not because Anderson's turn as Agent Dana Scully over the course of 11 seasons (and counting?) of The X-Files TV show and two The X-Files movies should or could be diminished, but because most everyone is familiar with Anderson's turn as the chronically skeptical FBI agent.
Dana Katherine Scully is more than a TV character. She's an institution. I grew up watching The X-Files and having a female character who wasn't the same cookie-cutter example of what it was to be a woman made me feel like much more was possible. Gillian Anderson's understated, yet affecting portrayal of the character was a large part of that.
Scully was (and still is) complex and flawed. She is a scientist with a commitment to her Catholic faith. She is a skeptic who, nonetheless, believes in Mulder. And she is funny as anything—much of that down to Anderson's dry, deadpan delivery ("Bad Blood" being a great, oft-cited example). If Gillian Anderson had to have one character define her career, she could do a lot worse that Scully.
Miss Havisham in Great Expectations
If you're looking for a great Great Expectations adaptation, the 2011 BBC/PBS miniseries is not your best bet. If you're looking for a role in which Gillian Anderson gets to chew up the scenery in a miniseries-stealing performance, this three-part series is for you.
Anderson is so often cast in understated roles, and she plays them incredibly well, but that doesn't mean it isn't gratifying to see her make moves as a completely over-the-top villainous character, like her turn as the bitter, mentally unstable, and highly-flammable Miss Havisham. As they should probably start saying in England: Come for the Dickens, stay for the Anderson.
Dr. Bedelia Du Maurier in Hannibal
Hannibal is not a show for the faint of heart, but it rewards viewers endlessly with its sumptuous visuals, unpredictably gruesome plot, and its ridiculously stellar cast. Gillian Anderson is only one of the many talented actors who make up this ensemble — including Mads Mikkelsen, Hugh Dancy, Laurence Fishburne, and Gina Torres.
Remember how we were talking about how Anderson often plays understated characters? Dr. Bedelia Du Maurier may be the most understated of the bunch. Perhaps the most enigmatic character on a show filled with enigmatic characters, Anderson manages to imbue the sly, clever Bedelia with a complex vulnerability that her cold, proper surface only occasionally lets through. If you are a fan of Gillian Anderson or good TV, Hannibalis a must-watch.
Lady Dedlock in Bleak House
A big part of Gillian Anderson's career renaissance has been Dickensian adaptations and this is, perhaps, the best example. The BBC did a 15-part (eight-hour) adaptation of Bleak House in 2015. Anderson took on the role of the cold, secretive Lady Dedlock and she is one of many deft moving parts in this brilliant retelling of the Dickens classic, which is much more fun than its lawyer-heavy premise might suggest.
Anderson seemingly agrees. She spoke with The Daily Beast about finding an appreciation for Dickens through her acting, saying:
One of the only things that I have regrets about in my life is my experience of school and education. I wish I had known how important it was to pay attention … My first foray into a lot of the classics has been through my work. It's only after falling in love with the screenplay or adaptation that I've then gone on to read the novels themselves.
Stella Gibson in The Fall
If you're and Anderson fan and haven't yet watched The Fall,a Northern Ireland-set crime drama about the cat-and-mouse game between Detective Inspector Stella Gibson and serial killer Paul Spector (played by Jamie Dornan), then stop reading this and go do so now. Anderson plays Stella Gibson, an English DI who is brought to Belfast to stop the series of murders of young professional women that have been occurring in the city. The Fall has been celebrated for the fact that Anderson plays a character who is almost always male. She is extremely focused (and good at) her job, sees sex as a primarily casual habit, and doesn't have the most robust of personal lives.
Anderson's nuanced performance makes Stella a strong and sympathetic character — one who is deeply affected by the way that men take out their anger and frustrations out on women, and who knows how to navigate a world and professional space riddled with misogyny and casual sexism. Anderson has called Stella Gibson her favorite role, and it's easy to see why. The actress is asked to do a lot in the BBC drama—and she more than steps up to the challenge.
Dana Scully in The Simpsons
Sure, this is really just a guest starring role on someone else's TV show, but how could we not include at least one of Gillian Anderson's animated turns? (She also appears briefly on Robot Chicken,as Fiona.) This X-Files spoof episode—"The Springfield Files"—comes in The Simpson's eighth season and it is filled with in-jokes about the paranormal drama. David Duchovny and Gillian Anderson basically just voice their characters, but — as A.V. Club's review notes — "Anderson is, if anything, even more restrained than she is on The X-Files, which makes her lines funnier."
"The Springfield Files" is far from the best episode of The Simpsons, but it is another great example of the kind of range Anderson has. Sure, she may be playing another version of her most well-known character, but getting that same character across in voice work is far different from getting that character across on live-action TV. Anderson nails it.
Media in American Gods
Sadly, Gillian Anderson is no longer on American Gods, which has suffered a series of high-profile "departures" that began with the "exit" of showrunners Bryan Fuller and Michael Green before Season 2. But we will always have one season of Anderson as Media, the mouthpiece of the New Gods, in this Starz adaptation of Neil Gaiman's bestselling novel. As Media takes on the form of various celebrities and lives off the worship people give to their various screens, we got to see Anderson transform herself into people like Marilyn Monroe, Lucille Ball, and David Bowie—a smorgasbord of eclectic Anderson performances all in one show! For one season, we truly were blessed.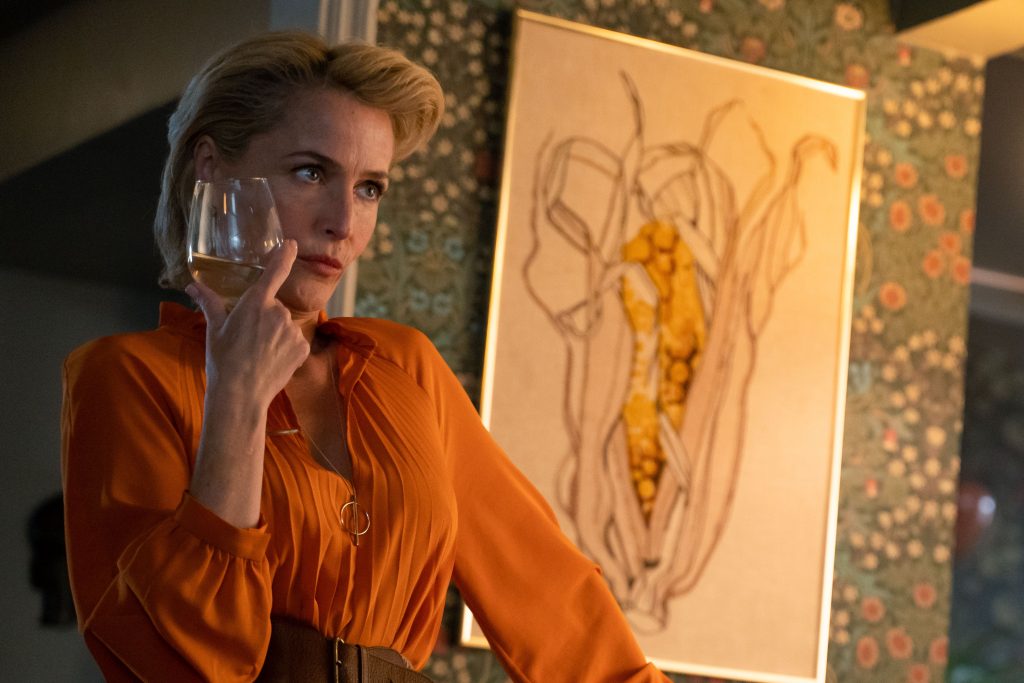 Jean Milburn in Sex Education
For a show that is mostly about The Youths, Anderson certainly makes her presence felt in Netflix's British dramedy Sex Education. Anderson plays Jean Milburn, a single mom to teen protagonist Otis (Asa Butterfield), and a sex therapist. When Otis somewhat accidentally shares some of the sex education his mother has been feeding him presumably for his entire adolescence to a school bully, he falls into the sex advice business, helping his classmates with their sexual struggles. As Jean, Anderson gets to be both wise and neurotic, a mother and not defined by it. She also gets to regularly deliver lines like: "Why don't you start by telling me your earliest memory of your scrotum." Honestly, we deserve this show and its brilliant casting of Gillian Anderson.
Anna Pavlovna in War & Peace
Still have room for one more Gillian Anderson-starring period drama? (You know you do.) In this lush yet somewhat soulless 2016 adaptation of Tolstoy's tome, Anderson plays "glittering society hostess" Anna Pavlovna. Written by period adaptation master Andrew Davies and directed by Peaky Blinders' Tom Harper and featuring a cast that also includes Paul Dano, Lily James, and James Norton, War & Peace has a lot going for it even if it never fully capitalizes on its deep reserves of talent and, honestly, with such an expansive cast and Anderson in a supporting role, our fave only gets a small amount of screen time. But, per the usual, Anderson steals the show.
What are your favorite Gillian Anderson TV roles? Sound off in the comments below…