News
Winona Ryder Reveals Keanu Reeves Refused to Verbally Abuse Her in Bram Stoker's Dracula
Winona Ryder recalls Francis Ford Coppola asking the cast of Bram Stoker's Dracula to scream at her for being a 'whore,' and Keanu Reeves and Anthony Hopkins refusing.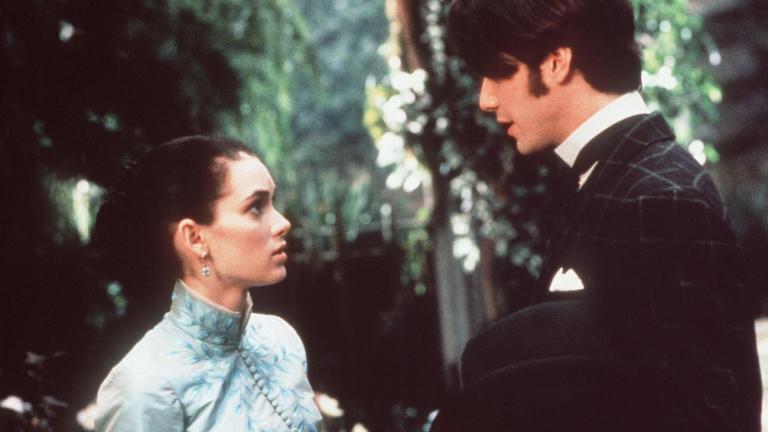 Winona Ryder has been in the news quite a bit this week. Once the perennial Gen-X star of the '90s, she still carries a loyal following of fans who swear by the mantra of "Winona Forever." It appears that Keanu Reeves and Anthony Hopkins may be among them, as per Ryder's most recent recollection from making the classic vampire movie Bram Stoker's Dracula (1992).
In a new interview with The Sunday Times, Ryder recalled when director Francis Ford Coppola attempted to emotionally prepare her for a scene by shouting, "You whore! You whore!" over and over again, and getting the rest of the male cast on the set to join in. For context, the sequence occurs at the end of the movie's second act after her character Mina Harker is discovered drinking blood from Dracula's chest. Only then does the vampire turn into a giant bat and then a pile of rats. The creatures run over her feet and around the men who just discovered her, including Reeves as Jonathan Harker, Mina's husband, and Hopkins as Abraham Van Helsing. Actors Richard E. Grant, Cary Elwes, and Bill Campbell were also in the scene. As The Sunday Times notes, Ryder was aged 20 at the time.
"To put it in context, I'm supposed to be crying," Ryder said. "Literally, Richard E. Grant, Anthony Hopkins, Keanu… Francis was trying to get all of them to yell things that would make me cry. But Keanu wouldn't, Anthony wouldn't… the more it happened, I was like [she crosses her arms like a sulky teenager and frowns]… It just didn't work. I was like, really? It kind of did the opposite."
The moment Ryder describes is certainly a reminder of how attitudes have evolved in regards of the artistic temperament, or the supposed value in extreme methods being employed by auteur filmmakers. While not nearly so bad as stories of William Friedkin permanently injuring Ellen Burstyn on the set of The Exorcist (and slapping a real priest in the face) in order to get the right expression of shock and fear, Coppola's 1970s Hollywood method was still off-putting to Ryder in '91… and appalling to many readers today. Although Ryder was quick to note in her recent interview, "Me and Francis are good now."
Nonetheless, Reeves as well as Hopkins appear as more enlightened gentlemen in this anecdote. Indeed, Ryder and Reeves have a longstanding friendship that predates Bram Stoker's Dracula off-screen and continued past it. While Ryder, at the height of her fame, got Reeves in Dracula, he would in turn lend her a helping hand when Hollywood blacklisted her in the 2000s, collaborating with her in A Scanner Darkly (2006). They also appeared together in The Private Lives of Pippa Lee (2009) and most recently in the romantic comedy Destination Wedding (2018).
Additionally, they seem to be on good terms about Bram Stoker's Dracula since another anecdote both Ryder and Coppola are fond of bringing up is how Reeves and Ryder might technically be married, at least in the eyes of God, due to their wedding ceremony in that film. Shot in an actual Greek Orthodox Church, Coppola asked an actual priest to perform an authentic marriage ceremony for the scene.
"We actually got married in Dracula," Ryder said in 2018. "No, I swear to God I think we're married in real life. In that scene, Francis used a real Romanian priest. We shot the master and he did the whole thing. So I think we're married." So Reeves is both a gallant co-worker and protective husband.